Your Groove update finally hits the Store for Windows 10 and Mobile, get it now!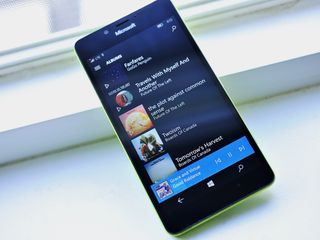 Microsoft recently announced their new Your Groove service for Groove Music. The curated playlists are based off your current collection on OneDrive and, if you have a Groove Music Pass, there as well.
The first people to get their ears on Your Groove will be those on the Insider Fast Ring and while an update to Groove Music was supposed to go out yesterday, it evidently got stuck in the Store a bit. Luckily, you can get it now.
Build 3.6.2244.0 is now live for Windows 10 Mobile and Windows 10 PC for those on the latest Redstone Insider release. Besides adding Your Groove, this update also brings a few other improvements and fixes, including:
Files opened in Groove from other applications (e.g. email) now continue playing in the background.
The app now skips queuing up unplayable tracks when playing album/artist so your now playing queue is clean and tidy.
We fixed the keyboard shortcut to support ESC to exit full screen now playing.
We addressed a perf issue when playing a large playlist.
We now attempt to recover from situations where playback appears "stuck".
We added even more telemetry around playback as we continue to improve quality.
We made some changes to improve the playback reliability for Groove Music Pass content in offline scenarios.
I just used Your Groove at the gym and so far, I'm impressed. The service could use a like/dislike binary feedback system, but I did like the recommended music it presented. I even bought a year Groove Music Pass with the hope Your Groove will continue to grow and improve, possibly replacing Pandora and definitely making up for Songza going to Google.
Since many people are still having separate Store update issues e.g. Check for Updates does not work, your best bet is to use either a direct link to Groove or just find it in the Store, you should see an Update button when you land on the app.
Let us know what you think of Groove and don't forget to give Microsoft feedback on what you want next. Remember, only those on the Fast Ring can get this update now, but it should be rolling out to other Insider rings in the coming weeks.
Download Groove Music (opens in new tab)
Daniel Rubino is the Executive Editor of Windows Central, head reviewer, podcast co-host, and analyst. He has been covering Microsoft here since 2007, back when this site was called WMExperts (and later Windows Phone Central). His interests include Windows, Microsoft Surface, laptops, next-gen computing, and arguing with people on the internet.
Does this HOPEFULLY fix the problem whereupon re-opening Groove while playing music, the Now Playing crashes back to the artist/album list? The Now Playing refusing to remain upon exiting and re-entering the app has been a constant problem on all my devices. Hope it's addressed soon.

Well, I don't like how the live tile gets updated with the last played when you open the app, even though it's been a while since you played music (i.e. it's paused).

Try closing the app after you listen to the music. Don't let it run in the background

I've already tried that. When you close the app, the tile gets cleared, but when you open it, it reverts to the last played, even though it is paused.

Is radio going to integrated in Groove music in Anniversary update? On these pictures it shows a radio in hamburger menu but i dont have it on my device..

This is an artist based streaming feature

When are they going to fix the album art and recognition of mix radio albums..?

I can't even see the latest update in the store. Ugh.

Argh nvm. This is for Redstone only, right. That explains it

Me either. Patience stinks.

On 10586.420 and still waiting for the update to come.

You will be waiting forever. It's for Redstone builds, not Threshold.

Using right now. Just loved it :D

Can you remove artist or album from "My music" in this build? The build I'm on won't let me and it's maddening, everything else seems fine

Yeah, removed one song right now to test and it's gone.

I must say I like what Microsoft has been doing with Groove. On the SP3, where I have a small music collection, it has finally replaced Windows Media Player. However, on my main PC where I have my considerably big music collection, Groove is still not an option. Things like removing albums from the library and manually updating the library to re-add them are still missing which makes managing my collection sort of a nightmare. And of course, speed is still not ideal with huge collections but it's getting there. I have high hopes for Groove (despite the absolutely horrendous name) going forward and although I would prefer to have it merged with the video player, it's still a very cool app. Well, except on mobile. Groove on Android is an utter nightmare. But that's a minor thing to me anyway.

Groove on W10 is damn near perfect. No matter which hardware platform.

Must be something else going on as I have a huge collection and speed isn't a problem.

I'm talking about speed in regards to library management. The app itself loads and works fast. But every time I try to edit the library to organize it, it takes forever to notice there were changes made, which is agravates by the size of the collection (and this on a new core i7/32GB RAM computer). A manual refreshing option is definitely needed and long overdue (and it's not like it's something that hasn't been requested on the Feedback app).

I consider Groove a music player only, and use MediaMonkey for maintaining my library of tunes. MM FTW!

I've tried Groove on iOS, it is absolutely horrible. Nowhere near as good as the Windows version.

Hmm don't know why they would exclude 10586 builds from this.

Probably they just want to include fast ring members for now. Or it might use some API or functionality which is only available in Redstone build.

its to test it and find bugs before it launches with the aniversary update.

It couldn't be a Redstone exclusive feature. At least it shouldn't be.

For me, it didn't show update was available until I went to the Store. Just downloaded it...

I miss Zune Software and my Zune HD... Posted via the Windows Central App for Android

People need to get over zune already.... God! We get it, you loved it but its over, years ago

ZUNE was, and the desktop software and devices mostly still are, amazing because of its features and user experience. Someday, I hope, Groove will have all the ZUNE features (plus more?) and as good or better user experience. Then, there will be nothing to say about ZUNE. Until then, there is sadly, something to say. Go to Groove User Voice and look around. There are many "ZUNE" features and improvements requested.
Best Wishes.

Groove on W10 running on mobile is awesome.

I still use my Zune HD. Still use Zune software to sync as well.

I still do as well but Groove is definitely on its way. I'm very impressed with the Your Groove section. I've wanted the recommended playlists from Zune forever and this is even better in that it takes my own music and creates playlists out of that. I still miss the music discovery of the recommended playlists, but this will likely come.

Just installed on my L930. My Groove is fantastic! I don't have a Music Pass but I do have all my music uploaded to OneDrive. My Grove immediately presented me with heaps of playlists of my own music. Working through them now. I love it.

If you have your OneDrive synchronized (the songs downloaded to the device) it will play them offline, right?

Time to completely fill my OneDrive with music then

The OneDrive music folder is limited to 55,000 files if memory serves me correctly. I have no idea what happens if you exceed that total.

Happened to me when the limit used to be 30k. It'll lock up and won't let you upload any more files (not only songs, I mean any files), at least until you delete some. So, keep in mind that all the other stuff (documents, pictures, OneNote, etc...) are all included in this count as well. the 55k limit is applicable to all files uploaded under a specific CID.

@BluetoothFairy1 Can you please supply a link to Micosoft information that backs up your 55k files limit on OneDrive? In my OneDrive I currently have over 27k music files and over 84k other files - and it all works fine. So some clarification seems to be required.

Thanks for follow up, @graymatter00. Typo, in my previous post. I meant to say 20k, not 30k. The 55k was my reference to the above post by @dechah and I'm not sure, if that is the right number. I know for a fact that OneDrive for business has had the limit completely lifted.
https://blogs.office.com/2015/12/16/onedrive-for-business-update-on-stor... I can only specualte that it was lifted for consumer OneDrive as well (though there are zero articles I could find supporting this). I too want a clarification as I'm planning to move my entire iTunes library to Groove/OneDrive. The non-DRM songs at least, anyway. I've submitted an inquiry to MSFT on this with ticket #30099-343870. If/when I hear back, I'll post an answer here.

If only the Store Tile had a counter on it to show that updates for things like this are sitting there, like it used to. Why they got rid of that I'll never know, seems a backwards step.

Yeah, I think it needs more people to give feedback about this. Must be an overlooked removed feature. It's really helpful if we can see the number of apps updating in the Live Tile and show apps needs updating, though this is kinda not so useful for most people with default auto-update apps option.

I agree. I have the auto update turned on and all I get is a cortna notification telling me that "Updates were installed", but it doesn't tell me which ones.
I've sent feedback on this already, so should you. That's the way to make things happen.

I want to Comment, but my hate is really for the Grove Desktop App, which still stinks.

You should try the Groove desktop app instead.

Gracias for the tip Daniel !

I've had opportunities to play with the new Groove. REALLY LIKE IT! The "Your Groove" machine-learning playlists are great, and (not getting as much attention) now there are human curated playlists as well. A great package. Apart from fixing some software bugs, if they add a family plan this will be an absolute killer platform.

It doesn't show up for me. Are there any steps I need to make.

Are you on Redstone Fast Track?

I almost had an heart attack seeing knowing Groove is available on Store, but it was actually just for Redstone for now. Anyways, nice that Groove finally starting to have more compelling reasons to use this not just a regular music player, catching up things that Zune and other competitors have. The weird missing functionality is indeed the heart rating (or like/dislike) rating system, which should help even better for recommending music. That new Your Groove page though especially for moble needs refinement of that layout. It also kinda bit too normal/bland.

Downloading apps is now a pain with the new store app... Downloading.....n downloading but no progress. Pausing n resuming sometimes works but its reallly nightmare to download with new store app.

Yeah, it takes a long time to even populate the download button. Strange, no?

Really hoping they bring these updates to their Android app as well...and hopefully soon. Posted via the Windows Central App for Android

Agreed. Posted via the Note 4/Nexus 7 (2013)/Lumia 1020/Lumia 2520

Still no Last.fm integration...

No update yet so I'll just wait like everyone else.

If you are on Redstone, look for it in store manually.
If you are on Threshold (my case), you won't see any update - this latest build is for the Redstone branch only (at least for now)

They should release subscription for India!!

I hope this feature comes to Android someday. The Groove app for Android is an embarrassment.

I wish they had Groove client for Mac.

you should use a real PC.

Pls support groove music pass to the philippines ☹

at least microsoft give you a groove app, how do you think windows phone users feel when androids google wont even give us their propriority you tube app lol. I wonder how google would feel if windows 10 and all previous versions of windows stoped suporting you tube and google, its not like google suport them. hum maybe thats food for thought.

Why do I get the update without being in Redstone? Still on 10586.newest, but keep getting Redstone only groove and maps updates.
Works fine, I'm just curious.

U probably got my updates I been looking for lol

Excellent really like the new features, its a great starting point to improve the app and additional features.

Moving to US is recommended to use this service lol. I got one word for you Microsoft: Global k? good talk
EDIT: its 2016 emojis still not supported on this site :/ Posted via the Windows Central App for Android

Your Groove is available worldwide.

When I say global I mean global service just like Apple music.... Posted via the Windows Central App for Android

This thread triggered me to play some music from my sd card. But where is the music app in w10 mobile?

But then have to make groove account. Is that really the way to go? No players just playing local files?
Tried to search for music in store but store continuously crashing when i type the search argument :(

I'm not positive, but I don't think you need a Groove accnt, if you have a MSFT accnt - that's what I am using to sign into Groove.
It's free, no credit card required and allows ou to play and stream music you already own on OneDrive or locally.
If you want to have unlimited streaming from the store, then you need to buy Groove Music Pass, but again, that is not required to play your local files. Give Groove a shot, it's still bare bones, but I actually prefer its simplicity to iTunes. If you use Windows 10, I assume you may already have a MSFT account?

Thank you for your reply. First time i started groove it looked if i had to do a tryout of the groove music service so i closed immediately because i don't want that because i have spotify through my provider.
But started groove again and now i see my local music.
Hopefully the will add a folder view because not all my mp3 tags are set right.

Have they fixed the bug that makes groove think your headphones jack is in when its not that results in a music player that can't play music without it being muted? If not that's a deal breaker for me as it kinda makes the app worthless as I like to play my music via my phones internal speaker.

My update still not showing, up been on fast ring but no update

My update still not showing, up been on fast ring but no update

Since the last update (on production) my embedded album art stopped showing up. I was shocked, I had little to no problems with Groove before that, to the point where I deleted Zune. Fix Groove not reckognising EMBEDDED album art and then try adding more features.

I updated today but still now I can't found anything for what did u say it ..its weird

I do not show the update still. I'm on build 10.0.14367.0 and my groove app is at 3.6.20962.0. Any ideas? I'm in Texas on a 950 XL.

Once Canada gets internet it should be available.

Hard to get internet in a Igloo.. lol

cant wait till this comes to final build cause that radio loocks nice and simple at last.

I keep updating groove music to same previous build wont update to this build despite being fast build

Got my update. Fast ring Lumia 1520

Is this for Insiders in certain regions? I'm in Canada and can't get it.

I can't seem to update to the latest version of Groove either. Just moved from production to insider fast on my 950 XL when 14367 came out. I got the updated Maps 5.1603 app. I just checked and my PC did get the latest version of Groove.

I even changed my regional settings to US to see if that works and no.

It's now Sunday and I still don't have the update and I'm on the fast ring

My PC just did the update 14367 and I thought I would have it after and still it doesn't show up. I wish someone could chime in on why this is happening.

Yea same here tried my surface with fast build and no groove

They. Need. Ratings. Posted via the Windows Central App for Android

My lumia 730 window 10 and i have a update but it doesn't installing. Plz tell me solution! I try4 times but still not installed..

I'm on build 10.0.14385. I have tried the link, search store as well as you update from downloads and you updates. Still no update :(. Anyone else?
Windows Central Newsletter
Get the best of Windows Central in in your inbox, every day!
Thank you for signing up to Windows Central. You will receive a verification email shortly.
There was a problem. Please refresh the page and try again.