Is your PC getting Windows 11 on Oct. 5? Probably not.
Windows 11 is here on October 5, but not every PC is getting it immediately — here's what you need to know.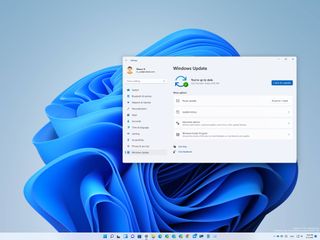 (Image credit: Windows Central)
On Oct. 5, 2021, Microsoft is expected to launch Windows 11 in supported markets. This represents the initial release of the new OS and the most significant update of the past decade because it introduces a brand-new interface, a slew of new features, and a bunch of improvements.
Although this version will be available as a free upgrade for existing computers running Windows 10, it does not mean that every device will get it on day one.
In this Windows 11 guide, we will explain the company's process to push the upgrade to compatible devices.
What PCs are getting Windows 11?
Using the same approach as in previous versions with Machine Learning (ML) and Artificial Intelligence (AI) technologies, Microsoft will begin the gradual and very slow rollout on Windows 11 on Oct. 5. Initially, the deployment will start with newer devices that meet the minimum hardware requirements and have a good upgrade experience. Also, on this day, retailers and computer companies (Dell, HP, ASUS, Acer, etc.) will begin shipping many of their new laptops and desktops with Windows 11 pre-installed.
Since this is an optional upgrade, once Windows 11 becomes available for your computer, you will receive a notification through Windows Update to download and install it manually. The installation experience will be similar to installing a Windows 10 feature update using full reinstallation.
If you are not ready to upgrade, Microsoft won't force the installation, and you can continue to use Windows 10, at least until Oct. 14, 2025.
Initially, the company will also be throttling the availability of the new Windows to prevent problems from spreading quickly and ensure a more reliable experience getting the upgrade. If an issue appears, a temporary block will be implemented on the device, and the compatibility hold will remain until the problem is resolved.
After a few weeks (or months), and after the new version is proven to be reliable, based on many factors like hardware compatibility, reliability metrics, and age of the computer, the rollout of Windows 11 will expand to more eligible devices.
Other factors that may prevent a device from getting the new version — problems with peripherals, incompatible drivers, apps, security software (like third-party antivirus), and geographical location — can affect the Windows 11 timing.
The slow and controlled deployment will continue through the first half of 2022, when the company is expected to make the new version of Windows fully available for systems that meet the minimum requirements.
What happens to PCs that can't run Windows 11?
Windows 11 has a new set of hardware requirements to ensure security, stability, and performance. This means that your computer will at least need a modern dual-core processor, 4GB of RAM, 64GB of storage, and Trusted Platform Module (TPM) 2.0 and Secure Boot present and enabled.
If you have a computer that is not compatible, Windows 11 will not be offered as an optional install through Windows Update. However, you may still be able to do an in-place upgrade or clean installation, but as long as you use the ISO file or Media Creation Tool.
The only problem is that the installation will be unsupported, which means that there won't be guarantees on system compatibility and stability or system updates and drivers.
The upgrade option for unsupported hardware is a known workaround that Microsoft will leave open. But, it won't be supported, and you won't find any reference on the company's documentation website. The workaround is meant for organizations to test Windows 11, but anyone will be able to use it. However, this is not a recommended method unless you understand the risks.
Can you skip the queue and upgrade manually?
Yes, but it's not recommended because if you haven't received the notification, it's likely that Windows 11 is still not ready for your computer. However, if you know that the computer meets the new system requirements, Microsoft supports multiple ways to install a new Windows 11 using the Media Creation Tool, Installation Assistant, and ISO file.
Installation Assistant
The Installation Assistant is a tool that allows you to upgrade a system when the new version is still not available through Windows Update.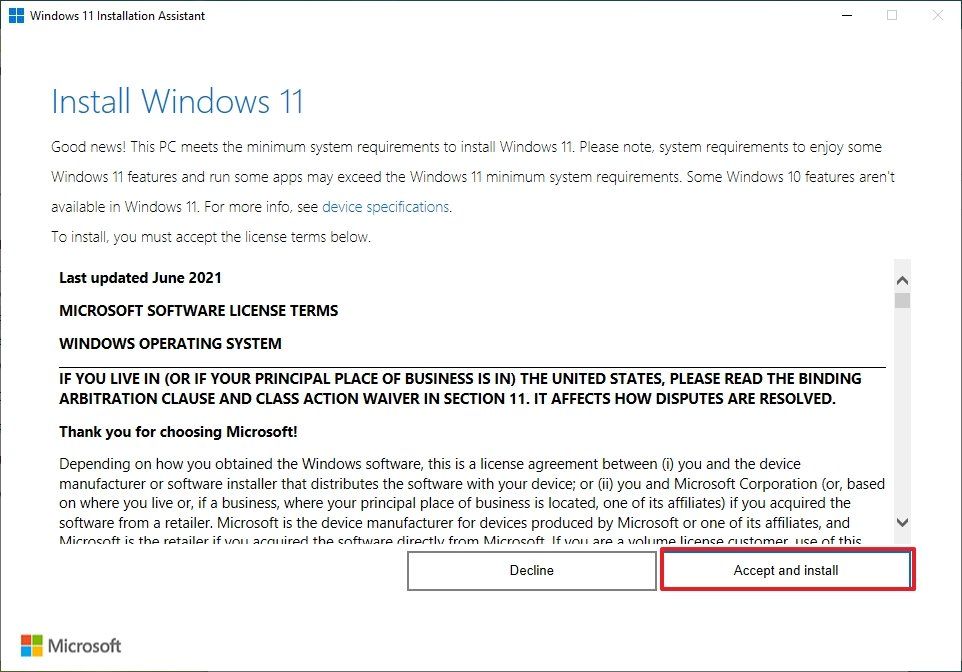 Once Windows 11 releases, you'll be able to download the tool from the Microsoft support website (opens in new tab) using the blue Download Now button under the "Windows 11 Installation Assistant". Then, you only need to double-click the file to launch the assistant and click the Agree and install button to upgrade manually.
Media Creation Tool
Microsoft has updated the Media Creation Tool, and it no longer can be used to do an in-place upgrade, but you can use it to create a USB bootable media, which you can use to start the computer and proceed with a clean installation.
After the tool becomes available, you can download it from this Microsoft support website (opens in new tab) by clicking the Download Now button under the "Create Windows 11 Installation Media" section. Then, you can launch the Media Creation Tool, use the USB flash drive option, and continue with the on-screen directions to create the installation media.
Windows 11 ISO file
This time around, the company is also making the Windows 11 ISO file available for download directly without using the Media Creation Tool. Once you download the ISO file under the "Download Windows 11 Disk Image (ISO)" section, you can double-click it to mount the image in File Explorer. Then, you can run the setup and continue with the upgrade process.
While the installation is a non-destructive process, it's always recommended to create a temporary backup in case you need to roll back or restore lost or corrupted files.
Wrapping things up
Although the new version will become available on Oct. 5, the rollout will continue very slowly to minimize problems and offer the best upgrade experience possible. Then, by the second half of 2022, Windows 11 will become fully available for all eligible devices.
If your laptop or desktop computer is not seeing the new version through Windows Update, there is likely a compatibility problem. If this is the case, it's not recommended to force it because you may end up coming across unwanted issues.
More Windows resources
For more helpful articles, coverage, and answers to common questions about Windows 10 and Windows 11, visit the following resources:
Windows 10 help, tips, and tricks
Windows 11 help, tips, and tricks
Windows Central Newsletter
Get the best of Windows Central in in your inbox, every day!
Mauro Huculak is technical writer for WindowsCentral.com. His primary focus is to write comprehensive how-tos to help users get the most out of Windows 10 and its many related technologies. He has an IT background with professional certifications from Microsoft, Cisco, and CompTIA, and he's a recognized member of the Microsoft MVP community.
My HP laptop has received Windows 11 and is working well. It was actually forced to install Windows 11 as it moved from optional updates to top of Windows Update with another patch to install. I had originally hesitated to install it, but after watching a video on YouTube on how well it worked, I finally installed it. It took about 30 minutes to download/install.
Windows 11 does appear to boot a tiny bit faster then Windows 10 did. Also, it still lists as 21H2 in System Information. I also noticed that start menu had apps pinned that were not installed such as Clipchamp that Microsoft recently bought.

This is because u joined Windows inaider program so thats y u got it

My Machine is not enrolled in Windows Insider. After reading these two comments I checked windows update and sure enough... Windows 11 is already ready to download. If I could figure out how to add a screenshot to this comment, I would, but I am currently at 7% downloaded...

Reallyy? Did u join Windows insider programe any time before, ? Or else this isnt possible

As I mentioned... I am not enrolled in windows insider. FWIW, my upgrade is complete and I am writing this comment from windows 11. Again... I am not enrolled in Windows Insider and have not been enrolled. I opened windows update, did a check for updates and it said Windows 11 was ready for my PC. I hit download. It informed me that I needed to update my version of VirtualBox for whatever reason. After I did that, the windows update continued to download and install windows 11. So, I guess you are wrong. It is possible.

If you don't want to join insider, you can download ISO and install it manually. It'll bypass all checks.

"If you are not ready to upgrade, Microsoft won't force the installation, and you can continue to use Windows 10, at least until Oct. 14, 2025." I assume you mean to say, Microsoft will continue to offer security updates to Windows 10 until Oct 2025. You can keep using Windows 10 after then, but there's no guarantee it will get further updates.

I haven't heard any information on when brand new licenses will be available for system builders/techs.

Just get windows 10 licenses.
11 is a free upgrade from 10.

I have gotten the notification that my device is supported in the Update and Security tab in Settings. Is it safe to force the update using the Update Assistant in this case?

I have a laptop thats supported and nine months old (Jan 21) why isn't it showing up!!! Specs 8gb ram 3200, 4500u
Windows Central Newsletter
Thank you for signing up to Windows Central. You will receive a verification email shortly.
There was a problem. Please refresh the page and try again.