10 Tips everyone should know after installing Windows 10 Technical Preview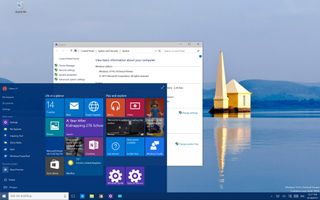 While Windows 10 is still a preview and months away from final release (aka RTM), Microsoft's upcoming operating system is already taking shape with tons of new features and improvements. Every day more people are becoming part of the Windows Insider program to get a taste of what's to come later this summer, when Microsoft launches Windows 10 to the public.
As such, we thought we would share 10 of the most useful tips every Windows Insider should know to get started with Windows 10 Technical Preview.
Tip 1: Stop the syncing madness
Perhaps the single most important requirement for installing a preview of Windows 10 is to register as a Windows Insider. Registering for the program will give you access to the latest builds, to the Store (beta), and to send feedback to Microsoft. More importantly, it gives Microsoft the opportunity to track how you use Windows 10, so the company can improve and fix the operating system.
However, chances are that most users will use the same Microsoft account they use with Windows 8.1 to register as a Windows Insider. One of the benefits of using the same Microsoft account is that by default Windows will synchronize all of your settings from your primary computer to the new installation of Windows 10 and vice versa. This syncing though can also cause some issues.
If you are simply testing Windows 10 Technical Preview, you probably will change a few settings to see how things work. However, you don't necessary want to have these settings synced to your primary PC or other devices. As such, it is a good idea to disable the sync option in the Settings app to avoid "testing settings" from replicating throughout all your devices.
To stop synchronization of your Windows settings, open the Settings app, click Accounts, navigate to Sync your settings and turn off the Sync settings option. Disabling this will stop themes, apps, web browser settings, passwords, language preferences, Ease of Access, and other Windows settings from syncing between computers.
Tip 2: Enable Cortana and Hey Cortana
Microsoft's digital assistant, Cortana, was first introduced in Windows Phone 8.1, and now the company is bringing the assistant to the Windows 10 desktop.
If during the installation, you didn't enable Cortana, click on the taskbar's search box, to bring up the option to enable the personal assistant and click Allow. Also, you'll be prompted to enter the name you want Cortana call you. Just enter a name, and now you should be all set.
Now, if you are trying use the "Hey Cortana" feature to use the assistant hands-free, you will notice that won't work. This failure is because, by default, the feature is disabled for privacy concerns. However, you can easily enable "Hey Cortana" by clicking the menu button in the top-left corner to bring Cortana's settings. Scroll down until you see the option "Let Cortana respond when you say "Hey Cortana," then simply slide the switch to the "On" position.
Quick Tip: If you ever like to disable Cortana, you go back to Settings and slide the switch to the "Off" position for the first option.
You won't notice any change, but now you can use your computer as you would normally do, and when you need something, simply start saying "Hey Cortana," followed by the task. For example, "Hey Cortana: What's the weather in New York City".
Since Windows 10 build 10041, Cortana is available in China, UK, France, Germany, Italy, and Spain. Microsoft is expected to expand its digital assistant to more countries in future releases of the operating system.
Tip 3: More frequent builds
When Microsoft rolled out the first preview of Windows 10, the company also announced that users would have two choices for updating to future releases of the operating system. The first being the Slow ring option, which offers the most stable bits of the operating system. The second option was the Fast ring, which as the name implies is an option that allows users to get a new build of Windows 10 at an earlier time. However, with it comes more bugs and fewer workarounds.
So, if you like to get the latest and greatest, regardless if it is working correctly or not, and you're not using Windows 10 as your primary operating system. You are a perfect candidate to switch to the fast lane of updates to get new builds more frequently.
By default, every new installation of Windows 10, is configured to be in the Slow ring category. If you want to switch to the Fast ring, launch the Settings app, click Update & recovery, in Windows Update, click the Advanced options link, and under Choose how preview builds are installed, select Fast.
It is worth pointing out that after installing a new build of Windows 10 via the Fast ring, you don't have to change the settings back. When Microsoft releases a new build via the Slow ring, the company will also release the necessary updates to bring the bits to the same code level as the Slow ring.
Tip 4: Additional apps you should try
The latest preview of Windows 10 bundles a few interesting apps, such as a new Xbox app, Project Spartan web browser, Insider Hub, Windows Feedback, and other built-in utilities like the new Calculator, Alarms & Clock, Voice Recorder, and even a new OneNote app.
Although, these are great apps to start using Windows 10, Microsoft is also making available a preview of the touch-friendly version of Word, Excel, and PowerPoint. These apps are part of Office 2016 due later this year.
These are Universal apps, which means that the same code runs on phones, tablets, and PCs. However, Microsoft has not yet release the same apps optimized for phones or tablets.
These apps do not come bundled with Windows 10, but you can download all the new apps via the Store (beta):
Along with Universal Office apps for Windows 10, Microsoft is also releasing a Music Preview and Video Preview apps. As their names imply, these two new Windows apps aimed to replace the current Music and Video app in Windows 8.1. Both apps introduce a fresh new look that match the design Microsoft is trying to implement around different apps throughout the operating system.
These apps also are not included when installing the latest build of Windows 10, but you can download them manually from the Store (beta):
Tip 5: Pin your favorite Settings
Do you access the same settings over-and-over on the Settings apps? Well, Windows 10 makes it easier for you access to same settings quicker.
If you haven't yet noticed, the Settings apps now feature a pin icon, in the top-right corner of the screen, next to the search box. This pin allows you to any section of the Settings app to the Start menu.
Tip 6: Reclaiming hard drive space
If you are making an upgrade to a new build of Windows 10, you probably didn't notice that Microsoft makes a backup of the previous installation in a folder called Windows.old. This backing up is a standard procedure in case things go wrong during the installation, and you need roll back to the previous build.
However, if the installation completes correctly, the "Windows.old" folder will stay on the hard drive using valuable hard drive space, this is space that you could be using for files that are more important.
The following instructions will guide to the process of removing the Windows.old folder from Windows 10:
In Cortana's search box on the taskbar, type cleanmgr.exe, and hit Enter.
Click the Clean up system files button.
Now, you'll find a list of system files you can delete from your installation. Although, you can select everything from the list for deletion, we're interested in "Previous Windows Installations" and "Temporary Windows Installation Files" options from the list. The click OK and wait for the process to complete.
Deleting the previous installation files of Windows 10 will give you back around 11 GB. That is a significant amount of storage, especially if you're running the operating system on a device with limited storage capacity.
Warning: Keep in mind that deleting the Windows.old folder will also prevent you from rolling back to the previous build. I would recommend you to do this after you're comfortable using a newer build. Also, you'll have to repeat this process for every new preview you install in your computer.
Tip 7: Customizing File Explorer
When you click to open File Explorer in Windows 10, by default it now opens the new "Quick Access" section, instead of "This PC". This was the place we're more accustomed to access. However, Microsoft is adding an option to change this behavior to open "This PC" when clicking File Explorer in the taskbar.
If you like this behavior better, simply follow the instructions below:
Open File Explorer, navigate to the View tab and click Options.
Under Open File Explorer to change the setting to This PC.
Finally click Apply and OK.
Tip 8: Configuring OneDrive
OneDrive has been gaining a lot of popularity in Windows 8.1, in mobile devices, and in other operating systems. In Windows 10, Microsoft is building OneDrive straight into the operating system, which means that there will not be an app you have to install or uninstall.
Users will also find that Microsoft is even changing how sync works and how the feature is configured. In Windows 10, the software giant is opting for selective sync instead of using the placeholder feature, also known as "smart files". This change means that after you install the operating system, nothing will sync initially. You will have to specify if you want to sync everything or specific folders, and you will also have the chance to select the location for those files to sync.
If you're just trying out Windows 10 Technical Preview and you're not planning to use the OS on a daily basis, I wouldn't recommend configuring OneDrive. Instead, just leave everything as it is, and nothing will sync, and you could avoid any issue that it might happen using an unfinished product.
However, if you are planning to use Windows 10 every day, you'll have to open File Explorer, click OneDrive from the left pane and customize your settings to your liking. You can choose what to sync and where to store your synced files, if you don't like to store the file in the default location.
Once you have configured the folders you want to sync, you can access all the settings available to OneDrive by right-clicking the icon in the system tray and selecting Settings. Inside the OneDrive properties, you can choose to start the service automatically when you sign in to Windows, use OneDrive fetch feature, and re-configure what folder to sync, control performance, and much more.
Tip 9: Sending Feedback
In Windows 10, if something doesn't work, you don't like what you see, or you have an idea, Microsoft wants to hear what you have to say to make the operating system better. You can use the Windows Feedback app to do just that.
As you use any of the previews of Windows 10, you'll start noticing toast notifications popping up in the bottom-right corner of the screen. These prompt you to rate the task you have just performed as easy or complicated.
If you want to make Windows 10 better, on every notification send feedback to Microsoft. The task does not take long and with enough people sending their feedbacks, Microsoft can understand when a particular feature is working and which ones are not, and make changes accordingly.
If you want to send your feedback on something that it's not working correctly or you have a feature idea. Open the Start menu, find and launch the Windows Feedback app, look through the categories in the left pane to find feedbacks users are submitting and vote on it, by clicking Me too.
To submit a new feedback, do a search in the "Enter your feedback" box to see if someone else already submitted the same request. If you find a similar entry simply click Me tooand you're all done. Nonetheless, if you don't see what you're looking for, click the Add new feedback, which you'll find at the bottom of the screen.
Now, describe the feedback, select the appropriate category, send a screenshot if necessary, and click **Post Feedback***.
Remember that you need to signed-in as a Windows Insider to submit feedback.
Tip 10: Rollback just in case
If Windows 10 is not working correctly, if you are noticing that a particular build has more bugs than the previous installation, or you simply do not like the build, Microsoft added a rollback mechanism to go back to the previous Windows 10 Technical Preview you were using.
Open the Settings app and go to Update & recovery, navigate through Recovery and click the Restart now button from the Advanced startup section.
Once you do that, Windows will go into the boot options, click Troubleshoot, and then simply click the Roll back to the previous build button and wait for the process to finish.
Hopefully after a few minutes, you'll be back to the previous version of Windows 10 Technical Preview.
There you have it, ten of the most useful tips to start using Windows 10. It's also worth pointing out that even though the operating system is already taking shape, it's not ready for prime time. This riskiness means that you should not use any of the Technical Previews of Windows 10 as your primary operating system (or at least until the RTM release). If you're planning to test the preview, you'll be safer running the OS on a virtual machine using software like VirtualBox on a spare computer or creating a dual-boot system with your current version of Windows.
If you have another useful tip to get the most of Windows 10 Technical Preview, please leave your thoughts in the comments below!
Mauro Huculak is technical writer for WindowsCentral.com. His primary focus is to write comprehensive how-tos to help users get the most out of Windows 10 and its many related technologies. He has an IT background with professional certifications from Microsoft, Cisco, and CompTIA, and he's a recognized member of the Microsoft MVP community.
I still want to see how it'd be an earth-shakin OS. so far what I've seen is improvements from what people 'hated'.

Hard to see down the road when you are not privy to the roadmap of feature plans. That's the issue here for some, they only see what is in front of them, not what this is building towards.

I want to be proved Wrong! ;)

And what a lot of people are seeing are things they don't like. If Microsoft didn't want negative feedback they should have left their program in house and release it when it was finished. Yes, people are seeing what's in front of them and many don't like what they see. Yeah, as of this moment all "I" can see is some faux Android design at this moment. Sure, we'll just have to wait and see the final results. But as of now it's not conjuring any confidence the final product will be anything special. I suspect Microsoft will do what they always do; they'll remove great features and functionality and try to cover it up with some shiny new feature and pretend all is good. I guess only time will tell.

we will know soon by summer, how good it really is... I really wanted to see device that works as phone but when connected to docking station works as PC ... something ubuntu trying to create with crowdfunding

I think that after the release of W10, the next big think for Windows might be scaleability. For example, if you connect your phone to your tv, the UI might adapt to the tv's resolution and function as W10 for small tablets or even installing a single W10 version on any mobile/desktop device which will adapt to each hardware and becoming a PC. (kinda) But we will have to wait and see what the future might bring up.

So far all I see is them ruining what worked well about Windows 8.1 as a kneejerk reaction in the haters favour. It feels un-usable in touch with no swipe in menu's, no charm bar, no touch browser. Feels like Windows 7 / Vista / XP touch all over again.

For most average users still windows XP is more than enough.I bet you can't use windows 10 to its full potency.even after 5years you'll still discover new features here and there.so first try to use at least 25% of the available features on w10 fully then ask for more.You haven't even used the final version yet.this goes to all w10 haters.You guys still strugle to use windows xp/7 yet you complaining about the design and features of w10 and asking for "earth-shaking os". if you want specific feature or any chage in the OS then suggest them and give your feedback more SPECIFICALLY rather than asking for an "earth-shaking OS" out of nowhere.

I will wait for the full version.. I am using windows 7 like 4 years maybe dont know I hate Windows 8,81 but looking forward to use Windows 10..

I've got a windows 7 and 8.1 laptop. I prefer 8.1 tbh, but really looking forward to 10

Ive got vista, 7,(on a wd red 1tb) & 8(on a flash drive)

You know, I'm a Windows 10 enthusiast, I downloaded the preview but my device stopped working, instead of using Windows 7, I just powered my old Netbook with Windows XP, 1GB of RAM and it gets the job done for my needs. I really wish Windows 10 brings classic view on the desktop again, something 8 and 8.1 don't have. Classic windows theme is great when you have a device with low memory as my Windows XP device or a very low powered graphics adapter.

Followed none of those... Still happy.

Lol
You haven't tried the Office apps and Cortana?

Wanna see the Xbox music app for wp 10

As long as I can use different Microsoft account to log in than my primary one. I have work one I log in with. Personal one I have music pass on.

Its there already.... Music Preview... You can download from store

Sounds crazy but I would like Windows Media Player (desktop version) on my phone. I know many could say I'm a troll, but I really miss all the functionality of the full app on the desktop on the phone Playing speed SRS Wow effects Crossfade and a lot of other great things

In Onedrive we can select what it will Download to PC or what it will Upload to Cloud?

You only need to specify which folders to sync down, then if you create a new folder in OneDrive it will sync up automatically. Thanks,

My problem is: I needed to merge Documents with the folder Documents from Onedrive to sync everything. But some folders I wouldn't like to sync and I can't choose what folders to sync inside Documents from Onedrive. "So don't merge both". But if It's not merged I need to copy the half of my folder and I'll have it doubled...
In MEGA it's possible to choose exactly what you want, but it always mess up when you want to delet something because it syncs again.

Loving every minute of Win 10 on both my phone and laptop. I fix enough stable build problems on other peoples computers (heaven help me, some people need a mandatory Computer Literacy credit before getting their degrees) that running into bugs on my daily drivers doesn't even faze me at this point.

Disk cleanup is my most usable feature(any windows version)

Anyway to log in to Microsoft apps separately? On PC and/or Phone?

Like an "app lock"? OneDrive has it. Which means it may come to other MS apps. Don't see the point in it myself. But then I'm not trying to hide pics from my parents.

I see win 10 will be real game changer ,,, unless the curve turned plateau :/ it will be enhancements not more !

Excited for the revamped Music and Video experiences.

As far as the first point is concerned I would like to have the same sync experience across all my 3 pcs'. Lets hope the final version does have the option for that. (Especially the start screen, tile layout & any download of apps)

I'm not worry about the 10 tips on PC...... I'm worry about these bugs on these WP 10 for phones that need to be fix asap

Hey Cortana, just had it work, installed idt beats drivers, doesn't work, build 9926, interesting the five minutes it did work though.

Build 9926? You're far behind then mate. You should consider upgrading to 10049

I just did a clean install from the ISO. I will next build. Point being it never worked before and I think it's the beats drivers as it didn't work from when I went from, 7 to 8 to 10.

I created a testing account for this very purpose (syncing), once I get my hands on a cheap hand me down off ebay will register that as my ms account.

Well, Xbox Music app looks way 'cooler' than before. I winder, if they can do the same thing with Music for WP10

Wp10 is not a thing. It's just Windows 10. And it'll be the exact same app there as it is on desktop, just scaled down

I would like to try Cortana on the PC but, my new 24" flat panel display does not have a microphone and I cant find a tiny one that can stick to the monitor, all I can find is the older syle larger ones and I wont use that...

word and powerpoint crash at launch on my sp3, and onedrive cant install...

http://www.winbeta.org/news/how-fix-app-cant-open-windows-10-technical-preview There is a licencing bug in the office preview apps. You can fix it by clearing out the licence and redownloading the app. Also ondedrive doesn't install, it's already there.

I don't like the use of "reset" in terms of wiping and completely starting anew. It's used on WP as well (reset your phone). Reset, to me, sounds like pressing the "reset" button and having your device just shut down and start up again. I'm not sure of what I'd use in place of "reset", but I think I could come up with something clearer for people like me.

I think you're confusing 'reset' and 'restart' here...

I'm not confusing them, I'm just stating that fact that "reset" is not descriptive enough in how Microsoft is using it these days. What did the reset button do on PC towers for years and years? It restarted the computer. It's the where the term "hard reset" came from. Hardware reset switch. As opposed to a soft-reset that restarted the computer via software. I get that "reformat and reinstall" is not concise enough, but reset doesn't fit the bill for me, either.

Fantastic news but anyone on Win10 Insiders Preview? Yes, it is buggier than a lollipop in ant farm but OneDrive is missing. Can't find a reason why. Anyone know?

Still pretty dissapointed Cortana is US only. Microsoft should just shut up shop overseas and pull back to the US with how they've been treating the global market.

Benifits of being an american Bruh!!! Get your economy up

Still no way to make OneDrive act like a network share? I have 150GB of OneDrive space--there's no way to sync all of it to my 32GB tablet! Just...give me the option to leave it online, but still be able to access it through Windows Explorer.

Just map a drive to your OneDrive location. You're welcome.

It didn't brick my Lumia 1020, but I had no cellular service. Overall though I really don't like the direction they are taking. I'm thinking I may have a S6 Edge by EOD. The only feature I'll miss is Cortana.

I wish I can be apart of testing Windows 10 but I don't have an extra pc to use. Posted via the Windows Central App for Android

I have no single doubt, as newbies this Windows 10 new navigator Project Spartan is a mind buggling "DANCING & AMUZING " sensational browser, for now I love it, even though Cortana seems not to work or will be paid for to work. The only less for me, is that i can still fix them into my Lumia 930 phone, just moving and seeing everything via my deskstop PC..............................Great and I'm overwhelming with all that I have seen so far.

Well. At least I did most of those tips :D
Windows Central Newsletter
Get the best of Windows Central in in your inbox, every day!
Thank you for signing up to Windows Central. You will receive a verification email shortly.
There was a problem. Please refresh the page and try again.