10 Xbox games that need 'FPS Boost'
Better framerates for better experiences.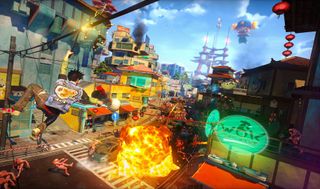 (Image credit: Insomniac )
Backward compatibility has been a huge focus for the Xbox platform in recent years. The engineering wizards at Microsoft are not only looking to preserve your existing catalog of titles but improve them as well. This started with Xbox One X enhancements for titles like Halo 3, Star Wars Battlefront 2, and many more. With the dramatically increased performance capabilities of the Xbox Series X and S, Microsoft is pushing the back-compat envelope even further with 'FPS Boost.'
This system-side feature automatically doubles or even quadruples the framerates for select titles. The rather small initial batch of games includiing Far Cry 4, Watch Dogs 2, Super Lucky's Tale, Sniper Elite 4, and UFC 4 has now been drastically increased to nearly 100 FPS Boost titles on Xbox Series X|S. While Microsoft has stated that most Xbox One games can support this technology, they are currently testing more titles and working to get publisher approval before rolling out these updates. With almost endless possibilities for game upgrades, these are the 10 games we want to see with FPS Boost on Xbox.
Sunset Overdrive
Sunset Overdrive was one of the most criminally overlooked releases on Xbox One. Insomniac Games managed to combine the intense action of a frantic 3 rd-person brawler with the mobility of Jet Set Radio Future or Tony Hawk's Pro Skater and present this winning formula in a stylized open-world setting. Even though this was a premiere exclusive for Xbox One, it never saw any enhancements for the Xbox One X. This is sadly a case of another fantastic game hindered by the limitations of base Xbox One hardware. I'd love the opportunity to revisit Sunset City in a buttery smooth 60fps instead of its current locked 30fps. - Miles Dompier
Ori and the Blind Forest
Ori and the Blind Forest is one of the standout titles from the early days of the Xbox One generation. This charming platformer introduced us to the tearjerking story of Ori, and while the combat is much, much simpler, it's every bit the challenging title Will of the Wisps is. While it runs at a smooth 60 FPS already, seeing it tap into the advanced CPU power of the newest consoles and running at 120 FPS through FPS Boost would be incredible, so I'm hoping it'll happen. - Samuel Tolbert
Dead Rising 3
I have a soft spot for the Dead Rising franchise. The first entry was the main reason I rushed out to buy an Xbox 360 around launch. The absurd, campy take on a zombie-outbreak just checked all the right boxes for me as a player. Decimating hordes of undead with dumb weapons found in a mall was exactly my kind of game. Unfortunately, after a couple of mediocre releases, the future of the series seems very unclear. While it definitely isn't the strongest entry, I'd still love to see Dead Rising 3 running at 60fps on my Series X as a way to re-experience an interesting era in Xbox history. It's kind of wild to think that last-gen kicked off with 720p 30fps exclusives. - Miles Dompier
Alan Wake
Much like Twin Peaks and the other strange pieces of media that inspired it, Alan Wake has garnered a serious cult following since its release back in 2010. For the droves of ravenous fans clamoring for a sequel, things were very quiet on the Alan Wake front for quite some time. Thankfully, some big teases in the latest expansion for Control once again rekindle hopes for a new adventure starring everyone's favorite flashlight-wielding author. As an Xbox 360 game with no Xbox One X enhancements, Alan Wake currently runs at 540p 30fps. With the success of Control, FPS Boost would be a great way to experience the introduction of this gaming universe. - Miles Dompier
Gears of War: Ultimate Edition
The Coalition first cut its teeth as a studio on the Gears of War franchise with Gears of War: Ultimate Edition. While the team's efforts were well appreciated, the campaign is locked to 30 FPS. Seeing the game that started an iconic Xbox franchise get a proper 60 FPS campaign experience would be fantastic. While the multiplayer runs at 60 FPS, maybe a 120 FPS upgrade could also be on deck? - Samuel Tolbert
Ryse: Son of Rome
Another Xbox One launch title that would be fascinating to revisit with FPS Boost is Crytek's Roman epic Ryse: Son of Rome. While not everyone loved the linear stage design, there was denying just how gorgeous Ryse: Son of Rome was. Improvements to the game's locked 30fps framerate would offer an excellent excuse to go back and revisit this fascinating title from Xbox's recent history. - Miles Dompier
The Evil Within
The Evil Within 2 is easily one of the more impressive examples of the capabilities of backward compatibility on the Xbox Series X. On the One X, the game ran at an impressive 1800p but could never really maintain 60fps. It's been awesome going back and revisiting this horror title at a locked 60fps on my Series X. My positive experience with The Evil Within 2 led me to redownload the original The Evil Within as well. Still, diving back into this predecessor was scary for all the wrong reasons. At a shockingly unimpressive 640p 30fps, I can't currently recommend The Evil Within on Xbox. Let's hope FPS Boost can help change that. - Miles Dompier
Middle-earth: Shadow of Mordor
Monolith Productions truly delivered with its 2014 action-adventure game, Middle-earth: Shadow of Mordor. Thanks to the Nemesis System, Orcs could survive fights and even random grunts were capable of growing through the ranks and becoming your greatest foe. With this early Xbox One title locked to 30fps, it'd be great to see it playable at a smoother, higher framerate. - Samuel Tolbert
Red Dead Redemption 2
Red Dead Redemption 2 is without a doubt one of the most visually impressive games of last generation. What the team at Rockstar achieved with their western Magnum Opus was nothing short of a technical showcase. With this massive open-world title running at native 4k on Xbox One X, FPS Boost pushing this to 60fps would be a transformative boon for an already phenomenal looking title. I'd happily grab my cowboy and mosey right back out into great wide open with these framerate enhancements. - Miles Dompier
Dead Space trilogy
Alright, we're cheating with this one. Yes, we want the whole Dead Space trilogy to receive FPS Boost. These iconic horror games are a backward compatibility highlight and a showpiece for how Auto HDR works. If they could be boosted to 60 FPS or even 120 FPS, it'd make fast-paced Necromorph-killing better than ever before. - Samuel Tolbert
Games that have recieved the FPS treatment
Our original list of the 10 games we wanted to see get FPS Boost looked a little bit different. We aren't necessarily going to take credit for these incredible games receiving framerate enhancements, but we also aren't not going to take credit for them either. Here are the titles we previously featured that can now be enjoyed smoother than ever on Xbox Series X|S.
Dark Souls 3 - 60fps
Dishonored - 60fps
Prey - 60fps
Alien Isolation - 60fps
What games do you want to see with FPS Boost?
While Microsoft has stressed the ease of adding Xbox One games to the program, it is worth mentioning that the future of FPS Boost for Xbox 360 and OG Xbox titles remains unclear. Jason Ronald and the team at Xbox are currently evaluating whether or not this is possible, but there is a chance for further enhancements for some of your favorite retro games. With so much potential and so many wild possibilities, what Xbox games do you want to see receive FPS Boost? Let us know in the comments!
Leading 4K
The full next-generation experience.

Xbox Series X is Microsoft's new flagship, as its most powerful console with over 12TF GPU performance and a custom SSD. It boasts up to 4K resolution and 120 FPS, full backward compatibility across four generations, and ray-tracing support.
Next-gen in HD
Experience next-gen gaming for less.

Microsoft serves the next-generation for less with its budget-friendly Xbox Series S. The console packs the same high-performance CPU and SSD technology as Xbox Series X, while scaling back the GPU and removing the disc drive.
Main
Get the Windows Central Newsletter
All the latest news, reviews, and guides for Windows and Xbox diehards.
Miles Dompier is a Freelance Video Producer for Windows Central, focusing on video content for Windows Central Gaming. In addition to writing or producing news, reviews, and gaming guides, Miles delivers fun, community-focused videos for the Windows Central Gaming YouTube channel. Miles also hosts Xbox Chaturdays every Saturday, which serves as the Windows Central Gaming weekly podcast.