10 Years of Microsoft OneNote: "One place for all of your notes."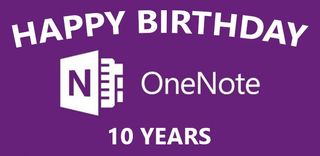 We are approaching the 10th birthday of Microsoft's information gathering application, OneNote. The first edition of OneNote to be released was OneNote 2003 in November of the same year. If you are like me, you may not have been introduced to Microsoft's info application until only a few years ago when the company decided to include it in all versions of Office 2010.
Today, after almost 10 years of OneNote's existence, the app is available on a variety of platforms including Windows, iOS, Android, Windows Phone, and Symbian (surprise!). In addition, as part of Microsoft's Office Web App suite, OneNote is available online and can be accessed from a variety of modern web browsers (although, it does work best in IE).
OneNote allows users to collection text input, tables, pictures, hand sketches, and more into a digital notebook collection. Notebooks are further divided into sections, and each section can have an unlimited number of pages to them.
There is also a free version of Microsoft OneNote available, OneNote MX, which can be downloaded from the Windows Store and used on Windows 8/RT machines. It takes the standard desktop application and optimizes it for use on tablets and other touch screen devices. In terms of Windows 8/RT, OneNote is the only Microsoft Office application to have its own optimized Windows 8 application.
For heavy Microsoft users, OneNote works flawlessly between various devices thanks to the integration of SkyDrive. Users can create a notebook on their PC and easily access and edit it from their Windows Phone thanks to the built in Microsoft Office suite.
Other popular contenders exist alongside OneNote including Evernote; a popular suite of software that can also store text and media in a notebook like form. Unlike Microsoft's OneNote – Evernote can be obtained for no cost and then upgraded to a Premium account later for more features.
You can download OneNote MX for free on your Windows 8/RT device by clicking here.
Are you onboard the OneNote train or do you prefer the Evernote Express?
Get the Windows Central Newsletter
All the latest news, reviews, and guides for Windows and Xbox diehards.