12 days of tech tips: Use Windows 10's Night light to reduce eye strain and improve sleep
If you're running Windows 10, you should be using Night light to lower the blue light on the screen to improve sleep quality and reduce eye strain. Here's why (and how).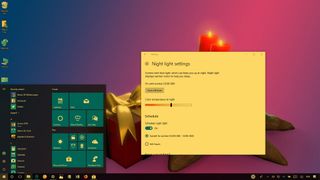 Indeed, the holiday season is the most wonderful time of the year. But for many of us, it also means having to spend longer hours in front of a screen trying to juggle work with holiday events, and shopping online for the perfect holiday gifts, which can result in unwanted eye problems.
However, you shouldn't need to deal with eye fatigue, or trouble trying to get a good night sleep, if you simply use Night light on Windows 10.
What is Windows Night light?
Computer screens emit blue light (similar to the light your eyes receive naturally during the day), which at night can mess with your internal body clock and negatively affect the production of melatonin, as a result disrupting your sleep quality and causing discomforts in your eyes.
Night light is a feature that reduces the amount of blue light at night time, and it displays warmer colors that can help to reduce eye strain and help you fall asleep after staying up late working on your computer.
Mobile devices have had this feature for a while, but now it's available on your desktop, laptop, or tablet running the Windows 10 Creators Update and later.
If you're planning to burn the midnight oil this holiday season reading e-books, shopping online for the perfect gifts for your loved ones, or working late in front of your PC, use this guide to set up Night light to reduce eye strain and improve sleep quality.
How to enable Night light on Windows 10
You can use these steps to enable Night light on your device:
Open Settings.
Click on System.
Click on Display.
Under "Brightness and color," turn on the Night light toggle switch.
Once you completed these steps, Night light will enable on your device, but if you're doing this during the day, you'll notice that it'll remain turned off until night time using the default settings.
How to adjust Night light settings on Windows 10
After enabling the feature, you can adjust settings to pick the appropriate color temperature, and activate it immediately or on schedule.
To change the Night light settings, do the following:
Open Settings.
Click on System.
Click on Display.
Under "Brightness and color," click the Night light settings link.
In the Night light settings, you can manage many options.
Turning on Night light
Clicking the Turn on now button will activate Night light immediately, ignoring the schedule configuration. You'll find this option useful for testing your settings, or if you don't want to wait for the schedule to kick in.
Alternatively, you can quickly activate the feature using the Night light button in Action Center (Windows key + A).
Setting the right temperature
The Color temperature at night slider allows you to set the appropriate amount of warm color you want to use for your screen. How much warmer your screen should be is up to you — just avoid using an extremely warm temperature, as it will defeat the purpose of the filter. Simply drag the slider and set it to the temperature that feels most comfortable.
Using a schedule
As you enable Night light, Windows 10 will use a default schedule to automatically turn the feature on or off at night, but you can always set a schedule manually. Also, there is an option that allows Night light to detect your location to figure out the sunset and sunrise times to manage the feature automatically.
While on the settings page, select the Set hours option to manually set the time the feature should turn on and off.
If you select the Sunset and sunrise option, Windows 10 will set a schedule depending on the sunset and sunrise times in your current location. The best part of this option is that the time will adjust every day automatically.
After completing the steps, Windows 10 will activate Night light on schedule allowing you to keep up during those days where you may need stay up late in front of a screen.
Just remember not to turn off the Schedule night light toggle switch, as doing so will disable the feature.
_Will you try Night light on your device this holiday season? Are you using the default temperature or warmer colors? Tell us in the comments. Oh, and happy holidays!
Windows Central Newsletter
Get the best of Windows Central in in your inbox, every day!
Mauro Huculak is technical writer for WindowsCentral.com. His primary focus is to write comprehensive how-tos to help users get the most out of Windows 10 and its many related technologies. He has an IT background with professional certifications from Microsoft, Cisco, and CompTIA, and he's a recognized member of the Microsoft MVP community.
It makes the screen look horrible, like it's broken. I'll pass.

Uh huh, you don't like anything. We know.

You seem to be negative about everything that is windows 10, if you hate it that much why are you even using it, also again if you hate this much with a passion why not just move to Linux, mac os x or you can just downgrade back to Windows 7/ 8.1. Otherwise, bug off!

"Otherwise, bug off!" Someone is a tad defensive. Yes, night light looks weird if you're exposed to it without adjustment. But, if it's turned on slowly chances are you wouldn't even notice.

Works great for me as I mostly use my SP4 in the evenings, good replacement for FLU.X

Using F.lux from windows store. Much better, and offers more settings.

Maybe that's why he's so cranky.

This is great except its no longer a holiday here for me TvT

I love night-light a great beneficial feature that the Windows team has engineered into windows 10 core system, I use 24/7 especially since I'm a night owl.

One of the great addition to Windows (if you are not using f.lux already :)) I have it slightly warmer than default, it looks radical when you first set it, but once it is scheduled, I do not notice it at all.

Is there any evidence that these color temperature changing softwares actually affect sleep? Everyone's got them now but I haven't seen anyone actually document that they positively affect sleep.

I use a program called Flux, but it doesn't let you adjust the hours. Maybe I'll have to try this.
Windows Central Newsletter
Thank you for signing up to Windows Central. You will receive a verification email shortly.
There was a problem. Please refresh the page and try again.