3 essential shortcuts you should know for the new Surface Pen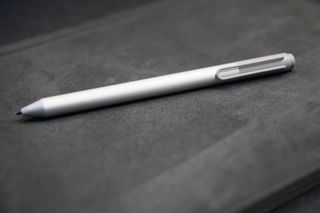 The new Surface Pro 4 comes with a new Surface Pen. It lets you write, draw, or mark documents digitally. The new Pen also has 1,024 levels of pressure sensitivity and reduced latency. There's even a digital eraser on top in case you make a mistake. The new Surface Pen is a great tool, and it's even better if you know these 3 shortcuts.
1. Click the top button once to open OneNote. A blank OneNote page shows up, where your handwritten notes can also be converted to text and shared.
2. Double-click the top button for a screenshot. Snap a quick picture of something you're working on and share it with OneNote.
3. Click and hold the top button to open Cortana. The personal digital assistant can offer time, people, and location-based reminders or even help you send a quick email.
What's great about the latest Surface Pen is that it's also compatible with the older Surface Pro 3 and Surface 3 along with the newer Surface Book and Surface Pro 4. However, the 1024 levels of pressure are only supported on the Surface Pro 4 and Surface Book.
The new Microsoft Surface Pen ships with the Surface Pro 4 and Surface Book, but you can also buy it separately. It ships by October 26th for $59.99 and includes the Pen Tip Kit. The kit lets you choose from one of 4 tips. Use medium tip that has the familiarity of a #2 pencil, or swap it with a low friction tip similar to a fine point pen.
Would you get the new Pen if you were a Surface Pro 3 or Surface 3 owner? Let us know in the comments!
Buy the new Surface Pen (opens in new tab)
What I want to know is are these shortcuts user configurable? And also, are they/can they be program specific? For example, Wacoms drivers allow you to remap all your buttons and even change all the pen and/or tablet settings and functionality on a per-program as well as a global basis, so if you tab back and forth from Photoshop to Maya, your pen and tablet settings change over, as well. This is a pretty crucial ability for ease of use and speed of workflow.

As of now, no, they are not configurable. If it does happen - and it might - it will be through the Surface app in the Windows Store.

I sure hope so. I used to be able to map my buttons on the stylus for my fujitsu stylistic tablet, back in 2003, before adobe designed all those touch interfaces. Was especially helpful to use Illustrator without a keyboard while having access to ctrl and shift and alt key functions on the stylus itself.

There are ways. Unofficial ways, but WAYS! http://radialmenu.weebly.com/ http://www.lovemysurface.net/surface-pro-3-purple-button/

Cool. I was waiting for someone to confirm that this was usable with the Surface Pro 3. Does the eraser on the back of the pen also work with the SP3?

Yes. Everything should work, except for some reason you won't get the 1,024 levels of sensitivity (it probaby requires the new processing unit?).

It requires an update to the sensors in the display.

It would be great to check how many different levels of presure you can actually produce with the old and new pan. You can go from 0 to 256 or 1024, but with how many different steps. I would not be surprised if difference bitween them is marginal.

They (the levels of pressure) are so close together that it's almost continuous from 0 to 1024 rather than abruptly changing discrete levels of pressure. I would think the "difference between them" is rather subjective and depends on how well your body can perceive it. There is probably a limit to it. Even so, increasing the levels beyond a so-called limit is good for artists and other creators who need very fine control. I'm not sure (don't have Science to back it up) but believe that it provides greater buffer for error due to dexterity or fine-control issues. P.S. Yes, I have been math-ing.

Microsoft Support just told me the Pen of SP4 will work on SP3 with 1024 levels of pressure sensitivity because it is limited by the pen.

Yes and we confirmed it in our review ;)

So I'm confused - the article says it doesn';t support the extra pressure with the sp3 but Microsoft have said it does because it's the pen that provides the pressure sensitivity? Which one!!?? :-)

The eraser is better on SP3. Cleans better. No seriously! Because you use the much smaller tip for erasing, you have better precision on fine erasing. E.g. When doing sketches in SketchBook Pro app, the smaller tip eraser is very useful.

The real key thing is that you will be able to manipulate these shortcuts. To what degree I'm not sure yet, but the Microsoft rep I talked to locally said that you can 100% change it from opening the default OneNote app to the OneNote desktop program. That will be through an app Microsoft releases (like how they put out the Surface Keyboard app).

Yeah, as of now the current Surface app does not let you touch the buttons, unlike Surface Pro 3 + OneNote option.

I recently spoke with an MS rep who infomred me the Surface app is no longer "supported" and to expect a new sort of Surface app to replace it soon. There is along chain of support forum threads where the Surface app does not recognize teh surface pen on when it is paired to a Surface 3/Pro 3 with Windows 10 installed.

My sister's Surface Pro 3 does not do the press-to-launch-OneNote action the pen since Windows 10. I'll see if the Surface app somehow disabled it.

1 and 2 work on the Surface Pro 3, with it's pen. Now if it would just rouse Cortana...

The fact that you can only erase using the fake "eraser" at the opposite end of the pen seems bizarre. I dont understand why they would've replaced the convenient side button found on the original.

because most people complained about it NOT being an eraser. This has been the way that wacom pens have worked forever. When they made it a side button a large portion of people freaked. Though I'm with you, I'd much rather not have to actually flip the pen over. if we're going to bother with creating skeumorphic objects to do digital things, there's no reason we can't improve on them as well!

On my Wacom Cintiq I have the rocker button on the side mapped to 'brush' and 'erase' respectively, so I can very quickly toggle back and forth. I am with you in that I would rather not have to flip the pen over to erase and completely upset my hand position on the screen.

To be fair it originally did have an eraser on the top, the Pro 3 was the first one with a button on the side.

I always hit the dang eraser on accident so I would prefer to manually flip the pen. I also used nothing but pencils in school, I hate writing with pens, so the flipping motion is quick and natural to me.

To me, holding a button while erasing is difficult.. You have to do two things at once which makes precision erasing harder to do. I'm glad they went back to the original Surface Pro and Surface Pro 2 design and put the eraser on top. Remember, the Surface Pro 3 button eraser was a change from the original design... It's not how it was originally, and clearly a lot of people disliked the button eraser.

I wanna buy this for my Surface Pro 3... But, I don't know if works fine, I mean, if I can use the same features for SP4 on SP3

Same features other than the 1024 points of pressure

Just realized that I will end up with 2 different pens. I have one for my SP3 and will get one for the Book. I wonder if I can just pair the new pen to both devices. As long as they are not next to each other and on, it should be all dandy.

If it's like the SP3 pen, then the pen tip (and probably eraser) are not linked to a specific device. It is only the button on the top of the pen that is linked with Bluetooth (and can only link with one device at a time, so far as I know).

I was going to buy this and the new fingerprint reading keayboard cover, but the MS store said they wouldn't give me any trade-in credit for my old ones. I'm not asking for 90% off or anything, but in the past they have been very good at supporting Surface customers, They even gave me a whole new touch cover for my RT that was out of warranty for no charge at all. Not even offering $20 off to exchange the old ones makes me far less likely to buy the new ones.

If only there was a global website that provided the opportunity to sell things to people that want to buy them.

Will the magnetic Storage of the pen work with the Surface 3 (non pro)? Maybe with an inernal Steal-construction or something like that ;) (Sorry, i'm not a native english speker ;)

No. When I tested the new Surface Pen on the Surface Pro 4, it would ONLY cling to their specific areas on the left and right side of the device. There must be a magnetic area built into the device that catches the new Surface Pens.

It's also a cool realistic-feeling eraser!

That clip looks like Clippy.

Does pen have a microphone or does it simply activate Cortana on the device? I believe it's the latter but haven't read anything definitive on that yet.

A shame, that seems like a missed opportunity. I'd love a pen with a good quality mic and a dedicated Cortana button. Actually, I'd love it if someone developed a battery powered lapel mic with Cortana button.

Battery life would be an issue. Bluetooth headsets only last 4 or 5 hours? I don't want a pen with such limited battery life...even 10 hours is way too short.

That'd only be a drain if Mic were on whole time. Having it on demand shouldn't drain that much.

AAA battery is fine. My own is still going strong 8 months later on the original battery. Granted I don't use the pen religiously but it's nice to know that I haven't been without it due to a flat battery.

There wouldn't be any extra space. You'd need to replace the space with the battery and the charging components like a Micro USB port or an inductive charging coil.

Thanks for confirming. Shame as that'd be cool to have.

So basically, the pen does *not* have 1024 levels of pressure sensitivity, the SP4's *screen* has 1024 levels of pressure sensitivity. Otherwise there'd be no reason they wouldn't all work with the Pro 3.

Maybe the 3 doesn't have the software for it?

It's probably a combination of both pen and the digitizer in the SP4

I think a surface device without a stylus and type cover is like investing into half an experience at full price. I think it's missing out on value.

Mark. It's the long press programmable? I don't have Cortana. Would be nice if the button is programmable for example to open another app or be an alternative for the windows key. ​

Yes it is, there's an app called surface where you can set the function of the Key.

Already pre-ordered this pen for my Surface Pro 3, and the new fingerprint keyboard!!! I love how I can buy new accessories for my Surface Pro 3 and make it feel refreshed!

The fingerprint keyboard is available only in Onyx Black, right?

I thought the pen was a seperate purchase like the cover. With it being included is a nice bonus. I'm still not happy with the battery life though. There's no overall increase in usage despite the new Skylake. That wouldn't have bothered me as much if they brought back a new Power Cover option but that didn't happen. It would have allowed me to go out without bringing a charger. So much for their no wires that they announce.

Going to pick up the new pen for my SP3.

I am a Surface Pro 3 user. And No I wont buy the SP4 pen. Since it lacks the pressure. After the Win10 update. My desktop onenote doesnt launch anyways. It launches the crappy onenote app which came along with Win10. So i see no reason to spend $65.

Yeah I'm not a big fan of the onenote app either, the desktop application is much easier to use.

Is the (pre)order site crashing for anyone else? I can't wait, but between Chase and MS, the two really need to get their act together.

The site is run by Digital River ... not Microsoft ... so many are not surprised at the problems it has.

Wish I could use the pen on my surface book like laptop by Toshiba

Ok I was at the store the other day and tried the new surface pen on the Surface Pro 4, buttery smooth and NO LAG! I was truly impressed, this is the first time a digital pen felt so 'real'. However I tried that same pen on a Surface 3 (not pro) and I was experiencing delay and lag.... I am hoping a software update on the S3 will take care of all this. :)

Nice. This may have to do with the custom "G5" chip that Microsoft built into the Surface Pro 4 specifically to handle pen input and relieve the load off the main CPU.

does anybody know if these pens work with 950XL?

I will buy it for my SP3, I like the colour options and the Cortana button.

So i can click and hold to be told that Cortana is STILL not available in my region. Awesome, will look forward to that working 'in the coming Months/Years'.

Yep, you should feel privileged. I wonder what will happen when you long press the top button. Maybe it'll instead open up a website to buy plane tickets and a suggestion on Cortana destinations. "I see you live in Australia. You can get a one way ticket to LA for $800. Would you like to purchase one now?"

I have an SP3 and will be getting the new pen. Does anyone know if the SP4 keyboard is compatible with the SP3?

I haven't heard anyone say anything about how to do right-clicks - are we back to hold the pen in place and wait for the dots to go in a circle? Being able to navigate apps not designed for touch with the pen (including right-click functionality) is a significant need.

What I want to know is why it isn't reachargeable. Instead it used one kind of uncommon-ish batteries in the base, and another kind for the button on top. Whose stupid idea was that?

I pre-orderd the new pen for my SP3, mainly for the interchangable tips (normally $10 extra, but free if you pre-order). The SP3 tip is just to slippery for me and my handwriting is horrible on the screen (I LOVE taking handwritten notes), but is decent with paper and pencil or pen. Now for the exciting part, I JUST got the email this morning that my pen has shipped, with a tracking number!!!! Wooo Hooo!!!!

Will/does the pen allow for slide advancement in power point?

Mine shipped this morning. Got it for my Surface 3. The old one is just too slippery for me.
Windows Central Newsletter
Thank you for signing up to Windows Central. You will receive a verification email shortly.
There was a problem. Please refresh the page and try again.