3 good reasons why Surface Go is great for businesses
By Jason Ward last updated
Microsoft says Surface Go is for everyone. And this mini "Surface Pro" may be all the Surface many businesses need.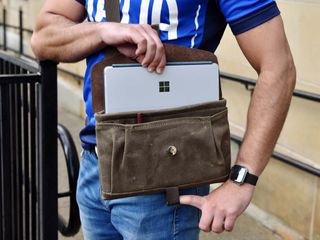 Surface Go is making headlines for what seems to be Microsoft's first real consumer-focused Surface push. Web-surfing, watching videos and listening to music lead the marketing of this affordable premium 2-in-1.
Microsoft complements these promoted scenarios with images of children using Surface Go, a mom using it while cooking, a woman using it for selfies, and people lounging with it at home. Still, Microsoft asserts Surface Go is for everyone, including schools and businesses. Though perfect for leisure, Surface Go is also a relatively powerful mini 2-in-1 capable of handling most productivity tasks the Surface Pro can.
Thus, businesses that would bust budgets investing in Surface Pros may find that Surface Go meets their business needs without breaking the bank.
Money talks
Business decisions are influenced by costs. Microsoft's Surface as a Service and Steelcase partnership provides it with avenues to get Surfaces to businesses. This doesn't come cheap, however.
Microsoft's Surface Pro, its "most versatile laptop," has been the company's "flagship" productivity device for businesses. Until recently it epitomized tablet mobility with laptop productivity. Unfortunately for businesses, Surface Pro's keyboardless $799 base model and its $1700 full specced model are often just too expensive.
Microsoft's Surface Go is a PC that provides productivity without compromise at an appealing price. As a premium Windows 10 2-in-1 with support for full Office, legacy programs and modern apps, Microsoft's $449 starting price may hit the mark. Adding the required keyboard brings the cost to $549, and the Surface Pen (essential for some industries) bumps it to $649. For the mobility convenience this 1.15-pound premium 10-inch Surface offers, Surface Go's price range may finally put Surface within many businesses' reach.
Surface Go is versatile and powerful
Surface Go's high-resolution 1800 x 1200 (217 PPI) display, microSDXC card reader, USB-C port, enterprise-grade biometric protection via Windows Hello, 4GB to 8GB RAM, 64GB to 128GB Storage, seventh-generation Pentium Processor, nine-hour battery life, LTE configuration and NFC support for radio frequency ID (RFID) used in inventory tracking, position Surface Go as a great tool for a range of frontline and mobile workers.
Surface Go fits well within businesses that have committed to Microsoft's industry-leading IT solutions such as Azure, device management, Office 365, Skype and Microsoft Teams. It represents an ultraportable access point to Microsoft's productivity services. And as a 2-in-1 it, it easily shifts from touch- and pen-centric tablet mode to laptop mode for desktop productivity. Additionally, the ability to dock Surface Go provides mobile and frontline workers with the full comforts of a Windows 10 desktop when needed. iPad can't do that.
Furthermore, the kickstand's 165-degrees of articulation is ideal in industries where drawing is required.
Surface Go fits virtually everywhere
Surface Go's range of capabilities from context-conformity, Pen integration, full Windows, ultraportability and more, helps it fit virtually anywhere. It's notebook-like dimensions with Surface Pen and Windows Ink make it an excellent tool for researchers, designers, doctors and many other occupations where note-taking (and cloud-sync) plays a major role. For factory floor workers, repairmen and tech support, Surface Go is an easily carried tool from which to access company information or initiate Skype calls.
From highly-mobile social workers who keep extensive records, house-hopping realtors who take pictures of properties and record customer info and tutors who use modern tools to support students and track progress, Surface Go fits businesses from the boardroom to the factory floor.
Finally, Microsoft Chief Product Officer Panos Panay said of Surface Go's work and life fit: "Our products don't do just one thing because people don't do just one thing."
Surface Go's positioning leverages Microsoft's enterprise relationships and the influence of the bring-your-own-device (BYOD) movement. Businesses that may internally find Surface Go's function and cost balance appealing may also be externally influenced by professionals who find Surface Go appealing in their personal lives, making it a no-brainer choice for businesses.
Jason L Ward is a columnist at Windows Central. He provides unique big picture analysis of the complex world of Microsoft. Jason takes the small clues and gives you an insightful big picture perspective through storytelling that you won't find *anywhere* else. Seriously, this dude thinks outside the box. Follow him on Twitter at @JLTechWord. He's doing the "write" thing!
I work for a school that hands out little MacBook toys with Parallels and Windows 10 installed so that business students can run Office for Windows. Of course, the students have to pay for that crap. Why not just use these so that the students can go home with a machine that does what they want?

The case in your school seems stupid on many aspects indeed.

Whoever is incharge of IT at your school Jim is a lemming for apple. Your story is proof. No sensible IT person would EVER do that. Just make students jump through hoops so that they use an apple computer. I see it all the time. Tried it 3 times actually and each time sold at a loss and moved back to a REAL computer running windows. Got sick of trying to jump through apple hoops to get MS software running correctly. Even using bootcamp, some windows software does not agree with the macbook. Plus, macbooks are terribly outdated now. No touch, no pen, no 2 in 1 form factor etc.

And still no menu key and is still short-cut keys lacking. KB-user-unfriendly esp if you are a programmer.

I agree, Steve. Both the IT Director and the President of the college are Apple fanboys. My students complain, I go to help them and just trying to use the touchpad causes the Mac to switch between the Mac side and the Parallels side. Some of the students bring their own Windows laptops, so their stuck paying for this POS Mac they'll never use again! They all have widescreen monitors at their lab stations, plus a keyboard and a mouse, but those don't even work properly with the Mac. It's just stupid, the business faculty complains, the students complain, and nothing changes.

If you're not able to make a mac work with external kb,mouse and monitor then you should get another job. Your MS fanboy comment is simply pathetic.

Yeah...most expensive way known to man to provide Office apps. We do this at work for the *very* few users we have with MacBooks, but then we also have a couple of Win32 specific apps that make the expense a little easier to stomach.

@Jim Roscovius. The people doing the budgets must be out of coffee or something... as that implementation makes zero fiscal sense lol.

Students and Teachers need fashionable toys. Western countries have money to burn

Very tempting but I'll wait for the LTE version!!!!!!!

"productivity without compromise" yes, maybe for office.

For the vast majority of business users. Obviously high end creatives or IT people no, but it is the common fallacy of comments on tech sites that they think their requirements match everyone. I used a Surface 3 for years as a college professor in the sciences for my carry around device.

As an IT guy, the Surface Go is more than adequate. There are already key management apps and most CRMs, Router management, VoIP management are browser based now. You don't really need to install many programmes. Furthermore it's fine for programmers however the only issue is that compiling will take awhile. But most programmers have high end PCs already which they can remote desktop into via VPN for compiling so there is a work around.

Which is what 99.9 of business use. Only graphics/Engineering/Design firms would be needing more. Then you just dont buy them.

Translators need more too.

Anyone know what bag is in the pic?

My girlfriend and I are eyeing on the LTE version, one for each of us and one for her 80 year old mother, who is begging for such a device.
I am curious whether the LTE versions might include a Snapdragon powered model.
We are not going to buy keyboards, but pens. For a desktop setup we will use dongles with big display and wireless keyboard and mouse.
It will enable us to dump all our legacy desktop and laptop stuff. Yeah!

I think that the LTE version will also use the Pentium Gold processor...much the same way that both LTE and Non-LTE versions of the Surface 3 used the same Atom processor.

I believe they mention that it will be the same Snapdragon modem Found in the surface pro new.

I must have misunderstood the question. I thought that it concerned the processor. 😳

Please have "Mom" look and try one before purchase. My 65 year old eyes would not be comfortable with a screen this small. If Mom is happy with it, that is great. If not, there are other options.

Seriously consider the Surface Dock if you are going to set up a desktop. It will make your life way more convenient. You can still use wireless keyboards and mice, either BT or Logitech. Even consider one of the available USB-C docks. Having just one connector to attach makes life wonderful.

I like my new Surface Go 8/128. The battery's run time does concern me though. I used to own an Insignia NS-P08W7100 tablet. The Intel branded battery, in its prime, could keep the tablet going for 8 to 9 hours. After a year, the battery weaken to the point where it couldn't support the tablet without the charger being plugged in. I had to, eventually, toss the tablet when it had trouble powering on even with the charger connected. Hoping that the Go's SMP branded battery has a longer lifespan than the Intel battery.

My Surface Go really is the ultimate portable, all purpose device I've ever owned. I can't think of a single device out there that can rival all it can do for its price point. Not iPad, not Android, not any other Windows tablet or device.

The 4GB S-Go has become my main device when doing business away from the office. It's light, perfectly sized, responsive, excellent build quality, and reasonable battery life. I left it in S mode, and really have no reason to convert it to Pro. I usually run up to seven apps at the same time such as: Word, Excel, Drawboard PDF, Calculator, Edge, Spotify, OneNote, Dictionary.

Looking forward to piloting a couple as potential desktop replacements for our inside sales. Their apps are all web based, thinking of providing workspaces with docks that in turn have KVM.

Sadly I just returned my Surface Go, although I did rather like it a lot.
But, in the end I could not justify $800 after tax for KB and Pen for a system that lasted roughly 5.5 hours on a charge web browsing, Word Processing, Email and display brightness at 50%.
The form factor of this machine begs you to take it out and about with you, but will certainly not last a full day with a fresh battery.
I can imagine after a year or two it will last even fewer hours on a charge.
It being a Intel processor, you're always going to be taking a chance that the system powers back on in your bag and drains your whole battery, which it did to me at least twice. Intel does NOT have a handle on power management. That alone does not instill confidence with me.
While I might have been able to get used to the keyboard, I did not find it enjoyable to use. I type all day everyday. That keyboard is too small compared to a standard keyboard to go back and forth between it and a full-size keyboard easily as often as I would have to.
Performance wise it was almost where I needed it to be. I only used UWP/Store apps including Edge. On a number of occasions video playback on YouTube in Edge with video quality set to "auto" would freeze while the audio continued. Audio playback would also pause for brief moments with Groove Music and OneNote running at the same time.
The only game I played was Minecraft which could not load a render distance as low as 8 chunks fast enough while flying with Elytra close to the ground and other graphics settings low.
Compatibility is no issue obviously with an Intel processor.
I have to say I don't see this being a front line workers machine unless they intend to swap it out after the first system's battery dies half way through the day. I don't think many front line workers are sitting at a desk with a power cord connected.
This type of device really needs a ARM/Qualcomm process to deliver the kind of experience Microsoft was aiming for, which I believe was the mass market consumer who wants an excellent straight forward computing experience with uncompromised portability and battery life.
I'll be holding out and hoping for an ARM based version which I really think was the original plan for the Surface Go, but ARM just wasn't ready.
That's my experience, and I'm sure it will differ from most.

Thanks for sharing your experience. I too am concerned about the battery life. But given most people are not always out they will have access to a plug socket at the office for a top up. Or you could still charge it with a battery pack via usb-c. Most people I know carry a battery pack with them.

I'm sorry, who paid for this article? The first reason isn't a cause at all, it's just a talking point. The surface go isn't powerful, it has a bloody Pentium, and the versatility and "fits everywhere" is irrelevant, because every laptop nowadays has the 2in1 features and is basically as small. The surface go is a good product with a good customer market (it's a godsend for students) but I don't think it's any good for businesses unless you seriously use the pen. It's basically a fancy looking weak tablet that's less comfortable than a regular laptop if you're not a pen user.

I have a Pro but I want a Go as my next replacement so that I can single hand grab it by the side and write. I'd also want a 6" WoA to sit on my gamepad.

Horribly biased review. Performance of these netbooks is very poor. Don't buy it, unless you're all about esthetics and only use it for "email". Are you on Microsoft's payroll?

Well... at least this thing can run some GTA5, Cuphead, DMC4 and Warframe...

Clearly you never owned a netbook. This is no games machine or workstation, but the performance is far from netbook class.

I rather buy Asus new Zenbook 13-14-15, kill that ugly bezel, and you have a much more compact size and bigger screen

I'd rather buy a macbook than anything with an asus logo on it. Asus is pure garbage.

Except SSD I do not see any advantage comparing to my 2 y.o. tablet Asus Transformer Mini T102HA with Atom x5 onboard and stylus/keyboard included to pack.

Having owned a SP3 LTE since 2015 with 40GB a month data plan, it nice to see people getting a clue about the Surface Go. However, I have now owned a Lenovo Miix 630 - Snapdragon and I am happy to say that I am completely "done" with drinking the Intel kool-aid. What no one is telling you (because they never test anything) is that the audio chipset is amazing, the video chipset is stunning and the antenna is 1 Ghz LTE and can download faster than Thano can kill half of everything living. And for the Trolls, I ripped 6 DVDs using a Win32 program so you can go BLANK yourself.

This is the 1ST version of the Surface Go. Microsoft Tech Personnel will improve it. I
think the Battery life could be improved with software. I think an ARMS CPU version
of the Surface Go using an Qualcomm Snapdragon 1000 CPU. Will work well enough
and have better Battery life to make it a device some will like more than the Intel
version despite the fact t uses Win32/X86 Emulation software to run windows
Legacy software. The Next Surface Go will have a lot of this versions faults corrected.
The Surface Go is a nice Basic Computer for an office worker, Student & some
businesses who don't need a high Power CPU device to do things and there are a
lot situations that don't require an intel i5 or i7 CPU
Computer to get work done

I got a Surface Go to use as my daily driver in my chemistry classroom. It has enough power to deal with all of the tasks that I might have on any given day and it's the same size as my iPad Pro in its case. Finally a perfect solution. Yes, it is slow and it has had a tendency to hang up when asked to do anything more than basic computing tasks but it will serve nicely. One question...which bag is that on the image at the top of the story and where can I get it?

:)))) Powerful and great for business :)))))))))))))))))))

1. It is too small to read anything on so one can slack off all day with pay and blame it on the small screen. 2. It is a chick magnet since it cost the biiig blocks. 3. You look so professional that you might be offered a CEO job where you can talk for years about a product people will never see and... still you the CEO gets paid. 😁
Windows Central Newsletter
Get the best of Windows Central in in your inbox, every day!
Thank you for signing up to Windows Central. You will receive a verification email shortly.
There was a problem. Please refresh the page and try again.