5 reasons why Surface Go is better than iPad for students (and 3 reasons it's not)
Microsoft's 10-inch Surface Go and Apple's 7.9- and 9.7-inch iPads have students in their crosshairs. Each "mini" device has its advantages. Here's what you need to know.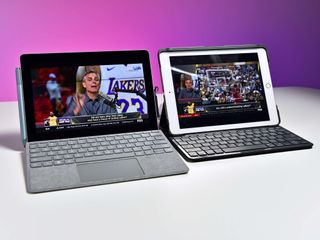 Microsoft and Apple bring unique hardware and software strengths to personal computing. Microsoft's enterprise partnerships, pervasive software presence, and decades-long PC dominance make it synonymous with productivity and personal computing. Apple's high-end devices, hardware and software synergy and invaluable "cool factor" make it an industry powerhouse, the standard by which rivals are measured and a consumer and media darling.
In the PC space, Microsoft has crushed Apple's consumer and business efforts for decades. Conversely, Apple's iPhone-led charge ultimately resulted in the death of Microsoft's phone strategy. And the iPad, which dominates the tablet PC market, overshadows Microsoft's successful Surface 2-in-1, though the two devices exist in distinct product categories.
Still, Apple's newest 7.9-inch and 9.7-inch slate tablets with Apple pencil are aimed at the same education market Microsoft's targeting with its new 10-inch 2-in-1 with Surface Pen and TypeCover. Here are five reasons why Microsoft's Surface Go is best for students and three reasons why Apple's iPad rules.
Surface Go
Microsoft's most mobile Surface.

Microsoft's 10-inch Surface Go is touted as the company's most mobile Surface and is positioned to take advantage of tablet-focused leisure activities. Still with a quality build, Windows 10, a keyboard and Surface Pen this diminutive Surface offers nearly as much productivity power as the larger Surface Pro.
Why Surface Go is the way to go
Microsoft's software and hardware solutions are preferred among schools (and businesses) around the world. According to consulting firm Futuresource, Microsoft hardware had 44 percent of the global education market in May of 2018. This market dominance lends itself to a comprehensive end-to-end approach.
Microsoft's comprehensive solution
Microsoft's hardware and software infrastructure-building forté is an important asset for any entity, including schools, to consider when weighing its options. Microsoft brings enterprise-class collaboration, Teams for Education, device management, and Intune for Education to the table with devices like Surface Go. This is complemented by an industry-leading cloud and enterprise-grade first-party software like Office 365 for Education.
Surface Go in education is backed by the weight of what makes Microsoft an enterprise success. And though Office 365 software like OneNote is cross-platform, Surface Pen and Windows Ink bring unique experiences to Surface Go.
Microsoft Office 365
Microsoft Office 365 Education
Microsoft's Office 365 Education.

Microsoft's Office for Education is the companies comprehensive productivity solution for students and teachers. From collaboration with Microsoft Teams, device setup and management with Intune for Education and more, Office for Education brings the world's leading enterprise and personal productivity suite and other tools to the classroom.
Windows Ink is king
Image 1 of 2
Though the iPad with its (eraser-less) Apple Pencil boasts digital inking, Microsoft's Windows Ink is more broadly integrated throughout the OS and other software. Microsoft positioned inking as a first-class input modality alongside keyboard, touch, mouse, voice and gaze in Windows 10 and by extension Surface Go. Thus, with its notepad-like dimensions Surface Go is a great digital notepad.
Additionally, various combinations of clicks of the Surface Pen's eraser launches Windows Ink Workspace apps as well as apps like OneNote. Students can write on Office documents, Edge webpages, emails in Microsoft's Mail app and more.
Writing is a natural mechanism of human expression, as well as recording and sharing information. Despite technology's influx in schools, it remains an integral part of a student's academic (and life) experience. Making that natural experience as much a part of the digital platforms students use is an important part of seamlessly integrating technology into education. Microsoft's system-wide inking solution positions Surface Go to consistently provide opportunities for students to naturally interact with and create digital content through writing.
In fact, earlier this year Microsoft introduced the Microsoft Classroom Pen, which was designed specifically for students using Surface Go (though it is compatible with other products). Microsoft's hardware team worked with students within the classroom to develop this pen which is shorter than the original Surface Pen, has a more durable tip, fewer moving parts and has a tether to connect it to the device.
How Surface Go is paving the road to Surface Andromeda
More versatile
Surface Go is a full Windows 10 2-in-1 PC, whereas the iPad is a slate tablet with a mobile OS. As such, the Surface Type Cover turns the base Surface Go "tablet" into a fully functioning, albeit mini, laptop like the Surface Pro. Microsoft made Surface Go a full PC so users can do whatever they want without limitations. In comparison, the 9.7-inch keyboard-less iPad that lacks full mouse support is limited. Apple has recently brought mouse support (as an accessibility option for now) to the evolving iPadOS. Though this mobile-based platform still lacks the full power of a Windows 10 PC, Apple is positioning it to do most of the things most people (including students) do most of the time and more.
Future prep
Microsoft's IT solutions rule the business world many students will eventually join. Surface Go, Microsoft collaboration and device management tools like Teams and Office 365 for Education prepares them for this Microsoft-driven environment.
OEM options
Finally, Surface Go, as an aspirational device positions schools for more options as Microsoft's OEM partners create a range of devices, at various price points, that emulate Surface Go.
Related: Surface Go's cool factor may be its key to success
Why iPad? Apps matter
Apple's iPad has access to a breadth of apps that Microsoft's poorly-supported ecosystem may never have. Millions of developers see Apple as the standard to beat and follow the company into whatever sectors it competes in, including education. Thus, they've created a host of great apps for schools.
iPad is cheaper
At just $329 for the 9.7-inch and $399 for the 7.9-inch, iPad is cheaper than the entry-level $399 Surface Go. Adding a $99 Apple Pencil and $99 Surface Pen still keeps iPad the more affordable option for cash-strapped schools. To optimize the Surface Go's advantages schools would have to spend another $100 for a TypeCover. For struggling schools, the now $500 Surface Go may be a no deal.
Better mobile OS
iOS was built for mobility. As such it is fast and has an efficient touch-friendly tablet mode that beats Windows' tablet mode hands-down. iPad's overall hardware-software synergy is also more seamless and elegant than Surface and Windows 10.
Apple iPad Mini
Apple iPad Mini.

Apple's iPad Mini is touted as "like a computer, but unlike any computer." With a 7.9-inch pocketable version, improved inking, a vast app ecosystem and an evolving iPadOS platform, Apple's iPad Mini is a powerful device that Microsoft should be wary about how it will evolve next.
Wrapping it up
Surface Go offers better integration into a comprehensive Microsoft IT solution, is more versatile, offers a better inking experience, as a PC it is categorically the tool businesses use and sets the stage for providing more options for schools as a device OEMs may emulate.
The iPad has much better third-party support, is the more affordable option for struggling schools and has a better tablet experience. Still, Microsoft's Surface Go likely provides the most benefits to students and school districts.
Related reading
Get the Windows Central Newsletter
All the latest news, reviews, and guides for Windows and Xbox diehards.
Jason L Ward is a columnist at Windows Central. He provides unique big picture analysis of the complex world of Microsoft. Jason takes the small clues and gives you an insightful big picture perspective through storytelling that you won't find *anywhere* else. Seriously, this dude thinks outside the box. Follow him on Twitter at @JLTechWord. He's doing the "write" thing!