How Surface Go is paving the way to Surface Andromeda
Microsoft recently launched its most mobile Surface yet, but it wasn't the long-awaited Surface "Andromeda" pocket PC.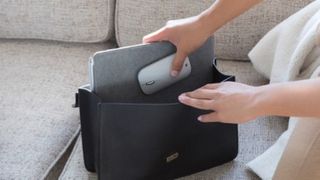 (Image credit: Microsoft)
Microsoft's new 10-inch Surface Go, unlike Andromeda, isn't pocketable but does introduce a degree of mobility. This is particularly true of the LTE version, that Surface creator Panos Panay, said in a recent interview wasn't possible with previous Surfaces.
Additionally, when asked about a future Surface Phone as a potentially smaller Surface Go, Panay asserted in the future communication, not the phone, will change, and devices would "wrap" around those communication needs. He added as Microsoft continues to push, Surface Go leads to a place that how, where, and what people use to communicate will change with that and future devices. Context-conforming form factors drive Microsoft's computing vision.
In fact, Panay's statements added the context of Microsoft's long-term mobile vision to its Surface Go positioning as an ultra-portable PC that, like smartphones, "goes everywhere users go." He added Surface Go is both an incredible communication and productivity device. Microsoft's iterating on this highly mobile PC that provides uncompromised productivity (per Panay), can benefit its rumored Andromeda Pocket PC category. Surface Go introduces ideologically, technologically and in use cases across work and life, PC power combined with smartphone-like constant presence that Surface Andromeda category pocket PCs are anticipated to bring in an even more refined package.
Related: How Surface Andromeda can disrupt the market
Surface form is a factor
From detachable keyboards to reclining displays Surface devices, including Surface Go, reflect Panay's belief that form factor must adapt to users. Surface Go is capable of the productivity and context conformity of its larger counterparts, while its smaller and thinner design makes constantly carrying it, in a small bag, for "everyday work and play" far more practical. Additionally, Microsoft's tagline, "Surface Go is by your side wherever you are," deliberately targets smartphone's "extra appendage" position in our lives.
Microsoft is positioning Surface Go for the non-phone tasks for which smartphones are used. And despite the social stigma, Microsoft is pushing this diminutive tablet for mobile photography as well.
Panay stressed Microsoft opted for full Office on Surface Go because it wanted users to be able to do everything they wanted without limitation. And also be able to detach the keyboard and surf the web, watch Netflix, listen to music and use Store apps that bring the lightweight mobility users want. This is important insight into Microsoft's mobility vision.
The company's building hardware and software foundations for a single device future that gives users laptop productivity while providing smartphone-like mobile experiences. Bringing PCs to the cellular roadmap is core to this vision.
Surface Go LTE reveals the range of functionality Microsoft may envision for Surface Andromeda. Andromeda's potential to be folded as a phablet, unfolded as a tablet and docked via Continuum as a PC, represents a single-device-for-all-scenarios that could be the next device "that is always by your side" that Surface Go is currently being marketed as.
Why Surface Andromeda is critical to the Windows ecosystem
Digital notepad precursor
Surface Andromeda's target audience is lateral thinkers. These people like Panay, write their thoughts down as part of their "process." Panay previously kept a Surface Mini bedside for this purpose. He now "lets his thoughts flow through the Surface Pen onto the screen of the Surface Go as a necessary step in his creative process."
As Surface Andromeda's "forerunner," Surface Go's notepad-like dimensions, complemented by Surface Pen, Windows Ink, OneNote, Whiteboard and more may help position Windows devices as professional and personal digital notepads. In fact, Panay's daughters draw on Surface Go daily.
The affordable Surface Go, and potentially even more affordable OEM devices it inspires, are for everyone. If Microsoft's Surface Go strategy works, lightweight, "almost-pocketable" LTE PCs that allow laptop productivity, great mobile experiences, and are always with users may become a successful 2-in-1 PC category that primes the market for Surface Andromeda Pocket PCs.
Microsoft should make and inking-focused cellular Surface Mini
Surface always by your smartphone's side
Surface Go isn't a guaranteed success, but it may further blur the lines between PCs and smartphones. Especially the LTE version that may train users to purchase data through the Windows Store altering the current carrier model. Additionally, as Windows 10 PCs they'll be able to integrate with iPhone's and Android phones through Timeline, Your Phone, Cortana and more.
Microsoft is likely marketing Surface Go as the device that is always by your side in part so that through smartphone integration users will field smartphone notifications from this mobile PC that Microsoft hopes will be the preferred tool for web surfing, reading emails and more. The telephony-enabled Surface Andromeda may ultimately reap the benefits of this smartphone-trumping positioning.
However, the elephant in the room is the shortage of Universal Windows apps which diminishes the mobile appeal of Surface Go and Andromeda. Progressive Web Apps (PWA), offer some hope though they have their limits, and are not off to a roaring start. Still, as Microsoft works to build the number of PWAs prior to a potential 2019 Andromeda launch, Surface Go may be a perfect mobile platform to popularize this growing app solution. As a Surface, Surface Go will likely get Microsoft's full support.
Finally, as a device Panay shared is leading us toward new mobile form factors, Surface Go is an important category to watch if we want a hint of what Andromeda may be.
See at Microsoft Store (opens in new tab)
Windows Central Newsletter
Get the best of Windows Central in your inbox, every day!
Jason L Ward is a columnist at Windows Central. He provides unique big picture analysis of the complex world of Microsoft. Jason takes the small clues and gives you an insightful big picture perspective through storytelling that you won't find *anywhere* else. Seriously, this dude thinks outside the box. Follow him on Twitter at @JLTechWord. He's doing the "write" thing!
It certainly isn't increasing the ecosystem foe Windows on ARM. That is what Andromeda really needs.

Surface Go is a big win against the iPad and Chromebooks, but the clue here is target audience, I think kids between 12 and 18 years need a Surface Go, but when they go to College, its not enough, they will need a Surface Pro.
IMO all these student teens that are entering High School today will have a great experience with the Surface Go and by the time they will have their 18th Birthday Andromeda OS and device will be as good as the best phone from Samsung or LG.

Or those kids will be frustrated that it is harder to use than an iPad or Chromebook and doesn't have all the modern apps.

Lol, specially when they are having math class and they need good software like Gnu Octave and they find out it doesn't work on iOS or ChromeOS. They will be so frustrated they will think the iPad and Chromebooks are for small kids from 6 to 12.
No offense here, but ChromeOS and iOS are so limited for students that want to learn to use the tools that would make them smart when they are ready to study College.

Lol, I bet I could count on a single hand the number of students who have needed to use gnu octave in a high school math class.

Students, not pupils. We're not talking school level here.

That's the thing; we ARE talking grade school here...! Competing against iPads and Chromebooks (in the US) means getting them in 2nd or 3rd grade. By the time they reach high school, let alone university, they'll need a full blown PC, Windows or Mac; not a tablet or a browser UI.

Ha, I know about pencils and graft paper.

Children are not clamoring for ChromeOS devices, these devices are being forced on them because they are deprecated and can do less, therefore less support by admins. Kids to want iPads but mostly for social media and non-educational consumption. The #1 reason for kids to have computers in grade school is doing reports, performing web searches, creating power points, etc. Both ChromeOS and Windows can do this, Windows has Office and that is something that will prepare them for actual work after school as it is still the #1 productivity suite for corporate/government use.

The #1 reason for kids having iPads in grade school is the plethora of grade school level learning apps that schools for some reason seem to be embracing with open arms...

What do you picture those no-PC-skill kids to become after colleague?
Cashier?
How do you run an enterprise, law firm, IT firm, whatever firm with only iPads?

Both my kids went to school and recently headed to college. They used macs throughout their primary and secondary education. Neither really understand what a touchscreen can do or a pen (inking). Their schools don't even have a clue. Take notes in class? They did in a notepad and did most of all your homework on a mac where you have to type in answers. Try to do that in a math class or physics class. Lateral thinkers, those people who are learning the basics of any field of study must write down the thought process to arrive at a solution. You can not do that effectively for many subjects in the STEM field using a Mac alone.

I agree. Very surprised the GO isn't an ARM device. A missed opportunity, and a poorer device for it. Would have been much better with the great battery always-on ARM system.

ARM simply is not ready and, frankly, would have bumped the cost of the device because you would need the most powerful chip to be able to drive any win32 apps that were attempted to run. I think ARM is the future but the future is not now and not on a low cost device.

Andromeda will be fine if MS positions the device correctly. Any product will be fine if marketing is done correctly, from every aspect of marketing.

I reluctantly agree with you. Geez, I hate doing that.

Yeah, I can't say I'm 100% confident they will push the device accordingly... Even worse, if they sense the slightest bit of competition from elsewhere they are prone to pack their bags, and run.

I have a feeling MS is testing the waters by releasing the 10" Go before Andromeda to see how much of a consumer demand there is for smaller screen devices. I think there's a good chance we'll only see Andromeda if sales numbers for the Go are positive.

But, smaller screen devices have already been on the market for years.

You mean, a sleek, quality 6" full Windows 10 PC?

That's certainly not a description of the Surface Go...!

Nah, I think the Go is a direct attack on Chromebooks and iPads in education. The Andromeda device will be targeted to a completely different crowd, more than likely corporate types in meetings and such.

Marketing will only get your foot in the door, it will not make up for a poor product. When you get that product home, it has to perform. No amount of marketing can fix a bad user experience.

Bad user experience? Have you ever had a chance to look at up-to-date Windows 10 Surface device lately? or any other device from any other OEM...

Did I say anything about Windows? I just said marketing doesn't make up for a bad product. So far, Windows has been a bad product on mobile. That is why you only see it on classic PC forms these days.

You won't find many agreeing with you on that point around here... I loved my WP devices, and find my Android phone a chore.

Agreed, android is too 'snoopy', slow and uncontrollable. With the exception of app support, WP Devices are far superior and give the user far more control over their device and data.

I am running Windows 10 1803 on my corporate SP4 and actually having a pretty good experience.

I think this is why the delay. As raytiger points out below, the user experience for a Surface Pro is quite good, for what a traditional laptop/PC was designed to do. Surface Pro provides a pretty good experience for inking. However, OneNote is a little cumbersome to use purely with inking. Carry that forward to a Surface Go, which should be primarily geared to inking, and you run into the user experience issue. Will developers provide the tools (maybe using OneNote as foundation) that allow kids, grade 1 through 5, to develop their creative "lateral" skills by using the traditional pen and paper (chalk and a slate, then inkwell and parchment) approach to education? The goal is to allow the teacher to interact in a productive way as the kids perform their assignments in class. There is more to this than simply letting someone ink on a touchscreen. The whiteboard that MSFT is developing for the Surface Hub is a similar deal. Tie in Hololens, whiteboard, Surface Hub, Surface Go, Cortana transcribing/translating voice and you can see a team of individuals creating a solution to a problem without having to be in a room. each of these team members would attack the problem from different disciplines in a manner that feeds information into a digital format that enhances the interaction of the team members.

And I have no doubt Surface division will take care of it. They've given Panos the task, what did ever go wrong around him? Nothing. Let's just hope. 🤞🏼

You mean other than Surface RT and the know reliability issues of the Surface devices?

please! Windows RT was a great product and I use it still to this day, although admittedly less since I upgraded to a pro 3 afterwards awhile back... only reason it didn't do good is people thought it came with full windows and could install legacy apps, and when they found out it couldn't returned it, also MSFT never advertised it properly as a store dependent device ... there was so many cool things that you could do on it even though it ran 90% Windows.. just watch a video from sean ong that he posted about the RT... its funny because ipads were worse where you could ONLY use store apps and was seriously dependent on the apple store! also what reliability issues are you referring to regarding the surface line? I own 4 surface devices and never experienced these "reliability issues" you speak of...

"Windows RT was a great product" - I don't think I have heard anyone make that argument. No apps, terrible performance, terrible keyboards, and quickly abandoned. Those things were a train wreck, have you actually used a Surface RT? I have one, it literally takes 5 minutes to boot and then another 5 minutes to open IE. Then maybe it will almost be responsive enough type in a website, but don't actually try to load the website because that would overwhelm it. Reliability issues are well known. Take your head out of the sand. You can easily find articles about Consumers Report's studies, all the issues with the Surface Pro 4 and Surfacebook at launch, and even leaked emails from Microsoft talking about how bad reliability was.

Calling BS on your "supposed" experience. I had a Surface 2 RT and it worked like a dream until I broke it.

Yeah, at the school I ran into several kids who said they loved their RT, and now look forward to upgrading to new Surface devices.

We loved our RT devices too...but they were asus and broke, again, and again, and again...now they are door stops.

In my experience, surface rt opened webpages faster than my pro 3. Yes, I tested this myself. I was quite surprised

Yes. RT was nice and quick. I loved it. And was using it right up until the dreaded asus ghost touch syndrome got both of our vivotabs.

The problem with the Surface RT was that they marketed it as a Windows device and it looked like Windows under the Metro overlay. It was also pokey on first release while W8.1 and firmware updates resolved most of those issues. As a companion device, esp. after getting Outlook on it with the 8.1 update, it was a very nice device. My daughter later used mine much the same way, as a walk around device, when she went to college. Afterwards I gave it to a friend for their kid to do school work for grade school since it had full Office.

Surface Go isn't blurring the lines between anything. I'm also skeptical many people will be buying data plans for this thing. I for one wouldn't spend any money for that, in addition to my phone. Microsoft needs to work with carriers to get the price of access down, at least in the U.S. it's way too high.

I agree. Not so much because of data consumption, or the price thereof, but because the Surface Go and the speculated Andromeda device are not similar and comparable devices.
The term "almost-pocket able" can be said of all tablets and many laptops, in that they may relatively easily be carried in a bag. Either a device is pocketable or it isn't; there is no middle ground, and devices on either side will not compete.
The Surface Go will do little to nothing in paving the way for the Andromeda device, nor is it filling out any intermediate gap. The Andromeda device must come relatively quickly and be a functional success out of the box, if it's to have any chance. Edit: For me personally, I'd buy the Andromeda device in a second if hardware and software were top notch. I have no interest at all in the Surface Go.

"The term "almost-pocket able" can be said of all tablets and many laptops, in that they may relatively easily be carried in a bag." It's not simply because the device is "almost pocketable" also but Microsoft's very deliberate positioning of Surface Go as, it's most mobile Surface, and particularly as a device that "is by your side where ever you are." There currently on one mobile device that fits that description for general of person that carries a modern piece of technology, and that is a smartphone. Now, a smartphone, as I've written about multiple times in the past (and is statistically true) is used more for non-phone tasks like web-surfing, emailing, watching videos, etc., than for actually talking on the phone. Microsoft is positioning, it's smallest Surface purposefully as a device that, like smartphones, is always by a persons side" for tasks like web-surfing, email, watching videos etc. AND for full PC task, a phone is not capable of like full Office and more in a laptop configuration. Microsoft, nor does any other PC maker market any other tablet or PC Surface that way. When you envision what Andromeda is expected to be, a telephony capable pocket PC, Microsoft will want the idea of a PC that is NOT a phone, that is always with a person, to be an easy concept to accept. Right now, a PC or tablet, for most people though may be capable of being slipped in various bag sizes, is a purpose-driven "carry." It's needed for work, school or something else, whereas is a phone is an extra appendage "default carry" regardless of where you're going or what you're doing, it's has a range of purpose (with accepted limits) across work and life. Surface Go, marketing position I believe is MSFT, attempt to begin training people into making a small PC (particularly more important are the LTE versions) a "default carry", pushing the boundaries of range of purpose of smartphones, limited personal computing abilities. That, "conditioning", with almost-pocketable, Surface Go and inspired OEM devices I believe Microsoft will continue to push with pocketable Andromeda and inspired OEM devices.

You are really spinning it! A phone is a default carry because you are definitely going to need it. A PC is a sometimes carry because you don't always need it. The tasks you need a Windows PC for are constantly shrinking, they become more niche by the day.

Your missing the point bleached. One you essentially repeated what I said about the phone being a default carry, I described it as "extra appendage" fir wherever you're going, fir whatever you're doing its purposeful(with accepted limits) across work and life and PC being a "purpose-driven" carry for work, school, etc. Now, I've asserted in the past, and articulated in detail here: https://m.windowscentral.com/smartphones-are-dead-part-ii-evolve-or-die-microsofts-ultra-mobile-pc-strategy That yes, tge smartphone 📱 has accommodated many of the tasks, but not all, of the PC. With that acknowledgement I've added that the mobile platforms that founded and evolved with tge smartphone are limited in their ability to encompass tge range of PC tasks that are still important to hundreds of millions of personal and business PC users. To that I added that the slate shaped smartphone firm factor ALSO limits what smartphones can do as more computing demands are being put in mobile platforms that evolved around a mobile OS and slate shaped form factor. To that I've added that the smartphone maker is saturated slate smartphone design has platued (other analysts industry see the same thing) Still, Apple and Google are approaching meeting increased and more PC-like personal computing demand with the ten-year old smartphone model of iterations to slate shaped smartphones. This strategy of bigger slates, faster processors, less bezels, and better cameras, is reaching its limits in answering the demands of more personal computing capacity and scenarios while mobile. So Microsoft is approaching this,PC demand on the celluar roadmap from the opposite angle. Make a PC cellular, pockatable and give it telephony. Now, as I said, MS is aiming the Surface Go, at those non-phone functions that dominate our smartphone use, web surfing, email, music etc. I'm not saying there aren't challenges, in fact i highlight tve app problem in the end if the piece. But, it's really not spin bleached, it's just laying out what MS is doing, if it works or not is a story only time will tell.

Please ban Bleached for the sake of humanity, if anything.

But your argument here brings us back to my counterargument; there is no such thing as an almost pocket able device. Either you can carry it in your pocket or you can't. A 6" device you can (barely) fit in your trouser or coat pocket; a 10" device you can't. Period. And as long as you can't, the devices are not comparable. They do not fill the same tech niche, and releasing one to assess the viability of the other makes no sense. It's akin to releasing a new motorbike in order to evaluate the sales potential of a new car; not the same audience!

You have to think along a continuum here of a shrinking Surface toward a pocketable Surface goal.. You have strict full size PCs with the Surface Pro/Book/Laptop with the supplemental marketing of productivity or business focus. Now you have this SMALLER Surface being intentionally marketed as the most mobile Surface, where its small size and portability are being stressed in the marketing, its position as ALWAYS being by a users side (like a smartphone) is being pushed as well as its full PC capabilities. Now take that and envision what Andromeda is supposed to be. An EVEN SMALLER, even more mobile highly and pocketable PC, with PC functionality and telephony. Now, the market is not accustomed yo carrying a PC, as consistently as they carry a smartphone 📱. Microsoft is aggressively marketing Surface Go to change that. It's only logical to conclude that they'll want thier POCKET PC (Andromeda) to reap the benefits of the (thinking along a continuum shrinking the Surfaces size) "almost-pocketable", Surface Go's always-with-you-fit-into-a-small-bag-targeting-non-phone-mobile-computing-computing-activity positioning.

I would certainly disagree with that, at least in my own use cases. So people could go tablet only perhaps, but I think many would struggle in the long term.

Pursable? Added to the backpack-able? Device carried with your laptop-able? I see the Go as a device for people with PCs in the office that need something in the field. Their iPad isn't cutting it for productivity, perhaps. I'd be getting one myself, but took the plunge on the i5 128/keyboard deal. I am getting rid of my aging desktop which would have been updated a bit alongside the Go.

In case you haven't read the reviews, this is not a Professional device, it's traget audience are students that need both a laptop and a tablet in portable form factor.

The hope is that eSim will allow you to buy smaller increments of data. Hopefully, you can attach this device to your mobile plan.

Personally I have a SP but use a mifi with a dedicated data package for it and my camera. I have a Galaxy S8 but carriers tethering deals are not great compared to a pure data package plus tethering murders your battery.

Microsoft needs to release an Andromeda developer edition now to get the Windows on ARM ecosystem started. I'm sure the second generation Surface Go will run on ARM.

Interesting; this is the safe way to Andromeda while getting any number of users on board. I initially dismissed this as overpriced and still too large to be truly portable, yet I'm starting to reconsider it. Andromeda has to be too many things and Surface Go dips their toe back in the water to do so.
A better indicator will be when the LTE version gets released. Andromeda needs to be 4gLTE/5G ready, performant (legacy and 64 bit apps - ahem Photoshop), elegant and beautiful, run full Windows 10 be pocketable and hopefully, dockable. Like I keep saying, put the personal back in personal pcs. Go Andromeda aka Surface Pocketbook!

Hey Microsoft, Give us a Surface Andy with an Intel chip for $400 similar to Go for now, and then focus on your beloved Surface Andy ARM version, creating more apps, software, etc. that works with it…..Take as much time as you want!

The thing is it will have a mediocre battery life. Those ARM chips are way better.

Yes, but again, the issue is price, the HP Envy X2 costs $999, and its much slower than the Surface Go (128GB SSD version of course) when running x64/x86 software. The clue here is emulation which makes high use of the ARM CPU so that SD 850 speed is reduced about 50% because of the emulation.
That's why Microsoft didn't go with ARM on the Surface Go

Arm is cheaper than Intel the hp has a better, bigger screen hence the bigger price

I have one of those T-Mobile lifetime 200mb SIMs.
Used to use it in my now broken Nexus 7 (2013) LTE.
I was thinking about getting a Surface 3 when I was back in school... But the timing and price wasn't right (as I have since graduated)... I won't buy another tablet without cellular service and GPS... It makes no sense to buy new with the device being crippled out of the box... I played with someone else's Surface 3 LTE. Other than the slow charging of the MicroUSB and the horribly slow memory, it was fantastic... This seems to have solved all of the problems of the Surface 3 LTE (other than having a native USB A)... I'd like to see one of these on a Snapdragon too... I doubt I'd buy one unless I had some kind of huge need for it though...

I don't need to waste money on another line for my Surface, when using my phone as a hotspot works perfectly well. I'm hoping we can buy these things from a normal store without having to go to Verizon or wherever. If we can't, forget it - I won't be buying one.

For you, it is a waste. For me, it is a godsend: I don't use T-Mobile normally. My current plan is a grandfathered Cricket Wireless plan that doesn't have any option for international roaming. When I go outside the country for work (or play, as I am 10 miles north of Canada), I like to have some kind of backup communication mechanism. Further, I don't want to drain the battery on my phone tethering...
It is also 'wife easy'... She can have a tablet with data without mucking around trying to figure out how to tether... And so could I...

Once you get it setup, which is literally just putting in a name and password, you just have a quick setting to turn on the hotspot. You don't even have to unlock the phone. One swipe and a click to your laptop.

The procedure is different on each and every phone... iOS, Android and WP... And just leaving it on consumes precious phone battery life... I'd rather (and I do) just have LTE on my device, or in the case of work, have a dedicated hot-spot modem... But even those can get overly complex for the technologically less savvy...

When I travel, it is rare to be working in a place that doesn't have WiFi. Airports, cafes, hotels, etc all have really good WiFi in 2018. Combined with Xfinity WiFi being all over as well, it is really rare that I need to tether. When I do tether, if battery is an issue I plug my phone into my Surface if an outlet isn't available. Having LTE is really just a luxury for an auxiliary device like a PC. I really don't see it being a big sales point, but at this point Microsoft should have it in everything. It should be a given with most any new high end PC.

ARM plays a huge role in this. Although this first iteration of Go is intel based, the goal eventually is to replace these with and have Andromeda run ARM. Better battery life, always connected, great download/upload speeds. I am getting one of these Go's mainly for my daughter and the upcoming school year...but Microsoft needs to get SD850/1000 running Windows on a high level with both UWP AND legacy apps quickly. It's crucial. Between store apps, legacy and the web, Microsoft covers the MAJORITY of most people's needs. Spotify, iTunes, Slack, games with touch/K&M/gamepad support, NFL, OneNote, coloring and drawing apps, YouTube...its all there. Sure, SOME users will care about banking apps and that ilk, but that's a small minority and PWAs can assist with that as time goes on.

I would have to agree. Theoretically, every Surface device that shrinks and becomes more portable takes us a step closer to an ultra mobile pc/mobile hybrid solution. I'd imagine the suits at MS HQ will be watching the surface go sales arc very closely. I've already bought mine :)

Andromeda is likely a $1500+ device (rumours around the similar Samsung Galaxy X even suggest $2000 is not impossible). How does a lower priced Surface open up anything for the most expensive (in terms of capabilities vs. cost)? TBH they should have created Andromeda as an Android device with Windows ARM on top. It would solve all the issues they are going to run into again, no apps.

I have read that iOS bridge is still not cancelled, and the reason we haven't had news on it is because perhaps Microsoft is hoping to build a container daemon for it, so that iOS apps can run over Windows Core OS, but again, this is just speculation.
IMO 3 companies should be working together: Apple, Google and Microsoft on the future of Mobile Apps

Microsoft needs to convince school managers around US and other countries that students from 12 to 18 years old that for next school season they should get a Surface Go instead of an iPad or a Chromebook. I think that by the time these students finish High-School and are ready for College, Andromeda OS and device will be ready to compete with the Pixel and the iPhone, is just a matter of having patience until mobile apps from both Android and iOS get containerized and 1 branch of code is needed to run the app on any OS, this way Microsoft will be able to enjoy the same ecosystem iOS and Android users have today.

My kids just finished their primary and secondary education and grew up in a Mac world. They don't understand Touch or Inking. The Go will give the IT department an easier time managing the hundreds of devices in a school. But there are many holes in the software side that educators would want to run their classroom that exists in the Apple world. The reality is many kids who leave the world of education and enter the world of business will find a rude reception when most will be handed a PC and told to get to work.

I think this could be great for mobile working. A few in my team do a lot of travelling (by train primarily). The idea of carrying a lighter device with LTE is very appealing. I think we'll be having a few of these.

I really would hate waiting for Andromeda and it turns out that it never happens. It sounds like the perfect device for me. But I'm afraid to get my hopes up.

How does it stack up against "Lenovo Yoga Book with Windows 10"? I travel a lot by train and economy air - like CJ I need a light device that fits into "micro" carry on baggage allowance. I've been using Yoga Book a couple years, this looks to be more powerful at similar cost.

Pls share more your experience... how Surface Go or even smaller form factor will improve your experience

Yes, makes sense. Windows 10 Core OS and CShell experience can make use of Surface Go. Hopefully Andromeda, soon.

This and all future Surface devices needs eSIM in the worst way. They may not telephony first devices but must be enabled. Not just LTE/5G, though both will work. The Surface line is out of my budget; doesn't mean it won't be successful.

eSIM is just begining to make its way into the industry. In 5 years, the tradition SIM card may be a thing of the past.

Windows Central plays the critical public relationship and customer feedback role to keep the Andromeda discussion going, week after week till early 2019. Well done...

Do not underestimate "small is beautiful"... Surface Go caters to Surface users who wish to go wherever he or she needs to go with a small bag With Microsoft connected everywhere... Microsoft delivers the "Right Surface".. the right time for the right place.. For professionals who need Swiss watch precision, that means Optimizing the "Right Surface" is key to ultimate perfection... Surface Go is now the limit of this perfection... Andromeda is next... Smaller form factor is key... Perfect execution of UI is the next level of perfection in Surface Engineering... Microsoft marketing needs to hire me... I do not mind working part time for this..

For those who are both stubbornly passimistic and unimaginative... Microsoft Surface is no longer the right forum for you, pls get a live and try elsewhere... OR prove your worthiness by not repeating the predictable same old same old boring cliques..

Who needs a 10' device? Make a GO 6 with a sim slot and a phone app. THIS I will buy!

Problem with Surface Go and even Surface Pro's is that they aren't particularly good at 1 thing. They are rubbish tablets because of the tablet software and less than great in laptop mode.

My Surface Pro is exceptional at being a compact touch screen device that is a Godsend for work. Neither a tablet, nor a laptop, would meet my requirements. Only thing I need now is an upgraded model for stage visualisations, as that brings my third gen to a crawl.

Less than great in laptop mode? My Surface Pro 2017, is SUPERB, in laptop mode!😎 And for what I use a tablet for, (I'm not a big app guy on phone or tablet) it's GREAT there too, for reading, web-surfing, art, light etc.😉

After getting a Surfacebook, I realized how bad the keyboard is on Surface Pro. It really doesn't make a good laptop if you type heavily. At the same time, it is almost useless without the keyboard. So frustrating, Windows just really isn't designed for touch only operation.

I'm a writer. I type heavily and still I thinks its a SUPERB laptop!😎

I had the surface 3, the keyboard was WAY to flexy on it. most times when I needed to type, it sat in the dock and I used my Logitech keyboard. That being said, the only 2 issues I had with the entire thing was 1. small storage size (64gb), and 2. Texture app does not work on windows. If both those things were fixed, I would still be on it now.

Really don't understand the big deal about this device. I have a Surface 3 that also has LTE and is virtually the same size. All of this hoopla for what is virtually an updated version of the same device. I'm happy they're not abandoning the smaller form factor as I love the portability of it but aside from the Intel chip there's not much that is revolutionary about it in my opinion. I think people forget that the Surface 3 did exist.

S3 did ok i thought, they just didnt follow it up until now. SG is an updated S3 basically, but should be better than atom chip, has better hinge design, faster pen, longer battery, alcantara kb, USB C , surface port and USB C charging, faster LTE modem, and eSIM too. I am interested in getting this, even though I have SB2, SP4, SS and SL. My first Surface was SP3. But I never was interested in S3.

Go ahead and keep trying to piece it together Jason. You've not been right yet! You thought you were going to get to claim Andromeda "I told you so glory, from the 100's of let's break it down articles". But Microsoft didn't seem to be on the same page.

Your attempts at sarcasm are both groundless and misinformed.😉 You state "You thought you were going to get to claim Andromeda "I told you so glory, from the 100's of let's break it down articles". But Microsoft didn't seem to be on the same page." And you state "You haven't been right yet." 🤔😄 Please revisit my articles going back to 2015 and see exactly what it has been that I have "pieced together" about Microsoft's mobile strategy. While most writers on most sites were stating Microsoft was done with mobile during the height of Window-on-phones struggles, I was writing ✍🏽 that Microsoft was working on a mobile strategy, and device that was a: Pocket PC - like Andromeda Ink-focused -Iike Andromeda Had telephony - like Andromeda Now, according to EVERYTHING that has been leaked or shared from various sources even from sites that once claimed Microsoft was done with mobile🙄 Microsoft's Project Andromeda is indeed what I claimed its non-phone device would be. So, I'm not sure what measure you're using to determine whether I was right or wrong, but objective observation by both my supporters and critics would have to agree that my years-long claims that Microsoft was working on a "telephony-enabled pocket PC with an inking focus" even before the Andromeda project name was revealed/leaked, was right, particularly based on the leaked internal Microsoft email describing a pocket PC. That, Purian23, is not Microsoft having other plans, that's exactly the plan I described Microsoft as having😉. Now, perhaps you're making a petty attempt to discredit my accurate analysis because the plan that I accurately described MS as having has been delayed and can be canceled. Anything can be delayed or canceled Purian, I said as much in several of my pieces. My goal was to explain what MS was doing in mobile, in a context where information was sparse and most sites were short-sighted, hostile and focused on a phone strategy and unable to see a mobile strategy beyond phone. I succeeded in doing that. And though you may not want to acknowledge that I was right, that's OK, Truth is its own witness.🙂

"Truth is its own witness". Until there is an Andromeda device to buy then there is no "truth". Just like little Danny boy, you are delusional if you think that this device will ever see the light of day. Everything that you talk about is speculation until we see a product. I have $100 that says we never will.

You're missing the point of my work that was disputed, James and thr point I made in my response to the erroneous claim by Purian. First and foremost, what I've written about Microsoft's mobile strategy in relation to Windows-on-phone being just a part of Microsoft's Windows-on-mobile strategy had been the presentation of an analysis if what Microsoft is doing in mobile and its intent with the device., as I clearly state in my work and clearly stressed in my response to Purian. In my work, and in my response ti which you replied I reiterated: *Now, perhaps you're making a petty attempt to discredit my accurate analysis because the plan that I accurately described MS as having has been delayed and can be canceled. Anything can be delayed or canceled Purian, I said as much in several of my pieces. My goal was to explain what MS was doing in mobile, in a context where information was sparse and most sites were short-sighted, hostile and focused on a phone strategy and unable to see a mobile strategy beyond phone. I succeeded in doing that.* Now, clearly, very clearly, I have been sharing what Microsoft has been doing in the background in building a Pocket PC strategy, with an inking focus. A claim that many critics here hotly disputed, and a claim that flew against the popular and short-sighted assumptions of many popular(and not so popular sutes) that simply echoed negativity without offering any insightful analysis. Now, the internal Microsoft email that leaked last month, along with sources that confirm the Andromeda Pocket PC project is real. These sources have confirmed the Andromeda project with WC, MJF, Tom Warren, ect. Thus dismissing my analysis which claimed since 2015 Microsoft was working toward a mobile strategy and device that was: A Poket PC With inking focus And telephony , at THIS point when multiple venues, even those that have since changed thier tune from, Microsoft isn't working on anything mobile beyond Windows phone to Microsoft has been working its Project Andromeda Pocket PC mobile strategy for years, to me shows you're really missing the facts here. I claimed they were working in this strategy despite the negativity. Now finally, most people and writers, see what I've seen since mire info has come out. Now, you like Purin James seemed to be arguing a point, I am not making. All companies work on projects, and as I've written in my work and pasted in my response to you (from my response to Purian) this Project has been delayed and can be canceled. I'm nit saying it won't be canceled, i don't know. Your $100 bet about not ever seeing the device is you making a pointless stance against me who isn't claiming with certainty that it will absolutely come to market. My role has been explaining what this multibillion dollar company's mobile strategy has been, what intends to do and what's its desired outcome is and what impact it may have it that outcome comes to pass. You seem to want a dispute over something I'm not claiming. You won't get one here. I've shared with readers a consistent narrative over the years, as they searched for answers all over the web (and found nonsense that MS was done with mobile) for what MS was doing in mobile and the pocket PC analysis I shared was correct. Microsoft wants to get it right, thus the delay, so let's just see what happens next. If they're persuaded that they can't succeed with it, they'll cancel, if they think they'll succeed, they'll proceed. Let's see what happens.😉

Agreed with Jason that Surface Go may help grow the user base and developers. Since SG is cheapest Surface, it should get more users on this form factor than SP line. PWA and UWA will hopefully grow as a result, that by the time Andromeda is ready, the app gap will be closed for the most popular apps at least.

I, unfortunately, have to disagree. Nothing about the Surface Go is new, it will pave the way for Andromeda as much as any of the other multitude of small device tablets.

Boy, Jason, you are just hoping beyond hope, aren't you? Let's be honest, here. I do want to get a Surface Go, but only as a less-expensive backup to my 2017 Surface Pro. It certainly won't replace it. And there are things my Surface Pro simply can't replace my Lumia for---and vice versa. But, seriously, other than having a smaller screen, how is the Surface Go any different than the regular Surface Pro devices? What, you think they are just weening people off bigger screens? And you mentioned Continuum. The device is supposed to already GIVE you full PC functionality, just like the Surface Pro. What do sales look like for the current Surface Dock? Probably not huge. I'm not saying they're not of some value---heck, I have a dock for my Lumia. I've used it maybe 5 times. Granted, it was handy, but I usually have my SP around, so... I just don't see the Surface Go as a "bridge" to Andromeda. In fact, I don't see Andromeda as being a winner at all if it truly is yet another SKU. THAT is a large part of what got Microsoft into trouble with both Windows Phone/Mobile and the earlier Surface RT. My point is that if it has to be treated at all differently (either by users or OEMs) than regular Windows, it will fail, as far as I see it. As for the so-called "lateral thinkers", what's stopping people from relying on a Galaxy Note? They already have access to virtually every Microsoft service on Android, and they can use a stylus on the Galaxy Note. It seems to me that ship has already sailed.

Samsung might even cancel the Note line. According to recent reports, the Note 9 might be the last. They will possibly combine it with the Galaxy S+. Stylus focused devices just aren't that popular. I have never heard anyone say "inking" outside this site. I think pen input is too awkward on digital devices. iPad Pro is the smoothest I have used and even it kinda sucks.

Hi DBDriver, not hoping beyond hope. What many readers have yet to understand is that a presentation of what MS is doing is not a mere optimistic expression of the writer. Microsoft is a company that wants to succeed, no company WANTS to fail, so even if some decisions are made that were not so smart, they have SOME strategy that has a particular outcome for success, whether achievable or not, in view. That's what I communicate, Microsoft's, not my, strategy.😉 Now to your question other than a smaller screen, how is Suface Go, different than your Surface Go? It ISN'T (much), and that's precisely point😉. You have to look at Microsoft's Surface Go strategy from both a short and long term perspective. Short-Term: Surface Go isn't as powerful as the Pro, but the build quality, branding and price make it accessible to a LOT more people than the Pro. And if OEMs follow suit, as is Microsoft's plan with first-party hardware, and as OEMs did with larger 2-in-1s, even MORE affordable quality small 2-in-1s, particularly LTE versions will populate tge market. That's the immediate view for the category. Long Term: Long term is Microsoft's goal to make the full PC, like your Pro, even smaller, even pocketable, so that one device can be ALL devices, phone, tablet (unfolded), and docked with Continuum for full PC setup. Yes, Continuum, you ask bout this device and Continuum because it's a full PC. But it's small and not optimal as is for all PC scenarios, but connected to a larger screen, it can be a desktop PC. So, the Go, which isn't much different than your Pro, is a great sign that Microsoft is on a path at getting Surface PCs down to pocketable dimensions while retaining PC power. As far as what's stopping people or lateral thinkers from buying Galaxy Notes, the breadth of that question is VERY broad and doesn't really make a point. There will always be some type of alternatives in the market to cater to individual choices. Nothings stopping the I suppose but preference, or some at this juncture in thier lives who haven't purchased in, perhaps funds are a limitation. There are many reasons. At any rate Andromeda, if released will be an option for people. An interesting extension of the PC, into traditional notepad territory. It will be interesting to see the intersection and see how PC users embrace/don't embrace a PC that brings handwriting to the forefront while retaining the strengths of a PC in a new form factor.

"The affordable Surface Go, and potentially even more affordable OEM devices it inspires, are for everyone." So are iPads. But everyone here has been saying for the last year that the "tablet market is dead". Now a Windows tablet is going to change that? "If Microsoft's Surface Go strategy works, lightweight, "almost-pocketable". Almost pocketable? Is that like almost pregnant? Almost famous? "LTE PCs that allow laptop productivity," The vast majority of people do not need "laptop productivity". This is why phones sell over a billion each year and laptops sell 150 million. Most people need "phone productivity". "great mobile experiences," Via Windows 10? How does that happen? Windows is NOT a mobile OS, particularly when running on Intel chipsets that need fans and have horrible battery life. "and are always with users" Phones are always with users. Windows laptops are left at the office. "may become a successful 2-in-1 PC category that primes the market for Surface Andromeda Pocket PCs." We already have "pocket PCs". We just call them phones. Phones ARE Personal Computers. "In fact, Panay's daughters draw on Surface Go daily." That's only because he works at Microsoft. What they really want are iPads to draw on, because iPads have all of the cool apps they want to use when they are not drawing. Yet another Windows "tablet" from MS is not going to change the world. Jason continues to wax on as if phones are just a fad to kill time until MS gets it together, because what we all secretly REALLY are waiting for is "almost pocketable" Windows tablets. Because we all want Windows "always at our side". I have news for you. Are you sitting down? Most people can't wait to leave the office and leave Windows behind. They are perfectly happy with their "really pocketable" phones and, to a much lesser extent, real tablets. Phones and tablets which are NOT running Windows. They run actual MOBILE software.

Windows tablets have actually changed tablet sales for a few years now, they seem like the logical choice for an os tablets should use as far as productivity is concerned anyway. And theyve been so much of a threat that apple basically redesigned hw to use ipads because of them (the pencil, keyboard , ipad pro). People dont want more ipads as much as they want more useful ipads, Surface Go is supposed to be that. As for andromeda, its supposed to bring a new surge in devices like the surface 3 did that will at least make people think about buying it and OEM's get to copying it.

Windows tablets sales are nearly non-existent. Laptops with removable keyboards are not tablets. http://gs.statcounter.com/os-market-share/tablet/worldwide

so Ipod pro is not tablets????

When Surface Go LTE comes, I buy it. When Surface Andromeda comes, I will read several tests and then? If there's a mini / micro Surface Go, I'm in no doubt, so I buy it - for sure.

I agree with the perspectives that are outlined with great insight in this article. There is a reason the Surface Pro is no longer called a tablet that can act as a laptop by MS, but a laptop that can at times act as a tablet. Not so with the Surface Go. "It has the power of a laptop and the mobility of a tablet" MS says. It is both laptop and tablet in one device. It is meant to be a device that you will want to have with you all through the day no matter where you are, at school, at work or at home. This requires tablet size and tablet weight, and the Surface Go lives up to that. Smartphones now often have a screen size around 6 inches, but for me and probably many others this is not sufficient to be productive on the go. Apple and Android tablets are great for media consumption, but not for productivity. The Surface Go is designed to be both for productivity and creativity. And for media consumption, where it is however seriously hampered by the app gap, as you rightly mention. However, if you complement the Surface Go with an Iphone or Android phone it will go a long way to overcome that weakness. That is probably why MS lately has tried to ensure a smooth interaction between smartphone and PC.

As much as I love Surface Go I have to disagree with you Jason. I feel like Surface Go might end up being an Andromeda compensation prize. Microsoft decides its selling well and Andromeda is too much work with a lesser chance of success and thus maybe refreshes the Go , with W10oA or better , beefier specs. I mean from the name to the emphasis on portability and tons of other great features that you just mentioned which Andomeda should have, I feel like the surface go will be the final nail in the coffin for andromeda

They definitely need to hire a better advertising company. Surface Go ads Show people using it wrong (opening it wrong, closing it wrong), showing people who have never seen a surface or are interested in it. They're very bad ads and goods ads mean sales.

The Surface Go does show a small portable Computer is OK if it's built right and this
one is and is evolving to be better already. because a 4 gig model with an 128 gig
main storage memory version is on the market especially made to sell at Costco
and you get the type cover with it. I think this is the best college student level one to
buy. it's the one I would buy. the Andromeda device I want to buy is the size of the
original "Courier" with an Intel CPU sold with blue tooth headset to access the built in
Cell phone. It's not pocketable that's OK I do not mind carrying a small shoulder bag.
it would run full Windows Desktop PC programs the Apps in the Windows 10 store. t
That is enough software to make it useful. The built in cell phone does not have to
have a lot of APPS just enough to send & receive a phone call and a a contact phone
book why because this device is an Portable PC not a Smart phone. Developers
could add more Apps to it if they wish to, The smaller pocketable Andromeda device
should have an ARMs CPU and run Windows 10 on ARM and use a snapdragon 1000
CPU because it has
the speed to run Windows 10 on ARM with out it being sluggish. Yes Microsoft should
make 2 Andromeda devices the pocket Model & the larger Andromeda Pro model
you carry like a regular Laptop Computer

I have to say the Surface Go Have inspired me to start a Hardware Company.
Work on Windows 10 Tablets I'm calling slate.
1 device will be a 10' Tablet comes with a pen
2 device will be an 8' Tablet for ebook and app games
3 device 7' Tablet for kids.

We Surface Users need to see a dramatic change to the tablet mode UI for Andromeda to be successful. The Surface Go is a perfect opportunity to beta test this improvement and Microsoft needs to implement this at least for the insiders previewers. Tablet mode is currently the Surface's black mark for the Windows ecosystem and anyone who follows tech reviews can obviously see that these reviewers don't even talk about tablet mode the way they talk about the performance of desktop mode which is probably why they criticize the lack of apps in the app Store since they usually shy away from ever reviewing a windows tablet/2-in 1 in tablet mode. It's also why these same reviewers don't review Windows S mode is because of the failure of tablet mode.

Something's wrong when even Jason (hopefully in error) mentions Microsoft Store (the app) as Windows Store when the bottom of the article has a link to "See at Microsoft Store". Just shows how hard it is to change a branding after two years of a previous name : P !

Sure. Andromeda is dead until true folding screens become affordable for such a device. after Samsung or Huawei launch a true folding screen, no one will want a "hinge-screen".