4 Surface Neo features we're hoping to see at launch this year
LTE, haptics, colors, and more — here's what we want to see with the Microsoft Surface Neo.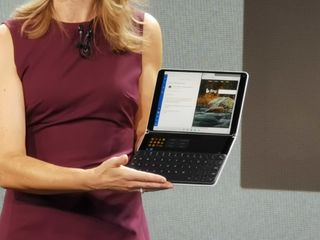 (Image credit: Windows Central)
Microsoft's first dual-screen PC is launching later this year under the name Surface Neo, and it'll also be Microsoft's first device to ship with Windows 10X. It's a new form factor, which means there's a lot of exciting potential for Microsoft and customers to take advantage of this new device. We still don't know a lot about Surface Neo, so here are a few things we're hoping to see part of the product at launch.
A new dock
Surface Neo is the first Surface PC in a while that doesn't include the magnetic Surface Connect port for charging and other peripherals. It has a single USB-C port, which is a capable replacement. Still, there's no official Surface Dock from Microsoft that works natively with a USB-C port, and that might be a problem for anyone looking to dock Surface Neo up to an external display with multiple peripherals plugged in at the same time.
The current Surface Dock is super old, being released back in 2015 alongside the Surface Pro 4 and Surface Book. So it's fair to say that the Surface Dock is overdue a refresh, and one that has USB-C support would be an excellent update for newer Surface owners as all Surface PCs now include USB-C in some capacity.
Haptics
Haptics on a tablet seems like an unnecessary addition, but when you consider the fact that Surface Neo is actually a PC with a virtual keyboard and trackpad, haptics becomes much more important. If Microsoft expects anyone to take Surface Neo seriously as a PC, it needs to make the virtual keyboard and trackpad the best it can be.
One way to enhance this experience is with good haptics. Apple already understands this and has been putting excellent haptics into the iPhone for a while. MacBook also has something called a force trackpad, which doesn't physically move yet provides a satisfying click regardless. If Microsoft can build that kind of technology into the Surface Neo, that would go a long way to enhancing the typing and touchpad experience.
More colors
So far, Microsoft has only showcased the Surface Neo in white. It's a glass device, meaning it can be made available in different colors if Microsoft wanted. I'd love to see a black version, along with a red and blue version for those who like a little more vibrancy.
These colors could easily extend to the Surface Neo's accessories too. The magnetic keyboard and slim pen could also be made available in similar colors to match the Surface Neo, and I think the different combinations of colors would go a long way to helping customers make Surface Neo their own.
LTE capabilities
This one is a given, but I'd love to see LTE capabilities built right into Surface Neo. Neo is a mobile productivity PC, and mobile makes it nimble enough to carry in a bag. It's the perfect form factor for an always-connected modem built right in, whether that be with a physical NanoSIM or via eSIM. And in many ways, it could be a huge mistake to avoid having LTE built into Surface Neo.
What are your thoughts?
That's what we're hoping to see in Surface Neo when it launches later this year. What are you most looking forward to? Let us know in the comments.
Zac Bowden is a Senior Editor at Windows Central. Bringing you exclusive coverage into the world of Windows 10 on PCs, tablets, phones, and more. Also an avid collector of rare Microsoft prototype devices! Keep in touch on Twitter: @zacbowden.
Without LTE this thing is DOA for me. I can live without much of the rest of this list. But that is a deal breaker.

Microsoft display dock. Amazon for like 50 bucks. From lumia days. I use it with my surface go. No issues and three USB ports.

A new dock is an absolute must for the Neo and to replace the aging one I currently use for my Surface Book 2. LTE capability is important too, but given the poor choice of options in eSIM service on the Pro X, I'd prefer nano. That option makes the Pro X work for me. Microsoft should also make themselves or release the specs necessary for other input accessories similar to the keyboard. A device the size of the Neo would be great with input for DJ and other music uses, gaming and accessibility tools and more.

Zero interest in this thing. It provides no functionality in a form factor that I can actually use. And I generally despise haptic feedback in most things (especially VR controllers). But I'm sure there will be some who do find this helpful.

I m sure it will have LTE.
I can't wait for these devices. It been long enough Note series has had no competition.
Once you get a Note, especially a business user. You can never switch to another phone.

I believe the questions that are most intriguing about this device are performance, battery life, and compatability. How much will this thing be able to do, and for how long? I have a SPX, and I am surprisingly using it as my daily driver - and enjoying it, I might add. I turned my SP3 into my dev workstation that I VPN into. Will the Surface Neo make me feel as if I should have waited for it? This is a very interesting time for Microsoft and the Surface family of products.

My guess would be:
Pro X: better for bulk of Office work and as a large tablet/2-1 that can completely replace a laptop or pc for some people. Also obviously better for watching videos etc.
Neo: better as a digital notebook (e.g. reading or skyping + making notes on 2nd screen) and fits in a pocket or bag more easily.
I agree, very interesting products. Depending on the price of the Neo, I think the Neo will be more interesting as a secondary device (so in that sense it might compete more with the Surface Go).

Zac, since you have access to top MS employees, we'd hope you or Daniel mention all of the things you outlined in your article to them already while it in developmental stages. So I'll be very disappointed with people like yourselves who get wind of this early and don't mention these key elements to them in an attempt to ensure we get a device that covers the key needs of mobile people who'd consider the product upon release

Microsoft should release new Dock regardless of Surface Neo. i7-1065G7 (SL3) have support for TB3 and new Dock should include at least 1 TB3 port. If it does, I would be glad to give 200$ for a new Dock, just like that.

I would love to see a none glass version so it would be usable in the real world. Anything and everything would scratch that thing as i lays against a table. I will be necessary with at least a bottom case to keep it scratch free and remember a small smidge of sand may actually do more than scratch, it may introduce enough pointed force to the bottom to crack the glass. Please release a version in metal.

Metal can also scratch, modern guerilla glass seems pretty robust. Usually with Surface devices it is the screen that you want to protect (because that part is made thinner for better pen experience), the rest is tough.

Agreed. LTE, or better yet dual 4GLTE\5G is a must. Colors would be ideal especially considering the personalization appeal. Haptics might be pushing it considering the thickness of the device. Some kind of dock/ screen mirroring would be ideal as well.
Btw, since the keyboard flips around, what protects the keys?( Unless it was just a demo effect and you flip it and reattach it..)

Iirc you normally would attach the keyboard between the screens (/on the inside) and than close it, I would guess that would also better protect the touchscreens if the keyboard is made of alcantara or such.

I'd love to see it arrive, but with covid 19 batmentalmania doing the rounds, and government telling us it probably won't peek and start to decline for another 6-12 weeks as a best-case scenario, I'm seriously beginning to wonder if any new devices will make it to store shelves this year.

I'm less interested in the Haptic feedback than I am in the LTE and the new Type C Dock. The colors are kind of interesting. The muted tones that came out with the Surface Book line were compelling, unlike the garish hues that Nokia used on their Windows Phone. I would defintely buy a Cobalt Blue or Burgundy Neo or Duo over a black or platinum device.

I want to be able to make phone calls from this device via GSM/LTE SIM card without using external devices as phones, Bluetooth connections, etc. redundant extra stuff. I am sure that this limitation of the software must be overcome

Well that's if it releases this year.... Pretty sure a **** tone of manufactured goods will be delayed... No way they can keep the schedule with what's going down right now...

Windows 10x software compatibility & Intel chip performance matters most.

Surface Dock with type-C is the most urgent thing

Don't get me wrong. I love the Surface Connect interface. I've sunk plenty of money into docks and extra power supplies. I even have a USB-C to Surface Connect cable. I'd prefer to see a "both/and" strategy when it comes to these to connections rather than an "either/or"... That really only needs to happen at the Dock level. I think there is a real question about not having a magnetic quick-disconnect on a device that you might work on for hours at a time, like a plane or train. I guess lighter weight devices may be less susceptible to accidental cord trippage?

Kind of related, but really funny. Lol
Our Surface Duo Facebook Group gets a shout out on the Windows Weekly podcast. They talk about us at the 11:37 mark! Check it out! 😂 😂 😂
https://twit.tv/shows/windows-weekly/episodes/663?autostart=false&jwsour...

I want to add that additional USB-C port would be better especially when you want to connect more device simultaneously without having to use a dongle on-the-go. It's always useful to have more than one port. I also wised it has a MicroSD support as well for added storage space for cheap. Since when you buy Surface Neo, you are lock up with that storage you choose. Not everybody has an extra cash for highest storage configuration. Now for what is already in the article. Better haptics on par with Taptic Engine from Apple would be great, especially when using dual-screen devices with its virtual keyboard or even just interacting with UI elements in Wonderbar. LTE capabilities would be very useful to have, especially how portable this device is. LTE capability is always a welcome addition. Only problem with this is the quite amount of increase relative in price. New USB-C Dock is really needed here, considering that all new Surface devices have one now. The new USB-C Dock is also attractive to non-Surface owners since they can use their non-Surface devices with it. In Enterprise, this is also great since company may have Surface devices used by one deperatment, but one deperatment use a different brand instead. By having a single compatible dock that works on all USB-C devices is a win.

Nice post! i agree with kingtigre that Without LTE this thing is DOA for me. I can live without much of the rest of this list. But that is a deal breaker.

Well for me
A must list
Wireless dock, no more wires, as soon you get to office it connects to a wireless dock and you are ready to go.
Battery, i would like to have the battery works for no less than 14H, that is ok for me.
Charger, better not to a bulky charger, it is not easy to fit the surface charger is a slim bag, the device is slim and the charger is bulky !!!!!! I would love to have:
LTE, well i think it should be there (Nano or eSim) but if not, i still have a portable BB travels with me everywhere.
Colors, well yea, i would love see mote colors, esp Black matte.
Accessories, i hope there will be a good accessories for this Neo.

Dock seems irrelevant because there are already hundreds of docks available, it doesn't HAVE to be made by Microsoft.
Windows Central Newsletter
Thank you for signing up to Windows Central. You will receive a verification email shortly.
There was a problem. Please refresh the page and try again.