5 intriguing apps for Windows 8.1: December 26, 2014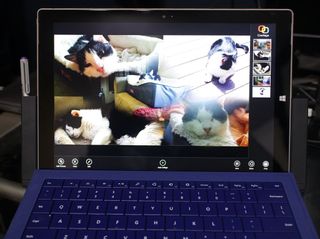 Merry Christmas, happy Boxing Day, and a fine Friday to everyone else. With the new year less than a week away, this will be the final installment of 5 Intriguing Apps of 2014.
This week, our favorite Twitter app made the official jump from beta, bringing along with it a plethora of new features, and a classic online word game made its way to Windows 8.1. There are also a few apps that grabbed my attention in the Windows Store, that I will share with you.
Tweetium
Just yesterday, the Twitter app of choice for many of us here at Windows Central, Tweetium, officially graduated from beta with version 3.01.
Along with shedding the beta tag, Tweetium added a whole lot of new features, including a new theme system, improved user interface, multiple photo uploading, and a host of other improvements and bug fixes.
If you are a Twitter user and have not tried Tweetium, you are missing out. Whether you just use the basic client or pony up for Tweetium Pro, it is likely the finest Twitter client out there.
And as a true universal app, you can get it for Windows and Windows Phone for one fair price.
Words with Friends
The once-viral word game Words With Friends snuck onto Windows 8.1 late last week after returning to Windows Phone with a complete rewrite this summer.
Zynga's smash hit game is a Scrabble clone that pits you against your Facebook friends and other online players. With its move to Windows, Word With Friends is now a universal app, so now you can pick up any of your devices and continue your battle of words.
Coollage
Coollage is collage-making app for photo-editing-challenged folks, like myself. It really couldn't be easier to use unless it came with someone to move the mouse for you. All you need to do is browse to the photos that you want included in the collage and add them to the list. Then select Create and see the end results. You can easily edit the collage by dragging and dropping the photos into position.
Once done, you can save the picture or share it with others.
Coollage is technically free, but the free version limits the resolution of your collages and watermarks them. In reality, I cannot imagine sticking with the free version. If you are not very handy with photo-editing software or just want an easy way to make collages, check out Coollage.
How to Cook Everything
Recipe apps are fairly common in the Windows Store, but that doesn't mean they are all good. How to Cook Everything is one that every cook could benefit from, regardless of your level of expertise.
Based on the best-selling cookbook by New York Times food writer Mark Bittman, How to Cook Everything is a comprehensive culinary reference. Though it is packed with delicious recipes from all over the world, this app is beyond just a cookbook.
It is also a guide for learning about kitchen equipment and techniques. The illustrated how-tos will instruct you on everything from sharpening knives with a steel to cleaning a squid. And it is all searchable and sharable from within the app.
Novices and seasoned cooks alike will love this app. For less money than just about any cookbook, the $6.99 price tag is a steal.
VLC
Last up this week and this year is VLC for Windows 8. As you may know, VLC is an open source media player that is available on just about all platforms. It plays almost any multimedia file type, including FLAC, OGG, and MKV, regardless of the codec.
While VLC is still in private beta testing for Windows Phone, it is available free of charge on Windows 8.1. If you are looking for a versatile media player in a modern-style app, this is the one.
Did we miss a new app that we should have covered? Let us know in comments or send us an email to tips@windowscentral.com with "Must-have apps" in the subject line!
Windows Central Newsletter
Get the best of Windows Central in your inbox, every day!
VLC crashes on my surface, built in video player works flawlessly with my .avi files

Give GOM Player a try. It also plays most files and is also free! It works very well on my Surface 2.

You need a Pro to run GomPlayer ;)

the built in one is very good with battery usage as well.. and after the latest update it plays mkv files as well.

I know I am in the minority but I am not a fan of tweeitium. Double diping on the charges. Yes, I have read their reasoning but I still disagree with it.

Wordfeud is miles better than words with friends.

Or Words by Post. A game written by one guy for iPhone, Android, WP and Facebook and has supported WP since 7. Those are the developers that need to be promoted. Not the money grubbing companies who don't bother with us lowly WP users until it suits their whim.

Yep, not only words but chess also...i play it all the time

Words by post is functionally better as well. A solid app that should be promoted over words with friends.

Link for Words With Friends Windows 8.1 version leads to another game...

VLC sucks on WP 8.1. I only use the desktop version.

This is off topic but WE NEED sanpchat! Haha

@seth brodeur please I need the store link for vlc for windows phone.I registered for the beta,I hard reset my phone trying to download it but can't seem to find it anywhere

Candy crush is also a must welcome addition to app store and based on number of users... This is big

My favorite part of this article was finding out that there was a new version of WWF for WP as of this summer! I've been playing the old version this whole time...why no auto-update, I wonder...?

Kind of wonder what the fuzz about VLC for Metro was all about. None of the weekly Anime MKV's I've tested it with had the subtitles working.
Like with the Standard Video player that supports MKV since recently. Ah well... Back to the glorious x86 Master Race and wait until hopefull support comes natively with W10.

Happy to see VLC get on board with Windows Phone 8.1. Now if only Symantec/Norton 360 could do the same (I would love to use my Norton Identity Safe on my phone so I wouldn't have to buy a separate password caching program). Perhaps when Windows 10 rolls out, you'll see more major vendors coming out with Win apps to go along with Android and iPhone apps.