5 intriguing apps for Windows 8.1: June 12, 2015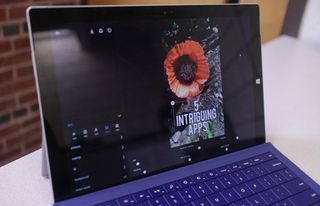 With the ever-growing number of apps and games in the Windows Store, it is becoming increasingly difficult to keep up with what's out there.
For that reason, every Friday we showcase some apps that have piqued our interest. They may have been in the news recently, they may be new to the Windows Store, or they could simply be old apps that we just stumbled upon.
They are the 5 Intriguing Apps of the Week.
Font Candy - Typography Photo Editor
Font Candy – Typography Photo Editor is an app for Windows and Windows Phone that lets you edit your photos and juxtapose them with fantastic looking text.
Whether you are uploading your camera roll or using the built-in Facebook integration to import your online photos, Font Candy's editing tool can crop, rotate, adjust, and filter your images. It's incredibly easy to use.
Then, select from the huge pool of beautiful fonts to overlay whatever word or phrase you want. You can even fill the background of your text field with another image. There are additional tools to help you blend your text and images together for the perfect look.
Your creations can be saved in high-resolution or shared via the Share Charm. There are plenty of apps in the Windows Store that pair images and words, but Font Candy sets itself apart with its quantity and quality of fonts. It even includes a library of quotes on different topics.
Font Candy - Typography Photo Editor is free to use, though the free version will leave a watermark on your images. You can remove them for $.99, or pay $2.99 and get the full package of accessories along with no watermarks.
BLINK Cliplets
Blink Cliplets is an app developed by Microsoft Research that turns your short videos into cinemagraphs, still photos with moving elements in them.
The point-and-click interface makes it extremely easy to get started. Simply upload a video, or record one right from the app, then click on which part of it you would like to animate. Blink Cliplets does the rest.
When you're done, you can export your masterpiece as an animated GIF, MP4, or WMV. You can also share it on Facebook, Twitter, and BLINK.so.cl. Blink Cliplets also gives you access an online gallery so you can other people's creations.
Unstream
Unstream is a third-party Twitch client for Windows and Windows phone. This full-feature app gives you a rich Twitch experience streaming live videos or watching videos on demand.
Choose from Featured Channels, Top Games, Channels and Videos or search for your favorite game, channel, or stream. Individual channels and games can also be pinned to your Start screen as Live Tiles that will send you notifications.
When logged into your Twitch account, you can follow channels and chat with the community during streams. If you're a fan of Twitch, Unstream's got you covered.
moneycontrol.com
Moneycontrol.com is a popular website that focuses on India's financial markets and the global economy. The site has released an official app for Windows 8.1 that brings its business prowess to your PC or tablet.
With moneycontrol.com, users can get real-time news and stock quotes, as well as keep track of their stock portfolios.
The app also gives you live streams of several CNBC channels.
Moneycontrol.com is available in three languages: English, Hindi and Gujarati.
Math Solver
Here's one that will surely help out the students among us. Math Solver provides templates for solving common math problems found in all levels of academics. You fill in the information and Math solver does the rest.
However, unlike your typical calculator, Math Solver also gives you all of the steps in between, so you can "show your work."
Although the app will help you out with the quadratic formula, factoring, synthetic division, and a host of other things I don't remember from math class, it isn't solely for students.
Math Solver is great for homeowners or anyone who needs to figure out angles, square footage, unit conversion, and fractions.
Be sure to check out our other selections from previous weeks. Have a great weekend!
Do you have an app you want us to highlight? Drop us an email at tips@windowscentral.com with "5 Intriguing Apps" in the subject line.
Get the Windows Central Newsletter
All the latest news, reviews, and guides for Windows and Xbox diehards.