The Windows 10 Fall Creators Update looks great — here are 5 awesome overlooked features
While most of us are excited about the big features coming in the Fall Creators Update, there are also some notable, lesser-known features in-tow too. Here are five of our favorites!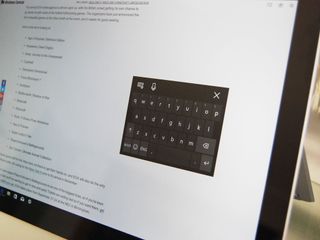 Microsoft's upcoming Windows 10 Fall Creators Update is packing a whole load of new features and enhancements. It's often hard to keep track of all the new changes coming in an update, and a bunch of great changes and new features are getting lost in the excitement. So here are a few of the smaller and lesser-known — but no less cool — features you can expect to see arrive on your Windows 10 devices on October 17.
Shape Writing Keyboard
The Windows 10 Fall Creators Update finally includes the ever-popular Shape Writing keyboard originally introduced in Windows Phone 8.1. This new keyboard is a lot smaller than the standard on-screen keyboard but has the ability to swipe through letters to type.
Just like on Windows Phone, you can now swipe between letters in a word to make it without tapping each individual letter. The keyboard, when in swipe mode, is a lot smaller, which allows the user to Shape Writer without having to move long distances. They really did think of everything!
Microsoft Edge Favorites
Microsoft has updated the Favorites feature built in the Microsoft Edge, and it's so much better than it was before. It has a new UI that makes it easy to sort new or existing favorites into folders and categories, and it can all be done from the star button found in the Edge address bar.
This is a huge improvement over the older Favorites system, which was pretty simple in its implementation. Now, users have control over where their favorites are saved, and more.
Find my Pen
If you're a pen user, Microsoft has added a nifty feature in the Fall Creators Update that allows you to pinpoint the last place your used your pen. So if you're someone who often loses their pen, Microsoft is making it easier for you to find it again.
The feature is available in the Find My Device area in Settings and will bring you to a Map with a pin where you last used the device. It doesn't update live (the Pen doesn't have WiFi or cellular connectivity after all,) but will show you where the pen was when you last used it.
Video playback options
Microsoft is going all out with new video playback options in the Fall Creators Update that gives users more options over the video options in Windows. There are new HDR options for those with monitors that support it, along with options to improve battery life when watching video.
There are also options to process video to enhance it and lower the resolution on devices that may not be able to handle high resolutions. Those who often watch video on their Windows devices are going to enjoy these new options.
Windows Update improvements
Windows Update in the Fall Creators Update is arguably the best version of Windows UPdate yet. While it hasn't changed much on the surface, Microsoft has built a number of new options for users to configure, along with changing the way Windows Update handles bandwidth.
Previously, Windows Update would use as much bandwidth as possible when downloading an update, which for those with slow internet meant browsing the web or streaming video became slow when an update was downloading. In the Fall Creators Update, this is no longer the case. Microsoft has put a limit on how much bandwidth Windows Update can use.
This is a configurable option too, meaning you can make it so Windows Update uses even less bandwidth, or if you're someone who wants updates as fast as possible, make it use even more bandwidth. There's also now a way to see how much data Windows UPdate is using per month, and put a limit on the amount of data it can upload to other devices.
Top 5 features coming in the Fall Creators Update
What features are you most excited about?
That's our pick for top 5 lesser-known features coming in the Fall Creators Update. Are there any we missed? Let us know in the comments.
Get the Windows Central Newsletter
All the latest news, reviews, and guides for Windows and Xbox diehards.