The Windows 10 Fall Creators Update looks great — here are 5 awesome overlooked features
While most of us are excited about the big features coming in the Fall Creators Update, there are also some notable, lesser-known features in-tow too. Here are five of our favorites!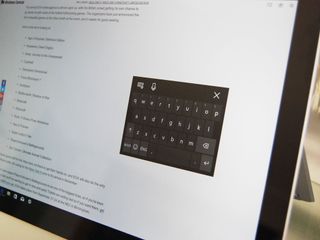 Microsoft's upcoming Windows 10 Fall Creators Update is packing a whole load of new features and enhancements. It's often hard to keep track of all the new changes coming in an update, and a bunch of great changes and new features are getting lost in the excitement. So here are a few of the smaller and lesser-known — but no less cool — features you can expect to see arrive on your Windows 10 devices on October 17.
Shape Writing Keyboard
The Windows 10 Fall Creators Update finally includes the ever-popular Shape Writing keyboard originally introduced in Windows Phone 8.1. This new keyboard is a lot smaller than the standard on-screen keyboard but has the ability to swipe through letters to type.
Just like on Windows Phone, you can now swipe between letters in a word to make it without tapping each individual letter. The keyboard, when in swipe mode, is a lot smaller, which allows the user to Shape Writer without having to move long distances. They really did think of everything!
Microsoft Edge Favorites
Microsoft has updated the Favorites feature built in the Microsoft Edge, and it's so much better than it was before. It has a new UI that makes it easy to sort new or existing favorites into folders and categories, and it can all be done from the star button found in the Edge address bar.
This is a huge improvement over the older Favorites system, which was pretty simple in its implementation. Now, users have control over where their favorites are saved, and more.
Find my Pen
If you're a pen user, Microsoft has added a nifty feature in the Fall Creators Update that allows you to pinpoint the last place your used your pen. So if you're someone who often loses their pen, Microsoft is making it easier for you to find it again.
The feature is available in the Find My Device area in Settings and will bring you to a Map with a pin where you last used the device. It doesn't update live (the Pen doesn't have WiFi or cellular connectivity after all,) but will show you where the pen was when you last used it.
Video playback options
Microsoft is going all out with new video playback options in the Fall Creators Update that gives users more options over the video options in Windows. There are new HDR options for those with monitors that support it, along with options to improve battery life when watching video.
There are also options to process video to enhance it and lower the resolution on devices that may not be able to handle high resolutions. Those who often watch video on their Windows devices are going to enjoy these new options.
Windows Update improvements
Windows Update in the Fall Creators Update is arguably the best version of Windows UPdate yet. While it hasn't changed much on the surface, Microsoft has built a number of new options for users to configure, along with changing the way Windows Update handles bandwidth.
Previously, Windows Update would use as much bandwidth as possible when downloading an update, which for those with slow internet meant browsing the web or streaming video became slow when an update was downloading. In the Fall Creators Update, this is no longer the case. Microsoft has put a limit on how much bandwidth Windows Update can use.
This is a configurable option too, meaning you can make it so Windows Update uses even less bandwidth, or if you're someone who wants updates as fast as possible, make it use even more bandwidth. There's also now a way to see how much data Windows UPdate is using per month, and put a limit on the amount of data it can upload to other devices.
Top 5 features coming in the Fall Creators Update
What features are you most excited about?
That's our pick for top 5 lesser-known features coming in the Fall Creators Update. Are there any we missed? Let us know in the comments.
Windows Central Newsletter
Get the best of Windows Central in in your inbox, every day!
Zac Bowden is a Senior Editor at Windows Central. Bringing you exclusive coverage into the world of Windows on PCs, tablets, phones, and more. Also an avid collector of rare Microsoft prototype devices! Keep in touch on Twitter: @zacbowden.
I'm most excited by, nothing. The best features were delayed. I can't wait until RS4 hits fast ring with Timeline in tow.

Well, I'm excited by the swipey keyboard. Been waiting on that one and had no idea why it wasn't ever included in previous updates.

That keyboard seems to be missing the greatest feature of all mobile keyboard found only on W10M: The blue dot for cursor movement.

I agree with you that cursor control is a great feature to have on any keyboard, but I'm not quite as enthusastic as you are about Microsoft's implementation on Windows 10 Mobile keyboard - I think it has a huge amount of room for improvement. Don't get me wrong, I'm glad it's there, but IMO they could have done a far better job of implementing it than they have so far.

For those that are on Fast and Slow Ring, how are the builds lately? Are we getting close to where those of us on RP or release can feel comfortable updating without any major issues? I read the logs for most of the updates, just looking for your opinions.

I run on Fast ring, latest builds are very stable. And they are not time limited or watermarked now. I imagine release preview will get the final build in a couple of weeks

On the fast ring w/ my Surface 4. The latest builds have been reasonable. There were some issues w/ apps still running, but not visible a couple of builds back, but that seems resolved. Biggest issue I run into now is that it's sometimes slow to connect to or acknolwedge the network on resume. Not a show-stopper by any means. And of course, Homegroup settings are deleted on each new build update. Annoying if you use Homegroups.

i would wait a week or so release ring will be move over than, plus you not lose any update. the one for fall update still have not been pick/push out yet

I have 2 Windows Mobile. I used to have one phone on the current version and one on the fast ring. Believe me or not, many times I have find my Mobile on Current Ring is not as stable as mobile on the fast ring. Last week or so, I moved my main phone (MS 950 XL) from Current production version to Fast Ring.

Had a Surface Pro 3 bricked on boot due to one of the recent updates.

Wish the Edge Favorites made it easier to add bookmarklets. You can get them in there with a little extra effort, but would be nice to just drag/drop to add. Didn't know about the "find my pen" feature. I don't really have that issue, but good to know it exists.

Nobody mentions it, so I assume it's still not fixed... An option to automatically switch to new tab when doing a right-click open in new tab... As long as Edge is missing that feature I'm not using it and will stay with Firefox and IE (Chrome too is missing that feature).

It would be great to merge all top features articles about Windows Fall update into 1.

I will enjoy the updates and PWA capabilities added to Edge. And having Pin to Taskbar back. And the "under the hood" fixes. But I am still waiting for Cshell and better OneDrive integration.

Is Linux coming to the windows store without being an insider?

Is that a microphone button I see on the picture of the new keyboard? Why is the microphone button on the pic, but not on the screen shot? I want voice typing option on the keyboard. Cortana does speech to text, but not the keyboard?

I'm waiting for Microsoft Movie Maker for Windows 10

Thats what I always say as Windows 10 is best operating system ever as Microsoft constantly updating it for best performance. I checked as Free user cannot get these update being connected Microsoft live server thats why they always complain about new OS, whereas many other users like me bought its license and get updates to fix all types of bug. I recommend you guys all to activate your windows by buying its license and If you don't have much funds, Then you can buy OEM license with no more difference which can be bought from ODosta Store, Which is providing legit oem product keys ever. Thanks for posting such an informative content here.

While win10 is pretty good, there is still some glaring issues, like most features being halfbaked, and bluetooth being complete **** for headset audio quality. It has taken too much control away from the user even on the 'pro' version. I'd put it somewhere between win7 and win8 in quality.

I'm still waiting for Microsoft to fix the bugs they introduced into Office 2016 with the last update.

None. Edge sucks. Where is the Windows Phone?

It's under 'MS SOON' team.

No, it's under 'MS DOOM' obviously.

Edge doesn't suck. I admit at launch it was ordinary to say the least but it is much improved. A few little annoyances here and there but much better.

Edge is a 'meh' chrome knockoff with crap favorites management. Hopefully, the update will make managing favorites easier, cause then i might consider using it...

How wonderful. I get a second chance ti name my five favorites again within 24 hours on windows central. Thanks! The article comes closer to my previous 5 favorites, so I feel I have nitpicky bragging rights.But not too much.I must stay sensible;) Onward, my dear fellows, to the RS4 and the fixes of RS3 and fingers crossed for more tablet experience improvements! Cheers.

Is the shape writing keyboard resizable?

Do Edge favorites have tag support?

These features seem better than the major features article...

The swipe keyboard is a good addition! Now I can finally use my Surface as a tablet.

I'll be excited when AgileBits gives us a 1Password extension for Edge so I can complete that switch-over from Chrome...

LastPass is reliable and it's available for Edge.

I want the swift keyboard. Not some look a like

@tofab123, The irony is that I thought they BOUGHT Swiftkey… and yet we get this instead… Anyway, my fave is finally the ability to watch DVDs natively! Oh wait, *sigh*

It is such an amazing keyboard. I cannot understand why they haven't integrated it into windows long time ago. I should be the default.

Not excited by anything either. These updates are always so lack lustre. I just want tabbed explorer.

I'll be happy if Edge can play HBO Go videos again...

when can we get edge directly from store , and when cwill microsoft add more apps to the store. Still as a windows fan , i will stick with windows.

How about a stable Windows 10 with real usability fixes like not having almost all URL's pinned to the start page showing the Edge icon instead of the site's icon and/ or the possibility to change the label on them? Well I guess that is too much to ask?

The best kyboard function is not to swype. It is Speech recognition

Edge's Favorite system basically caught up to Firefox and Chrome's, to be honest. You guys make it sound like the second coming of Jesus.

I am too bought in to Chrome to consider going to Edge at this point. Is there a WebKIT version of Edge running on iOS? I didn't think so.

Umm, yes there is actually. Edge uses WebKit (Safari) on iOS and Blink (Chrome) on Android.

Find my pen will be handy. Unfortunately I lost my pen prior to it being added.

Find my pen will be handy. Unfortunately I lost my pen prior to it being added.
Windows Central Newsletter
Thank you for signing up to Windows Central. You will receive a verification email shortly.
There was a problem. Please refresh the page and try again.