Windows 10 Fall Creators Update's top 5 features
Microsoft's next major Windows 10 update is almost here, and it is packing a whole bunch of new features and changes. Here are five of our favorites.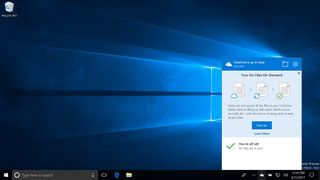 The Windows 10 Fall Creators Update is just under a month away, meaning the OS is now finalized and features are locked in. The Fall Creators Update is packing a few new features and changes that we're particularly excited about. In fact, here are the five features we're most looking forward to.
On-Demand Sync
On-Demand Sync is possibly the most exciting feature coming in the Fall Creators Update. It brings back functionality that was originally introduced in Windows 8, allowing you to see your entire OneDrive without having to actually download a single file. It's real cloud storage, and it's incredibly useful.
On-Demand Sync allows you to only download the files you need. For example, if a user has a Word document on OneDrive that they need to edit, they can double-click it like any regular file, and Windows will quickly download it for local editing. Once done, OneDrive will sync the changes and then remove it from your local disk to free up the disk space it took up when you downloaded it for editing.
My People
My People is a new taskbar feature that acts as a hub for all the social apps you have installed on your device. From there, you can launch apps and conversations, and even pin contacts to your taskbar for easy conversation in Skype or other messaging apps. Its implementation is pretty basic in the Fall Creators Update, but it definitely gets the job done.
You can also receive animated emoji directly on your desktop from Skype. This feature is going to be one that you either love or hate. My People itself will live or die depending on app support, which means we're seriously hoping developers will adopt the My People hub and allow us to communicate with our friends directly from the taskbar.
Emoji panel
This is a smaller feature, but one that is still useful. Microsoft is finally giving us a dedicated Emoji keyboard panel with the Fall Creators Update. Accessible from any text input field, hitting the WIN + .(period) will open up a small window full of Emoji that you can select and insert into your text.
Up until now, Windows 10 hasn't really had a dedicated way of getting access to Emoji. You could use the touch keyboard, but that wasn't easy or convenient for users who use a mouse and keyboard. Now, with the Fall Creators Update, it's as simple as hitting a quick keyboard shortcut. This is easily one of my favorite new additions to Windows 10 during the last couple of years.
If you're not a huge fan of Emoji, the new Emoji panel has been designed in a way that it's never actually visible unless you want it to be. It's completely hidden unless you hit that key combination of WIN + .(period), which means you won't get annoying Emoji taking up space on your screen when typing.
Windows Mixed Reality
This is a feature that not everyone is going to be able to try out at first, mostly because it requires dedicated hardware to function, but the Fall Creators Update includes a brand new Mixed Reality experience that puts virtual reality (VR) at the front and center of Windows 10.
With a dedicated VR headset, you will be able to interact with your PC via "Cliffs House", a virtual home built specifically for the Mixed Reality world. There, you can open apps, manipulate them in a 3D environment, pin them to walls, and move around the virtual space just like on HoloLens, except in VR.
The Fall Creators Update is Microsoft's official debut of Mixed Reality for Windows 10. The launch of the Fall Creators Update will also see the launch of new Mixed Reality headsets from hardware makers such as Dell, HP and Acer. You will also be able to use motion controllers to interact with the virtual environments.
We'll have more coverage on the Windows Mixed Reality features before the Fall Creators Update launches on October 17.
Link your phone
With the Fall Creators Update, Microsoft is allowing users to link their phones, whether it be an iPhone or Android device, with their PCs. This feature allows phone users to share web pages directly with their Windows 10 devices, automatically opening up Edge and allowing the users to continue browsing that web pages that were originally open on their phones.
This feature will evolve over time to include more capabilities and apps, but for now, it acts as a simple way to send open web pages in your phone's browser to your PC without having to email yourself the link or manually search for the same web page on your PC.
What are you most looking forward to?
Those are our picks for the top five features coming in the Windows 10 Fall Creators Update. What are you most looking forward to? Let us know in the comments.
Get the Windows Central Newsletter
All the latest news, reviews, and guides for Windows and Xbox diehards.