5 things Microsoft should do to further integrate Windows 10 and Android
Many of Microsoft's apps are available on both Windows 10 and Android, but there are still limitations when it comes to connecting your devices.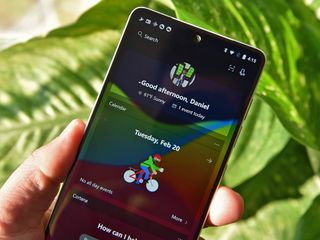 Microsoft has worked hard to bring its software experience to Android phones, reaching a point where Android is now very much the mobile platform for Windows users. That connection is only growing stronger with the announcement of the new "Your Phone" features, but there are still some ways that Microsoft could better bridge Windows 10 PCs and Android phones.
Best ways to connect your Android phone and your Windows 10 PC
Relay phonecalls through Your Phone
Phones have evolved to the point that many people rarely use them to make telephone calls. That being said, it's a bit funny that the upcoming Your Phone app doesn't relay phone calls. The SMS syncing is a great feature, and it will do a good job connecting your phone and PC in other ways. But its natural progression would be to relay phone calls to your PC. This opens up the door for using higher quality microphones and input methods during calls and would also let you use any recording software that you already have on your PC.
Microsoft is looking into bringing phone call support to Your Phone, but there are factors that make it more difficult than it may seem. For example, Dell Mobile Connect can relay phonecalls but requires relatively new hardware.
Make Continue on PC work both ways
Continue on PC is a great feature that Microsoft is progressively working into more applications. It's already built into Edge on Android and iOS and Microsoft Launcher. The downside is that you can only send websites and content in one direction. While I often read things on my phone while commuting that I want to open on another device, it's just as common that I see something on my PC and want to continue it on my phone.
Admittedly, Microsoft might have to rename the feature if you could continue something on your phone, but that's trivial compared to expanding cross-platform functionality.
Release a universal clipboard
I'm cheating a bit on this one because the latest Insider builds of Windows 10 have "Clipboard", which is a cloud-enabled clipboard. But this has been a feature that Windows users have wanted for years, and it's going to do wonders when it comes to working across devices. Not only will Clipboard make it easier to copy things over immediately, it will also let you call back things you've previously copied, at least based on what we've seen of it.
Mirror phone screens on PCs
While syncing messages and sending content back and forth between your phone and PC is nice, sometimes it's just easier to have a mirror of your phone appear on your PC. There are third-party apps that do this and some OEMs like Dell, Samsung, and HP have their ways of delivering this feature. But Microsoft releasing its version woiuld still be worth it. Current solutions often rely on turning on developer options or require specific hardware to mirror your phone to your PC.
If Microsoft could work this feature into Your Phone, you could have your phone in a window that you could easily minimize or bring up, and then you could interact with apps, messages, and other parts of your phone using your PC's peripherals.
Bring Photos to Android
Microsoft recently released the Photos Companion app for Android. It allows you to send your photos from your phone to your PC instantly over a local wireless network. Since testing that app, it's been a part of my regular workflow. But while it has a role to fill, it doesn't fix the fact that Microsoft hasn't released a version of Photos for Android. Currently, you can take photos on your Android phone and have them automatically back up to your OneDrive. This allows your photos to sync across the cloud to be viewed through the Photos app on Windows 10. But you have to use a completely separate app to view these photos on your Android phone.
There's a plethora of photo viewing and file managing apps on Android, but not all of them are great. A solid app for viewing photos, Google's Photos app, relies on a different cloud service, so you still have to install OneDrive, turn on automatic syncing on OneDrive, and then unless you plan to double back up photographs, turn off automatic syncing on Google Photos.
Bringing the Photos app to Android would not only bring a unified visual experience of viewing media files but also make cross-device syncing and viewing closer to being seamless.
Summing things up
I'm extremely impressed with how much Microsoft has done to bring Android phones together with Windows 10. Many of the features that I've discussed here are either in the works or at least on the radar of Microsoft, so the future for connecting these devices is bright. What ways would you like to see Microsoft strengthen this connection? Let us know in the comments.
Get the Windows Central Newsletter
All the latest news, reviews, and guides for Windows and Xbox diehards.
News Writer and apps editor
Sean Endicott brings nearly a decade of experience covering Microsoft and Windows news to Windows Central. He joined our team in 2017 as an app reviewer and now heads up our day-to-day news coverage. If you have a news tip or an app to review, hit him up at sean.endicott@futurenet.com.