Best Android apps for connecting your phone and Windows 10 PC
Windows 10 and Android can play nicely if you know which apps to use.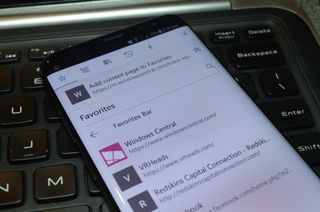 Last month we looked at apps that allow you to connect iOS devices to your Windows 10 PC. But if you're on Android and Windows 10, you don't need to feel left out. There are a number of ways to connect your Android devices to your PC. In fact, due to the open nature of Android, there are even more options.
While there are many Microsoft apps available for Android, this list is about apps that connect your phone and your PC, not just services that are available on both.
How Microsoft is turning Android into the mobile OS for Windows users
From mirroring your screen to connecting your devices through the web, these are the best apps to connect your Android phone to Windows 10.
AirDroid
Why you can trust Windows Central Our expert reviewers spend hours testing and comparing products and services so you can choose the best for you. Find out more about how we test.
AirDroid extends your Android phone experience to your PC. You can mirror the entire phone screen and control your phone through your PC or just sync specific aspects of the phone such as notifications. You can respond to messages from your PC through SMS, WhatsApp, Kik, and other messaging services and also have the option to send quick replies to someone who calls you on the phone.
You can also use it to transfer files between your phone and your PC and control your camera remotely.
Setting up AirDroid takes a little bit of work, you have to unlock developer options and turn on USB debugging, but the app and AirDroid's website walk you through this.
There's a basic free version of the app, or you can upgrade to pro for $1.99 per month or $19.99 per year. The pro version removes ads, allows you to transfer entire folders, and grants you access to more features broken down on their website (opens in new tab).
I like the idea of AirDroid, and it worked fairly well in my testing, but screen mirroring did run into some glitches, as did notifications. This could be based on my hardware so it's worth trying it out on your setup to see how it performs.
See in Google Play Store (opens in new tab)
Vysor
Vysor is another way to mirror your Android phone onto your PC. It also allows you to drag and drop files and take screenshots. You can also use Vysor to type into text boxes on your phone using your PCs keyboard.
One way it differs from AirDroid is that it allows you to use Vysor Share, though you need a Vysor Pro account, which lets you share your phone with people throughout your office.
There is a free version of Vysor but to unlock high quality mirroring, wireless connection, Vysor Share, and more features you'll need to upgrade to Vysor Pro which costs $2.50 per month, $10 per year or $40 for a lifetime.
See in Google Play Store (opens in new tab)
Textto
Rather than mirroring your entire screen or all of your notifications, Textto specializes in allowing you to text from your PC. Setting it up is incredibly easy. You just need to sign up with a Gmail account on both the Android app and PC version of Textto. You can then text from your computer through Textto's PC program or the web. It works wirelessly so you can set it up and then just text from your phone or PC.
Textto doesn't replace your SMS app of choice on your phone, it just relays your text messages through your PC. I was incredibly impressed while using this and it's especially useful because Skype SMS relay still hasn't arrived on Android.
You can get the PC version from Textto's website and download the Android app through Google Play. Both of them are free.
See in Google Play Store (opens in new tab)
Photos Companion
Photos Companion comes from the Microsoft Garage. It allows you to send your photos between your Android phone and your PC as long as you're on the same wireless network. The connection works almost instantaneously and only requires scanning a QR code to set up.
The Android version of the app is free, and the Windows 10 Photos app comes for free as part of Windows 10.
See in Google Play Store (opens in new tab)
Cortana
There's no shortage of digital assistants on Android, but if you use a Windows 10 PC, it's worth checking out Cortana. The assistant can sync reminders, lists, notes on both your Android phone and PC. It can also sync notifications from your phone with your PC.
How to sync notifications between Android and Windows 10 using Cortana
Cortana has become easier to access than ever on Android phones by its integration with Microsoft Launcher. Cortana is free on Android, as is Microsoft Launcher which can integrate with it, and is also built into Windows 10.
See in Google Play Store (opens in new tab)
Microsoft Edge
Microsoft Edge provides a nice browser experience as its own app on Android, but it's especially useful if you want to continue your browsing experience from your phone to your PC. You can select to continue viewing any webpage on your PC immediately or select to view it later.
Even in preview, Edge on Android already shows promise
Microsoft Edge also syncs with other aspects of the PC version of Edge including favorites so you can have a close to seamless browsing experience.
Edge is part of Windows 10, and the Android version is free.
See in Google Play Store (opens in new tab)
Honorable mentions
There are two other apps that help you connect your phone to your PC, but they are restricted to specific hardware.
Dell Mobile Connect
Dell Mobile Connect allows you to make calls and texts through your PC and also lets you read and react to notifications. Our executive editor, Daniel Rubino, has called it amazing and it looks like a big draw to anyone considering new hardware. But the app is not only restricted to working with Dell PCs, it only works with specific Dell PCs. Hopefully, we'll see more hardware from Dell supporting this in the future and other OEMs making similar applications.
See in Google Play Store (opens in new tab)
HP Orbit
HP also has an app of their own, HP Orbit, which allows you to send photos, text, and links between your phone and your PC. As you'd expect, it requires an HP PC. It isn't as powerful as Dell Mobile Connect but is very fast.
See in Google Play Store (opens in new tab)
Over to you
These are some of the best ways to connect Android phones to Windows 10 PCs, but they aren't the only ways. What are your favourite apps and services to connect your devices across platforms? Let us know in the comments below.
Windows Central Newsletter
Get the best of Windows Central in in your inbox, every day!
News Writer and apps editor
Sean Endicott brings nearly a decade of experience covering Microsoft and Windows news to Windows Central. He joined our team in 2017 as an app reviewer and now heads up our day-to-day news coverage. If you have a news tip or an app to review, hit him up at sean.endicott@futurenet.com (opens in new tab).
Yeah Roamit is easier to use and doesn't require developer options at all.

+1 for roamit and haven't heard of textto, excited to try it. It looks promising!

Samsung sidesync deserves a mention too

Did you get it to work? I tried Samsung SideSync and found it to be buggy to the point of being unusable (latest version of W10 on my laptop and tried it with Android 8 and 9 on my Galaxy S8+).

I thought Samsung ended SideSync?

Is there an issue with the android version of Microsoft's Remote Desktop client? I have no issues remoting into my home computer from work, and I also had no issues with any my Windows 10 Mobile devices. I switched to Android about 3 weeks ago, but I keep getting error code 0x3000008 from the Android RD Client. I've verified that the user account info, the IP address and the port number all match the other devices. The only difference is the platform used to run the Remote Desktop client.

Chrome Remote Desktop does this easily. You just sign in.

Same question here. Pushbullet started the whole desktop to Android movement after Google dumped their cloud push feature.

PushBullet works great for me. SMS, WhatsApp, BBM (yes, I still use it), etc. I share files between my laptop and Pixel 2. It all works perfectly.

Forgot about that one. Though, I'm looking for a non-subscription based one. Pushbullet has some nice features but the main one in looking for is the texting and there's a limit to how many you can send for the free version.

But who does textto shares that texting info with? I don't believe in free software whatsoever. And you even have to share your IP info. The frack?

Be aware that some android apps have Windows malware in them that can affect your phone.

But how do I synchronize my Windows contact on Android is a big puzzle to me. Other than typing my 300 contacts by hand, nothing works. I tried to set up Android 6 phone so many times. No way to see my microsoft contacts. Does anyone know how to do it? That is probably more useful than any of these tools mentioned here. Finally, without any tools, when you attach your android to Windows 10 via usb, you'll se dialog box on your PC asking what do you want to do: if you want to charge it, or copy pictures and music. That other option let you simply click and copy anything from the phone by drag and drop. No monthly charges, no viruses.

Save your contacts in your cloud email account. They should sync to your device.

Import your contacts into a google account online by importing from Outlook and when you sign in the phone (like you did with a MS account on WP), thry should just be there. The only thing I cant figure out though is when I make a new contact in the phone, it can only be saved into one account at a time. Its not a big deal, but I would want to do it through Outlook for my PC and Google for future phone crap later at the same time.

Not needed. Just add you Outlook Account to your Phone (directly via gmail) or better install the Outlook app and see all the device independent magic of Microsoft at work. No need to give any data to google. PS Sorry, i accidently hit the "report" button".

That is correct. Do enable USB debugging on your android device for FTP and it works like a champ. The tools discussed here are for wireless file transfer, and for account sync between Win and Android devices

Are there any apps that allow you to answer calls to your Android phone...or any phone for that matter? And whatever happened to the promise of telephony to the desktop, anyway?

Microsoft recently added this functionality to the Your Phone app! 👍

So Dell PC Connect is basically Samsung Kies Air 3.0? Honestly, the reason I don't even consider Android and keep my iMac is precicely becuase the solution to integration from Apple makes complete sense, and the solution for Windows + anything else seems messy and redundant A.F.

Dell mobile connect works just like Apple systems. The only difference is you have to open the mobile connect app. Then you have full iMessage on your dell. Which is way better than a crappy Mac.

I do not like this intergration stuff, I can understand why people do use it, but it is not for me, I prefer to keep my phone separate to my computer. the only time I connect it is to move the odd photo I take using the phone and for that I use Wi-fi file transfer, it does the job.

For Samsung devices, Samsung's SideSync is pretty useful too

It's a shame the Clatter app was omitted from this article. It hardly gets mentioned anywhere, yet I've used it for the last couple years to text my contacts via Android Messages (for Web), Skype, Teams, Telegram, Facebook Messenger, Discord and Google Hangouts from my desktop, all in a single app.
Windows Central Newsletter
Thank you for signing up to Windows Central. You will receive a verification email shortly.
There was a problem. Please refresh the page and try again.