A4WP expands Rezence wireless charging spec to power laptops, tablets in future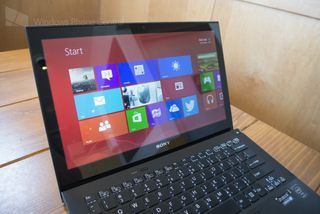 The Alliance for Wireless Power (A4WP) is announcing an expansion of its current Rezence wireless charging specification that will offer up to 50 watts of power in the future — allowing charging of multiple devices, including laptops and tablets, with a single charger. With upgrades to the base spec expected to be finalized by the end of 2014, A4WP will have Rezence capable of powering laptops, tablets and other consumer electronics with different power requirements.
The Rezence technology will also support a range of charging wattage, from 1-50 watts, allowing multiple devices to charge from one power source at different power levels to suit that device. A4WP points out that other standards are limited in the 10-15 watt range and often only support single device charging. Despite A4WP's technological advancements, it is still falling behind the likes of the Wireless Power Consortium (WPC) and its Qi wireless charging standard in terms of adoption.
Several big-name manufacturers are on board with the A4WP spec, including Dell, Fujitsu, Hon Hoi (Foxconn), Lenovo, Logitech and Panasonic. It should be noted that many manufacturers are part of multiple wireless charging space groups — including the likes of Broadcom, which plans to bridge together multiple specs with single wireless chips.
Source: A4WP
Bring wireless charging on surface and release our in India, it will be a confirmed hit with the customers.

Does Foxconn make the SP3? I keep thinking that I read that somewhere. It'd be so awesome if the SP4 had wireless charging!

Whenever I see A4WP I think All For Windows Phone.

Kinda fed up with multiple competing wireless charging standards. A4WP, Qi, PMA.

As long as chargers are universal out shouldn't matter.

So far they're not. You can't use the AT&T L1520 with Qi chargers.

That I because ATT removed Qi charging from their L1520. Not because of any wireless charging compatibility. I have an Icon, a Verizon Lumia, and I use Qi charging pads I bought at ATT.

Sweet, although until they deliver the goods I will enjoy Qi with my 1020.
Windows Central Newsletter
Get the best of Windows Central in in your inbox, every day!
Thank you for signing up to Windows Central. You will receive a verification email shortly.
There was a problem. Please refresh the page and try again.