Acer Nitro 5 review: Is this seriously affordable gaming laptop powerful enough?
Portable 1080p PC gaming for $640.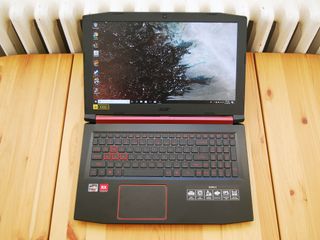 (Image credit: Windows Central)
Acer's Nitro line provides gamers budget options for desktop PCs, accessories, and laptops like the Nitro 5, which I've been using for a little more than a week. For internal performance hardware, there are plenty of Intel and NVIDIA options available, though fans of AMD can instead opt for something like the review model I have here, with a Ryzen 5 2500U processor (CPU) and Radeon RX 560X discrete graphics (GPU). At just $640 the promise of 1080p gaming might be enough to sway you to buy this laptop, and while it does fulfill its role, there are certainly some cut corners that you should be aware of.
From $640Bottom line: The Nitro 5 provides performance for decent 1080p gaming, and its cut corners can likely be ignored thanks to a truly cheap price.
For
Affordable
Easy-access RAM and storage
Plenty of ports including USB-C
Intel and AMD hardware options
Supports MU-MIMO
Against
Slow HDD
Touchpad placement is irksome
Blurry webcam
Acer Nitro 5 technical specifications
Swipe to scroll horizontally
Category
Spec
OS
Windows 10 Home
Processor
AMD Ryzen 5 2500U
Up to 3.6 GHz
Four cores
RAM
8 GB DDR4
Storage
1 TB SATA 7,200 RPM
Travelstar HDD
Display
15.6 inch IPS
FHD (1,920 x 1,080)
60 Hz refresh rate
Graphics
AMD Radeon RX 560X
4 GB GDDR5 VRAM
Ports
Two USB-A 2.0
One USB-A 3.0
One USB-C 3.1
HDMI 2.0
RJ45 Ethernet
3.5 mm audio
SD card reader
Audio
Dual stereo speakers
Dolby Audio Premium
Acer TrueHarmony
Wireless
Qualcomm Atheros QCA61x4A
802.11ac (2 x 2)
MU-MIMO
Bluetooth 4.2
Camera
Front-facing 720p
Keyboard
Backlit with numpad
Touchpad
Precision
Battery
Four-cell Li-ion
Dimensions
15.35 inches x 10.47 inches x 1.05 inches
(389.89 mm x 265.94 mm x 26.67 mm)
Weight
5.51 pounds
(2.5 kg)
Acer Nitro 5 design and features
The Nitro 5 weighs in at 5.51 pounds and is just more than an inch thick, with a chassis made primarily from black plastic. The design isn't as in your face as a lot of gaming laptops, sticking with a relatively normal — if slightly bulky — body. It has a thick row of vents along one half of the back edge (the other half looks the same though is not vented), and the lid has a brushed-metal look that gives it some distinction. Word of warning to anyone who likes a clean device, this laptop constantly picks up fingerprints and smudges. The single wide hinge is red for some accent to match the red lining around the touchpad, and though it's not as impressive on a laptop that weighs this much, the lid can be opened with one hand.
There's a lot of room for ports on a laptop this size, and Acer has taken full advantage. On the left is Ethernet, USB-C 3.1, HDMI 2.0, USB-A 3.0, and an SD card reader, and on the right are two USB-A 2.0, a 3.5 mm audio jack, and a barrel-style charging port. Altogether this is a decent selection of ports that will let you connect all your peripherals without getting too jammed up, and it's especially nice to see USB-C on a laptop this price.
Image 1 of 3
The bottom of the laptop can be removed entirely after taking out 15 screws, but Acer has a couple of easy-access panels overtop of the dual RAM slots and 2.5-inch storage bay. The review unit's hard-disk drive (HDD) takes up the bay here, but there is a slot for an M.2 SATA solid-state drive (SSD) if you take off the larger cover for later upgrades. Also on the bottom are two down-firing speakers that aren't bad if you find yourself without a headset, but for best effect, you'll want an alternative.
Overall I don't mind the design of the Nitro 5, even if it does look a bit dated compared to, say, Lenovo's Legion Y530. The angled front corners don't do much for me, especially when they clip off the edges of the lid's bezel, but there are certainly far bulkier and aggressive gaming laptops out there that you'd pay a lot more for. If you prefer something in the middle of subdued and aggressive, I think the Nitro 5 will please.
Acer Nitro 5 display
Image 1 of 2
A killer display isn't really expected in a laptop this price, but it still has to live up to a certain standard that gamers demand. The 15.6-inch non-touch display here has an IPS panel for wide viewing angles, a 60 Hz refresh rate (which essentially matches what the Nitro 5's hardware can put out for modern games), and decent color that doesn't immediately seem washed out upon opening the lid. It could be a lot brighter, and if you're frequently gaming in well-lit rooms, you might wish you could crank up the backlight further than it allows.
I tested color reproduction and got back 69 percent sRGB and 52 percent AdobeRGB. For a budget display, these numbers are pretty much what's expected. While gaming I didn't notice the color as much as the chunky bezel, which hits about an inch on all sides. After using it for a few gaming sessions, I don't think this display in a $640 laptop poses a problem. It's not going to really wow you, but it's perfectly functional.
Acer Nitro 5 keyboard and touchpad
Image 1 of 2
The Nitro 5's keyboard has a red backlight to match the other red accents, as well as WASD keys that have a red border to better standout when backlit or dark. There's enough room for a full number pad on the right side, and all keys have adequate, comfortable spacing. Key presses are soft and comfortable, especially if you plan on using this laptop for a bit of productivity during the day. While gaming, though, they might be a bit too soft for some people's taste, as they don't provide much feedback as to when activation happens.
The Precision touchpad is big enough to match the rest of the laptop and provide plenty of space for gestures. It has a satisfying click and tracks well, but its off-center placement is a pain. With a left hand on the usual WASD keys, your palm is going to constantly rub against the touchpad and the depression it sits in. Most, if not all, gamers are going to disable the touchpad in lieu of an external mouse anyway, but that's not going to fix the annoyance of feeling it under your hand at all times.
Acer Nitro 5 gaming and VR
A gaming laptop's worth ultimately comes down to how much performance it can put out compared to the asking price. While the AMD Ryzen 5 2500U CPU and Radeon RX 560X GPU likely wouldn't be prime choices for hardcore gamers looking for the best possible performance, they are affordable options that are nevertheless capable of delivering a 1080p experience.
Despite having the right ports, this laptop isn't cut out for VR unless all you're interested in is regular Windows Mixed Reality. It's much better suited to playing popular esports titles or modern AAA games on lowered settings, hitting between 30 and 60 frames-per-second (FPS). I played Dying Light and Path of Exile to see how well the Nitro 5 holds up during regular play; the former averaged 34 FPS on "Best Performance" settings, while the latter averaged 69 FPS with a mix of Low and Medium settings.
While gaming, the battery is going to drop fast, so you'll want to carry the bulky power adapter with you. You'll get at most about 1.5 hours while gaming, and between four and five hours when going about regular tasks.
Inside, the laptop has a dual-fan cooling system that uses heat pipes to pull hot air out and away from the GPU and CPU, and it seems to work well enough. When under heavy load you will probably experience some thermal throttling and some hot spots on the chassis, but it wasn't anything we haven't seen, even from laptops that cost much more. Acer has included NitroSense software that gives you some control over power and fan speeds, as well as providing CPU and GPU temperature readouts.
3DMark
Time Spy (Higher is better)
Swipe to scroll horizontally
| PC | GPU | Score |
| --- | --- | --- |
| Acer Nitro 5 | Radeon RX 560X | 1,959 |
| Lenovo Legion Y730 | GTX 1050 Ti | 2,568 |
| Dell G7 15 7588 | GTX 1060 | 3,792 |
| Lenovo Legion Y530 | GTX 1050 Ti | 2,330 |
| Acer Predator Triton 700 | GTX 1080 | 5,809 |
| ASUS ROG Zephyrus | GTX 1080 | 5,551 |
3DMark
Fire Strike (Higher is better)
Swipe to scroll horizontally
| PC | GPU | Score |
| --- | --- | --- |
| Acer Nitro 5 | Radeon RX 560X | 5,416 |
| Lenovo Legion Y730 | GTX 1050 Ti | 6,890 |
| Dell G7 15 7588 | GTX 1060 | 10,029 |
| Razer Blade 15 | GTX 1070 | 13,560 |
| Lenovo Legion Y530 | GTX 1050 Ti | 6,864 |
| Acer Predator Triton 700 | GTX 1080 | 14,572 |
| MSI GS63VR | GTX 1060 | 9,874 |
VRMark
Orange Room (Higher is better)
Swipe to scroll horizontally
| PC | GPU | Score |
| --- | --- | --- |
| Acer Nitro 5 | Radeon RX560X | 2,982 |
| Lenovo Legion Y730 | GTX 1050 Ti | 3,742 |
| Dell G7 15 7588 | GTX 1060 | 5,969 |
| Lenovo Legion Y530 | GTX 1050 Ti | 3,931 |
| Acer Predator Triton 700 | GTX 1080 | 8,592 |
If you're looking for a laptop to handle VR, you'll probably want to look elsewhere considering this number is below what's expected of a Rift-capable PC.
Acer Nitro 5 general performance
Even at this price, you might want to use your gaming laptop for regular tasks during the day, and the Nitro 5 holds up well in this regard. The biggest issue here is the slow SATA HDD, but at least that can be remedied by opting for a model with 256 GB SSD or by replacing the HDD yourself post-purchase.
CPU
Geekbench 4.0 Benchmarks (Higher is better)
Swipe to scroll horizontally
| Device | CPU | Single core | Multi core |
| --- | --- | --- | --- |
| Acer Nitro 5 | Ryzen 5 2500U | 3,539 | 8,967 |
| Razer Blade 15 (Base) | i7-8750H | 4,962 | 19,285 |
| Lenovo Legion Y730 | i7-8750H | 4,793 | 19,085 |
| Dell G7 15 7588 | i7-8750H | 4,897 | 21,245 |
| Razer Blade 15 | i7-8750H | 4,872 | 17,910 |
| Lenovo Legion Y530 | i5-8300H | 4,729 | 14,967 |
| Acer Predator Triton 700 | i7-7700HQ | 4,834 | 15,298 |
| ASUS ROG Zephyrus | i7-7700HQ | 4,322 | 13,213 |
The single core score was expected, though I thought the four cores in the Ryzen 5 2500U would put up a bigger number. Keep in mind that the table here shows mostly Intel Core i7 CPUs as competition.
PCMark
PCMark Home Conventional 3.0
Swipe to scroll horizontally
| Device | Score |
| --- | --- |
| Acer Nitro 5 | 3,427 |
| Lenovo Legion Y730 | 3,731 |
| Dell G7 15 7588 | 3,853 |
| Lenovo Legion Y530 | 3,546 |
| Acer Predator Triton 700 | 4,205 |
There's nothing out of the ordinary here. I didn't notice any hiccups when using the laptop for ordinary tasks.
HDD
CrystalDiskMark (Higher is better)
Swipe to scroll horizontally
| Device | Read | Write |
| --- | --- | --- |
| Acer Nitro 5 | 126.7 MB/s | 123.9 MB/s |
| Lenovo Legion Y730 | 3244.8 MB/s | 1335.4 MB/s |
| Dell G7 15 7588 | 521.5 MB/s | 303.4 MB/s |
| Razer Blade 15 | 3,272 MB/s | 1,458 MB/s |
| Lenovo Legion Y530 | 1,330.9 MB/s | 560.4 MB/s |
| Acer Predator Triton 700 | 3,353.5 MB/s | 1,859.3 MB/s |
| Razer Blade Stealth | 1,281 MB/s | 1,330 MB/s |
If you're serious about this laptop, consider spending about $80 more for a model with an SSD. That, or promptly do your own swap to get rid of this incredibly slow storage.
Should you buy Acer's Nitro 5?
The Nitro 5 makes post-purchase upgrades easy with separate panels for storage and RAM on the back — yet you can remove the back cover entirely to get at all the hardware — and battery life isn't awful if you keep it in the realm of gaming laptops. The placement of the touchpad is one of my biggest gripes here, and that's a good thing considering the shortcuts usually taken by a budget laptop.
If you're a longtime PC gamer looking for the next great laptop, you'll no doubt want to look elsewhere for something with more power and a more refined design. Anyone who wants to get into gaming while keeping costs down can probably look away from the downsides and focus mainly on the price tag and the acceptable performance it will buy you. For more options that aren't necessarily cheap, be sure to check out our roundup of the best gaming laptops.
Budget gaming laptop
It has its flaws, but the Nitro 5's price is right.

If you're a casual PC gamer who wants to stay mobile, the Acer Nitro 5 is a cheap way to get your hands on 1080p performance. Optional AMD hardware is a bonus for anyone who'd rather steer clear of Intel and NVIDIA.
Get the Windows Central Newsletter
All the latest news, reviews, and guides for Windows and Xbox diehards.
Senior Editor, Laptop Reviews
Cale Hunt is formerly a Senior Editor at Windows Central. He focuses mainly on laptop reviews, news, and accessory coverage. He's been reviewing laptops and accessories full-time since 2016, with hundreds of reviews published for Windows Central. He is an avid PC gamer and multi-platform user, and spends most of his time either tinkering with or writing about tech.