How to move media Libraries to a microSD card on your Surface Pro 3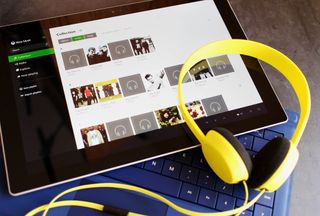 Beginners' Tips Series!
My Surface Pro 3 has quickly become the device I use most often. And since what I do on it is typically limited to writing, crawling the web and communicating with people, my demand for storage is not very high. However, I always make sure that I have plenty of music on my Surface, which can take up a lot of space.
When deciding on which version of the Surface I was going to buy I knew I wanted an Intel i5 processor, which left me with 128GB and 256GB for hard drive options. From a storage perspective, it was a no-brainer for me to go with the 128GB drive. Knowing full well that I could increase the amount of storage at any given time by taking advantage of the Surface's microSD card slot helps with that decision.
Considering I already had a 64GB microSD card sitting at home, it was a decision that saved me $300 over the 256GB model. The way that I found to manage storage best for my needs is to use a microSD card for my media, like music, leaving the hard drive of the Surface for apps and operating system needs. In order to do this, however, I needed to tell Windows that I wanted to operate this way, by making my music folder part of my Windows Libraries.
In earlier versions of Windows, there were some hoops that you needed to jump through because removable devices could not be added to Windows Libraries. But Windows 8.1 makes is easy, requiring just a few clicks of the mouse. I already had my music in a folder by the same name on my microSD card, so let's assume you will be starting from the same point.
Method 1
First, insert your microSD card into the slot on the back of the Surface.
Open File Explorer, and then browse to the folder on your microSD card that you would like to add to your Library.
Right-click on the folder, then select Include In Library > Music
4. Now, all that is left is to open Xbox Music and wait for it to add the files to your Collection.
Another way to get your music from your microSD card to your Xbox Music is from within the app itself.
Method 2
From the Collection section of Xbox Music, click on "Change where we look."
If for some reason you do not see that option, open the Charms bar, then go Settings > Preferences and select "Choose where we look for music on this PC."
Click the + symbol, then browse to the folder on your card.
If you ever want to remove your microSD card from your Library:
Open File Explorer, and then right-click on your Music Library and select Properties.
Click on the folder, then click Remove.
3. Click OK.
You can also, just undo what you did in Method 2.
Got any other storage tips? Be sure to weigh in below in the Comments.
Windows Central Newsletter
Get the best of Windows Central in your inbox, every day!
Actually, I've already moved my OneDrive to the microSD card, and I've always had my Libraries pointed to folders on the OneDrive.

Bingo. I have a dell venue pro 8, bought hte 32 GB version from the MSFT store here for $190. THen grabbed a 64 GB Micro SD, moved OneDrive to it, then so I could install office and steam (for in home streaming) I set up symbolic links to the Micro SD. Helps out a LOT.


I decided to go the mount point path. Unfortunately, mount points cannot be indexed, meaning you cannot move your OneDrive path to them. Bummer! MS, please fix this in W10. Thanks!

What's the best way to do that? I try to move it and keep getting warnings about it being a removable drive. I'd love to have OneDrive there as it makes up the majority of what would be useful to me on the go.

Seth I would love a tutorial in how to get music I have purchased off my Xbox music onto an SD card. As it I all in cloud storage it seems you have to do this song by song or album by album.

go to the folder location for the songs. right-click on it, go to properties. then to the Location tab. select the Move option and move it to the SD card. then when you make a purchase or download a song, it automatically goes to that new location.

Thanks but is there a way to download all previously purchased music with one click to SD card or OneDrive?

I'm confused. is your purchased music only in the cloud?

Got the 256GB model for that extra 4GB of RAM. I'd totally buy an i5 128GB w/8GB RAM, but alas, not an option.
Thanks for the guide, Seth! I'm sure it'll help some folks out. :)

Actually, Seth wrote this one up ;)

I nothing else, I am a man of forgiveness. :)

I was targeting the "upvote" and ended up reporting you for this comment... Apparently I can't unreport it so, mods, I'm reporting this guy for thinking the exact same thing I did. :D I had the first Pro with 128GB and never hurt for space so I'd gladly have gone with a 128GB Pro 3 but that additonal RAM sold me.

Really?cant even install Apps on sd cards...total crap, one Windows plan for the Next 5 years ...u can on windows phone but u cant on windows 8...

Well, you hit the nail on the head. What is Windows 10 supposed to do again? Something-something unification? I can't see why that couldn't happen next year.

I hope so!!also hope that I can upgrade my dell venue 8 pro to windows 10... which may be tricky depending on the specs required to run windows 10... :S

I left a feedback for that on Windows 10 =)

You can if you set up symbolic links. Google how to set up symbolic links for a better guide, I cannot post links on here yet. It would be something along the lines of below on an elevated command prompt: copy c:\program files\windowsapps d:\yournewfolder
rename c:\program files\windowsapps c:\windows files\windowsappsbak
mklink /j c:\program files\windowsapps d:\yournewfolder

And there is more and more Windows 8.1 tablets with 16GB... they are useless.

There are another 2 possibilities. The first one would be in the PC settings, on "PC & devices" -> Devices -> "Default save locations" where you can enable to default storage to the microSD card. The second one (which you can do additionally to the first one) is right clicking the Music folder on your system drive -> properties -> location -> move where windows will move the entire folder for you to another location, e.g. a music folder on the microSD card.

Third method is to swipe from the right > Settings > Change Pc Settings > devices > scroll to the bottom and theirs a button for making your SD card. Once clicked, it automatically creates picture, document etc. Folders on your SD card and maps the OS to them.

Anybody notice that when music is saved in the SD card, none of the album art shows? Especially in media player. It's all grey cubes.

I don't know whether I'm the only one with this issue, my SD card keeps disconnecting from the library on the Surface. I had the 256 i5 and for some time and I later upgraded it to i7 but I'm still getting this error of SD not being recognized most of the time.

There appears to be an Issue with the Surface Pro 3 failing to recognize SD cards after going to sleep. A few of us have been reporting it for some time now but haven't been getting much traction with MS. http://answers.microsoft.com/en-us/surface/forum/surfpro3-surfusingpro/s...

Not just the Pro3, also the Surface RT and Surface 2. It´s a known issue with the MS Modern apps, constantly and randomly loosing connection to the SD card. Even when -not- sleeping, very annoying to say the least. Sometimes even multiple reboots are neccessary to make the OS clear there's a SD card available :-( Oh.... and it's a power drain too, even when off. Still not fixed afaik.

Just checked for updates on my pro 3 this morning & a fix for this is listed under an optional update. I'm installing now, but can't verify about the SD card problem as I don't have one installed

which one is that? KB2995388? If I check the MS page, there's mentioning of SD cards. cheers! p.s. it's a bit silly that one isn't mandatory, with all the ppl having issues with SD cards ;-)

Yes, that's the one. I agree.. i'm surprised it's not mandatory. I would've missed it if i just waited for the automatic update. The only reason I looked (i don't usually) is because of this article :)

Please post a how to on downloading all purchased music to an sd card, thanks.

Paul Thurrott already covered this for Windows 8 users...