Amazon Echo Dot is a fantastic $50 Kinect replacement for Xbox One
Kinect may be dead, but Xbox One's new Alexa integration brings a capable and affordable alternative.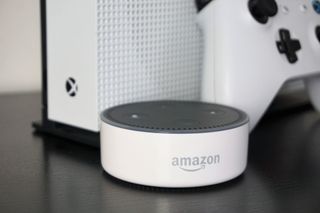 (Image credit: Windows Central)
Microsoft recently rolled out deeper voice assistant integration on Xbox One, hooking up select smart speakers to the console. Following unprecedented growth of connected home platforms, the new "Xbox Skill" allows Cortana and Alexa-enabled devices to feed commands to the platform. Building on strong foundations established by Kinect, this brings further convenience to daily interactions.
Despite powering Xbox One voice commands from launch, Microsoft has slowly phased out Kinect, even for existing owners. Not only is the sensor hard to purchase today, but its now-mandatory adapter for modern consoles has been discontinued, making the accessory near-impossible to use. However, the Xbox Skill revives much of Kinect's original functionality, lining up a suitable $50 alternative for many.
See at Amazon (opens in new tab)
Alexa, meet Xbox One
The Amazon Echo smart speaker range has flourished, all hooking into its Alexa digital assistant. Alexa has pushed Amazon to become a leader in home automation, with an assortment of home accessories deeply integrated into the platform. At the lowest end of the line is Amazon Echo Dot (opens in new tab), a small Alexa-enabled speaker, without comprimising on features seen in pricier counterparts. And costing just $50 for its latest revision, it's an unrivaled entry point for Amazon's digital future.
While the Amazon Echo doesn't pack the motion controls that defined Kinect, it sports its most-used features. The value was in its voice controls, bringing snappy shortcuts for the Xbox One OS. Microsoft has since started drawing this functionality away from Kinect, and there's not been anything comparable for gamers
The Xbox Skill revives most of Kinect's voice command capabilities, with support for console power controls, software startup, and general OS navigation. It's limited to Skip Ahead, Alpha, and Beta members of the Xbox Insider Program in the U.S. right now, but we expect a wider public rollout in the coming months. Even in a pre-release state Alexa integration looking strong, allowing for improved natural language with responsiveness that's close Kinect's original local console commands.
Xbox One voice commands on a budget
The Amazon Echo Dot is an entry-level speaker, packing Alexa's core functionality into a low-cost, lightweight body. It features the same microphone array seen in other Amazon Echo devices, delivering responsive recognition throughout varying distances and conditions. And with its Micro USB connector, you can power it directly with your Xbox One console.
While the integrated speaker isn't great, it's not necessary when angled as a Kinect replacement. Higher-end models provide further flexibility to explore Amazon's offerings beyond Xbox, but as always, these come at a premium. Furthermore, the small hockey puck-style design fits nicely next to a console, with a black or white finish to match.
If you're considering a Kinect in 2018, piecing together the sensor and adapter can be expensive via resellers. The Amazon Echo Dot costs just $50 for its revised second generation, with regular discounts directly through Amazon. In its pre-release state, the Alexa Xbox integration isn't flawless, but it's a strong foundation for the future. Alexa improves on areas where Cortana previously faltered, with more responsive commands, generally improved natural language, and a larger worldwide presence. Motion control holdouts may want to look elsewhere, but as Alexa's foothold grows, this could steadily become a must-have Xbox accessory. And for $50, it's a steal.
Also, be sure to check out our roundup of the best Xbox One smart speakers if you're looking for a premium alternative.
See at Amazon (opens in new tab)
Windows Central Newsletter
Get the best of Windows Central in in your inbox, every day!
Matt Brown was formerly a Windows Central's Senior Editor, Xbox & PC, at Future. Following over seven years of professional consumer technology and gaming coverage, he's focused on the world of Microsoft's gaming efforts. You can follow him on Twitter @mattjbrown.
Don't tell the completely functional Kinect on my Xbox one X that she is dead because the rumors of her death have been greatly exaggerated though she is getting hard of hearing.

Bull the invoke is superior all you have to do is add the skill to Cortana and bam. It's done. No screwing around with a third rate assistant. And really a kinect replacement where is the camera? Nothing can replace the kinect period or else everyone would buy it.

What makes the invoke superior?

What's the Invoke? In the rest of the world (which is a lot bigger than Murica BTW) the Invoke doesn't exist and Cortana is way less featured and useful. In Europe, the Echo is the king, followed by the Google Home.

I don't think he was talking about what's used more, but what is superior. The Dot is not when compared to the Invoke...

There are many options for Alexa speakers. I don't think he was talking about the actual speaker, but the service due to the "Third Rate Assistant" comment. Which I am still curious, as a long time user of both platforms, what makes Invoke superior?

Well, first and foremost these are speakers meant to project sound. Invoke cooks the Echo Dot in this category with much fuller sound. Invoke also makes Skype calls to landlines and cell phones which the Dot can't. In terms of voice commands, both can be used with Xbox the same way and home automation.

Again, as I said, there are many speaker options for Alexa, I have quite a few that sound awesome. This article was calling out an 'affordable' replacement for Kinect. So that is a moot point. In regards to calling, I can make phone calls from Alexa just by saying the telephone number, and I can call and send voice messages to anyone with an Amazon/Alexa account. So, yes, you can make skype calls, but I can make real calls without being charged.
I love Cortana and use her every day, but to say that she is superior to Alexa is just not true in many regards. I love the ability to use either regardless of what device I am using.
Man, I though I was an MS fanboy, some of you take it to the next level. Edit: Funny enough, Amazon just announced Skype is coming.

I wasn't talking about the many "Alexa speaker options" out there...just the one brought up by this article. It is a fact that the Invoke is superior to the Dot. You seem more interested in debating Alexa vs Cortana, when my comments had more to do with Dot vs Invoke...understand the difference. And making Skype calls is real calls as you can call someone's cell phone by just saying their name or business. Yes, I did just see the news of Skype coming to Alexa...I think that's great, but it doesn't change the fact that Skype is already apart of the Invoke and not so on the Dot, which again is the two I was comparing. In terms of your fanboy comment...you called yourself one...all I did was say that he Invoke is superior to the Dot which it is...if that takes things to the next level then you need better perspective.

Right...and the whole reason this thread/conversation started, was because of OPs "third rate assistant" comment. So why you keep going back to sound coming from 1 device is beyond me. Again, the point of this article was about an affordable replacement. Just being difficult for the sake of being difficult I guess.

Haha...I mean, you asked ME a question and I answered it. You assumed it was a Cortana vs Alexa conversation...it wasn't. Even if you add the 2nd gen Echo for $79-99, the Invoke is still superior for the same price.

I didn't ask you anything...wtf are you talking about? OP of this thread, as I've stated numerous times said "third rate assistant". I replied to OP asking why. You keep talking about a stupid speaker. You are the only one talking about a speaker.

How much free stuff do you get from Amazon

This is Windows Central not CNN stop with the fake news

What does that even mean?

Stop with the stupid comments first.

Um Microsoft went into partnership with Amazon to link Cortana and Alexa. So it is unsurprising that a Windows centric news platform would report on that integration. Think you need to step away from the internets for a moment and take a breath. It's going to be ok.

It's very easy to rig the Kinect to work without an adapter, been doing it for months. My problem is the Kinect very rarely hears my commands, so this is a welcome addition.

Do you have a DIY link handy?
I'd love to get my Kinect working with my OneX.

https://binged.it/2QIYVw4 I am by no means good with a soldering iron and it's worked fine.

I bought one ready made on ebay, people sell the modded version

US only skill by any chance?

When in UK, sadly it is usa only

Why the echo and not Invoke? I have both....why would I use the dot over the invoke? This makes no sense.

I'll never understand why Microsoft can't just add a microphone in the gamepad. That semms pretty simple, and confortable for voice commands

I'd rather pay $100 for an adapter on Amazon and use my DayOne Kinect than to purchase this. Alexa and Google are trash.
Windows Central Newsletter
Thank you for signing up to Windows Central. You will receive a verification email shortly.
There was a problem. Please refresh the page and try again.