Amazon India makes it slightly easier to get your hands on the Lumia 950, 950 XL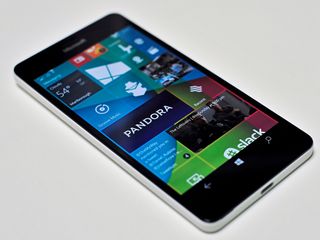 Amazon India has launched a buyback scheme for the Lumia 950 and 950 XL, through which the retailer is offering gift cards worth ₹3,000 ($45) to customers trading in their handsets for the latest Lumias. There's a caveat, however, as the offer is only eligible on devices sold through ReGlobe. The offer is valid from November 30 to December 31, and is honored on all purchases made through Cloudtail, Microsoft's authorized seller on Amazon.
These are the handsets eligible for the buyback offer:
The retailer has mentioned that the gift card will be issued 45 days from the purchase of the handset and a successful sale on ReGlobe.
Now here's where the promotion loses its shine. We tried initiating a sale for a year-old Lumia 930, and got a quote of a meager ₹5,760 ($88). That's for a device that cost ₹36,000 at retail ($545). Other Lumias did not fare any better, as the Lumia 1520 received a quote of ₹5,000 ($75), and a three-month old Lumia 530 just ₹1,700 with the bill included.
While the deal does not make much sense for devices like the Lumia 930, if you're looking to exchange your Lumia 530 or Lumia 432, it is worth taking a look. Head to the link below to find more details on the promotion, and let us know if you've received a better quote in the comments.
Windows Central Newsletter
Get the best of Windows Central in in your inbox, every day!
Harish Jonnalagadda is a Senior Editor overseeing Asia for Android Central, Windows Central's sister site. When not reviewing phones, he's testing PC hardware, including video cards, motherboards, gaming accessories, and keyboards.
Shouldn't happen .! If its like this ;P

Carphone Warehouse, O2 and many others have been doing this for a long time now but yes you do get peanuts which is why I have never taken then up on their offer, plus its always good to have a spare phone or two!!!! I remember when my 1020 broke and I had to send it away, had to use a Galaxy S2, but the camera was so bad I ended up using my 808 Pureview, even Symbian is better than that phone!!!! :p

Display dock is also free on pre-order on Amazon

I am Keeping calm and using my good old faithful Lumia 730.
Thanks MS for this.

This deal is ABSOLUTELY pointless.....you are requested to keep using Lumia 730 ( I am using it too)

I won't sell my dearest Lumia 720. No matter what!

Even if he bought it last month, it is 1 month "old" :-P but i get your point :-)

Hell yeah! Lumia 730 is an awesome phone :D

730 is awesome... Waiting for w10 update...

Going on with my tried,tested & truly wonderful 1520!

Can both phones available without any offers with some price cut

I'm confused.. You say you got 1700 for the 530, Do you get a Amazon gift card worth 1700? Or do you get 3000 amazon GC + 1700 for the phone? Which seems less likely cuz who's gonna give 4700 for a used 530.. :/

1,700 from ReGlobe, and a 3,000 gift card from Amazon. That's why I mentioned that it was a better deal if you exchange an entry-level device.

How much for Lumia 535 ds any idea ?

You can check it out here.. That's the ReGlobe's site btw..

Holy shit that's nice since most of us with budget devices won't get 2k otherwise... Thanks!

Well well, I want to purchase this device, but reglobe quotes 4500₹ for my Nokia lumia 830, which is still in warranty period and without any damage! Surely I deserve much more than that.

Give it to me i will give you 7500

Buddy I'm expecting 13-15k. I purchased it in 20k and its just 7months old

nobody will give this much price because 640 xl lte has the same price you are expecting and the specification are same u tell who will give you the money for old phone rather he can get new one with same price

Lol at the hopeful 7.5k bid :P

What? Just Rs 4500!!! I also have Lumia 830. I would rather retain it for another 2-3 years with Win 10 upgrade. Besides Lumia 830 has good camera, and it supports 4G which could support be launched by Vodafone and Idea in future.

I have Lumia 720.(2 year old) bought it for 18.5 k ₹ I won't sell it. It's awesome phone with nice camera quality. That's enough for me. :p

If you are looking for better buy back, start looking at sites like OLX, Quikr, etc. :-)

I'm happy with my 640 (dual sim) though I don't find it in the buyback list as well...

Lol. Got a quote of ₹6500 for my 1520! Do they think we are fools?

Not worth 49k .....happy with my lumia 830..
Planing to buy 1520 if i find one.

Do You Want Mine...............It looks like its out of the the Box............. Not a single Scratch or anything at all I wont even keep my phone down on a table +1520

Woah! Then where do you keep it? :P

How much? Posted via the Windows Central App for Android

I am happy with Lumia 540

At 43k ($662 USD) with tax, it is too expensive.. I had expected the 950XL to be at 43k and it turned out that is at 50k !! Damn !!
I don't believe the govt has so much of tax. Microsoft has simply overpriced the 950 and 950XL. Not fair MSFT.
Why can't they be realistic about how much this is gonna sell in India and just remove the 'free' display dock from the deal and reduce the price?! :(

Free display dock and 3k gift card makes it a decent purchase

These Lumias are doomed. Holy shit, look at those prices. Who is gonna buy them. -_-

I went ahead taking 640XL after my 730 screen broke, and that's the worst mistake I did :( , I was greedy for screen size .

Why? Youre not happy with it?

I own a 720, though it is quite old but still properly managed and kept. It is offering me merely 1400 for it but I wd like to have it sold nearby 8-9 k..

Not even in your dream. 730 is now available for₹12000 & you are expecting 9000 for your 720!

No chance dude.. The era of 512 ram is gone now

9k lol
for a three year old phone

No matter what I won't sell my Lumia 720

I also have a 2.5 year old 720, working perfect, has just a dent on bottom panel. i'd rather keep it as a backup phone than sell it for 1200 offered in this buyback

Lol. No one's gonna buy it for even 5K. Posted via the Windows Central App for Android

Forget it, its costly... Update available devices instead

Windows Central is now becoming a eBay. Everybody selling their used phones. There should be a guideline for this.

I think they are including dock price as *Hidden Charges and misleading that it is being offered free with Lumia 950 & 950XL. They are fooling us so that dock can see initial sales. Who will spend ₹.6000/- just for a Box with ports? Ridiculous... :( I will wait till dock offer ends. After that if they reduce the price of Lumia duos, then i will think about purchase.

Nope.. It's because of heavy tax tax tax tax tax tax tax

Yup, i am also going to wait till price comes under 37k for 950. Dock isn't a necessity right now. Btw, can we use miracast with these phones?

Yes Posted via the Windows Central App for Android

Very costly.... I have to use my Lumia 720 with broken screen till the time price for L950 get reduced (hope so).

I tried my 925.. (₹36000 mrp) says ₹3600.. I cancelled sale saying at least ₹15000.. Donno if they'll accept..

Its insulting current lumia owners...5000 exchange price for 1520..flipkart is giving cash back of 15000 for 1520 against iphone 6plus

Wp doesn't have resale value as MS says in their press release atleast in India. I was desparate to sell 3 month old lumia and the seller quoted 3k which is a steep decrease than market price of 8.5k. You know what they say? They said people love android phones as its easy to use than win8.1 metro(I know this is incorrect ) and also said android phones can be sold at higher rate eventhough they are refurbished ones. For L950(XL) MS must price the phone as the same as the US in India(Yes an unlocked phone at $649) and they can increase WP share. Considering that I recently bought L730, so I'd wait for another flagship.

Price in UK is 448 euros which is like 31k

I still love my 920.....stuck with its beauty & performance.....

My lumia 1520 can go well for an year atleast!
Windows Central Newsletter
Thank you for signing up to Windows Central. You will receive a verification email shortly.
There was a problem. Please refresh the page and try again.