Amazon's $25 Xbox One Controller checks all the boxes at half the price of Microsoft's gamepad
By Matt Brown last updated
Amazon has an Xbox One controller that's about half the price of the official gamepad but is ideal for gaming on a budget.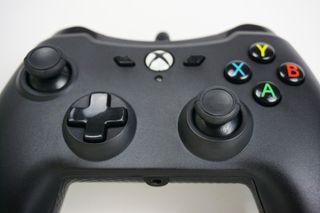 Amazon continues to solidify its position as the jack-of-all-trades, now offering a growing range of accessories for Xbox One. Positioned under the no-frills "AmazonBasics" range, these accompaniments to your console promise a low-price tag without comprising on build quality.
After previously exploring the online retail giant's line of charging accessories, we're exploring Amazon's take on the Xbox One controller itself. Promising comparable functionality to Microsoft's official solution at half the price, it's an attractive pickup for budget-conscious gamers. And while it may forgo luxuries of some higher-end controllers, it still nails the basics.
The AmazonBasics Xbox One controller inherits much of its feature set and likeness from the official controller, presented in a familiar, clean design. Anyone acquainted with the Xbox One will know what you're getting on the surface – all the inputs of the standard layout are also present here.
With the proprietary Xbox Wireless protocol tied to Microsoft, the AmazonBasics controller is bound to wires like many third-party solutions. Packing a 9.8-foot USB cable that connects directly to the console, the controller still offers suitable range for the average living room. Other staples of the modern Xbox One controller make the cut, including an integrated 3.5mm headphone jack and dual rumble motors for vibration.
Once in-hand, initial impressions of the controller are reassuring, including odd attributes that give this controller a premium flair over similarly priced alternatives. Its weight is relative to the official controller, avoiding the lightweight touch of many other third-party devices. While the more angular design fails to match the ergonomics of the original, it still sits comfortably in my hands. And the bonus of the textured rear goes a long way, providing a sturdy grip exceeding Microsoft's own design.
A promising controller is offered here, though Amazon does cut corners where many premium alternatives don't. The dedicated Xbox accessories port is absent, rendering some headsets, chat pads, and other products incompatible. The Xbox One's unique rumble triggers are also ditched, losing the precision vibration for the trigger buttons. Despite neither feature is essential, they're examples of comprises made to pursue the low price point.
The build quality of this controller meets a high standard but still falls short of other controllers in certain areas. Certain buttons feel mushy and less responsive than the official counterparts; the most notable of these being the bumper buttons. Especially when some Microsoft controllers have documented durability issues over time, its long-term feasibility should be questioned.
While the AmazonBasics controller may not stand out for its features, its price point is what sets it apart from the competition. Amazon's controller comes in at just $24.88, shipping in both black and white variants. Meanwhile, similar official Xbox One controllers are priced upwards of $50, at over double the price of Amazon's offering.
That's a significant price difference, and while it might not offer the spectacle of Microsoft's controller, it still excels at the essentials. For the average gamer, cutbacks are far outweighed by the saving you'll receive. Those who demand the best should look elsewhere, but you won't find better when wrangling a budget.
The AmazonBasics Xbox One controller is available exclusively via Amazon, priced at $24.88 in the U.S.
Read more: AmazonBasics Xbox One controller accessories charge you up on the cheap
Matt Brown is a senior editor at Future for Windows Central. Following six years of professional consumer technology and gaming coverage, he's focused on the world of Xbox and Windows PCs. You can follow him on Twitter @mattjbrown.
"All the boxes?" How is wireless not a box? I'm not a child, I don't sit on the floor near the TV when I play anymore. Also, this is the normal price range for a wired controller. This isn't really anything special or cheaper. One would hope that they learn the manufacturing process a bit better and drive the price down some.

Agreed. Always hated the wires on my original Xbox. I can see buying one of these as an extra controller for a desktop PC, but otherwise, nah.

Agreed. I don't have an Xbox myself, but there are a few PC games a controller would be nice for. Probably going to pick one of these up.

because the wireless tech in the XB1 controllers is proprietary MS tech. Most likely a cost issue with licensing the tech and they had to go with wired.

This controller looks...…………………………………….. DISGUSTING 🤢. And it's wired. I don't have a Xbox. The Microsoft controller looks much much better, and definitely has a very higher quality. But now that I see this. I'm willing to buy the original controller even if it's twice the very reasonable price it already has.

I'd rather pay full price and buy the original, thanks, no need to buy a ripoff and give money to Amazon for it

In what way is it a rip off? You know what you're getting and you know the cost. You may not think it's a good buy for you, but that doesn't make it a rip off.

Yes, checked all the boxes for reasons not to buy it.

holy cow theyre doing amazon basics gaming stuff. I hope they make a Switch AMAZON BASICS FOR HALF THE PRICE.

Title: all boxes checked
Content: half boxes checked

Reminds me of this... https://www.amazon.com/Logitech-Precision-Controller-Xbox/dp/B00009OY9V?...
Windows Central Newsletter
Get the best of Windows Central in in your inbox, every day!
Thank you for signing up to Windows Central. You will receive a verification email shortly.
There was a problem. Please refresh the page and try again.