Xbox Wireless: Everything you need to know
These are all the details you need on Xbox Wireless – Microsoft's latest ecosystem for accessories free of cables.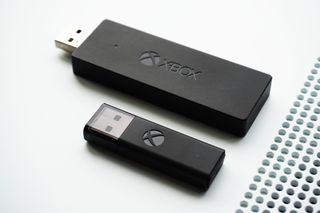 While Microsoft continues to converge its experiences across Xbox One and Windows 10, programs like Play Anywhere are proving how unified platforms can be beneficial to both the consumers and the company itself. "Xbox Wireless" shows this philosophy being applied to accessories too, building a hardware ecosystem between Microsoft's two flagship gaming platforms. Here's everything you need to know about Xbox Wireless, and its benefits to you as a gamer.
What is Xbox Wireless?
"Xbox Wireless" is a proprietary protocol developed by Microsoft for connecting accessories to Xbox One consoles. Like Bluetooth or Wi-Fi Direct, Xbox Wireless enables controllers and select headsets to establish a direct wireless connection with the console, while avoiding the complexities that come with adapters or physical cabling.
The protocol first made its debut back with the Xbox One. It served as the unbranded technology for connecting controllers to the console. Microsoft later expanded its capabilities while ushering in the Xbox Wireless name, embracing the technology as its protocol for premium wireless gaming. This also led to an expansion to Windows devices via an official adapter, allowing Xbox accessories to be used on PC.
Today Microsoft now refers to Xbox Wireless as an ecosystem for its licensed accessories, marketing the protocol for its seamless wireless experience across its platforms. With third-party manufacturers starting to release "Xbox Wireless" devices, both Xbox One and PC can hook into the lineup of accessories.
Using Xbox Wireless on Xbox One and Windows 10
If an Xbox One owner, you've likely been using Xbox Wireless for years without even knowing it. The radio frequency (RF) module embedded inside all Xbox One consoles taps into this protocol and is used to connect to most wireless accessories. While infrared (IR) and Wi-Fi Direct are used for connecting some devices, this is the sole way of connecting controllers wirelessly. Xbox Wireless devices can be connected to an Xbox One system using the "Sync" button located on the front of the console.
Over on PC, connecting Xbox Wireless accessories is a little more challenging. The proprietary nature of Xbox Wireless means an official adapter is required, which will set you back $24.99. However, for that price you'll be getting support for eight controllers and their accompanying headsets, which should be more than enough for any gaming session.
The form factor of the current Xbox Wireless Adapter isn't exactly elegant. Thankfully, a revised version of the Xbox Wireless Adapter is set to release in the U.S. next year, which cuts the adapter's size down to a third of the original. Select devices are also offering integrated Xbox Wireless chips, though this is currently limited to a subset of pre-built PCs.
See Xbox Wireless Adapter at Microsoft
Why use Xbox Wireless?
Existing wireless technologies are available for gaming accessories, but Microsoft opted to develop its own protocol for further flexibility. Building a device offering around its own specification allows accessories to offer unique functionality while tying hardware down to its ecosystem.
Utilizing a higher frequency connection than traditional 2.4 GHz Bluetooth, on paper, Xbox Wireless promises a higher bandwidth connection for accessories. This, in turn, reduces latency, which can shave off vital milliseconds in competitive titles. The effects of this are mostly undetectable but should guarantee a stable connection for hardcore players.
Xbox Wireless is also able to transmit wireless stereo audio, which is used for dedicated Xbox Wireless headsets. This means the Xbox One controller's integrated 3.5mm jack can also be used as an audio output too, which isn't available over a Bluetooth connection. When paired with Windows Sonic spatial sound, an impressive virtualized 7.1 surround sound experience can be provided wirelessly.
One of the Xbox One controller's most unique features in terms of hardware, impulse triggers, are also limited exclusively to Xbox Wireless. On a standard Bluetooth connection you'll still be receiving a standard vibration, although games with rumble trigger support can offer a unique edge to the experience.
While these features aren't ground-breaking, they still contribute toward making for a "premium" experience on Xbox Wireless. Integrated Bluetooth on recent controllers reduces the relevancy of the technology, but can still offer value for some gamers.
Xbox Wireless accessories
Due to protocol restrictions on Xbox One, all wireless controllers use Xbox Wireless for communication. As a result, Xbox wireless controllers should also work on PC with the official adapter.
Microsoft has also been expanding beyond controllers, partnering with various third-party accessory manufacturers to develop Xbox Wireless devices. LucidSound, Turtle Beach and Razer all announced products that fall in this range, kicking off the first wave of headsets that use the protocol. These are the headsets announced so far, for use across Xbox One and Windows 10.
Microsoft has also outlined partnerships with Astro, HyperX, PDP, Plantronics, and SteelSeries. These will assumedly deliver variants of Xbox Wireless accessories in the future. Going forward, Xbox Wireless headsets can be identified by an "Xbox Wireless" icon on the box.
Xbox Wireless PCs
Microsoft has unveiled plans to expand the reach of Xbox Wireless via integrated solutions in Windows PCs. After partnering with hardware manufacturers, Xbox Wireless chips can be shipped in select devices, which are ready to go out of the box.
Adoption of Xbox Wireless has been minimal across major manufacturers, with only a small range of prebuilt devices offering this functionality. It's unclear whether adoption will increase going forward, though Microsoft is introducing integration on some flagship Surface devices. These are all the Windows 10 PCs currently available with Xbox Wireless integration:
We'll be sure to update this piece going forward if new devices and accessories hit the market.
Your thoughts on Xbox Wireless
What do you think of Xbox Wireless so far? Have you been using the official adapter on your Windows PC? If not, why are you holding back? Make sure to drop into the comments section below and share your thoughts on the technology.
Get the Windows Central Newsletter
All the latest news, reviews, and guides for Windows and Xbox diehards.
Matt Brown was formerly a Windows Central's Senior Editor, Xbox & PC, at Future. Following over seven years of professional consumer technology and gaming coverage, he's focused on the world of Microsoft's gaming efforts. You can follow him on Twitter @mattjbrown.