AMD Ryzen 5 3600X review: The new best mid-range CPU
AMD's mid-range flagship CPU is everything you need and more, offering a fantastic value proposition.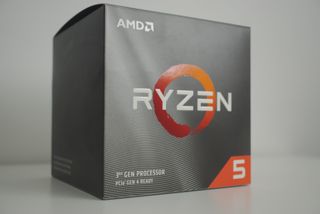 (Image credit: Rich Edmonds / Windows Central)
The Ryzen 5 2600X (and non-X variant) was the best CPU for your money in 2018, but 2019 brought the newer Ryzen 5 3600X (and 3600) replacement, which brings it a whole host of improvements, not to mention PCIe 4.0. The more enticing prospect is the price, offering countless benefits without a substantial increase in cost.
Even with the launch of Ryzen, AMD still lagged slightly behind team blue for single-core performance and gaming. But AMD has closed this gap, almost eliminating differences between the two camps with third-gen Ryzen. If you're on the hunt for the best mid-range processor you can buy right now on a tighter budget, the Ryzen 3600X is just what you're looking for.
It's also frequently found on sale, especially when promotions like Black Friday come around. If you can find the AMD Ryzen 5 3600X for less than $220, it's a good deal for such a capable processor. Just make sure you have a compatible motherboard. If not, we rounded up the best motherboards for AMD Ryzen 5 3600X.
(opens in new tab)
$210 (opens in new tab)Bottom line: This is the best value CPU you can buy right now.
For
Six-core performance
Great value
Unlocked
Stock cooler
PCIe 4.0
Against
X570 board for PCIe 4.0
No GPU
AMD Ryzen 5 3600X tech specs
Swipe to scroll horizontally
Ryzen 5 3600
Ryzen 5 3600X
Ryzen 7 3700X
Ryzen 7 3800X
Ryzen 9 3900X
Architecture
Zen 2
Zen 2
Zen 2
Zen 2
Zen 2
Cores
6
12
6
12
8
16
8
16
12
24
Clock speed
3.6GHz
4.2GHz
3.8GHz
4.4GHz
3.6GHz
4.4GHz
3.9GHz
4.5GHz
4.6GHz
4.8GHz
Cache
35MB
35MB
36MB
36MB
70MB
TDP
65W
95W
65W
105W
105W
Price
$199
$249
$329
$399
$499
AMD's Ryzen 5 3600X offers tremendous value
Ryzen 3000 processors from AMD are built on the already excellent Zen-based family of CPUs. The newer Zen 2 architecture rolled out in 2019 was an essential next step for AMD, improving single and multi-core processing performance, as well as reducing overall power draw. Comparing the performance numbers of the new Ryzen 3000 series against the previous generation Ryzen CPUs shows gains in gaming and general computing.
This translates well when looking at the Ryzen 5 3600X, especially compared against the outgoing Ryzen 5 2600X. The former can take full advantage of the double floating-point with a redesigned engine, double the amount of cache available for lightning-fast access, and a full 15 percent increase in instructions-per-clock (IPC).
On paper, this all sounds good. The six cores are clocked at a base of 3.8GHz with a boost of 4.4GHz, a total of 35MB cache, with a thermal design power (TDP) of just 95W. It's all put together on a 7nm die. The AMD Ryzen 5 3600X is designed to go up against Intel's Core i5-9600K processor. And while lags behind slightly in clock speeds, AMD has worked hard on bumping the IPC and also packs in hyperthreading for a total of 12 threads.
AMD's third-gen Ryzen processors like the Ryzen 5 3600X also support faster RAM, allowing you to throw in 3200MHz modules with room for overclocking of both the CPU and memory.
Third-gen Ryzen offers impressive performance
To keep things consistent with our AMD Ryzen 9 3900X review, we're once again using the ASUS X470-F GAMING motherboard with a ZOTAC AMP! Extreme GTX 1070 GPU for video output, as well as 32GB of Corsair Vengeance RAM, clocked at 3200MHz. Windows 10 was running on a Seagate FireCuda 510 NVMe SSD.
The X470 platform also gives us room to tinker with overclocking. Results in games were a little behind the Ryzen 9 3900X, by a "little" I'm talking around five percent behind. That's not massive in the grand scheme of things for PC gaming. Around five percent in FPS won't destroy immersion but does show just how close processors are. When compared against the Intel Core i5-9600K, it's head-to-head with Intel coming out on top, but only just. It's more than enough for gaming.
For benchmarks (leaving the CPU in stock settings), we managed to score 1,614 in Chinebench R20, which falls in line and was around what we expected to see. Using the included cooler, we saw temperatures of around 72C under load, which leaves enough room to throw on an aftermarket solution (possibly an AIO) to further bring that number down.
The temperature results don't sound amazing, but bear in mind this is the stock cooler that AMD ships with the CPU for free. Power draw saw the CPU package pull around 135W looking at figures reported by software, though these findings should be taken with a small grain of salt. Still, we saw no fluctuations with power draw at high loads and the processor runs stable enough at stock settings.
For productivity and gaming, the AMD Ryzen 5 3600X is a fantastic processor. Priced aggressively, it makes the purchase decision much easier.
So should you buy the AMD Ryzen 5 3600X?
AMD retains the crown for the best overall mid-range processor with the Ryzen 5 3600X, offering an incredible amount of performance with the six core and12 thread configuration. This CPU is well worth considering for your next PC build, especially if you plan on doing a little gaming and productivity.
Costing $239 for a six-core processor offers consumers excellent value. While not quite as budget-friendly as the predecessor, the additional features and improvements added by AMD make it one of the best CPUs you can buy today, proving you can put together a capable PC for less.
Best Overall CPU
(opens in new tab)
The best CPU around

A third-gen six-core Ryzen processor that doesn't cost much more than the older Ryzen 5 2600X, but comes rocking many benefits. This beast is unlocked, comes with a good stock cooler, and even supports PCIe 4.0.
Windows Central Newsletter
Get the best of Windows Central in in your inbox, every day!
Rich Edmonds was formerly a Senior Editor of PC hardware at Windows Central, covering everything related to PC components and NAS. He's been involved in technology for more than a decade and knows a thing or two about the magic inside a PC chassis. You can follow him on Twitter at @RichEdmonds.
Windows Central Newsletter
Thank you for signing up to Windows Central. You will receive a verification email shortly.
There was a problem. Please refresh the page and try again.