Are Apple AirPods good earbuds for Windows users?
Eh, sort of. But there are better options out there.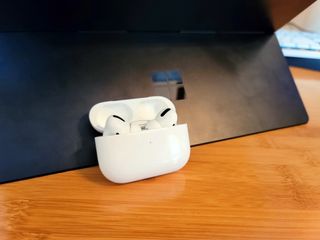 (Image credit: Dan Thorp-Lancaster / Windows Central)
AirPods are the de facto king of wireless earbuds out there right now. You wouldn't be wrong for assuming they helped make truly wireless earbuds mainstream, particularly as they've been popping up more and more on TV and in remote video chats. They're also seamlessly designed to work across Apple's ecosystem of products, which doesn't hurt their appeal one bit.
But what about other platforms? If you're a Windows user with an iPhone, does it make sense to try to use your AirPods or AirPods Pro with your PC? The do work with anything that can connect to Bluetooth headphones and earbuds, after all.
Well, the answer is a little complicated.
What you'll like about using AirPods with Windows
Besides their tight integration with Apple's products, one of the biggest benefits with AirPods Pro is their active noise cancellation (ANC). If you want to completely tune out the world around you and focus, toggle ANC on, and most of the noise around you fades away. If you need to speak with someone, you can quickly toggle ANC off to enable transparency mode.
ANC is limited to the AirPods Pro, so regular AirPods owners are left out here. However, it's a big bonus for owning Apple's most expensive set of AirPods. Plus, it's a feature you can't currently get on a ton of other, affordable, truly wireless earbuds.
Another nice thing about using AirPods with Windows is that all of the audio controls will still work when listening to music. One-click on AirPods Pro will play or pause your music, for example. Clicking two or three times will skip forward or backward while clicking and holding still toggles between ANC and transparency mode.
There's also audio quality and battery life to consider. The regular AirPods sound just okay, but you get a slightly better soundstage from AirPods Pro. Battery life on each is also pretty good, lasting as long as they will pair to your iPhone.
While it's entirely subjective, some people just like the look of AirPods as well. They took some heat when they were first introduced, but they're so common now that no one will bat an eye seeing the stems hanging out of your ears. Plus, like it or not, AirPods have a bit of a "status symbol" quality to them now, for what that's worth.
What you'll dislike about using AirPods with Windows
Despite the positives, AirPods have some pretty significant shortcomings when using them with Windows. The biggest wrinkle is you're going to miss out on much of what makes AirPods great. By extension, you're missing out on what makes them worth picking over other wireless earbuds in the first place.
AirPods were built to work best with Apple devices, and no matter how nice it may be, your Surface doesn't qualify. One of the biggest features missing when you pair them with Windows is automatic ear detection. In other words, your music won't automatically pause when you take an AirPod out and resume when you put it back in your ear.
There's also the seamless pairing across Apple devices signed into your iCloud account. Once you pair AirPods with one of your Apple devices, it's added to all others associated with your Apple ID. That enables incredibly simple switching between devices with just a tap.
When paired with Windows, AirPods are acting as nothing more than basic Bluetooth earbuds. They will connect automatically when they're paired to your PC and removed from the case, but that's as far as it goes. It's not quite as magical as using them across your iPhone, iPad, Mac, and Apple TV.
There's also the music controls to consider. You get basic controls for pausing, playing, and skipping tracks. However, you'll miss out on Siri access. Digital assistants aren't a huge deal to everyone, but it's worth keeping in mind if you actively use Siri with your AirPods.
AirPods and Windows aren't best buds
Look, if you're already heavily invested in Apple's ecosystem and you just want to use what you already have with Windows, AirPods will get the job done. But they'll do it in the most basic sense. For everyone else, there are a ton of better options out there.
The top two that come to mind within the same general price range ad AirPods are Microsoft's Surface Earbuds and Google's Pixel Buds (2020). Both have their perks that you won't find with Apple's Airpods. Some might argue they look better, too, depending on how you feel about Surface Earbuds' saucer design.
The biggest advantage with both Pixel Buds and Surface Earbuds are the touch controls. Most notably, you get built-in volume controls with both, allowing you to adjust how loud your music is with just a swipe. Beyond that, some might find the swipe gestures more comfortable to use than the taps and clicks that AirPods rely on — though swipes can be a bit finicky.
Surface Earbuds are also built to work with your Office 365 apps, offering touch gestures and translation features for PowerPoint presentations, and more.
Another added benefit is that both are more comfortable to wear for extended periods than AirPods. Surface Earbuds were designed for this, sitting in your ear in a way that you barely notice they're there after a while. Google's Pixel Buds still go into your ear canal, but they rely on a simple rubberized hook to stay in place rather than putting all of the stress inside of your ear.
With Pixel Buds and Surface Earbuds, there are still some sore spots. You'll miss out on ANC, which is something that's very apparent on the Surface Earbuds because of how they're designed. Additionally, there's no way to tap into the power of Google Assistant when paired with a Windows PC.
Depending on your price range, you may also want to look at Samsung's new Galaxy Buds Live, or even the TOZO T6 earbuds if you're looking to save some money.
Work and Play
Microsoft Surface Earbuds
Crystal-clear audio meets productivity.

Microsoft Surface Earbuds bring the first truly wireless earbuds to the premium product lineup, promising comfortable listening on mobile and PC. They ship with touch controls and voice control, although at a high price.
Truly wireless
Excellent true wireless earbuds, with traditional Google flair.

The new Pixel Buds have an excellent case design, nice-sounding earbuds, and lots of neat little features that elevate the whole experience. They're worth the money, even with their limited configurability and average battery life.
Check out more tips on getting the most out of your headphones and earbuds.
Windows
Gaming
Android
Apple
Get the Windows Central Newsletter
All the latest news, reviews, and guides for Windows and Xbox diehards.
Dan Thorp-Lancaster is the former Editor-in-Chief of Windows Central. He began working with Windows Central, Android Central, and iMore as a news writer in 2014 and is obsessed with tech of all sorts. You can follow Dan on Twitter @DthorpL and Instagram @heyitsdtl.