These are the headphones Windows Central writers and editors use every day
Whether in the office or on the go, here's what we use to keep the tunes and podcasts flowing.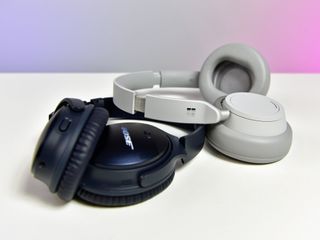 (Image credit: Windows Central)
Picking out a pair of earbuds or headphones is probably one of the most personal decisions you could make. Not only are there a million options out there, but the sea of varying features and capabilities make it a bit overwhelming. Plus, there's a personal style to consider since this is something you're going to wear on your head or in your ears every day.
The Windows Central staff is pretty plugged in with PC tech, of course, but we're also fans of keeping up with all sorts of technology — including headphones and earbuds. And whether it's Surface Earbuds or a pair of gaming cans from Astro, we all use a wide variety of headphones to keep the tunes flowing. If you're looking for some inspiration, here's a look at the headphones and earbuds we use every day.
Daniel Rubino, Executive Editor
At home: Surface Earbuds
On the go: Razer Opus
Surface Earbuds are a running theme here at Windows Central, and that is because they scratch an itch that other headphones have not. While a few of us may have iPhones, many of us have resisted AirPods, which I'll go to my grave believing look dumb as hell.
Surface Earbuds are great for being at home as I can wear them, listen to music or a podcast, and still hear ambient noise around me. I also wear them weekly on the podcast, and routinely for those all-too-frequent video meetings these days.
But there are two main reasons I swear by Microsoft's buds: comfort and battery life. I can't stress enough how comfortable Surface Earbuds are to wear for hours on end. There is no fatigue, and they're so well-balanced you forget you're even wearing them. Battery life is also some of the longest of any buds, lasting around seven hours.
Perhaps my review was too harsh. While there are some glaring omissions, the overall design and reliability of these earbuds have been great. I think Microsoft has earned its place in this high-end earbud competition.
On the go, Surface Headphones 2 are near the top, but I also really like the size, look, and audio profile of Razer's Opus. These are amazingly comfortable, $50 cheaper than Microsoft, and that THX tuning delivers a rich audio experience that just clicks with me. The active-noise-cancellation is also better than expected.
Perfect fit
Office buddy

Surface Earbuds are the perfect office companion, especially when paired with a Surface PC. They're comfortable to wear for hours on end without blocking out the world around you, which can come in handy when you're jumping in and out of calls.
THX and comfort
Immense audio

Razer's mainstream Opus headphones deliver excellent comfort, long-lasting battery, excellent ANC, with impressive audio quality all for a lot less than the competition making them easy to recommend.
Dan Thorp-Lancaster, News Editor
At home: Surface Earbuds
On the go: Samsung Galaxy Buds Live
Over the past year, I've gradually acquired more and more wireless earbuds as I test out different ones that hit the market. My favorite of the bunch, however, have been the Surface Earbuds and Samsung's new Galaxy Buds Live.
The thing I love most about these is something they both have in common: they sit outside of your ear canal, which is different from how most earbuds out there fit. While that might sound like a potential problem when it comes to staying in place, it's the opposite. Both of these earbuds stay in place like champs, using the natural curves of your ears to stay locked in.
When I'm at home working at my desk, I tend to stick with the Surface Earbuds. They're great when paired with my Surface Pro X and can sit comfortably in my ears for hours at a time. I love this because I jump in and out of meetings throughout the day, so I can keep some music or podcasts going in between without irritating my ears.
When I go out on a run, I like to switch to the Galaxy Buds Live. Their bean shape looks a little funny at first, but they fit in really well as a workout partner. Plus, if you've got a Samsung phone like I do, you get plenty of extra sound customization features through the Galaxy Wearables app.
Perfect fit
Office buddy

Surface Earbuds are the perfect office companion, especially when paired with a Surface PC. They're comfortable to wear for hours on end without blocking out the world around you, which can come in handy when you're jumping in and out of calls.
Bucking the trend
Embrace the beans

Samsung's Galaxy Buds Live are more than just pretty beans. They offer great battery life, don't get uncomfortable in your ears, and offer a little active noise cancellation to boot..
Rich Edmonds, Staff Reviewer
At home: SteelSeries Arctis Pro + DAC
I've gone through countless headsets and prefer them over headphones for gaming and other media consumption. My favorite cans to slap to my head have to be the SteelSeries Arctis Pro, be it the wireless or wired DAC version.
What I appreciate from these headsets (and others in the SteelSeries catalog) is just how comfortable they are to wear through the day. Even with an eight-hour workload followed by a few additional hours in a game like The Witcher 3, I'm not readjusting them to massage my head due to discomfort.
While the headset is tethered to the DAC, the flipside to this is the lack of any batteries to charge up, and the DAC itself supplies Hi-Res certified audio from your favorite devices. The DAC unit has a small screen that allows one to manipulate various settings, including volume and even chat mixing.
For gaming, they're incredible. The audio quality is very high. Not quite as high as audiophile headphones, but you won't be disappointed here.
Comfortable Cans
SteelSeries Arctis Pro + DAC
A++ class comfort

SteelSeries nailed the design and ergonomics of the Arctis line-up, particularly with the Arctis Pro headsets. This headset + DAC is an incredible combination for gamers to take their sounds to new levels.
Cale Hunt, Staff Writer
At home: HyperX Cloud Alpha
Before indulging in the relatively affordable HyperX Cloud Alpha headset, I ran through a number of budget headphones with hollow audio, crackly microphones, and pain-inducing designs. Taken on recommendation from Senior Xbox Editor Jez Corden's glowing review, I've not yet been let down.
I knew going in that this headset doesn't have a robust set of features, but for me that's perfectly fine. I asked (A) does it have great audio? and (B) is it comfortable for long periods? After using the headset for about a year, both answers are a firm Yes. The thick padding fits around my ears and remains comfortable over long stretches, the metal and plastic build quality and braided cable haven't failed me yet (despite some stressful accidents with a rolling office chair), and sound quality is unreal.
Considering these headphones cost about $100, I have no complaints about audio whether I'm listening intently for footsteps, enjoying loud firearms, or listening to podcasts or music while I work. And I've had no complaints from friends about the removable microphone; audio from my end is clear and clean. If you're more interested in a headset that nails the basics and doesn't make you pay for a bunch of extra features, these are an easy recommendation.
Nothing But Great Sound
Focusing on fundamentals

The HyperX Cloud Alpha headset doesn't have a ton of flashy features. Instead, it focuses on robust audio, clear voice, and comfortable fit.
Jez Corden, Gaming Lead
At home: Astro A50
The Astro A50 has become my go-to headset for one reason above all: platform versatility. Astro seems to make the only headset products that easily let you combine SPDIF optical-audio with PC signals via USB, allowing you to seamlessly mix audio from your console with voice chat programs on your PC. For content creators on Xbox, this is an invaluable functionality that is simply not offered by any other vendor right now. Additionally, as someone who spends a lot of time gaming for writing articles or research, being able to quickly jump out of my game and onto a Slack or Discord call without having to leave my game or switch to another headset is prosumer convenience at its most exemplary.
Beyond this unique functionality, the Astro A50 headset is just damn good all-round. A satisfying soundscape joins a comfortable, modular design that can be elevated further with leatherette accessories and a highly-adjustable headband. It also has high-quality software on PC that seems to be a rarity among headset manufacturers. It's also available on the Microsoft Store for easy downloading, which is even rarer. The magnetic charging dock helps keep my deskspace tidy, while also ensuring the battery life remains topped off at all times.
The Astro A50 may present a unique use-case for me, but even if you weren't gunning for that cross-platform audio mixing, as a pure Xbox or PC headset it's tough to beat.
Best Versatility
It can do it all

The Astro A50 isn't cheap, but the supreme versatility and unique platform mixing features make it the perfect headset for my workflow.
Sean Endicott, News Writer
At home: Sennheiser HD 4.50
These are the headphones I wear every single day I go to the gym. Their padding passively blocks out the loud music from the gym, and the active noise cancellation is a nice bonus for if I wear them on trams or airplanes. They fold up for convenient storage, which helps me keep them by the door.
This particular model is a bit older, and with that comes the biggest drawback of the headset, microUSB. I didn't realize how much I cared about devices using USB-C until I had to dig around to find a microUSB cable for these headphones. Luckily, they have good battery life. I go to the gym six days a week for roughly 90 minutes each session, and they last me more than a week per charge. I also like that I can control music tracks and volume with the side buttons.
I grabbed these when they were on sale over the holidays, and they've been a trusty companion since then. They aren't spectacular, but they're a great bargain set of headphones that ticks a lot of boxes.
Comfortable and budget-friendly
A good bang for buck

These headphones are a bit older now, so you can find them for a discount from time to time. They're comfortable, cancel out noise, and fold up for easy travel.
Brendan Lowry, Freelance Writer
At home: Razer Kraken Ultimate
Out of all of the PC gaming headsets I've used over the years, nothing tops the Razer Kraken Ultimate when it comes to comfort. As I wrote in my review, the large, roomy earcups and the cooling gel-infused cushions make the headset a dream to wear.
The Razer Kraken Ultimate has more than just comfort in its repertoire, though. The sound it delivers is crystal clear, allowing you to hear everything going on in a game with excellent clarity. It can output THX spatial audio, too, meaning you can enjoy the benefits of a 3D soundscape while on the virtual battlefield. Additionally, the mic quality is also fantastic and will enable you to talk to your teammates clearly and effectively. Lastly, RGB lighting, mic monitoring, and active noise cancelling are all features you get with the Razer Kraken Ultimate (you can switch these on or off through Razer Synapse 3.
Overall, it doesn't get better than this for PC gamers when it comes to the mid-range. At $130, the Razer Kraken Ultimate is a phenomenal headset that offers a crazy amount of comfort, tons of excellent core performance, and a handful of nifty bonus features. What's not to like?
Release the kraken
Excellence all around

The Razer Kraken Ultimate brings unreal comfort, stellar audio and mic quality, built-in spatial audio, and RGB lighting to the table. It's easily one of the best PC gaming headsets available.
Zac Bowden, Senior Editor
At home: Surface Earbuds
These days, I'm using the Microsoft Surface Earbuds for my at home and outdoor listening. I love them. I think they're the best designed in-ear "true" wireless headphones out there with big touch panels for volume and music control, better looking than the AirPods or Galaxy Buds for sure.
I love the listening experience. Audio is clear and relatively loud when necessary. There's no noise cancelling though, so these aren't the best when on a loud train or airplane. But when out for walks, at the office, or working from home, these earbuds do the job, and they do it tremendously well.
They're also super comfortable, with an ergonomic fit that "locks" into your ear with three different earbud sizes. I use the large ones as I feel they fit the best, and don't move around when I'm activating the touch sensors. I do with the earbuds were available in most flamboyant colors, though. White and dark grey are fine, but aren't setting the earphones scene on fire.
It's not all good news, there are some obvious things missing from these earbuds. For example, the charging case doesn't have wireless charging, which is a huge miss for headphones that cost $200. Not only that, but the earbuds themselves won't automatically pause music or video when you take them out of your ears, which is another thing that most people expect, but are missing here.
Overall, I really love the Surface Earbuds. I think they're some of the best wireless earphones on the market, and that's quite impressive when you consider Microsoft is still new to the audio-listening peripheral game.
Perfect fit
Office buddy

Surface Earbuds are the perfect office companion, especially when paired with a Surface PC. They're comfortable to wear for hours on end without blocking out the world around you, which can come in handy when you're jumping in and out of calls.
Richard Devine, Reviews Editor
At home and on the go: Audio Technica ATH-M50X
These headphones need no introduction, having been around for many years and remaining as popular throughout. The iconic ATH-M50X by Audio Technica is a pair of over the ear studio monitor headphones, originally targeted at audio engineers, musicians and fans of high end audio. Today, they're popular with everyone and the only set of headphones that remains a constant in my life.
I love these headphones so much that I currently have two pairs, having bought the blue special edition set purely because they were blue. That's probably going to rise to three soon, too, with the new purple paint job recently released.
Why do I like these headphones so much though? They tick every box for me. They're comfortable, they're easy to fold away and pack in a bag if I'm out of the house, they're not too expensive and they sound superb. I use them for listening to music, podcasts, watching a movie if I'm on a train or a plane and even gaming.
The only thing really missing that might put some people off is ANC, though I find the passive noise cancellation provided by just being a great fit on my head is ample. There is also a Bluetooth enabled version of the M50X now, too, for folks who want these but would prefer to go without the cable.
Iconic headphones
Amazing sound, amazing comfort

The ATH-M50X has been popular for so long with good reason, being comfortable, great sounding and in the grand scheme of things, quite affordable, too.
Check out more tips on getting the most out of your headphones and earbuds.
Windows
Gaming
Android
Apple
Get the Windows Central Newsletter
All the latest news, reviews, and guides for Windows and Xbox diehards.