Will there be a Microsoft Surface Studio 2? #AskDanWindows Episode 38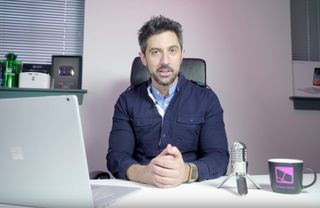 This week we talk more about Andromeda, Polaris, and if there's going to be a sequel to the Surface Studio!
Audience questions for Episode 38
Are all future versions of Windows 10 going to be based on Windows Core OS? Do you expect it to be able to run on a smartwatch? - Oliver Lenz
Is Microsoft's rumored foldable tablet PC - Andromeda - a one-off, or meant to create a new category for PC partners? - AlphaChap
When should we expect the Surface Studio 2? - Mrmisa24
Thanks, everyone, for the questions! Make sure to use Twitter, email, or our forums to ask me your question for next week!
Email me!
Don't use Twitter? After much feedback, we are happy to announce you can forward your questions to AskDan@WindowsCentral.com to submit your requests!
AskDan Forums!
Hate using email? Join me on our #AskDan Forums at Windows Central! I'll occasionally jump in there to try and answer questions or take ideas for new episodes of our web series.
Ask Dan Forums at Windows Central
You can also find previous episodes of #AskDanWindows here on the main landing page.
Daniel Rubino is the Executive Editor of Windows Central, head reviewer, podcast co-host, and analyst. He has been covering Microsoft here since 2007, back when this site was called WMExperts (and later Windows Phone Central). His interests include Windows, Microsoft Surface, laptops, next-gen computing, and arguing with people on the internet.
When will your office desk be available in the market

Please give us a Studio 2.

jacked up on gin and tonic here now. (Gentleman's drinnk.) Hopfully MS releases a S2 that destroys the imac pro.

G&T - a solid drink Buy your own tonic (http://www.porterstonic.com/) Add a drop of lime. Angustaro bitters of course. Read WPCentral

Yes Sir vEEP pEEP. However, I drink Newfoundland Distillery Gin or Seaweed Gin! Gooooood Stuff.

Thanks @DanielRubino...I find these videos very useful for quickly catching up on what's going on in the eco system!

I heard that there may be!

Surface Studio with only GPU inside and a dock for Surface devices and other mobile devices + wireless charger was the thing I repeat since before it was introduced. Noone needs CPU that dates guickly. Finally Dan said it

Perhaps the SS2 may come with optane technology for caching storage, that remove need of SSD, allows greater storage and high performance, and all the mess of having multiple storage units. That, coming with much better graphics, 8th gen quad core CPU and a couple USB-C/TB3 ports would be great.

I'm drooling... I so want it !

Somewhere across the Atlantic Zac Bowden exclaims, "He finally remembered to plug the ******* podcast!"

If they're intent on releasing a gimped, underpowered, $3000-4000 PC with a painfully slow HD and 8GB of RAM, they might as well not bother. The Studio was a brilliant device that was crippled with poor specs and execution, and the most laughable thing is Microsoft claimed it was for creative pros. Professionals need power and speed, not last years already outdate specs. Microsoft is often their own worst enemy. I'm also not convinced a SS2 needs to start at $3000 friggin' dollars.

Adding a video input in for SS2 will be nice, so you can use it as a second monitor if needed, adds versatility. Doesn't make sense for MS or Surface team to make just the screen though.

Does not really matter who gets there first. It matter who will succeed, and in this case with the foldable things, MS will FAIL because it has no app ecosystem and a proven BAD history of killing off things. Besides a few fanboys, who on earth would trust MS with a nother beta flop device? Let's be serious...I would never buy another MS device again at the rate they ditch them.

I'd think it's safe to say, if we're watching these AskDan videos, we're already watching the Friday podcast too (although still waiting for my Bing Maps on Android question to be answered 😭)
Windows Central Newsletter
Get the best of Windows Central in in your inbox, every day!
Thank you for signing up to Windows Central. You will receive a verification email shortly.
There was a problem. Please refresh the page and try again.