Assassin's Creed Chronicles: China is now available on Xbox One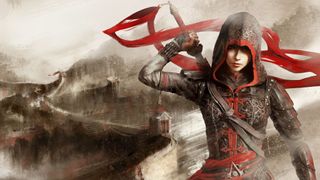 Assassin's Creed Chronicles: China is now available for your gaming pleasure on Xbox One. But this isn't your average Assassin's Creed as the game is a 2.5D stylistic platformer that is the first of the new Chronicles series.
Assassin's Creed Chronicles: China takes place in 16th century China where a monarch has managed to destroy everything that opposes his rule including the Chinese Brotherhood. However, Shao Jun has managed to escape to Italy and train with Ezio Auditore. She has now returned to China to avenge her fallen brothers and to restore the Brotherhood.
The game uses the core elements of the sandbox game and somehow manages to get them to work on a 2.5D plane as if this is how the Assassin's Creed games have been played all along. The game still relies heavily on stealth and even rewards you for choosing to do so over going in and picking a fight.
This is the first Assassin's Creed Chronicle title that's part of a planned trilogy. No information about the other two games has been released except for their locations. One will take place in Russia after the Red October Revolution, and the other will take place in India at the turn of the 19th Century.
As part of Ubisoft's apology for a broken experience with Assassin's Creed Unity, you will be able to download Assassin's Creed Chronicles: China at no additional cost if you bought the Unity season pass. Otherwise, you will be shelling out $10 for this standalone game as well as the future Chronicles releases.
Assassin's Creed Chronicles: China – 3.25GB - $9.99 – Xbox Store

(opens in new tab)
Assassins creed franchise was great until now, but ubisoft is ruining it. Since there is no more juno plot on the campaign, it has become boring

It went downhill with 3, but really became lame with the 4th game.

i've actually loved the series til 4th.
never got to play unity. won't run on my PC. and i don't own a console.

I didn't like Black Flag either, but I loved Unity.

IMO Black Flag is the 2nd best AC game, after AC II. III along with Unity and the original AC are at the bottom


I think there's no need to release a game or more every year.

Then don't buy it. Personally, I can't get enough of Assassin's Creed. Keep going strong, Ubisoft!

A lady assassin?? I had never seen

AC 3: Liberation had a female lead too. Aveline.

I don't like liberation...

Thought it was a windows phone game, though it would make an neat Xbox live game on WP

maybe eventually.. with windows 10.. :)

This game looks simple enough to easily port on mid-range and above Windows Phones.

Actually it isn't simple at all. The control scheme is the same as the original game.

They can make a Chinese version but what about India...I'd say assasination on the streets of India is a much difficult task....

How do you know it???? hahahaha ;-) Posted via Windows Phone Central App

Did you even bother to read the post? You know...the bit that says something about India?

Yeah, that would be really cool to have it take place in ancient India.

Haven't you aware of the Graphic novel - Assassin's Creed: Brahman ?

Anything that has come after Revelations (except for Black Flag) has been crap.

I'd say the exact opposite of that is true. AC3 was my absolute favorite, Unity my second favorite.

True that. After ezio the story went downhill Posted via the Windows Central App for Android

I'll wait and pick up the Chronicles trilogy bundle this fall.

Another assasin shit? I lost the count. I played the first 2 i think.

you haven't lost the count.

Hopefully there's nothing in it to make the Chinese bitch about being "poorly represented"

A Canadian Mounty assassin...

Ezio will never give up the crown. King of all assassins.

The king would have to be Altair. Posted via the Windows Central App for Android

How can I download this game having purchased unity season? It charges me all the time

Seems Ancient. Posted via the Windows Central App for Android

First ac game I won't play

It's actually really fun!

Looks nice. I'm definitely interested.

I'm enjoying it tons so far :)

(When) Is it coming to Windows (Phone)? Would be very nice

Touch screen for gaming ?! Lol...

I'm takich about Windows Phone and Windows (PC) and touch? Hell yes! Why not? It's a 2.5D game so it would still look nice on a phone or tablet. Plus Win10 for phones will be compatible with bluetooth keyboard so... Yeah! Let them bring it.

There's too many controls for it to be able to work on a touch screen device

Thanks. So I hope it will at least be available on PC. Soon...
Windows Central Newsletter
Thank you for signing up to Windows Central. You will receive a verification email shortly.
There was a problem. Please refresh the page and try again.