Assassin's Creed Valhalla: How to get Thor's Hammer, Mjolnir
Become like the God of Thunder himself, Thor, in this guide to obtain his battle armor and the legendary hammer Mjolnir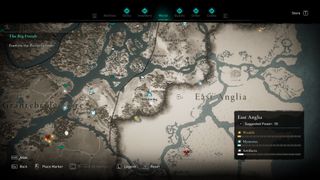 (Image credit: Windows Central)
Assassin's Creed Valhalla is filled with mythical figures, legendary locations and beasts, god-like abilities, fantastic weaponry and armor. One of Norse mythology's most iconic weapons, Mjolnir, can be yours to wield after putting some time into the game.
This isn't exactly an easy weapon to obtain, and there are requirements that need to be met before you can wield this hammer. One thing is for certain: you will have to get to the end of the game. There are some things that can be done on your journey in Assassin's Creed Valhalla before seeking out Mjolnir, however.
Odin's Chosen
Assassin's Creed Valhalla
Embrace your inner Viking

Assassin's Creed Valhalla is the newest entry into the popular franchise by Ubisoft Montreal. Embrace your inner Viking and take over England as the Raven Clan. Forge alliances, raid the river shores, and hunt for mystical objects and beasts.
Hunting down the Daughters of Lerion
The first area to focus on when working towards obtaining Mjolnir is hunting down and fighting three world bosses. These bosses are called the Daughters of Lerion and are dark witches hidden in and around East Anglia. The three bosses also range widely in level range, with the toughest at 340. Each daughter will also drop a key piece of armor and a key item that will be needed later on.
Each daughter drops a blade that is used as a key in a statue nearby. You will need all three keys to unlock what the statute protects. In the end, when all three keys are used, you will have obtained most of Thor's legendary battle armor. Here are all the locations for the Daughters of Lerion and the location for the statue.
First Daughter of Lerion- Goneril
The first daughter can be found in Grantebridgescire, near the East Anglia border and north of the Isle of Ely Monastary in an area called Spalda Fens. You will stumble upon a clearing that resembles an arena filled with bodies of soldiers and other horrifying objects. Goneril, the witch, favors poison combat, so make sure to equip runes to help mitigate some damage. This witch drops Thor's Breeches and the first key.
Second Daughter of Lerion - Regan
The second daughter, Regan, can be found just south of the first daughter in East Anglia, in an area called Berkelow Bog. Regan, the witch, has an affinity for fire and sporadic attacks. Make sure to stay on your toes and dodge often, as her fire attacks can be relentless in the second half of the fight. Regan drops Thor's Battle Plate and the second key.
Third Daughter of Lerion - Cordelia
The final daughter resides in East Anglia as well. Head east of Elmenham to an area called Walsham Crag. You will enter another large and unsettling arena. Be warned, as Cordelia is also the toughest of the three with an item level of 340. Imbued with powerful lightning attacks, she is a force to be reckoned with. Cordelia drops Thor's Gauntlets and the third key.
Where to find the Statue of Lerion
Source: Windows Central
Once you have defeated all three daughters and obtained their keys, it is time to find the statue that the keys fit into. This final location is also, thankfully, in East Anglia as well. Head southwest of Northwic, and you will find a passageway leading down into an ancient set of tunnels. Follow them to the end, and you will find a monstrous statue kneeling. This is where you will insert the three keys into its back and unlock the treasure within. You now have Thor's helmet and four out of the five items you need to get Mjolnir.
Eliminate The Order
Here is where you will end up spending most of your time in the game. Considering it's a part of the story, it makes sense as to why this area will take the longest. You need to eliminate everyone in the order and finish the questline associated with it. The main target, dubbed "The Father," who is the ruler of this sect, holds a key item. This person will have Thor's cloak, which will be needed to complete the full armor set.
Now that you have the full set of armor, you can set out and finally obtain the legendary hammer of Thor.
Where to find Mjolnir in Norway
Head back to Norway, and go to the most northern inlet.
You won't want to venture straight down to the end. Stay near the far north shore as you turn into the inlet, and venture halfway down - past Hordafylke.
Stop your ship, get to shore and ride the paths heading north into the mountains.
You will find a path leading through, seemingly to nowhere. Follow this path into the hills.
It won't be long until you stumble upon Mjolnir, which is resting on a rock. Don your armor of Thor, and retrieve Mjolnir.
Xbox Series X/S
Main
What is the Xbox Series X release date?
How much does Xbox Series X cost?
Why you can't preorder Xbox Series X yet
Get the Windows Central Newsletter
All the latest news, reviews, and guides for Windows and Xbox diehards.