AT&T Lumia 830 vs HTC One for Windows – Which you should get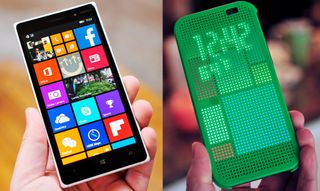 This morning, AT&T began to sell the new Nokia Lumia 830 (yes, it is still branded as a Nokia) and the HTC One for Windows, which thankfully lost its Verizon-exclusivity.
So, the big question for some people is which one to get? Naturally, this presumes you are willing to fork over money for a new Windows Phone today, as opposed to waiting until sometime in 2015 for a new 'flagship' Lumia. If you are in the latter group, feel free to skip this article.
Let me break the pros and cons of the Lumia 830 versus the HTC One down for you.
Hardware
It should be clear that the HTC One for Windows is the clear winner in terms of raw power, at least on paper, but that does not tell the whole tale.
Processor
HTC One. The One for Windows has the fastest CPU yet for Windows Phone, a 2.3 GHz Snapdragon 801 versus a 1.2 GHz Snapdragon 400 found in the Lumia 830. The Lumia 830 runs fine with its processor, but let us not kid ourselves: the HTC One destroys the Lumia 830 in benchmarks, launching games and in general usage.
Storage
HTC One. The Lumia 830 comes with 16 GB of internal storage whereas the One has 32 GB. However, both can take up to a 128 GB micro SD card, so the difference is minimized.
Display
Tie. The Lumia 830 has a decent 1280x720 HD LCD display with ClearBlack. The HTC One, however, has a 1920x1080 Full HD LCD. Both are 5-inches, though clearly the HTC One wins for resolution; having said that I find it difficult to see a remarkable difference between the two phones.
The Lumia 830 is a lower-resolution, but you do getClearBlack, sunlight readability, Glance, and super-sensitive touch; versus "just an LCD" on the HTC One (HTC One also has a double-tap to wake function).
While I am talking about display, let me also mention that the HTC One has on-screen keys versus 'real' ones for the Lumia 830. In practice, I do not have a preference but some people feel very strongly about it, so take into consideration.
Finally, the HTC One has its very cool Dot View smart case and screen, which works great for Cortana, notifications, and weather. The problem with Dot View is it sucks for everything else, like using it as a phone or typing.
Camera
Slight edge for the Lumia 830. This one is tough to compare. The HTC One has a much faster camera, built-in HDR, and some neat features. The Lumia 830 has a 10 MP PureView with optical image stabilization and a dedicated camera button.
Read my '5 reasons I really like the Duo Ultrapixel camera on the HTC One for Windows' for a deep dive into the One's camera.
Image quality on the Lumia 830 is reliable, but nothing amazing. Both cameras perform well in bright scenes, although the Lumia 830 are washed out and noisier at times, than I would have thought. In terms of low light, both do surprisingly well but neither are amazing.
The HTC One does have a 5 MP front-facing camera versus the Lumia 830's measly 1 MP. For some people, this is a big deal (Skype, selfies, etc.). Still, having a dedicated camera button on the Lumia 830 is also a matter of life and death for some of you. Pick your poison.
Wireless Charging/Battery
Lumia 830 has wireless charging and a removable battery; HTC One for Windows does not.
Build quality
HTC One. The HTC One for Windows is made from a single piece of brushed, thick aluminum. The Lumia 830 has a metal frame with a polycarbonate back. Both phones feel great to hold, but the HTC One is borderline a piece of art in terms of quality of design. The HTC One is also 11 grams heavier, although it feels more than that due to its density.
Software
I have already detailed what you lose if you go to the HTC One for Windows in terms of Lumia-exclusive apps. For some people, this is a big deal, for others, including myself, I really did not notice.
Having said that, I think it is clear that the Lumia gets overall better value for its software, so the default answer is to give it to the Lumia 830 here.
Support
Oh geez, this is a big one. Microsoft bought the Nokia mobile division, ergo they now own the Lumia 830 too. In addition, it is on AT&T, who has repeatedly proven that they are the best Windows Phone carrier in terms of delivering updates. I would say the Lumia 830 is a shoo-in for OS updates, new firmware, and better support in the end.
HTC, although I respect them tremendously, do not have the best track record for updates and support. I would rate them as better than Samsung, but that does not say too much. Does the HTC One for Windows change things? After all, HTC and Microsoft worked closely together to bring this device to market. It is not as if the companies are keeping each other at arm's distance these days, so there is some hope there.
Still, it is hard to know their plans. For instance, does the HTC One get 'Hey Cortana' support? We have no idea.
Value
Lumia 830 is the winner. You can buy it off-contract for $449 versus a jaw-dropping $669 for the HTC One for Windows. That is a $220 difference and is no joke. Regarding on-contract, you are talking $99 versus $199, making the difference less substantial.
Neither price is chump change if you are looking for a holdover device until Windows 10.
However, at least for a limited time, with the Lumia 830 you can snatch a Fitbit Flex fitness tracker for free, a $99 value. Plus, you get two back covers with the Lumia 830 in the box.
So which one?
To be honest, both phones are outstanding. The HTC One is the more premium of the two, although as outlined here it does come with some baggage as well. If you gave me either one for free to use, I would be proud to carry either.
The Lumia 830, on the other hand, is an impressive little device. Not quite amazing, although it is fun to use and it may surprise you.
In comparing the Lumia 830 to the Lumia 920, I rationalized it is more of a side-grade than a straight upgrade, and I stand by that assessment.
Both phones deliver a great Windows Phone experience and in the end, it comes down to money. I would not say either phone has a major weakness, although the better support with the Lumia, wireless charging, free Fitbit Flex, dedicated camera button, and Glance screen definitely gives that phone the edge.
Lumia 830 it is.
Agree or disagree? Let me know in comments.
Pick up the AT&T Lumia 830 starting today at your local store or online (opens in new tab) for $99; or grab yourself the HTC One M8 for Windows also from AT&T for $199 in store or online as well (opens in new tab).
Have questions or want more feedback? Jump into our dedicated Lumia 830 support forums or the one place for the HTC One for Windows!
Windows Central Newsletter
Get the best of Windows Central in your inbox, every day!
Daniel Rubino is the Editor-in-chief of Windows Central, head reviewer, podcast co-host, and analyst. He has been covering Microsoft since 2007 when this site was called WMExperts (and later Windows Phone Central). His interests include Windows, laptops, next-gen computing, and for some reason, watches. Before all this tech stuff, he worked on a Ph.D. in linguistics, watched people sleep (for medical purposes!), and ran the projectors at movie theaters because it was fun.
First person to post 'Neither', 'Lumia 1030' or 'Lumia 1530' nonsense is gonna get a smackdown...! Seriously, both phones are excellent. If I had to bet on one phone doing better for the Windows Phone ecosystem and sales, it would be the Lumia 830.

I just hope that Microsoft builds more quality phones like these two in the future, and not letdowns like the 930. And HTC who has made an excellent quality WP should show the others too. Who knows what Microsoft have planned?

Since when the 930 is a letdown. I own it and I have never felt more satisfied from a windows phone.

I do think it is a letdown in terms of it selling well and becoming a hit Windows Phone. There are obviously plenty of people more than happy with it, which is awesome, but the phone really has not impacted the market as much, as say compared to the Lumia 920.

Probably because Verizon had the Icon as an exclusive thereby preventing Nokia from releasing the 930 anywhere else until it was considered uncompetitive.

That the 930 was blocked from most of the US is true for me, I would have totally considered a 930 if it had come to ATT. But it didn't, so I'm just waitin' for the phone that Daniel said we couldn't mention in the comments for this story. I loved the exterior of the 930, and the 830 is close on the edges, but I hate that round lens/flash area on the back. Haven't seen a round area on a Nokia that looked good to me. I loved the look of the 808 Pureview's backside, but I know that's too 'old' for them to go back to now.

All Verizon's fault IMHO!

#Truth VZW has gone to great lengths to ruin windows phone for the USA. Pathetic training of their employees exclusives on the best devices and then not marketing, supporting or selling those devices and then laughable in terms of updates. The only reason I have vzw is because of unlimited data (and I abuse it now more than ever just because they are jerks).

Personally, IMHO, Nokia WP have had very bad sales because of the marketing/sales policies hey still have. The Icon/930 was launched several months back, first in the US and many weeks (or even months, I don't recall) after that they launched it in just a few countries, and then in other few countries, AND this marketing strategy DOES NOT IMPACT the potential market that WP have. I live in Mexico and we're still waiting for a flagship WP since the 1020, 925 and 920, which they arrived very late in their time. I would love to buy a flagship Lumia phone, like the 930, but we don't have a choice.I bought my 920 in december 2012, almost two years now. I bought it from an ebay Canadian independent seller. I've had some issues with it (bluetooth, sim card, auto-date adjustment) and since I bought it from ebay there is no warranty on my phone. If I repeat my history I wouldn't get again any WARRANTY and LTE because the non-sense policy of tailor made phone for carriers, instead of manufacturing ONE PHONE for ALL COUNTRIES/CARRIERS. That way they wouldn't have to worry about inventories for each carrier. I really hope they learn something from the past and from the other cell phone manufacturers, THE LEADERS in this category.

The Icon was only on one carrier. I could buy an international unlocked version, but it would lack LTE. They didnt really release the Icon/930 fully in the US. I would have probably bought one on ATT - it would be a much better deal than the 830.

The 930 is a let-down in terms of not being on AT&T where most of the WP fans are. All we have are 1yr old phones or mid-low phones. My entire family (three 920s and two 900s) would have all bought the 1020 a LONG time ago if I thought for one second they wouldn't be releasing a flagship phone at all this year on AT&T.

The only let down I have with the 930 is that it wasn't on att. On a side note, Dan what calander app is that on the HTC One

The 920 represented a colonel change if I am spelling correctly and brought more of the "I need to try this out excitement" but Microsoft has been very slow in supporting it's wp.

It's a letdown that it isn't for sale in my country so the only option is to order an international one which tends to cost more and might not support all of the bands.

The 930 is a great phone. I still think it's the best Lumia to date. For some reason the media never like its design. I never understood the hate for the 930/Icon. The same people that talked bad about its design now say how nice the 830 looks. o_O

I have the Icon and agree. But the lack of Glance and double-tap to wake, while a minor detail in the grand scheme of things, takes away from its place as the obvious flagship, unfortunately.

It does have double tap to wake.

Lack of SD slot made a key down for me...

Isn't the battery terrible ?

While not everyone cares a lot about Glance, by leaving it out they made the 930 yet another upgrade that can't match the 920's features. Lumia customers are tired of upgrades that are partial downgrades. You don't have to give up the fingerprint sensor when you upgrade from a 5s to a 6.

930 is not a let down in no way, is lighter, tougher, faster, better camera, better overall. That's the ignorant comment of the day!!!

What we need is a Lumia 830 size phone with a 41mp Pureview camera. Keep the expandable memory and give us a full HD screen. That's an upgrade.

also upgrade the processor

Do you mean that its a letdown cause its not available where your from, because I know alot a people who want the 930/icon but its only available on Verizon and a few other countries in the world.

My icon would mop the floor with the 830. I'd rather go back to my 928 w/ xenon flash than get an 830.

The only letdown in terms of the 930 is the build quality. 2 months in and the two in my household have issues with screen lifting a little , it doesn't look bad, it's just <1mm but that's enough to screw with the proximity sensor and kill double tap. Otherwise the 930 is a good flagship, that MS myopically decided not to launch widely in the US.

Will you check him Into smack down hotel too? With a lil pie too maybe lol

IT DOESNT MATTER WHAT YOU THINK!!!

Shame we have to wonder about support for the HTC One. Such an amazing piece of hardware, but I could never in good faith reccomend that phone given we don't know how committed HTC is to the phone and the platform. I hope to see the M9 introudced with the Android version. That would be a good sign of HTC's intentions, until then only Nokia/MS Mobile devices for anyone that asks.

Yup, the support thing is a rather big deal. It seems to be the #1 concern for those considering the HTC One, which is a shame, it's a fantastic piece of hardware.

That's exactly how I feel. Horrible camera aside even if I sort of like the hardware HTC has burnt way too many bridges to be an alternative for me. Though how you can rate HTC over Samsung is quite perplexing lol

"Though how you can rate HTC over Samsung is quite perplexing"

Because Samsung are a bunch of assholes. Speaking from personal experience.

I can back up your personal experience. They are all assholes.

Would the 830 be a downgrade from 1520?

I bought the 1520 on ebay, for $280, amazing phone...big at first then you get used to it like Daniel has mentioned many times. I decided to go from my 920 to the 1520 from a cost presepective. For $280 I can wiat and see. Battery life has been outstanding with my normal use only consuming 30% a day with heavy use 45%. Bascially I can go 2 days with the 1520. I did by the 830 for my wife so we'l see how it goes.

Both phones are probably great but not the flagship WP needs...

While I can't speak to your experiences with Samsung, I've had a great experience with my Ativ S in terms of support. The few exclusive apps I kept receive regular updates, and I get firmware fixes in a timely fashion. I'm sad to hear that hasn't been your experience, but I still feel it's unfair to characterize them as worse than HTC in terms of post purchase support. Hell, HTC doesn't even have a good track record worth post purchase support for their Android devices...

HTC = Windows Mobile... It's a sad day that they no longer care about windows phone. My HTC vogue/6900/Touch was the best phone pre 2010

I ordered 830 from bestbuy, which interestingly lists QI for wireless charging and not PMA. Not sure what to make of that but I hope it does do both but I care more for QI. I think this is a great phone from what I have seen and I believe at 5 inches, it is the ideal size.

I'm so disappointed best buy isn't carrying the One, I'd rather buy from there to get points instead of going to at&t.

Especially since you told those users to skip the article.

How superior is the 830 to the 925? Well, let me rephrase that. *Is* the 830 noticeably superior to the 925 besides screen size?

Since the 925 is more or less the 920, there's an article where they compared the 830 to the 920 on wc. I think they said it was a nice sidegrade for it.

yea, its essentially a slight improvement of everything from the 92x

1st person to reply to their own article gets a... Hahahah

After holding on to the 830 for two years (if that's what you sign on for), you may feel like you have a much older phone than folks with the HTC One after two years. The One's CPU/GPU will allow it to do things going forward that the 830 won't be able to do. Even a year from now the One may feel much newer than the 830. Also, it isn't out of the question that at some point MS puts the Lumia software in the store for all Windows Phone phones. As a person currently using the 920 and waiting to jump to a newer phone, I'd go One before 830. The 830 is a sideways move, the One would mostly be an upgrade.

IMHO, The HERE apps are the only ones I just couldn't do without on my 1020. Microsoft did not buy that portion of Nokia so Microsoft could not allow those apps to be on other OEMs phones. Nokia(which is still an independent company) could do that on their own but they've said they're going to stop WP development so I can't see them doing it either.

Sidenote: the way Stephen Elop/Microsoft completely destroyed Nokia I can't see Nokia supporting Windows Phones anymore than they are contractually obligated too. Which I think basically says there apps are available on Microsoft's phones but it doesn't require them to support them. It's really quite a shame that we may lose HERE apps to IOS and Android. I hope Microsoft extends the biggest olive branch they can find to Nokia but I think anything at this point is too little too late.

It's not too hard to imagine that MS will either develop apps of equivalent quality or maybe even better. They may also simply purchase a company that's making great apps. Time will tell. One thing is for sure, they won't let this wither on the vine. They have too much invested.

I have Here maps on my Nexus 5. Really good offline map feature. Posted via the Windows Central App for Android

Nokia later tweeted that they ain't stoping supporting windows phone just not developing the app anymore because It was already mature and didn't need no more development. It also tweeted that it would still updated it with maps and fixes and features when needed but they need time to get there android and IOS apps up to par at the moment.

Unless a great camera is very important.

AMEN! I'd go with the Lumia 830, would I need a pnew phone today. Gonna sit it out with my L920 and my L1520 for a while though to see what Windows 10 brings or doesn't bring. A high end dual sim phone would be the toal win for me though and I would jump on that as soon as I could.

830 with fitbit flex!!! Such a steal. But I am loving my 1520 tho. Gotta go to a AT&T store to check out 830 tonight.

The one crucial (for me) thing missing in this comparison is the quality of an audio output (both speakers and jack). I would pick HTC One for Windows due to fact that I already have HTC 8X and I listen to my music every single day. Too bad it's not available worldwide.

You think there would be a Lumia 1030? Especially for AT&T? I'm so tired of Verizon at this point and I'm willing to kill off my contract that's only 3 months in on the ICON. With the awful receptions in San Francisco, there's no going back.

I can't wait for Koodo to get the 830 - I agree with your excellent review. The camera button is essential, even my 620 has one.

If I was going to get a Windows Phone now instead of waiting until next year's flagship phone like I plan on doing I would get neither. I would get the 1520 at the Microsoft store since they are selling it on contract for only $99. Its better than both of these phones even though it is 6 months older than the One M8 and a year older than the 830. But if Microsoft wasn't currently selling it for $99 and selling it for $199 instead then I would still choose the 1520 because its better than the One M8 and I would choose the One M8 over the 830 due to it being a true flagship and because its the same $199 as the 1520. If the 1520 cost more than the One M8 then I would choose the One M8.

wow, I ended up posting the comment 3 times. Sorry about that folks, my browser was acting up on me and I thought my comment wasn't posting.

They both appear to do quite well... and I think thats the real outcome. the rest is personal and which one appeals to you the most.

Daniel please mention in your article about HTC Advantage. Basically it is a service that HTC is offering with the purchase of a new HTC where they fix your screen if it breaks in the first 6 months free of charge no need to go through carrier. And they are also guaranteeing it gets updates for 2 years from date of launch. Also they give you some cloud storage and other things. https://www.windowscentral.com/e?link=https2F2Fcli...

I know this is a day late, but 'shoo-in' should be 'shoe-in' ;-)

Daniel, The problem here is that if you are really suggesting the 830 (which you admittely say is not an upgrade) over the One M8...then Microsoft still doesn't have a "wow" high end flagship phone. And that is what we want (at least the US consumer base anways). For many of us that were early adopters of the the new windows phone os system (and I have been a fan since 6.8) - what we have always wanted is that "wow" phone. That phone that is a top of the line feature phone that offers something that no one else does. The 1020 and 1520 did that. But now those phones are part of the old guard, so having spiritual successors to those devices would be huge. I have been intrigued by the HTC One M8 for awhile - but I have yet to see a review or comparison of the device that at the end, its said don't worry about the price, go get this device now! The shame of it is (again, at least for the high end), there doesn't seem to be that device for Windows Phone right now. The closest that comes to it (that I have seen, based on my research of reviews, etc.) is the 1520. And even that device has complaints from most about the features that were stripped out by the US carriers. Based on everything that I have seen and read, I know that the device (that is presently available) that I really want from a hardware standpoint is the 1520.3...but I love the aesthetic of the bright green exclusive to ATT. With the announcement today seeming to focus (again) on the low end, with only the official release of the 535 - it seems as if we are destined to have to wait for the next OS before we will get a high end device that has the potential to wow us. And that simple fact, is a big disappointment.

For me always Lumia. Faster updates and nice exclusive Apps.

Same. Hopefully MS releasing this new phone is the beginning of a lineup. A complete refresh. Not just one device.

Faster updates? Clearly, you are not a Verizon customer

I just buy "unlocked" phones :)

They cannot force carriers to go along. But Nokia/MS provides updates for pretty much every device... they are not the problem. Versus HTC, who typically don't provide updates to the carriers (who then have no choice about providing the updates to consumers). Very important difference to understand.

Definitely. Gosh Verizon is slow as hell with updates

I'd like the one if it had a better camera and better support from HTC. Things as they are, I'd go with the 830.

Better support? https://www.windowscentral.com/e?link=https2F2Fcli...

I'd say the HTC One if I had to choose one though.

Battery, better camera and a clear black display :) 1520 FTW :D
HTC one is awesome though.

1520's battery life is just insane...

Yep. Newegg still has some 1520.3 for sales. Best WP phone IMO.

I just wish I had this choice with T-Mobile. It's either HTC One on Sunday, or wait a couple days and possibly get the Nexus 6... no plans for the Lumia 830, and I rather desperately need a new phone. My 920 is on its last legs.

Yeah, if you are on TMo, you are in a tough position, unfortunately. I would almost argue to pick up an unlocked Lumia 830 if you can live with the HSPA+ speeds (honestly, it's not that bad).

HSPA+? Why just HSPA and not LTE? My Lumia 920 has no problems getting LTE and it is an AT&T branded one. And I'm on TMobile.

Someone confirmed that the Lumia 830 Rogers model supports all 3 Tmobile LTE bands? Can you verify this? Because i will buy it outright immediately.

The rm-985 version of the 830 has tmobile Lte bands and 1700/aws 3G

Yes. Full T-Mobile band support. I want to import one. Too bad Rogers doesn't ship abroad.

Think all Rogers phones have the 1700/2100 bands.

No!! Why does everyone say this? To get a phone to work on T-Mobile, just buy an unlocked one and check the radio bands it uses. T-Mobile didn't have any option for the Lumia 1320, but I'm using one right now with LTE T-Mobile because I found out that the Latin American version uses the same bands.

I am well aware, and that's how I'm using my 920 on T-Mobile now. That's why I refuse to use Sprint or Verizon, or any other CDMA carrier. My financial situation right now prohibits me from forking out that kind of money for the kind of phone I want, though.

I was seriously waiting on one of these on t-mobile cuz I was getting impatient with my 521 but then my ex gave me her 810, and my 521 broke, now I could wait. The 810 is so much faster it's crazy

Your ex is nice, giving you phone and all. Everybody needs an ex like yours. I suggest you hold on tight to the ex. Oh, wait, the ex is gone already ...

I will be picking up the 830 tomorrow!

On the train now, en route to pick up my new 830. Stoked!

Awesome! Let us know how it goes and your first impressions of the 830.

Anyone who pays $450 for an 830 is a moron.

I mean, some people just have money, ya know? So I wouldn't say that. Regardless, most people in the US are not buying phones off-contract, so it's a moot point.

If they had money they would buy a flagship... If Microsoft ever releases another one...

But if they have LOTS of money, they can buy an 830 now, and a flagship when it comes out.

People who have LOTS of money probably didn't get there by being so profligate as to buy a $500 (with taxes) phone every 6 months. Thus, they probably are probably either waiting for a more appropriate price for the 830 or are (patiently) sitting out the 830 for the flagship they really want. Unless, of course, they won the lottery and got LOTS of money by dumb luck. :-)

Every purchase help further Windows Phone and it's ecosystem. If you're a fan of Windows Phone then you should understand none of the people purchasing Any Windows Phone are morons. You're entitled to your opinion but think a little more than just about yourself before commenting. Please. Thank you.

Thank you cause I just bought the L830 and don't want to feel like a moron for doing so.... Should receive it next Monday.

I paid $450 for mine this morning and don't fell bad about it. Of course I wish the device would have been cheaper but in the long run, what's a a little money... I have a shiny new phone that I enjoy.. No harm done.

I was waiting till November to buy the HTC One but out of nothing my Lumia 920 stopped working in August so I had to buy a 1520. I still want to see what can HTC come with for their next Windows Flagship. I'm not very satisfied with my 1520 at the moment, it's too big for my hands and I don't really like the design of the 930

I kept the HTC one for less than a week before I exchanged it for an icon. Nokia apps, wireless charging, and sunlight readability don't seem like dealbreakers till you don't have them anymore.

Same as me, I couldn't agree more. Went back to the 1520. My Qi adapter just broke and now I am desperate for a new one. Might have to get the 830 till flagships arrive.

The funny thing is, I moved from the 920 to the ATIV S Neo and I don't miss ANY of those things. But hey we're different people.

most of it wasn't available on the 920 as far as I can recall. Other than a phone button.

The question of HTC support really becomes relevant over time. They have already left it behind with no support for their new RE camera, in a year's time will they even remember the device? Wouldnt be my first choice.

https://www.windowscentral.com/e?link=https2F2Fcli...

I love my 830 just "upgraded" from my Lumia 920

I prefer Lumia 830 more than HTC

Well at least we know who the true winner is...the 830 :D

As soon as I leave work in getting the One. The wait has been long!

That's awesome. Congratulations. I hope the phone treats you well.

I'm in an AT&T store right now picking up an 830 for a new hire at work. They are running a promo for a free Fitbit Flex when you buy the 830. It was a nice little surprise

Where's the Poll? I'm in for the HTC One.

Though I'm glad the Lumia was of course declared the overall better phone overall for value and such, it seems a tad unbalance to compare two entirely different phones aiming at two different groups

Not unless you are walking into AT&T and considering either, which many people are who are coming out of 920 contracts. No one buys phones here without a contract, so the $99 vs $199 is the only price difference that matters.

Well, some of us are on AT&T Next. (I know, right? I'm "that guy" with a Windows Phone, "that guy" on Next, etc...) So, the full, off-contract price is useful.

Especially since the new Mobile Share Value Plans force you to use Next unless you want to pay more per month. There are some ways around this, of course, and it all depends on your own situation, but overall: I think we're generally going to see people moving from contracts to Next, for better or worse.

My upcoming Lumia 1520 is better than these two new flanged thash.

Lol they're not trash but I agree overall :)

Again not everybody wants to carry a tablet around

I have the 1520 and I ordered the 830. I think the 1520 is a great device but 6 inches is a big device. While I can manage it, I always felt 5 inches was the ideal size and the icon was verizon ... so yah I am going to give the 830 a try and if I like it, it will replace my 1520.

I may do the same. Plus I have the AT&T 1520 without Qi. And it is now apparent they will never fix the tap/scroll issue.

Believe it or not, the size form the 6" screen to the 5" screen is a HUGE difference in overall device size. The 830 is very easy to operate completely one handed. I love my 1520, but I'm quickly getting used to the 830. The screen is easily ten times better on the 1520, but it's not the end of the world.

This is the debate I'm having. My contract with AT&T is up and I'm looking to upgrade my old Lumia 900. I'd prefer a flagship level phone, but do prefer the Lumia branded phones as they do seem the better overall bet. Since there doesn't appear to be any flagship phones on the immediate horizon I wonder should I just get the HTC and hold on for another 2 years, or should I wait even longer and hope a flagship is coming soon, or should I just get the 830 and again limp for 2 years waiting for the right flagship.

If you're going to be stuck two years, until HTC proves themselves otherwise that is a dangerous gamble. I'd get the Lumia or at least try and see if you can get a used 920 offline. I'm sure there are some not much more expenses than the HTC one price on contract.
Or a lower end Lumia 810/820/822

If you want a flagship, go with the One. You're not going to hear about a flagship Lumia until MWC at the earliest and who knows when it'll come out. Get the One now and be happy.

Why do you think MS will wait so long?

Look on eBay for used 920's. There are good deals to be had everyday for $120-$150 and when the new flagship comes out you can use your upgrade on that. No limping for 2yrs necessary. Just my opinion though.

I see this recommendation a lot, but it doesn't factor in the cost of waiting. If I waste six months paying contract pricing without taking a new phone, that's last money right there too. This is why I find the lack of a flagship so vexing... I have three lines eligible for an upgrade, and no phone to upgrade to.

Just move to a mobile value share plan and save tons until you have something to upgrade to. (I realize this shouldn't have to be your strategy). With the new value plans you get data at a reasonable price and phones off contract don't hit you hard at all. Only problem is when you are finally ready to upgrade, all your of contract savings go away so you'll be spending $45-$60 more a month depending on which data plan you get. (this can be somewhat offset if you do the whole Next thing)

Never looked at it that way. I have only recently moved to a contract plan. Always prepaid before, but it was cheaper with the 3 lines we have now.

Try an MVNO and a used phone, or even your current phone. I wrote about it here: http://forums.windowscentral.com/nokia-lumia-920/318383-options-delayed-...

can you switch to a family plan? Then you will pay much lower monthly fee per line waiting for new flagship. I have 3 lines switched to 2G family plan, paying only $40 + 3 line of $25 each. Total $115. I can go back to contract for any phone for $15 more monthly per line. There are 10G plan too with $100 base + $15 each line. But on 10G plan, if you go for contract phone, you will add $25 ( always to make $40) a month for one phone contract.

Actually, I am already on a 3 line contract plan. And I do think it's adecent deal. But it still eats at me that I'm essentially throwing away the benefits of being able to get a phone every 2 years. For every month I delay, that's another month I won't be able to upgrade later. They should just have a decent phone available... I really feel this is a giant cluster on Microsoft's part, especially happening just as all the 920 users were coming out of their contract periods. Really bad timing for having no flagship.

If you have mobile share plan like me and out of contract, you get $15 discount for bringing your own device. That's $360 saving per phone. I am planning to buy unlocked with discounts offered during Thanksgiving and hoping to get it around $400, sell it after using for an year (or till next high-end phone arrives), then enter in to a contract with a Windows 10 flagship or high end. Nodal

also with the att 830 you get a free fitbit also.

i'm planning on getting Lumia 830 later on.

Despite the huge price difference, when it is still a tough choice between the two in terms of features, 830 is clearly a winner!!

The HTC w8 device isa serious flagship spec wise. MS needs to make sure that device is heavily marketed all over and available in the every country and every carrier. The 830 though competent is not to be compared with the HTC One for Windows.

Why would Microsoft need to advertise this phone, especially any more than the 830 aka a phone they made themselves. HTC needs to market this phone and they don't.

You show your idiocy everyday dude. Microsoft would need to market this phone because because they're not yet in a position to have AT&T do it for them like the iPhone. Plus they already had a campaign for the Verizon version, they just need to start it up for AT&T.

It's not idiocy fool. That's on HTC to market this phone not Microsoft. Microsoft is not supposed to market every high end windows phone. Just the ones they make aka Lumia. HTC need to market their device.

Saw an HTC rep today talking about the new HTC One @AT&T to the employees...

My hope is that the HTC is not the last effort at marketing a phone with competing OS installed. That would be the ultimate in customer choice. But I won't hold my breath. You can already see from this article what a breadth of fresh air it would be to see more high-end OEM do this.

Until they start adequately treating both os euqally, I doubt we will see many trends for this in the high end.

I agree. I can only hope we see a Galaxy S6 with Windows, LG G4 with Windows, Sony Xpera Z4 with Windows, etc. With the relaxed hardware specs, I can imagine the other OEMs doing this at least in a limited run to guage interest.

Totally agree after having the One and finding all the NON lumia features a deal breaker.

I'm thinking about changing from the 1020 to the 830. Is this decision wise?

Lighter. Larger screen. Removable battery. SD card capabilities vs MUCH better camera. I think the only question is are you willing to give up the camera for those couple of things. I don't believe the 830 has much going for it over the 1020 other than that.

I would like to add that 830 takes camera shots much faster than 1020. And if you are not much into professional photography your really going to get the same quality as 1020 unless you are looking for poster size prints. Also 830 has a slightly better and newer processor. People from Android always like to read too much into specs. What matters how is the overall experience (look at iphones- nobody cares what specs they have as long as it works and smooth). We have both 730 and 1020 and I can tell you that 730 is definitely faster (though slightly) than 1020. 830 uses the same processor as 730. I can tell from my own experience that 730 is very smooth and fast. The camera takes very quick shots. I would assume the same for 830. Infact 830 has even better camera than 730.

Thanks for the advice, guys. It confirms what I have thought. I'm going to go play with it at the MS store and most likely buy it. I take a few photos, but nothing too serious, and I miss the wireless charging w/o a special case from the 920. Also, I'm excited for a lighter phone.

Personally, I'd be all over the 830, with one exception: lossless zoom/reframing. The high resolution of the 1020 has completely spoiled me for other cameras... I find myself reframing almost every picture and coming away with a better shot. I never used to think it would be that important... but now I realize that the flexibility of reframing later is an amazing benefit that allows you to take a great picture and explore how it would look with different compositions. I find myself purposely giving my shots extra room on the sides so that I have flexibility later. I don't know how I will ever move to a "regular" camera phone again.

Not to mention the dedicated camera button.

I would but Nokia Lumia 830 probably one of the last Lumia with Nokia branding :/

Indeed it seems this is the last of the Mohicans.

Hard to say in the end which one is better. With that being said, I ordered the Lumia 830 this morning and am waiting for ATT to let me know when to come to the store to pick it up!! :-):-).. In the end, I chose price and free fitbit as my deciding factors. Also, I was looking at instagram last night and saw some amazing photos taken by some Lumia 830 owners and I was impressed!! Lumia FTW!!

​Hey Dan - will your Lumia 830 review be landing today?

likely monday, as we want to include some AT&T bits in there as well.

Really guys? There's more than that, what about call quality and signal, video, battery life? Also, according to many sites HTC smarphones now have the best audio quality on the market. Nokia 830 sure it's not a bad phone but it's no match for the HTC One. Everthing on the HTC is better, except the camera resolution maybe and you guys still prefering Nokia on this one?

" Everthing on the HTC is better, except the camera resolution maybe and you guys still prefering Nokia on this one?"

Yes. And sure, we could have compared a lot more, but this is already 1100 words and I didn't want to write 2000. Honestly, it is mostly about the feared lack of support from HTC that has many worried, specs be damned. Regardless, I did say both phones were excellent choices.

Probaly you're right but with the Preview for Developers program I don't think this is a barrier, and as far as I know a big % of WP users are on PfD. But, yes, the support on Lumia is far better than that on HTC :)

Just bought a 930/icon on ebay for £235 (around $280) it is a bigger, but better 830 minus glance and expandable memory, so if you like the look of the 830 and don't care about those two features, I'd say aim slightly higher for a 930

All Lumia exclusive apps should be made available to other OEM to help grow WP market share. I mean MS is giving away office for free on other platforms so this shouldn't be an issue at all. Hoping HTC does well so other manufacturers will continue to support WP

Honestly, there are no Lumia exclusive apps that are that interesting/compelling that other OEMs are missing.

No all the Lumia apps should not be made available to all windows phone. Why do Lumia apps need to be on other OEMs yet not one person claims Samsung or HTC apps should be available for everyone else

Hello, I have a Lumia 925. what I don't like about it is is 16bg.... No room for anything, pretty much. The question: Would my WP experience get improved if I jump to the 830? Thanks,

Stick a microsd into the 830 use it for all pics and music and you should be good to go.

Probably not massively, especially assuming you are using Developer Preview. However, the camera is somewhat better, and will get better when the new Lumia camera app arrives. Screen is probably better too. Has micro-SD (can't recall now if yours has).

Probably not by much (other than SD card capabilities, as Dan said it is more of a side grade than an upgrade from the 920/925. Is the SD capability worth the cost of a new phone to you?

As I have a 920 ( so we r on the same boat give or take) and got my 830 recently, and I must say, yes, it will be improved dramatically. Both r running on DP with the same latest version. The 830 is much faster at everything, even though technically the 920 has marginally better benchmarks, but real life scenarios r totally different. The camera on the 830 is already quite faster(not to mention better), and that's without the new Lumia camera that's coming. One big plus is no heat issues on the 830 as with 92x phones. Also, much better battery is another plus. I don't need to say how quite helpful the memory card expansion is. It might not be a big upgrade in terms of specs, but in terms of experience, it's a big upgrade.

I hate software keys. Real buttons all the way.

Physical keys >> all. But once you get into capacative vs on-screen, the argument is a wash.

Not a big fan of the software keys on the 635, either, but it is nice to not keep hitting the search button by accident all the time. Still, IMO, ALL Lumias should have a hardware camera button. Other OEMs can do as they choose, but that's a tough feature to lose when the camera is a big selling point.

I like it. It is a nice change and you can match the color of the software keys to match your theme, autohide, etc. Works great on my M8.

The 830 looks like a decent phone, but it's no match for the competition at $450. Keep the fitbit and sell it for $350 and it might be worth it.

I love my wife. She is my M8. ;)

I'm getting the m8 when I hits T-Mobile. I can upgrade in six months so I'm not to worried about support. Definitely want T try son different hardware instead of Nokia which has been my last three devices

That's cool. Nothing wrong with that.

Dan I strongly disagree and have removed you from my Christmas list. I was gonna get you some isotoner gloves too.

I least I can use those with the Lumia 830 (Super sensitive touch) ;)

Don't worry Daniel. I still have you down on my list for an ugly Christmas sweater. I promise you'll love it. It'll also give you more reason to take selfies with your Lumia 830. Aren't I thoughtful?

I would say wait 2 days regardless of which device you choose as startig 11/9/14, AT&T will have the new Next 24 (30 payments) available and at the least, you can save money per month if you are a next user. The Lumia 830 should be $15 per month on the Next 24 plan instead of the $18.75 per month on the Next 18. That is a big difference per month in my opinion. That $3.75 savings could be used for something else, Windows apps, food, a gallon of gas or whatever. I'm serious.

And if you are on a mobile shared data plan you get at least $15 off so you get it essentially for free.

I wonder why we still have only one "real" android/wp smartphone like the M8. I mean... it's about time we see something else, isn't it?

Not the first person...so...here we go:
'Neither', 'Lumia 1030' or 'Lumia 1530'
you comparison is nonsense
:-p


I'm really tempted to get the HTC (Verzion) , but at the same time thinking about either:
A) wait for //Build/ & see how it goes ... My 8X is still running strong.
B) get a 930 ... I can go out & buy it right now ... No need to worry about Shipping Costs or Duty\Customs fees whatever.
Tough choice lol.

I have a Lumia 930... But the design of the HTC... Hmmm... Amazing and tempting. It's good that I have the 930 already :)

Nice comparison. I plan on getting an 830 hopefully in a month or two.

I "fondled" the 830 half an hour ago in the back corner (of course) of an AT&T store. Glad (personally at least) to report that the black border is not as stark and dark as it appeared in the promo pics (its actually quite close to the 925's shade of gray.. err.. I mean black), and the green back thus looks great with it. Nice slim, light feel, the bummer is that it was tethered to one of those display thingies which tried to pull the cover of... So we have a 2 line contract (my cracked-screen-920 and our nanny's Moto G), both phones are eligible for an upgrade. 2GB shared data (last 3 month average use has been just 640MB). So perhaps I'll get the 830 on Next 12 for my line, give the Fitbit to my wife (she's been asking for a fittness band), get the next true flagship for the other line, then give the 830 to our nanny (I assume I can switch SIMs between two AT&T phones without issues)... Plus ask for the MS Band from Santa. What do yous all think? A sound plan? :P

Sounds like a good idea to me...

Come to think of it... Since I am getting the upgrade price of $99/2 year contract, and would hand the 830 down to our nanny when a new flagship comes around (and get it on her line upgrade), perhaps that's the better plan... Damn these options, they should have just one option like in the Soviet Union... Lol

Sounds complicated but I think it should work lol

Haha, I know. Thanks. The only remaining thing is that I am kinda tempted by the T-Mobile "free international (slow but still) data" Siren's call... :) But they have no interesting Lumias at all so..

Plus their support kinda sucks. They Just updated the 521 to Cyan this week and no support for the 810.. I'm stuck on that phone for now. Don't want the 925 (no SD card capabilities). They do have interesting plans though, as you said.

I know. Keeps it all snuggly.

Entering in to a 2-yr contract for a low end phone doesn't make sense. Not sure when you went out of contract but you get $15 monthly discount on mobile share plans when you bring your own phone. Thats $360 for 2 years. You can buy an unlocked 830 for for a little more during thanksgiving deals and not enter in to contract until a high end lumia arrives (may be with windows 10). Nodal.

Thanks for the tip, I'll look into it! I am surprised though - what's their incentive to give me a discount for bringing my own phone if I already have a family plan contract with 2 lines and shared data? Sure, both lines are eligible for an upgrade but its not like I would be brining them a new customer or any new revenue (in fact this would mean less revenue for them)... Anyway, I'll check. ps. also in this particular case I would still be fairly ok with 2 year contract as I would also get the free Fitbit (supposedly about $99 value, offsetting the $99 for the 830).

I believe the the incentive is the customer. They dont want you to jump on to or try other carriers. The regular price price to some extent include the price of the phone under contract. It doesnt make sense to pay the same price when you alredy paid off for your phone. I beleive thats the reason they came up with this discount. Thay started it last year but not sure they still continuing with this discount. I am still getting it. Per their website its still there. Better ask for it at a customer center. https://www.windowscentral.com/e?link=https2F2Fcli... http://arstechnica.com/business/2013/12/att-gives-15-per-month-discounts... Check the following and decide for yourself if its really worth entering in to att contracts. Nice comparison. http://robservatory.com/the-atdont-get-burned/ Thanks, Nodal.

I wonder when will T-Mobile launch both these phones...eagerly waiting for both

The phrase is shoo-in, not shoe-in

BUT........Isn't Betty a woman's name?

I've always liked HTC windows phones, starting from my first HTC Mozart to HTC 8S and now current HTC 8X. One M8 would be perfect choice for me even though I can't afford any of those two phones XD

I think I'm getting the HTC over the Lumia because I can't wait for passive Cortana!

You don't even know if passive Cortana is coming to the m8. While it is likely seeing as that has yet to be announced, that would suck if you got the m8 only to never get or not get it anytime soon

Will be getting the 830 to replace wife's out of contract 520 later today. I am holding onto my 920 for at least the foreseeable future.

If the 830 was FREE to 920 owners heck ya I'd use one. Paying $100 with and locked in another year contact, hell no. The HTC's camera sucks so thats one is a no go too!. I'm ready for a new phone and have no clear options for AT&T. The 1520 is nice, but 1 year old and too big. I really don't want to go Android, but I'm seeing that as the only option right now (screw Apple). I'm really pissed at MS for putting the high end Lumina's on the sideline for the time being!

HTC not upgdating is really sad, but it's a double edged sword as well. The phones don't sell well because they don't have a good track record in updates. At the same time they don't update them because they don't sell well. If they sold well they would most likely update them more.

Well that doesn't mean they are not trying....http://www.htc.com/us/advantage/

Since I am forced to pick, I would pick Lumia 830 just because it's a Lumia and Orange Shell

Lumia 830 or wait for 11 November announcement?

Is this HTC one for windows ever gonna be available global? Would like to try that other than Lumia although I'm prefer lumia.

No evidence so far for such a launch :/

I went to ATT at lunch to look at either phone....they didn't have any...WHAT!!!!!!! On launch day...really?!!!!!!.. Duluth Ga..this is why Windows phone are slippn down the Palm Pre road

The HTC is pretty nice but no glance and questionable support gives me pause. I am surprised that no mentions the dual front facing speakers as a plus, sometimes headphones aren't practical.

decisions decisions... Pick up the HTC One on contract and get a case and Qi adapter and by happy for a while? Or Pick up the Lumia 830 on a one year Next plan and pick up a new flagship next November? Really a tough call. Neither device is exactly what I want... but neither device is bad either. I guess I will have to go to an ATT store and play with them a bit.

If neither is what you want stick with what you have instead of settling. I'd recommend the 830 though.

Careful if you currently have a plan with the $25 discount. The moment you upgrade, either with discounted price or next plan you will probably lose the discount.next had a promo that would give you a $25 off too, but not on top of the other one. ​

The one that isn't made out of Lego. Thanks.

After having it for about 3 weeks now, I have no regrets about buying the Lumia 830. I really wanted a camera button and capacitive keys - not really a fan of the virtual ones and I struggle taking photos when I have to tap the screen. The performance is good enough for how I use it too (not really a mobile gamer).

Daniel, You mention "holding out" for a new flagship device. I'm probably in that boat. However, I'm curious what your educated opinion might be on said potential flagship having the ability to upgrade to Windows 10 when it becomes available for phones. I ask becuase I'm also considering just holdng out until I can get a Windows 10 phone (if my 920 lasts that long).

Funny enough, I just made my decision and bought one of these phones while Daniel wrote this article. In the end, the wireless charging and the free fitbit put the 830 just over the top for me. If AT&T had hampered the 830 with wireless charging and there was no promotion, I would've gone HTC all the way. If those two things don't matter to you, I would recommend the HTC One. I really do enjoy the colors and the feel of it is great, esecially with the transparant cover to show the green :D

Coming from an HTC 8XT owner, I would love either, however, in terms of a 2 year contract, I'd get the 830 just from a sheer support standpoint.

For me I wanted Nokia hardware and design plus wireless charging. The 830 is very snappy no lag at all. Maybe not for high end gaming but I don't do games on my phone so 830 was right for me. Great review!

Lumia 830 I have one, and I have zero complaints, also I am hooked on the Lumia exclusive features. HTC disappointed me with the 8X lack of updates

Just went with the Lumia 830 with the Next 12 plan so I can upgrade in a year when they have a good phone out.

Can the 830 stand up on its own from its side? This would be good taking video without having to prop it against something.

Neither just wish they release a 1030 or 1530 already

I have to disagree on the build quality. I just bought two Lumia 830s at AT&T this morning. Although I was set on getting the Nokias, I tried out the HTC One. I had the distinct impression that it was the more delicate of the two phones and it was not nearly as comfortable to hold as the Nokia. Also, the HTC has soft buttons that seem a bit crowded with the screen at the bottom, whereas the Lumia has dedicated capacitive buttons. On a side note, the 830 seems very much quicker than my Lumia 920, which it replaces. In particular, Xbox Music flies compared to how it runs on the 920. I do wish there was the option for two columns on the homesreen and not just three, though. Middle-aged eyes have a tough time seeing the smaller live tiles without readers.

I'm going HTC One. I miss HTC and have always loved the One line. I'm not that concerned about support because I feel WP overall has is in a great spot support or not.

So I jumped the gun a bit and picked up an HTC One. I've got a question. The tiles are in the '3' column configuration and I can't switch over to the '2' column config. Is this on purpose, or a Lumia only feature?

I think its set that way due to the screen size or resolution. I can't switch back to two columns on my 1520 but I could with my 925.

Might be the case. Guess I'll have to get used to this now. Edit: figured out issue

Really? Ahh! Oh well still not a deal breaker. :p

Definitly not a deal breaker

I have the same issue, no biggie really but it is due to the higher resolution

Haven't hear word from TMOBILE yet if they are going to carry the 830, so in the meantime I'm thinking ill just get the HTC in my Jump and in 6 months, if the 830 comes out ill get that.

Or Lumia 1020 for $339 in http://Microsoftstore.com.

If I had to choose between the two I'd get the One. If I'm going to have a phone for two years I'd rather have the one with the better build materials and horsepower.

Yet lacks decent OEM support.

My wife if getting the 830 on 12 year next plan. Problem solved.

I really want the 830 to come to T-Mobile. It would be the perfect hold over until mid 2015 when the '10' phones come out. The expandable storage is enough of an upgrade over the L925 IMO

Does the HTC one have access to Here Maps and nav?

Yup, the Here services have been made available for all Windows Phone devices.

Does anyone know any third party retailers that sell Rogers devices and ship to the US? I want the Rogers Lumia 830, so I have AWS bands on HSPA+ and not only 1900mhz.

Yes they have it and I received mine last week. Love it and only cost $399 free shipping. Plus, it supports the AWS bands. 1700 in particular. Get it and enjoy it.

What retailer? Rogers doesn't ship to the US?

@ HillBillJr, yes, all Windows devices can download the Here apps now.

Why not compare with the 930 ? That's non sense

The 830 has the same specs as the 635 excpet for the camera so why is it so much more expensive I doubt it will have Hey Cortana and it will be still slow to open some apps like the 635.

I have a 1020 and desperately waiting for its much elusive successor. I'm really interested in the 830 as a filler device in between due to the guaranteed Lumia Camera update with all the features including HDR. Anybody knows if there is going to be a guaranteed successor to the 1020? Would it be wise to replace my 1020 with 830 in the meantime considering Microsoft has no plans to add any of the Lumia Camera features to the 1020 apart from the name?

Lumia 830 guys. Awesome phone and I purchased mine from, Rogerswireless and it has the AWS band and works perfectly on T Mobile. And Rogers only charge $399 free shipping for the phone unlike rip off, AT& T charging $449. Crazy!!!!

Neither one touches the Lumia 1020. I'm sticking with this until a real flagship comes out. At this rate, that will likely be summer of '15.

And you can get the 1520 with better hardware, resolution, and camera for just $100 more over the 830. You can also shop amazon and get the 1520 for the same price unlocked. More or less you're getting ripped off with this "affordable high end." $449 is not affordable...

I really want to paw both the 830 and the 730. I'm not due for an upgrade, but I feel like both phones look nice to hold. My 1520 feels big still, despite being 6'10" tall with big hands:/

I switched to a One Plus One two months ago, it's my first Android phone. Been on WP ever since the HTC HD7. I am tempted to buy the HTC One today just because that phone is so damn hot. I miss WP the more I use Android. It's really nice having apps with actual support that function well, but it's not nice when my phone reboots itself every day at least once, screen flickers requiring another reboot, and just other inconsistencies. WP, to me, is a more efficient and easy to use basic experience. When it comes to texting, email, calendar and social media browsing, WP is better (for me). Just finding a restaurant near me with Android is an annoying pain compared to WP, but it's probably mostly because WP is what I'm used to and I'm having a hard time adjusting to something new. Who knows, I'm going to try to fight temptation, but there's a good chance I'll be going home with a m8 for Windows tonight.

Yep, I got it. And it's awesome. As much as I've loved my Nokia phones ever since the 900, I've gotten pretty bored with them. They all seem the same. Now I have a 1520 and a M8, the M8 feels like a better product just IMO. The metal is awesome and WP is super smooth and fast. Glad I picked it up, I know for a fact I wouldn't have been as happy if I were to go with the 830.

Sitting pat with my 920 for the foreseeable future. Still a badassed hunk of technology. And I do mean hunk!

Both are fails, the 830 because of stupid exclusivity and HTC for a weak ass camera. Oh and the off contract price of the 830 is a fail too. The 930 is a fail because lack of SD card. Posted via the Windows Phone Central App for Android

I have to go with the HT M8 on this. Buy not against the 1520

Definitely the One for me! Been waiting for this.

If I were of a mind to select one, I'd go with the 830 due to he layout and nokia apps. However, I'll wait for the Lumia 1520 upgrade/variant and hopefully will be carrier unlocked.

Although the Lumia is the obvious choice for most, I sure hope the M8 does well on sales. It'd be a reason for HTC to support the platform more. Too bad HTC left Brazil; I'd definitely recommend it to my friends. The only reason I wouldn't buy it is the camera -- not because it sucks (it doesn't), but because I usually reframe/crop my photos and the 930 will be perfect for me!

If HTC put Windows on the E8 or Desire 820 I'd be all over it.

I guess you're in charge of trying to market this lackluster phone with two year old specs. A midrange device with Snapdragon 400 and 1GB RAM is unacceptable. There's no way around that. They know that the experience is pretty much the same with WPs so people has less incentive to buy Lumia 930. That's why they crippled this phone instead of what Nokia did with x20 series. As an 820 user this made me so mad that I'll either switch to Android or get an HTC. Just because the OS can handle it shouldn't mean that we have to use low specced phones for a higher price.

IMO both are about $150 overpriced

I'm not on AT&T, but if I had to choose between these two, it would be the Lumia 830 for me all the way. I love Nokia and prefer the design of the 830 over that of the One M8. Dedicated camera button is definitely of high importance to me, too, as someone who loves snapping photos on the fly.

I'd like both but as I can't afford that then I think that I am going to end up grabbing the Nokia 830. It's close to half the price here in Canada to buy it outright. Even though I have an HTC right now, I think I want a change. Also, I plan on waiting until after Christmas and the New Year to buy a new phone.

Any way you slice it, it's a good day for Windows Phone fans on AT&T.

Does anybody know if the time is 1030 or 1530 sorry Daniel LOL :D

The Lumia 830, in my opinion, really should've had a Snapdragon 600 for $450; after all, it's suppose to be an "affordable flagship" and that processor pretty much gives you high-end performance at a value price-point. It certainly would've tempted me to upgrade my L920 if it did have that SOC, but I can't see spending that kind of cash when the same processor is used in the Lumia 635 (which I have, and it's great for what I use it for). I'm really surprised that it debuted with the Snapdragon 400.

I think 449 is a bit to much for the Lumia. It's even more expenisve than the Nexus 5 and the OPO and those are phones with killer specs mind you the battery life and camera for the Nexus 5, but giving its price it justifiable. Around 250-300 would be much better. Posted via the Windows Central App for Android

I have a Lumia 830 and believe me, you will be very impressed with it. Go to the store and play with it, and then let me know what you think.

Curious, what made the 830 stand out over the M8 for you?

I recently cracked my 1020 and have been waiting for these two phones to come out to decide if it's worth paying outright for either the One or 830. To be honest, I'm leaning towards just fixing my screen for $150 and saving my pennies for another phone when Windows 10 releases (hopefully a 1030). The 830's 1MP ffc isn't appealing to me for my constant use of Skype (due to my travels) and the One not having the support or even possibly "hey cortana" added in makes me think it isn't even worth it (especially for 650 bucks). Is this the wrong choice in the long run?

Wireless charging seals the deal for me. I'm pretty much settled on the fact that I'll nevr buy another phone that doesn't support this. Snap on covers are OK but the lines of the 830 look and feel great in the hand with its plastic back...

Daniel please mention in you article about HTC Advantage. Basically it is a service that HTC is offering with the purchase of a new HTC where they fix your screen if it breaks in the first 6 months free of charge no need to go through carrier. And they are also guaranteeing it gets updates for 2 years from date of launch. Also they give you some cloud storage and other things. https://www.windowscentral.com/e?link=https2F2Fcli...

Stopped by the store on the way home. I'm tempted, but yes, definitely more of a side grade.... Camera without focus flash kinda makes mediocre pictures imo compared to my 920. That being said, the m8's pictures were horrendous compared to both. I mean, horrendous on zoomed in details. Not bad zoomed out. But horrific zoomed in. Also, I concur about display, much better than expected, and definitely better looking than HTC for some reason.... I think the 830 is the better of the the two.... And it's only a side grade from my 920. :(

We are comparing mobiles... Why there is no comparison of battery??? Whatever feature they have or support they have, at the end of the day if they are dead, no use right?

For $449 there's no way I'd buy the 830 with that Snapdragon 400 processor. The 1520 is better in just about every way and can be had for $100 more and comes with a Snapdragon 800. Such a bad value in comparison to the 1520 in my opinion, mainly because the 1520 has aged so well (and will continue to do so).

I like the HTC. You get more choices for phone covers. Like otter box!!!

Microsoft is letting us down with this sub flagship garbage...meh

Got my Lumia 830 in my hands as I write this... and it is awesome!! I love it!!

I know that the 830 comes with Denim pre-installed. Does the One have Denim as well or just the 8.1.1 update like it did when it was released on Verizon?

I went to pick up the 830 to replace my 920 today. Gotta say, I really enjoy it. It definitely would be considered a side-grade hardware specs-wise, but it is a very large step up on build quality. I do see modest performance increases too. The expandable storage is a great feature too. And as much as I like the green now, I really like the idea that I can easily change the color without a case.

Just noticed...the WindowsCentral main page banner link for this article has a capital "I" in the word "WIndows". No biggie, though...it doesn't show up on this page's article title.

Just got back from AT&T waited an hour then 15 min for them to look for a fitbit and then 20 minuted for them to find out they never had the 830 in stock today they did have the HTC M8 but while waiting I played with both phones and the speeds were about the same the 830 had a nicer screen and with a free fitbit worth $99.00 it comes out to be free.

No more contracts! Expansys USA has unlocked Lumia 830's for $379 + shipping.

My mind says HTC One but my heart says Lumia 830. :D Or is it the other way around?

Daniel there is no way the displays are a tie, not on paper not in the real world.

Stopped by att store today and the sales rep did not have a clue bout HTC M8 for windows. Lumia 830 was on display and every customer gets directed to androids or iPhones. It's like sales rep don't think WP even exist. No wonder market share is low in the US.

i was really torn on the two. Stayed up late last night watching reviews on Youtube to make sure I got the right one. Decided on the 830. Had an appointment for 11:30am and the store had them on display, but didn't have either one in stock so I left. Checked the website for store availablility and it showed finally. Guess they just didn't get their shipment in yet. Ordered the phone for in store pickup and got it on my lunch break. I went with the 830 because I couldn't do without the wireless charging and glance. I have wireless chargers for my desk at home, work and the Nokia wireless car charger and coudn't imagine giving that up. Love having glance backgrounds alternating in my car on the cradle. I considered the M8 because I really wanted Hey Cortana, but there was no guarantee it'd be available. And, I really wanted the on screen nav buttons as I absolutely HATE accidentally hitting the search and back buttons. In the end, the lack of qi, glance and dedicated camera did it in for the M8. From a 920, I thought the screen would be sub par, but I was pleasantly surprised that the screen is great. I thought i'd be disappointed in the lower res as it's a lower ppi due to the bigger size, but the bigger size makes up for it and just looks amazing. The screen pops a little more in vibrance somehow. Don't know if it's just normally set brighter. Kinda disappointed in the black levels, but it's ok. Overall, i'm happy with my decision, although disappointed that I had to settle. My perfect phone would have qi, camera button, Pureview, glance, screen nav buttons, rounded corners, 1080p, 8xx processor, sd card, red/metal color. Still hoping sooner rather than later.

I dont feel like the HTC one is completely out of the question in terms of "updates" I had my htc 8x and decided to do the dev preview so i was glad to have cortana but i still do prefer the 830. I just hate that it's on att. Their customer service has never been that great =/

I just got the L830 and I'm enjoying it. Nokia owner since 2000...

I question the "updates are at least better than Samsung" statement. In my time with WP on AT&T, Samsung supported their WP7's with firmware and performance upgrades WAY more than HTC. Our time with the Titan and Titan 2-admittedly a lifetime ago in smartphones- was miserable as compared to my experience with the Focus S and Focus Flash. As I have pointed out repeatedly in other articles, Samsung has over twice as many apps in their Hub as HTC does and has upgraded and supported them way better as well.
I will say I am willing to give the M8 a look. I love the style and the hardware options. Throw in most 8X users are completely happy which I think is a great sign for the M8. If I was given the choice, I actually think I would take a leap of faith and give HTC one last shot. I just like it a hair better on paper. Not gonna upgrade to the 830. So it is the M8 or Windows 10 for me.

I like HTC One M8 for Windows, that is good phone!

Agree, just went and liked at it. Wife might end up with it.

I really feel that the processor in the 830 is a huge letdown, it's in many ways no better than the 2012 Lumia 820. 8.1 is maybe really efficient, but there's no doubting that the camera experience would have benefitted from something more capable. On top of that I got my L930 for a price not that far off the L830. The HTC on the other hand is so good in many respects, it's just that I don't trust that HTC will support it and I'm not on board with the whole ultra pixel direction.

HTC wins here as it has brilliant sound. For me the speakers are important Posted via the Windows Phone Central App for Android

The issue with Google and MS is the inability to upgrade the device. They put a better device out but for a specific carrier. The 920 can still stand next to the newest Windows Phone. That's ridiculous. The Nexus 5 isn't in the same category as the Nexus 6 bit they have it branded that way. The 830 shouldn't be good enough to be a side grade to the 920. Lesser number should mean lesser phone. But, they haven't released a 940 yet so... WPC App via Nexus 5.

I briefly had the M8 for Windows on a Verizon prepaid account because I wanted to check it out. It's a very nice phone but I didn't like the camea and I was not a fan of the speakers on the front. While the speakers did sound great, they make the phone larger. I picked up the 830 yesterday on my normal AT&T account and really like it. Sure it's over priced but I already had a buyer for the Fitbit so that ended up getting me $80 back. If I had to choose between the 2 (and I have) then I'd take the 830 over the M8.

I don't really understand the comparison roots. If it 930 vs. One M8 I would say that's a comparison. 830 is a total midrange phone. No comparison in specs, price, quality and even targeted audience. Even the decision which one to buy is irrelevant. U have the money for a flagship it is M8. If it is price it is 830. If it is supportability and exclusive apps it is 830.

Are you shxtting me? Of course the One. 830 is only comparable to the 2-year-old 920

err... as far a specs and greatness indeed HTC M8 is far superior...pricing? well, surprisingly not everyone wants to spend $500 outright for a phone casually... AT&T does not encourage to do 2 year contracts anymore because upgrade fee is $40 and monthly payment goes higher if you have the new plans...so AT&T next; which will let you easily pick HTC M8 for reasonable amount on 12 month payment plan and keep paying less on monthly bill... Lumia 830 falls down to his already dug grave XD R.I.P Nokia </3 P.S. I used to be a hard core Nokia person, but I found peace in the new era. So far enjoying my M8 :) and no annoying black dots of the amoled in the dark anymore thanks to super lcd3... battery life? blew me away! longest ive ever held on windows phone :D camera? freakin' awesome!

on another thought, microsoft with new acquired nokia...it smells like they will spend an eternity making crappy low to mid range phones to try build the early nokia empire of the world...I dont think that works anymore microsoft! hear my words!

as far as biased comparisons go this one deserves a top spot, for starters, HTC One M8 is a flagship phone, you can't compare it to a midrange phone unless you're trying to belittle foreign companies and praise american ones, for a company that actually made an effort to make a windows phone against their better judgement, coz seriously who buys windows phone? these guys deserve better than this. Huawei saw this and officially declared they wont be making wp devices, which to me was a fair business decision. i seriously disrespect the author and his league of fans.

The M8 is by far the best WP to date. The comparisons on this forum are laughable to say the least. The question people should be asking is, why is the M8 for Android considered an outstanding flagship device according to almost all the reviewers, yet the WP version is considered on par with entry/midlevel level devices. Both devices have same specs, maybe WP OS just sucks. Thats the only way to explain the lack of interest by WP fans.

AT&T does not do much to encourage the WindowsPhone platform. In my local Murray KY retail store, they have stock of the L830 but they have no demo on display. After visiting the store twice and calling with assurance the Manager would get one out, there was no display model. I waited for a unit to be brought out and it had no SimCard ... no Cortana. after local WIFI set up, then no Windows Live or MS account set up... not Cortana again. Great way to make the WP platform look bad. I may buy one outright from Best Buy to keep AT&T from making the profit.

We all know the HTC one m8 is easy more better.

As long as I can get a no BS TMO 830 I'll be fine. Got burned with the 810, and their support of it.

Checked local ATT stores. Out of 4, 3 had them listed "in stock". I went to the closest one. They had the L830 on display. The clerk went to check for the phone in the back, came back and said they don't have them. I asked her kindly and she checked again apparently upset that I did. She also told me she hasn't sold any yet - odd. Called the next closest store. Yep, they have them on display, but the rep went to check just to tell me they don't have them. He said he will have somebody else check as well and before he went off I asked him to check for large white boxes and told him that due to the free fitbit the boxes are different than normal. When he got back to me he apologized, and said that indeed there were two white large boxes. Only when he scanned the bar codes he was able to confirm that they are L830. Went to the store and got the only two boxes they had in store. The boxes only show the bar codes. Nothing that indicates these are Lumias of any type. Pretty bad from ATT to ship them to the stores this way I think. I called back the first store and they did find the large white boxes too. Apologized that they sent me away without one. So, if anybody tells you they don't have them in stock, make sure they check for large white boxes ;) And thank you George and Daniel for the details on the L830. I have no regrets switching from L920. It's a beauty in my opinion. My kids love their new L920s as well (coming from L520). thank you

Why do we have to wait until sometime in 2015 for a new 'flagship' Lumia? Isn't it possible that Microsoft plans to have a high end Lumia for the holidays? Maybe Tuesday's announcement?

So, Dan, since TM is selling the One for about $100 less then ATT, @$586, does that change your opinion valuewise? It's still more then the 830 by almost $100.

I am officially making my way back to Windows Phone and bought the HTC One M8 because of the beefier specs. My last windows device was the HTC Touch Pro 2 and I loved that phone. I reluctanly migrated to Android when I purchsed the HTC EVO because I just felt Windows Mobile was going nowhere. I have been waiting for Windows to get their act togther so I could one day come back to this platform. Now I must admit that leaving Android to come back to Windows Phone was just as hard as when I left Windows Mobile for Android. But I am going to give the M8 14 days to convice me to stay with Windows Phones. So far I am impressed. The M8 is my work phone. I still have the LG G3 for my personal phone. I have an iPad 2 and the Thinkpad Yoga for my laptop. So I get the opportunity to experience what is good and bad about Windows Phone, Windows 8.1, Android and iOS. Daniel, I still have a couple of ringtones you created back in the Windows Mobile days when you were going by the name Malatesta (I forgot how to spell it so I just guessed).

The HTC is beautiful and if it had a better camera, I probably wouldn't care about the fact that Microsoft is content to release low and mid phones. I would deal with the lack of a camera button and go for it!

I guess back to the original question: which do I like better? Definitely the 830. The hardware buttons being absent is a dealbreaker for me. I played around with an HTC one at the opening of our local MS store this weekend and was really impressed with the build quality and then I just sat there staring at cortana "....wait...how do I go back??!" Swipe up and then press? Nope. More important to the discussion at large, I'm just not interested in a midrange phone. Not even in the slighest. I see any numbers that aren't updates to the current flagships and I'm out. I know what I want and I intend to wait to get it. My 920 is still doing great, still lasting all day, still taking great photos still snappier than the day I bought it. Just like many people on here, I just don't think we're the target audience for that kind of hardware. Maybe I'm wrong but I hear time and again about flagships. Them making a big deal about a new midrange device doesn't get me interested, or excited in any way. It just makes me feel ignored. Yes. Like many of us, I'm whining over nothing. I could just go out and get a 1020 on the cheap and shut my damn mouth. Actually. Maybe I should do that. To ebay!

I am currently using a Lumia 920 -- since this article notes that the 830 is more of a side-grade than upgrade, I will probably pick the HTC One (M8) for Windows via AT&T. The other choice for me would be the Lumia 1520, but since it's a year old now, I think I would be pretty annoyed getting it on a 2 year contract and then a few months later the 1530 comes out.

If you want the best phone you can buy for your money, the 830 wins. If you want a phone that will replace your 930 or 1020, you're screwed. I want the best hardware out, not taking a few steps back in hardware.

Hello to all my Name is Nell from United States of America , I do hope my post gets read and hopefully helps somebody along the line. i will never forget the help the dr,uzor spelltemple render to me in my marital life. i have been married for 4 years now and my husband and i love each other very dearly . after 3 years of our marriage my husband suddenly change he was having an affair with a lady outside,i notice it then i was praying for divine intervention the thing became more serious i told my pastor about it we prayed but nothing happen. my husband just came home one day he pick up his things and left me and the kids to his mistress outside at this time i was confuse not knowing what to do again because i have lost my husband and my marriage too. iwas just checking my mails in the office when i saw someone sharing her testimony on how the dr.uzor spelltemple help her out with her marital problems so i contacted the email of dr.uzor i told him my problem and i was told to be calm that i have come to the right place that i should fill some information concerning my self i did after 30 minus he called me again congratulating me that my problems will be solve within 48 hours. he told me what went wrong with my husband and how it happen.that they will restored my marriage but i will make a free donation to their uzor spelltemple home anything my heart told me. to my greatest surprise my husband came to my office begging me on his knees that i should find a place in my heart to forgive him i quickly ask him up that i have forgiven him.friends your case is not too hard why don't you give dr.uzor spelltemple a try they work surprises because i know they will also bring back your husband. contact him via uzorspelltemple@gmail.com you can still visit his web site http://www.uzorspelltemple.webs.com or Tel; +(234)-813169-1334. sure he will help you get the problem solved okay.