AT&T Lumia 950 'Double tap to wake' over-the-air firmware update rolling out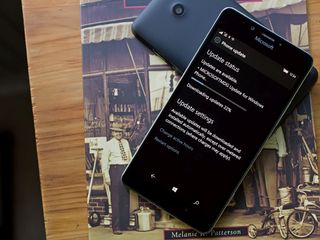 As predicted, a new firmware update is now rolling out for owners of the AT&T version of the Lumia 950. The update includes the "Double tap to wake" feature that was released earlier this month via the Windows Device Recovery Tool.
This update also comes with a fix for recurring Wi-Fi disconnections. among other fixes and improvements. Here is the full changelog posted by Microsoft (opens in new tab):
Wi-Fi connectivity improvements, including fixes for Wi-Fi connection dropping randomly and Wi-Fi scan occasionally not returning any results.
Support for double tap to wake enabled.
Bluetooth connectivity improvements.
Stability and reliability improvements.
Camera improvements, including improved image and video quality, improved Auto-focus and fix for a problem that was causing slow motion capture to skip frames for some users.
Cellular connectivity improvements, including fix for a problem that caused occasional network loss for some users.
Audio quality improvements, including fix for a problem that caused voice call audio to get scrambled for some users.
To see if your AT&T Lumia 950 is getting this update, go to Settings > Update & security > Phone update > Check for updates. If eligible you will see MICROSOFTMDG update.
Thanks to George, Donald and "SkullyHB" for the tips!
Congratulations to all of you. I sent back enough phones with problems that they upgraded your firmware. Glad I was finally able to go the unlocked route a few months ago and stop waiting.

Wait, want this already out. My wife's at&t 950 already had it for the last month or so.

Nevermind, I remember now. I updated her's through the Update tool when this build was available on it. Maybe two or three weeks ago or so.

The only way to get it was through MS' Device Recovery Tool if you have an ATT phone

"Bout damn time" was exactly what I was gonna say... You beat me to it.

I knew this would happen. 2 days after using the WDRT and a clean install.
What an idiot.

I was thinking about it on my way home yesterday... Knew it would be soon.

I just reset my 950 yesterday because the Photos and Camera apps were messing up. I was ready to get off of the Insider Program. Now, with this firmware update, the Camera and Photos apps are running great. Also glad to have double tap to wake. After having it on my 640, it seemed weird not having it on my 950.

Got it finally!! Missed double tap to wake that my Lumia 1520 had.

I replaced my 920 with a 950 as my daily driver as soon as AT&T dropped it to $298 and still haven't broken the habit of double tapping. Now it will once again do something :-) *happy dance*

930 will always be the windows phone king

I still miss my Icon (929) sometimes but love the ability to expand the memory. Now I have the 640 too which has the 5" screen. Almost seems like I have the Icon again, except it feels a lot lighter.

In my opinion, the 1520 is still the King of WP.

no, thats the Lumia 710....with T-Mobile.

Tell yourself what you want, be happy with your phone... but it's an inside fact that the 950/XL are the best Lumias available.

Yeah, the 1520 is the beauty and the beast

Never understood why this wasn't in the original 950 firmware, I mean it's not anything new with Lumia.

Not having DTTW is something that scares me about not getting a MS branded phone.. For example, while great, the X3 doesn't have the color profile, audio equalization, or glance. I think it does have DTTW, but I want it all....... Impatiently waiting for the SPP.

Yup finally! Very quick update. Just finished on mine in less than 15 minutes. Hooray!!!!

I surely hope if MS is preparing a new high end phone that they will implement all of the loved Lumia technology of previous devices, and more.

don't care about DTTW, just wanted the wifi and bluetooth fixes.... now to test :)

Have had this on my unlocked 950 for a while. I think you'll be pleased with the Wi-Fi and Bluetooth fixes. I was near my wit's end with those issues by the time this firmware came out for non-AT&T-locked phones.

Good to know! That has been a major complaint of mine.

Is Lumia 650 gonna get this feature later?

Doubt it. Lumia end of line

Yes, already in some regions.

I read earlier today that the 650 firmware for DTTP is now on the Windows Device Recovery Tool. It took 2ish weeks after the 950 appeared there before it actually went OTA if I recall correctly.

Yes it is coming to Lumia 650 firstly via the WDRT and later via OTA firmware update.

There are reports same it's happening for 550. All x50 Line covered.

There's no reason why the Lumia 650 shouldn't have double tap to wake. If it's now added, it really is a damn shame.

I upgraded my 640 to Windows 10 Mobile and it still has DTTW. It works great.

Yes... Yesterday, there was a news about it for Lumia 650. We have to wait for a while. We'll get it in couple weeks.

Yes... Yesterday, there was a news about it for Lumia 650. We have to wait for a while. We'll get it in couple weeks.

Did anyone else get a popup message after the update about "Your phone's settings or SIM card have changed" and a restart to complete the installation is required? Is this normal? Thanks!

i did. just restart the phone

Cool thanks. Seems to be working good so far!

Me too. I was hoping it would fix my corrupt 128GB sd card. It is stuck on write protection. I did everything to fix it including registry and disk edits - the microwave trick is next.

A write protected sd card means that it has reached it's end of life. You can't fix it as nothing can be written to the flash cells anymore.

It's only 2 months old and has 16gb on it.

Be sure to check under sim settings to make sure you still have the HD voice settings. When I saw this the settings were gone. To fix I had to remove the sim card. Start the phone, turn it off, replace the sim, start the phone again then wait about a minute for it to say sim settings changed and restart. This brought back the HD voice settings.

On mine I do see HD Voice under Enhanced 4G LTE Services. I turned that off as I remember reading somewhere the cellular signal might be better with it off. Not sure if it helps or not though?

Thank you for posting that!! Ill try it after my phone installs the update..Question so was your HD voice working before this firmware upgrade? Cause mine wasn't. Mine and my wifes 950 stopped working on the update before the anniversary update. I don't even see the option for HD voice. when I called AT&T for help, they Were absolutely no help. The Tech Support Lady tried to give me instructions using an iPhone...smh. I just played dumb and made her find a Windows Phone to give me the correct instructions.

I'm not sure if HD Voice was ever working properly or not but yeah the option was also there before the firmware update. It's in SIM settings under Enhanced 4G LTE Services. Not sure if AT&T supports this phone for that service. Haven't really noticed any difference with it on or off.

At&t does support. The person you are talking to also needs to have hd voice handset and area. When I talk to my brother on his iphone it is a noticeable difference in call quality. Only person I have noticed it with though.

I never said ATT didn't support HD Voice I was mentioning how bad ATT technical support is when dealing with wp Because they are uninformed and only care about ios and droid. when I called to get help with my L950 they were trying to help me navigate menus on my 950 using the naming schemes from the menu of an iPhone. I knew what what she was doing So I played dumb and said I couldn't find certain settings so finally she put me on hold for 20 mi.s cause she had to go find a windows phone to help guide me...it was probably the first time she uses one... Needless to say the advice she gave me still didn't work. Luckly I found this post cause MorganRW posted the fix i needed

Sorry, I was replying to JohnStrk who said he didn't know if at&t supported it.

FINALLY!!!!!!! Nothing like being last to get it on the newest phone. Last time I buy a phone through a carrier.

Buying outright is the way to go anyway. I have had many different phone on many OS's. I'll never buy locked to a carrier.

Wait, shouldnt L650 get it?

You should be happy, for you there's hope to receive it, I don't know if my 550 would never see double tap

Why Microsoft??? WHY?!?!? T.T

Or you can get it through device recovery tool.

That will reset my phone to factory settings..

Nice. After I just wiped my phone yesterday using WDRT to grab the update in advance. I was having way too many issues with my phone and just need to try something to make my 950 functional again. Glad to know it is here. At the others in my household won't have to deal with the ensueing nightmare of mismatched OS restoring from backup. LOL. My phone was unusable for a good three hours after WDRT. Unfortunate.

I feel your pain. Been through something similar (mismatched OS restore) and it is indeed a nightmare. Glad you got your phone working again!

I did the same. I have no faith in ATT. The only issue I had was that there was no prompt to restore a backup, so I had to rebuild from scratch.

L950XL has 3 upgrades since last month. Now it has many features similar to Windows 10 and so stable. Why L950 only 1? Locked phone?

*tears in eyes* Congratulations everybody.... Never thought this day would come. *wipes SNOT* I hope this fixes the issue of the media button shortcuts working for a while via Bluetooth HID but then stopping completely until phone restart. I kind of doubt it because it's been there for about 1.5 years (even in Lumia 630), so I kind of not suspecting it's a firmware issue but just an OS issue. Damn you MS for ignoring my Feedback.

Heeeeeey, fellow Rush fan! What are the odds of having more than one Rush man in a Windows Phone forum? So we make up what? 50% of the W10M market share? :P

Not likely, I have three phones running W10. So 40% then maybe :P

RUSH, PINK FLOYD, LED ZEPPELIN, DAVE BRUBECK (The Polish Pianist). I'll make up the other percent with them bands.... ;)

2112 one of best rock album's created

Why I cant use emoji in comments?

I also just received the update and I have an Orange France Lumia 950. I cannot say I missed double tap to wake as I come from a Nokia 808 PV, but my father have a Lumia 520 and I used the feature a few times. When I bought the 950, even if I read the feature wasn't there, I try to use it almost naturally ; as if it was a common feature of today's smartphones. So I'm glad it finally comes ; more than two months of waiting was almost unsustainable. I hope it will be the same for all the remaining handset of the various carrier around the world. We are with you patient guys ang gals !

Anyone else have it seem to be stalled on the Windows start up logo? Been there going on 45 minutes I feel.

Not here. 45 minutes is way too long for this update. Download and update took me about 20 minutes.

I have that issue every time, every update. I just usually wait 30 - 45 minutes and then reboot the phone. So far it has always moved on. But it sure would be nice if there were something that fixed whatever the problem is.

Fina-fukin-lly!!!! Downloading right now!!!!

Yassss!!! DTTW oh how I have missed thee!!!

In the process wuuuujuuuu

Downloading it now. Hoping it solves the bump reboot problem and the occasionaly loss of signal. Those are the only major issues I've had recently with this phone.

hey there. bump reboot problem? do you mean automatic reboots? if so, i had that problem a ridiculous amount of times recently. it ended up being my battery was bad. i bought a new battery from ebay and things are working great now. :)

I'm excited about EVERY item in this list. Updating now! :D

I can't wait, will check for update when I get home

Now to retrain myself to use DTTW since I've been without for so long.

I'm still not able to get the anniversary update.

Nice. Out of nowhere today I tried double tapping my 950 screen. Haven't done that in months. It was a hard habbit to break at first after putting away the 920

Just curious, has anyone tested or read about what these Camera improvements are?

Im trying to wait out the new surface phone using my 1520. But it's so hard to pass up buying a 950 or 950xl for $190-$300 on eBay or now $299 for 950 brand new at Microsoft

The camera zoom jaggies are gone!

The update has worked fine for 2 out of 3 950's I've updated so far, but the 1 is failing miserably. The update installed, but the phone will not connect to the cellular- voice or data. There's an x on part of the signal strength icon, and no matter what I do it won't work. Has anyone else had this issue? Anyone know a fix?

you might require to reset the phone. I did this with WDRT last week,

I flahsed the firmware update via WDRT last week. Just can't wait for the OTA update and wanna roll back to 14393.

Of course they released it. I've been following threads at the at&t forums and just Sunday a forum moderator said he had no idea when it would be available OTA. So yesterday, I said screw it and used the WDRT and finally got everything back to normal first thing this morning. So all of you that waited, you're welcome. Had I not done anything, at&t still wouldn't have released it.

I think I was the person who made that thread...
The forums aren't useful at at&t

You may well have been and I agree that they are not very useful. The only reason I went there was because I hadn't seen anything here in awhile and thought, given that it was an at&t issue, there might be more specific interest there. Not sure what I was thinking using the WDRT on a work day though - took a long, long time to get it all back. Didn't do a restore, all from scratch - back to insider fast and then reloaded all my apps from the Store. Wanted it as clean as possible.

Every time I get ready to sell my 950 MS does an update... Now I need an update for my 650 too

Damn, I use this feature so much now that I had forgotten that I had to wait so long to get it. That sucks for those who had to wait even longer because of their carrier.

I'm confused. I've got a German Lumia 950, have had DDTW for a while now, and still got a firmware update this morning. No clue what has changed...
On Insider Preview, Fast Ring.

Camera location is broken on my Italian 950 XL that goth this FW update also last morning. It was just fixed with last .189 build, booohhh ;( No Insider here, Production builds only.

My camera is completely useless now unless the thing im taking a picture of is no further then 3 feet away. Anything further then that and my camera cant focus on it, it cant focus on anything that is more then 3 feet away. My camera was working just fine untill this update came out. How can I go back to the update I had before this came out?

Check out this video of what is going on with my camera. https://1drv.ms/v/s!AkWlpOMPalJnoIIflHPTIR-GWJv5ig

Does this enable WIFI calling on AT&T?

So slow, AT&T. So slow. I went the WDRT route. Posted via the Windows Central App for Android
Windows Central Newsletter
Thank you for signing up to Windows Central. You will receive a verification email shortly.
There was a problem. Please refresh the page and try again.