Battlefield 2042 last-gen vs. next-gen consoles: What's the difference?
Here's how Battlefield 2042 differs, depending on where you play.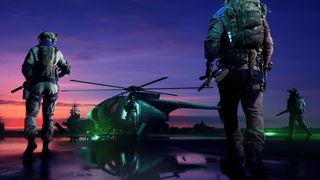 (Image credit: Electronic Arts Inc.)
Battlefield 2042 hits shelves on Nov. 19, embracing a fresh near-future backdrop and delivering the largest iteration of its multiplayer action to date. Pitched as a "next-generation" take on the Battlefield franchise, the title doubles down on a series of new multiplayer experiences, expanding every aspect of its military shooter sandbox.
But the "next-gen" promise spells trouble for Xbox One and PlayStation 4, consoles held back by their aging hardware. While support was inevitable, with PlayStation 5 and Xbox Series X consoles still hard to buy amid stock shortages, Battlefield 2042 faces changes on previous-generation devices. It's not all about graphics, with fundamental differences between the console versions, depending on where you play. Here's what you need to know about Battlefield 2042 on Xbox One and PlayStation 4, plus how it compares to the upgraded next-generation console and PC versions.
How Battlefield 2042 for Xbox One, PS4 differs from Xbox Series X|S & PS5
Battlefield 2042 retains all the signatures of previous Battlefield titles, including its large-scale warfare across various maps and modes. This year's entry focuses on multiplayer, ditching the traditional singleplayer campaign for an expanded suite of online activities. The conventional "all-out warfare" caters to Battlefield veterans, seeing up to 128 players battle it out over objective-based modes. The game also toys with "Battlefield Portal," a new creative sandbox to mix and match components of previous entries, while Hazard Zone serves high-stakes squad-based combat.
However, Battlefield 2042 comes in two distinct flavors, depending on your chosen platform. The "full" experience remains reserved to Xbox Series X|S, PlayStation 5, and Windows PCs, supporting up to 128 players, with larger multiplayer maps and upgraded visuals. Previous-generation Xbox One and PlayStation 4 consoles receive much of the same content, albeit throttled to lower 64-player lobbies, with smaller maps to account for lower server populations.
Battlefield 2042 pricing also varies between platforms, with Xbox Series X|S and PlayStation 5 copies obtainable via the $70 "cross-gen bundle," also including their respective previous generation editions. Xbox One and PlayStation 4 versions retail for a reduced $60 RRP, while the upgrade PC version also sports a lower $60. Upgrading to the "Gold" and "Ultimate" editions, priced at $100 and $120, respectively, also include both generations when purchased on consoles.
1. Xbox One, PS4 versions face limited crossplay
Battlefield 2042 launches with full crossplay enabled, pooling console and PC players into the same multiplayer lobbies. Crossplay has emerged as a commonplace feature among many of the best shooters in 2021, providing full crossplay between Xbox, PlayStation, and PC systems.
Xbox One and PlayStation 4 do crossplay differently, with these versions of Battlefield 2042 separated in their own multiplayer lobbies. It makes sense, stripped back to 64-player matches, compared to the expanded 128-player support on other versions. Battlefield 2042 also supports crossplay between Xbox Series X|S, PlayStation 5, and PC, although Xbox One and PS4 versions are excluded from these matches.
Xbox Series X|S and PlayStation 5 players missing their friends on older systems have a workaround. Buying the game on a new console also includes an older Xbox One and PlayStation 4 version, playable via backward compatibility. While you won't be getting the whole 128-player experience, it's the only method to connect with friends who have yet to upgrade.
2. Xbox One, PS4 versions lose out on 128-player matches
The most significant difference between Battlefield 2042 on Xbox One and PlayStation 4 all comes down to the numbers. Battlefield 2042 proudly boasts its largest player counts to date, raising the bar for its large-scale conflicts with up to 128 players per match. However, that change remains exclusive to Xbox Series X|S, PlayStation 5, and PC users, with older consoles throttled across all modes.
Swipe to scroll horizontally
| Mode | Next-gen consoles | Last-gen consoles |
| --- | --- | --- |
| All-Out Warfare | Up to 128 players | Up to 64 players |
| Portal | Up to 128 players | Up to 64 players |
| Hazard Zone | Up to 32 players | Up to 24 players |
Battlefield 2042's All-Out Warfare and Portal modes see the biggest hit, halving its 128-player lobbies to 64 players on Xbox One and PlayStation 4. The smaller no-respawns Hazard Mode, which focuses on squad-versus-squad battles, also faces a reduction.
3. Smaller maps for Xbox One, PS4 users
Battlefield 2042 also implements smaller maps for those on last-generation devices, a second-order effect of reduced player counts. While technically a downgrade, scaling back the playable area and gutting some objectives, it's also a creative decision stemming from the different server populations.
With 128-player lobbies available on Xbox Series X|S, PlayStation 5, and PC, more players naturally inhabit its larger maps. Reducing the map size on Xbox One and PlayStation 4 simply improves player density, meaning you'll enter more gunfights, rather than stumbling around a half-empty map.
Battlefield 2042 is shaping up as a full next-generation experience for those on the latest Xbox and PlayStation consoles, with compromises on Xbox One and PS4, as a result. However, while major differences stem from its reduced player counts, the fundamentals of a great Battlefield experience remain intact.
Battlefield 2042 makes its debut on Nov. 19, 2021, with early access available via Battlefield 2042's Gold and Ultimate additions from Nov. 12. The title joins the EA Play lineup with a 10-hour trial, also available to Xbox Game Pass subscribers with its Ultimate-tier membership.
Bigger and better
Battlefield goes back to the future

Battlefield 2042 debuts Electronic Arts' next-generation vision for the military shooter, supporting up to 128 players on the latest consoles, shaping up as its most ambitious entry to date.
Get the Windows Central Newsletter
All the latest news, reviews, and guides for Windows and Xbox diehards.
Matt Brown was formerly a Windows Central's Senior Editor, Xbox & PC, at Future. Following over seven years of professional consumer technology and gaming coverage, he's focused on the world of Microsoft's gaming efforts. You can follow him on Twitter @mattjbrown.