Beam reveals new website, Xbox Live account authentication and much more
December is a big month for Beam, who just shared a massive update regarding their effort to integrate with the Windows platform.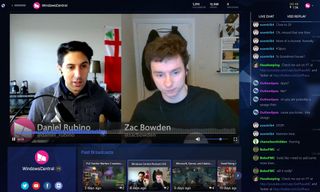 Live streaming platform Beam.pro is the chief competitor to Twitch.tv, offering industry-leading low latency that enables the streamer and viewer to communicate in near real time.
Microsoft announced in October that Beam integration was on the way for Windows 10 and Xbox One, and December is the first step along that journey. Here's everything you need to know.
Update: We mistakenly wrote that Beam for Xbox would go live with this update. That will happen later this winter, but it's not quite ready yet. Apologies for the mix up.
Matt Salsamendi, who leads the Beam efforts, shared a whole raft of new features combing to the platform, including speed improvements, new website features and more.
Starting on December 20th, Pro users and Beam Partners will be able to opt-in to test Beam 2.0 in beta, ahead of a public roll out. Here's a run down of the features.
FTL for XSplit, OBS and Restream.io
The first new feature is FTL for all streamers. "FTL" is Beam's super-fast streaming solution, presently available only via the Tachyon OBS client for PC. Now, popular streaming solutions XSplit and OBS are releasing updates that will support Beam's FTL servers. Restream.io — which is a popular solution for streaming to Beam and Twitch simultaneously — will also support Beam's FTL features.
New Design
Beam.pro will also pick up a new website design, complete with a new logo, new animations, and more "consistent styling" across the interface. Additionally, Beam 2.0 will repair one of the biggest complaints about the site so far — web performance on the lower end — by giving the site "insane" performance speed. Site load speed has been increased by five times over, with 60 FPS capabilities for the web player, and a much-improved mobile experience for Microsoft Edge.
Beam.pro will also pick up a new homepage, with the ability to feature multiple content creators and scheduled events. Beam will also be able to feature mature streams to authenticated 18+ users on this new home page, while additionally surfacing improvements for displaying a streamer's information. The website will also pick up localization for 26 other languages, and feature closed captions, improvements for those with colorblindness, with screen reader and keyboard navigation support.
Chat panels will also improve, with visual enhancements to voting, emote auto-completion, new mod tools, and improved error handling.
Xbox Live Login
Soon, Beam will require you to use your Microsoft Account and your Xbox Live details to sign up to the service. Initially, this will be offered on an optional basis, until a mandatory roll out later in the future. Starting December 16th, Beam 2.0 beta testers will be able to switch their accounts over to Xbox Live straight away. Beam says that requiring Xbox Live details to join Beam will improve the service in the following ways:
Allows us to leverage Xbox tooling, support, and moderation to scale Beam's community.
Enables significant security enhancements with 2FA, suspicious login detection, and more.
Brings more viewers to Beam with a universal and easy to use authentication mechanism
Enables deeper social experiences, game integrations, and richer content discovery
We'll be adopting a Twitter style username system where, while your username is your unique gamertag, you can specify a custom channel display name that viewers see when going to your channel. (e.g. My gamertag is Salsa, but my channel name could be MattDoesGaming).
It's likely we'll adopt a verification system shortly after launch too, so you know that I'm the real MattDoesGaming, of course.
Bots, Overlays, and Developers
One of Beam's unique features is its SDK, which allows developers to bake stream controls directly into their games. People who stream on Beam.pro can enable all sorts of gadgets for their streams, including soundboards, and the ability for viewers to spawn mobs in games like Minecraft. Users spend sparks to interact with streams, which they can earn from watching streams, or streaming themselves. Beam is bringing in one of the services most popular chat bots to join the team, meaning deeper integration, faster development and more features. We're unsure which chat bot Beam is referring to at this point, but it will no doubt be revealed sooner rather than later.
What about Windows 10 and Mobile?
Beam currently has an app for iOS and Android, and Beam 2.0 will provide a better mobile experience to those of us using Microsoft Edge on Windows 10 Mobile. With regards to Beam viewing apps for Windows 10 and Mobile devices, Matt Salsamendi gave me a definitive "maybe," noting that the Beam app for Xbox One is built for UWP. It seems likely to me that Beam will come to all Windows 10 devices eventually, but Microsoft just isn't willing to commit to a time frame as of yet.
The future is certainly looking bright for Beam, which has grown exponentially since the acquisition earlier in 2016. Streaming from your Xbox One is set to arrive in early 2017, and Beam will eventually be integrated directly into the Windows 10 OS, sitting alongside the Xbox Gamebar.
Follow us on Beam.pro/windowscentral for Dan and Zac's live Friday podcast, Paul Acevedo's Saturday giveaway streams and our MGL Wednesday streams.
Jez Corden is the Managing Editor for Windows Central, focusing primarily on all things Xbox and gaming. Jez is known for breaking exclusive news and analysis as relates to the Microsoft ecosystem while being powered by caffeine. Follow on Twitter @JezCorden and listen to his Xbox Two podcast, all about, you guessed it, Xbox!
A definitive "maybe" for Windows 10 is like a giant slap in the face considering it's already developed as a UWP app and will require a Microsoft Account to login.

Yeah, I was thinking the same thing when I read that comment. Definitive Maybe?! Are you freaking kidding me?! The owning company is Microsoft. You've already built the app using the definitive MSFT app platform, and you have access to a host of cross-platform development tools. So it damn well better be more than just a maybe. In any case, the actual article describes upcoming mobile apps as "hybrid apps" whatever that means... but perhaps ... just "maybe" ... it means Xamarin-built UWP apps taken cross-platform. Dare to dream, I guess.

The maybe is probably because the experience could be build into the Xbox App on PC and Mobile instead of a dedicated Beam App.

There's an Xbox app on iOS and Android as well

The Xbox App on Windows 10 has all the integration with game bar, iOS/Android doesn't.

The only thing that surprises me is that you guys are still surprised...

Who said anything about surprise? :)

RE:TonyRAnderson, I like your avatar.

Hey Jez so the beam app on Xbox one has been live for preview for 4 days now I wish I would have known sooner ,but cool updates for beam.

i cant see it or find it and im an insider. any ideas??

Re: aka swizzlerz,
Apple fan, "i"? Or just mistaken typos?

They should just give us a UWP app, hate visiting the site in my browser.

It's not on the one im in preview

would be nice if there is a quick button to broadcast, like PS4 has the share button easy to turn on twitch. MS needs one, using kinect isn't much of an option because it tends to open up some other version of twitch that can't recognize your profile correctly. Like double tap for screenshot or save video, why not add one for broadcasting. Turn on and off.

"Xbox, broadcast" is as simple as it gets.

Definitely is NOT in the XBox Insider program, unless only selected users in the program are able to access it. [Edit: "Starting on December 16th, Pro users and Beam Partners will be able to opt-in to test Beam 2.0 in beta, ahead of a public roll out." Oh.]

i just checked is 16th a mistake or 26th is the date?? beacuse there is no beam app for insiders yet. well for me not yet. i am excited to hear about the changes comming. i need to get beam pro!

I've added some fixes to this post to address errors, sorry for the mix up. Xbox app will go live later this Winter, it's not quite ready yet.

WC achievement ' Mistake of the year ' goes to you - 10WC points ... ;)

haha, problem is I saw a draft blog post that turned out to be altered, tis what I get for working at 3am :'( I've made bigger mistakes this year... nobody noticed though. whoops

Yes, we did. We saw you tell people to buy the Kinect for XB1, Jez. That's just cruel.

New website looks awesome

"Soon, Beam will require you to use your Microsoft Account and your Xbox Live details to sign up to the service." At which point I will consider using the service. "With regards to Beam viewing apps for Windows 10 and Mobile devices, Matt Salsamendi gave me a definitive 'maybe,' noting that the Beam app for Xbox One is built for UWP." Meaning that the UWP's so effortless that not even a MS-owned entity will openly commit to publishing Universal Apps universally. How many more years of "soon" we got going on Windows 10 and UWP?

They're a relatively small team focusing on the web experience right now, which is truly universal. Apps will come.

keith you were right. not only ms but xbox connected accounts. :S i thought it might be kept more sperate i was wrong. :(

Curious what the new logo will look like.

Mandatory Xbox login? Sorry but if they want Beam to compete with Twitch this is effectively them shooting themselves in the foot.
It has to be a service for all players of any system and requiring a log in that way is just going to alienate a ton of people.
I'm sure the service will do just fine but as for competing with Twitch there's no chance if Microsoft are determined to hamper it this way.
It's a shame.

It's a Microsoft service (as ms bought it) that will require a Microsoft login, nothing unusual.
Windows Central Newsletter
Thank you for signing up to Windows Central. You will receive a verification email shortly.
There was a problem. Please refresh the page and try again.