Best 3D-printed models of September 2019
We showcase the fantastic models you make each month.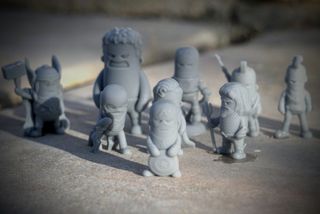 The 3D printing community is terrific. Not only are there people from every walk of life ready to help anyone get better at the hobby, but there are also talented designers churning out inspired models for us to print. One of my favorite things to do in my spare time is to look around the web and find some of the best models that people have printed and ask them how they managed such beautiful work.
I think this kind of talent needs showcasing, so each month I will be showing off some of the best prints I've seen from around the 'net. Each entry will have a link to the person who printed the model, and, where possible, the person who designed it and the printer they printed it on. Hopefully, these designs will inspire you to push yourself, and maybe seek these community members out.
Related reading
Why you can trust Windows Central Our expert reviewers spend hours testing and comparing products and services so you can choose the best for you. Find out more about how we test.
Model of the month
This section is dedicated to the very best model that I have seen in the community for this month. The winner can revel in the knowledge that they are Windows Central's Model of the month!
Model by OneldMONstr
The DeLorean, printed by grafitomi
The first time I saw this model, I thought it was a production model. The amount of work and detail that has gone into it is incredible, and I wish I had the time to learn this kind of skill.
Grafit is a freelance VFX designer and a prolific maker in his free time. He has shown a tremendous amount of skill when printing his passion projects, and he never seems just to want to print things. This DeLorean, for example, is lit to make the headlamps and the flux capacitor glow!
Grafit used the AnyCubic Photon and transparent resin to print the model, leaving the lights and areas he wanted to glow clean. This is an excellent way of getting light into your model without having to make smaller clear pieces. The Photon is perfect for this kind of work as it is cheap and the details are incredibly good.
Despite the touchscreen from the dark ages, the Anycubic Photon is fantastic. It is the perfect ratio of cost/quality that you would want in your first resin 3D printer. Buy one if you can.
More fantastic models
There are so many great models out there we couldn't just stop at one. Let's celebrate some of the very best models and printing people around!
Model by Wekster
Screaming Pumpkin, printed by Tom Jackson
Get used to seeing Filament Frenzy, a.k.a., Tom Jackson, on these lists, because the man seems to be a genius. The things he can make even the cheapest machines do is nothing short of miraculous. Well, he says the machines are stock, but Tom casts spells on slicers to make them work better than mere mortals can produce.
As it's the end of September, we can officially start loving Halloween again. Tom has embraced Halloween with this beautiful model from Wekster and used the Mk3s connected to an MMU2 from Prusa to make it multicolored as well! It is a work of art.
The Prusa Mk3s is fantastic. I could go on and on about it but I won't. Suffice to say Tom and I share a love for this little printer, and with the addition of the MMU2, you can make color prints that look like magic!
Model by Nick Dimelow
Pentagram Cauldron, printed by ADAfruit
Another fantastic Halloween model, this time designed by Nick Dimelow, but this one has lights! It stood out to me because of the brilliant use of dry ice, and the ADAfruit led matrix to make it look really spooky!
Nick designed it specifically to fit the ADAfruit Circuit Playground and, if you aren't a fan of dry ice, he also printed a bubbling top to go with it. You can find the print for free on Thingiverse if you want to try it yourself.
Creality makes some of the community's favorite printers and the CR10s is no exception. The 300mmx300mmx400mm print bed is enormous and allows you to get some amazing models.
Model by Wekster
Wexagons, printed by Wekster
These are incredibly simple little hexagons that are designed to connect to form shelves on your wall. Initially designed for Wekster's mini collection, you can use them for just about any small model.
These are printed on the Prusa Mk3 and are really quick to print. You can fit about three normal size ones on the print bed. If you are like me and print too many Mini figures, you can make shelves quickly and easily.
Fillamentum Extrafill series
Wekster uses a lot of the Filamentum to make his awesome Wexagons, and I've never heard anyone unhappy with this brand of filament.
Model by Rodman
Iron Man, printed by Thomas Kunert
I am in awe; not just the print, but the paintwork on this Iron Man model. The first time I saw it, I couldn't believe a machine didn't paint this.
The airbrushing work on this is second to none, and you can see more of Thomas' amazing work over on his Instagram. He hasn't finished Iron Man yet so you can still catch his WIP videos.
The Ulitmaker is no joke. Both in price and quality, the Ultimaker is a high-end machine. It's just stunning.
Creator of the month
Instead of having a manufacturer of the month each month, we will try to highlight creators as a whole. So it may be a company that creates impressive printers or filament, or maybe it's a YouTube creator that inspires us. We will showcase the best right here.
Joel Telling (the 3D Printing Nerd)
We couldn't start the creator's section with anyone but Joel. When I first started 3D printing and I was looking for advice, and a community to be a part of, Joel's videos drew me in. He has a fantastic energy about him, an enthusiasm for things he loves that I share.
There is nothing wrong with loving things with childlike wonder; I do it all the time. I giggle at amazing models, and I stare in amazement at stuff on TV. Joel's happiness infects others, and that's the greatest gift you can give.
You can find Joel on YouTube where he makes some amazing videos of brilliant prints.
Be a part of the action
This entire article is to showcase what is great about the 3D printing community, but I can't do it without your help. If you see amazing prints anywhere on the web, or you have made something magical yourself, drop a link in the comments below or tag either @windowscentral or @keridel on Twitter and we will check them out.
I also think we need a Hashtag. #WCModelOfTheMonth might work, although that's a little wordy. Help me out in the comments.
Get the Windows Central Newsletter
All the latest news, reviews, and guides for Windows and Xbox diehards.
James built his first PC when he was 13 and has never looked back. He can be found on Windows Central, usually in the corner where all the 3D printers are, or huddled around the Xbox playing the latest games.