Best alternatives to Groove Music for Windows users in 2022
By Cale Hunt published
Groove Music is no more. So what should you use now?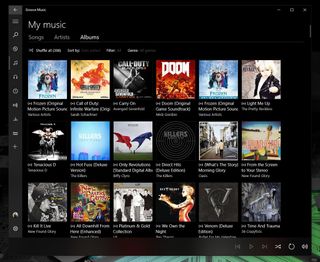 Now that Groove Music has shut its doors, many faithful subscribers are wondering where now to turn for a great streaming music experience on Windows 10. Here are the best alternatives to Groove so you can get back to jammin'.
Spotify
To make things easier for Groove users, Microsoft partnered with Spotify (opens in new tab). Up until January 31, 2018, users were able to move their Groove libraries over to Spotify to pick up essentially where they left off. Whether you made the move or not, Spotify is an excellent choice to replace Groove.
You can use Spotify for free, but you'll have to put up with ads, and you'll only be able to play pre-determined mixes. If you opt for Spotify Premium, which costs about $10 per month for one person, you won't hear any ads, you can play any track, and you can listen offline. A student plan for $5 per month and a family plan for $15 per month (up to five people) are also available. Apps are available for desktop, mobile, and Xbox, but they each require a separate download.
Pandora
While it's currently only available for U.S. customers, Pandora has about 30 million songs that are curated by 80 musicologists to deliver a listening experience that closely suits your interests. A free version of Pandora is readily available in which you can listen to ad-supported radio, but there are also paid plans. Pandora Plus costs about $5 per month (opens in new tab) for a single user, and it's basically personalized radio without any ads. You can choose up to four stations to keep for offline listening, and you can skip around and replay any songs you want.
Pandora Premium, which costs about $10 per month (opens in new tab), gets you a full gamut of features, including access to the entire music library, the ability to create playlists, offline listening, and no ads. To test out its service, Pandora offers a 30-day trial for Plus, and a 60-day trial for Premium. The best part? The Universal Windows Platform (UWP) app works with Xbox, desktop, and mobile.
See at Microsoft Store (opens in new tab)
Tidal
Audiophiles out there will no doubt love Tidal's high-fidelity model, which delivers music in an uncompressed format; something that seems to be disappearing in the streaming age. A HiFi subscription costs about $20 per month for a single user, plus there's a $30 family plan for five users, and there's a $10 student plan.
If you don't need HiFi and just want access to more than 46 million songs and 190,000 videos, a Premium plan costs about $10 per month, with family and student plans also available. A 30-day trial is available for all plans, so you can get a good idea whether or not Tidal is for you.
As far as using Tidal on your Windows 10 devices, there is a desktop app (opens in new tab) available for download from the Tidal website. Unfortunately, the UWP app has disappeared from the Microsoft Store.
See at Tidal (opens in new tab)
Apple Music
With iTunes expected to hit soon the Microsoft Store, Windows users will easily be able to take advantage of Apple Music. You can get a three-month free trial (opens in new tab) to see whether or not it's for you, over which time you'll no doubt be enticed by the 45-million-song library. If you do decide to stick around, choose from a $5 monthly student plan (opens in new tab), a $10 monthly individual plan (opens in new tab), or a $15 monthly family plan (opens in new tab), which provides music for up to six people.
Apple Music allows you to add 100,000 of your own songs to your music library for streaming at a later time, discover new music with Beats 1 radio, and share music with your friends. If you're thinking about moving to an iPhone from Windows 10 Mobile, this might just be your best choice.
See at Apple (opens in new tab)
Google Play Music
Much like Apple Music is usually an iPhone user's top choice, Google Play Music is quite attractive for Android users. It boasts a collection of 40 million songs, plus you can add up to 50,000 of your own songs to the service for later streaming. There are radio stations and podcasts in the free version of the service, but paid plans offer a lot more, including unlimited playlists, mixes, and sharing.
An individual plan with all the bells and whistles costs about $10 per month (opens in new tab), plus there's a family plan for six people for about $15 per month (opens in new tab). If you'd like to test out the service, a 30-day free trial is available.
An unofficial Windows 10 app for desktop and mobile, called gPlayer, is available for about $10 (opens in new tab), plus there are a few other options in the Microsoft Store (opens in new tab).
See gPlayer at Microsoft Store (opens in new tab)
Deezer
Like most streaming music services, Deezer has a free listening option alongside a couple of paid plans. If you want to go free, you can listen to unlimited music on your PC, or flows and mixes on your phone, but you'll have to put up with ads and a lesser sound quality. For about $10 (opens in new tab) a month, you can get a Premium+ plan with unlimited streaming and no ads, and for about $15 (opens in new tab), you can get that same deal for up to six people.
Deezer's music library has about 43 million songs to enjoy, plus there are plenty of curated mixes and flows that suit your mood or activity. You can download to your library for offline listening, and great free apps (opens in new tab) for PC and your Windows phone bring it all together.
See at Microsoft Store (opens in new tab)
Amazon Music Unlimited
It's hard to say how many songs it actually has in its library — it currently sits at "tens of millions" — but Amazon Music Unlimited is a great choice for anyone, especially if you already have a Prime plan (opens in new tab). For those already subscribing to Prime, a membership costs about $8 (opens in new tab), whereas non-Prime customers will pay about $10 (opens in new tab). There's also a family plan for up to six devices that costs about $14 (opens in new tab), and there's an Echo plan for anyone who owns a standard Echo, Dot, or Tap (opens in new tab). For about $4 (opens in new tab), you can stream unlimited, ad-free music to an Echo device, but that's it. No phone or PC. It's not the simplest pricing plan, but it works.
Free apps are available (opens in new tab) for PC, Mac, Android, and iOS, and a free 30-day trial (opens in new tab) is available if you want to test things out before committing.
See at Amazon (opens in new tab)
More resources
Check out these links for more info on streaming your music in the Windows ecosystem.
Updated February 5, 2018: This list has been updated to include Deezer and Amazon Music Unlimited.
Cale Hunt is a Senior Editor at Windows Central. He focuses mainly on laptop reviews, news, and accessory coverage. He's been reviewing laptops and accessories full time since 2016, with hundreds of reviews published for Windows Central. He is an avid PC gamer and multi-platform user, and spends most of his time either tinkering with or writing about tech.
I think Amazon is the best deal. 78 bucks a year for a prime member. They have most of not all the music out there.

Yup, you're right bro. After that TIDAL is best if you choose thier non hifi plan. It is better for people who like listening to new artists. I do like hearing music that no body has heard ever that's why tidal is best for me + their app interface is far more better than any other app + a very good third party client for windows 10 (tidal unofficial)

I think it depends what you listen to. I have tried the main options and Spotify has the least amount of holes for me. Amazon is second best to Spotify for me, so the $2 savings a month doesn't make sense. If you mean just prime music, even more holes since I want newer music.

Is there an Amazon music option for win mobile? I already use it on my tablet/desktop but a mobile option would be nice

No option for WP/WM - but that's likely not surprising. :( (I'd appreciate it as well, but with WM pretty much being deprecated, I'm not going to hold out hope.)

No, Amazon does not have a WM app. Plus if you own Invoke, Spotify is the only way to go.

You do realize you're responding to a comment from October 10, 2017? But, I guess one never knows your answer might inform someone else. :)

Do you know if there is a way to import Groove's playlist to Amazon? Btw, the Prime discount is $7.99/mth, so it will be $96 annually.

You can pay $79 for a year if you pay all up-front

STAMP is a tool to move playlists and supports both apps. I've moved from Apple Music to Spotify and will likely move to Amazon. Despite some holes in my music, it's a great deal.

Thank you for mentioning STAMP, it is fantastic

Agreed. I also find Amazon's music discovery to be very good -- and it's the best when using voice commands with an Echo device. Much better than Spotify with any of the digital assistant speakers, which relies on your knowing the playlist you want to choose. Just say, "Alexa, play some 1970's light rock" and she'll do it. Try that with Spotify and you'll get a bunch of "That playlist doesn't exist."

I dunno. With Google Play Music you also get YouTube red, which means no more ads. And if you're a parent, it unlocks offline mode in the YouTube kids app too.

Yeah, but no phone or pc so what's the point??

Just waiting for the UWP app really. Once I can listen to it on the go it'll make more sense.

Deezer is great too, don't know why it has so little popularity. It also has a UWP app which is decent enough.

I am really thinking about moving to Deezer rather than Spotify. Especially for UWP (my 950XL still isn't dead!) and sound quality.

I use Deezer and Spotify in free and Premium versions. Deezer wins due to its better interface in my 950xl, better conception of playlists, better intuitive capabilities, easier lyrics feature usability. The experience was almost the same, even in my HTC/Sense 6.0 an PC with W10. I'd like to experiment Tidal hifi version in both smartphones above related. Does sound quality is perceptible improved when considered compressed audio by others libraries? Has anyone confirmed this improvement?

I have a premium subscription to Deezer for over two years now and am not planning to quit anytime soon. One of the best parts of Deezer is the availability in lots of countries where Spotify isn't available. Also the app is great for both W10M and Android and enables you to easily download music to play offline. I rarely find new releases that aren't available on Deezer(must mention I usually listen to rock/metal so can't say about other genres) so I strongly recommend trying it, even the free version is good.

I love deezer too, they have music lyrics and spotify don"t have.

I use Deezer and Spotify (terrible playlists) ONLY because they killed Groove. Groove was the best by a mile. I would use Deezer exclusively now if it worked on the Invoke speaker (which I hear is coming).

What about Amazon Music? Best deal for me. Recognizes my own collection. Apps where I need them.

This. Plus, the integration with Alexa, Echo, Fire TV is great. I'm currently subscribed to Spotify's, but thinking about moving to Amazon Music Unlimited.

The Spotify app on Windows 10 Mobile is absolutely terrible. It is not functioning at all on my Lumia 950XL

Are you seriously going to whine about app support on Win 10 mobile? Do you live under a rock???? Read the news.

But the overall Spotify app experience is horrible. Sure, if you only care about streaming music you don't own, it is a decent experience. But if you have an existing collection, it is simply dreadful, mobile (no matter the OS) and desktop.

In all fairness i've moved to Android and Spotify is still bad. And here, i thought the experience would me much better.

Spotify also sucks on the Roku.

Yes. Had same problem on my 5 windows phones except the 640xl???? Weird, as it had the lowest RAM. On the X3, 950 & XL you have to close all open tabs and Windows and may have to restart it, but otherwise it then works. It's a bug 🐛 in the WM software for the Spotify app that they just don't fix - arseholes.

Where is the mention of Deezer? Apart from Spotify, they are the only ones with an official W10M app along with Windows 10. Spotify is also very buggy on W10M, I've been trying to get it working to no avail. Signed up with Deezer and it's working perfectly on W10M.

"iTunes is coming to Microsoft Store"... Coming so much that it's been four months since it was announced.

They are having the Massively Screwed-up dys-Functional Team (MSFT) write the app for them. The Massively Screwed-up dys-Functional Team is doing their typical app development. They will first develop their iTunes app for iOS and Android. They will announce that with no mention of there being a W10M app. They will then clarify their position and state that a W10M app will be coming in a few months. Of course they won't use UWP. Wash-Rinse-Repeat for MSFT's approach.

Is your feeble attempt at renaming MSFT supposed to be clever, LaVike? You sound like a third grader.

PS, Amazon music isn't available in most countries, so it's not an option for a lot of users.

Neither is Pandora, but it still made the list

I own my music, so I'll just buy MP3's from a different souce, put them on Onedrive, and continue using Groove on all devices as I always have. I think a lot of people misread the Groove announcement and think that Groove is going away. It's only the streaming pass, which not everyone even used.

Hi, I buy my music too but there is a problem OneDrive is limit 5GB for free which is sad because if we want music on our Xbox One, we need to delete stuff off, which does suck, but if we chose not to use OneDrive then we need a way to install music on Xbox One properly, it is great Groove is becoming a Music Player but with Windows Store losing its buy tab for music it is really limiting, cause you could buy music then it would appear on Groove, the only way I can see a positive is if Google Play, iTunes and Amazon Music fully come over allowing use to buy music instead of being forced to buy a subscription.

It's a dollar a month for an extra 50gb, surely that's not a stretch of the budget.

I've used Groove Music Pass for years (since it was still called Zune Pass), but this is my plan going forward as well - buy music, upload the songs to my OneDrive and stream through the Groove app. I have 1 TB of storage from an Office 365 subscription, so basically I can build my own personal streaming service. Everything else I've tried seems to be designed for radio-style streaming only, with organising/playing songs not from the streaming catalogue an afterthought at best.

This was actually what I was hoping to find in this article; a new place to actually buy my digital music without having to commit to some subscription that I don't want... Seriously lacking proper online music shop!

Google Play music is the best paid option. Spotify is 2nd dude to it's free model. You also get YouTube commercial free with Google Play music. Also,
"Many users might be able to take advantage of two months of free Spotify Premium" which users?

I agree out if them all i still think Groove was the best option for me having it on my phone Xbox and PC but now moved to Google music and added it to my kodi box to get m round the Xbox part and I have it on my phone and PC. Spotify limits was my biggest issue with it Google music dose not seem to have this issue.

For those of you who don't know get the Google Music Family plan. $15 A month you and 5 other people all get the music pass. You all Get YouTube Red and any movie or TV show you buy through Play Movies and TV everyone gets access to that as well.

Why is there no mention of storing your own cloud collection in this article? Most of these services are not viable alternatives for people who own a large music collection. I migrated my collection to Spotify, and it created a text file of all the unmatched music, and it is a 1.3MB file! That's a lot of music that I wouldn't be able to play in Spotify.

This is what I fear will happen to me as well. I would hope 🤞🏻 for one app that can also stream my own files. Can deezer?

Try Google Play Music. You can upload 50k of your own songs and stream them without the subscription.

Yes, you can upload your MP3 into Deezer-cloud.
Not sure if they keep your copy or just create a new playlist with the music you uploaded.

Microsoft Vs. Microsoft Fans right now. https://youtu.be/cDNKVYPpIDg

Deezer!!!! Why doesn't anyone mention it?

Can it play my own files, like from OneDrive?

Deezer was mentioned. You didn't read the article??????

I couldn't find an Xbox One app for Google Music or Amazon Music. I suppose it can be streamed through the browser?
Found a great comparison list on Wikipedia that shows library size, etc... Groove is missing - maybe it was removed recently or just overlooked...
https://en.wikipedia.org/wiki/Comparison_of_on-demand_music_streaming_se...

Have you read the article ?

Sure did! Your questions implies an answer is in the article. I see mention of an unofficial app for desktop. If I've missed specific mention of XBox One apps for Google Music or Amazon Music, I welcome you to point it out.

No, you're surprised that Groove is missing (in your comparison list found on wikipedia), even though that's the point of this article: Groove music pass is deleted, and that's the subject of this article: how to replace it.

Re: DavCo: It would have been good to have ZUNE (aka Groove) listed for comparison purposes. Isn't that obvious? How do each of the solutions compare with what we are loosing?

I still use the Zune software. Love it.

This is woefully imcomplete. No mention of Amazon Music or Deezer? What about SirusXM - they have a plan that includes streaming and have UWP apps. You guys need to write a COMPREHENSIVE, deep dive guide to music services to replace Groove! Include which let you upload/stream your own music and any extra costs involved with that; on what platforms apps are availabe and which have UWP apps and review of those apps, plus smart speaker support, etc. Any bonuses to each, like youtube red w/Google music, discount on Amazon w/Prime, etc.

I don't stream music 'cause I like to OWN my own discs. That said, I really like Next-Player. It's very similar in terms of UI to Groove but done right. And if you're into that sort of thing, also allows you to connect OneDrive, Dropbox and Last fm accounts to it.

Thanks for mentioning Next-Player. That is just what I was looking for. I don't stream either and just want a good Library player.

Thanks for the tip, I might suss it out if Groove ever craps out on me.

Wrong! When it comes to Apple Music you can store up to 100k. https://www.imore.com/icloud-music-library-ultimate-guide

I most likely am going to go to Spotify but I dislike the look of the app and there is no Now Playing like in Groove Music, no music videos. It's such a disappointment.
I wish MS could have somehow used Spotify's library but integrate into Groove Music. I want it to be my one stop app but MS is killing that along with my 100 GB of space on Ondrive. 🙁

Agreed. If we could continue to use Groove apps, but just pay Spotify for the subscription instead of MS I think there would've been far less complaining. It's the fact Spotify is so limited and poorly designed that makes transitioning to it so hard. I want to be able to keep my music on OneDrive and be able to store my music on an SD card so I don't waste any data.

Awful, yeah. Also the Groove app was sleek and beautiful to look at. I ran it in full screen in a secondary monitor and you get full screen visuals of the artist, you can't get anything similar with Spotify, whose interface is basically stuck in the 90s like the Steam client. Can't they just associate with Spotify and let us use a Spotify subscription but play it through Groove? Probably complicated, but it would work for me.

Bose SoundTouch integrates external music libraries, but it runs the Spotify mess within the app like an iframe. It has its on UI for WMP libraries, which would be nice, as you say, for Groove to do w/ Spotify. Would have been a much more satisfactory solution.

In Europe there's just one alternative music streaming service : Spotify.
Total domination. Funny thing is that I have a free Spotify account (from my service provider) but never use it. I mainly play from OneDrive using Groove and I will keep doing that.

Which ones of these allow you to play the MP3s you have stored in the cloud seamlessly with subscription music? Do any of these services allow you to use OneDrive or do I now have to leave OneDrive too? Which ones allow you to store your music locally so you don't have to stream and use up your data plan? This article does not answer any of my questions about which service can do everything Groove did.

Yeah, I thought the same thing when reading the article. My findings after Groove gave its notice (Apologies if I got something incorrect): None of the below work with OneDrive. Groove Music - Ability to upload 50,000 of your own songs for free, Premium = Streaming and offline dowload/local play Amazon - Upload 250 songs free, above that $8-$10 (Depending on Prime membership). Allows you to download and stream locally. Deezer - Upload 2,000 personal songs total (Regardless of pricing tier). Ability to stream locally Spotify - No storage for personal collection, Premium gives you ability to download and stream locally Tidal - No storage for personal collection - Premium gives you ability to download and stream locally

Deezer allows upload? Great.

Yes, but you can only upload 2000 songs: https://support.deezer.com/hc/en-gb/articles/115004221605-Uploading-MP3s... Also, as far as I can tell, the songs you upload only show up in a separate "My MP3s" playlist. There's no combined library view like in Groove.

What about play lists? I have play lists that include both music I own and music I rent from Groove. How does each service handle transfering of play lists? Easy vs Hard vs Not possible?

Spotify does let you stream your uploaded collection.

Apple music matches your library so you can stream or download your music. There's no need to upload your music. And it's unlimited.

Does Pandora Premium work on Windows Mobile, Xbox and Windows 10? Spotify and Pandora seem like the only official options for WM users. There is a Amazon Prime 3rd party app however. Is Spoticast 3rd party app worth buying for $10 on the Windows Store? I might try gPlayer, but that probably means leaving OneDrive. Microsoft is so stupid.

bought spoticast and only used it a couple of times. It strips audio from YouTube videos and plays as album on the app. Doesn't work very well and get's it wrong a lot of the time. TubeCast however is worth every penny. You can play YouTube audio only in background on phone.

Imagine if MS had at least made a deal with Spotify and Pandora to make OneDrive integrate as the official storage locker for those music subscription services. Then killing Groove would seem a little less ridiculous as they were pushing OneDrive usage ahead of Amazon/Google/Apple cloud storage.

This is typical Microsoft, pushing people away before they have a viable alternative. They killed Zune before Xbox Music has a descent app. Now they are killing Groove before getting OneDrive integrated into Spotify. If that is their plan, they should have waited to kill the Groove subscription until they had the Spotify integration complete. Now many of their customers may move to Google Play Music or Amazon so they can have their music in the cloud. Microsoft may lose customers to Google Drive or Amazon Drive because of it. None of this exists in a vacuum. Microsoft needs an ecosystem, not pieces parts here and there.

Only Spotify available for my country, other than Groove. Tidal makes no sense to me. So yeah, no alternatives. All hail monopoly, everyone get in line and choose from the non choice!

What about Amazon's Music Unlimited? I purchase all my media from them and am a Prime member. My annual subscription to this service will be discounted to $96 annually. I have massive playlists from Groove that go back to Zune days. I don't want Spotify and want to import my Groove Pass playlists to Amazon...unfortunately there is no tool for this and looks like I will have to create them back manually...sheesh...

RE: FunGuy13 In the comments above Paul Shipman1 says: " STAMP is a tool to move playlists and supports both apps. I've moved from Apple Music to Spotify and will likely move to Amazon." I haven't tried it, but it sounds like worth a try. Best Wishes

Can anyone who uses Deezer answer a couple questions for me? 1) Is it truly universal? i.e. is there an app for mobile, Windows desktop, and Xbox One? 2) Does it fully support local music collections? I am not looking for a subscription streaming service. 3) Assuming yes to all the above - do playlists created using local files sync between platforms? I.e. if I create a playlist on my computer, will I see the same playlist on my mobile device and Xbox One? I ask because I'd like to switch to Android from W10 Mobile. I've been using Groove for years but the Android version doesn't support local files (streaming only - not sure what will happen after the cut off date). I have all my music stored in OneDrive, and loaded locally on my mobile device. Groove syncs my playlists seamlessly between my computer, phone, and XB1. I've yet to see any other app that handles this specific setup.

There is a Windows 10 app for mobile and desktop, but not yet on Xbox One. :(

I tried Deezer briefly, and it does not really support local collections. You can upload up to 2000 MP3s to their servers and stream them, but they only show up in a separate "My MP3s" playlist. Locally stored files aren't supported at all, and there's no proper music library view like in Groove.

What about Deezer ? Works fine for me.

Well, I love JRiver Media Center to control my library and hear music.

Plex Media Server (my own cloud + backups) + Plex Clients on every device I own + buying digital tracks from Amazon = Done! Groove still streams from OneDrive also.

Spotify is the best. Just need a proper UWP app now.

I now use the Apple Music app on Android. I used to use Groove Pass on my Lumia 950. The Apple Music app works great and I have an Apple TV that plays music and music videos on my TV. If Microsoft had a media box like Apple TV and a music subscription service I would use them in a heartbeat but they don't. Sadly. They almost got there,

I had Amazon music for about a year before switching over to Groove this year by using my Bing rewards for free monthly Groove subscriptions. Then, the press release came out that Groove is closing the doors and suggest Spotify. Well, I really enjoyed my Amazon music subscription so I'll just do full circle and go back to Amazon. I re-activated my Amazon music this morning because my Groove player kept displaying error messages for steaming music. It appears the Groove team might be slowly closing the door with intermittent errors? Overall, I thought the Groove platform was decent and I really enjoyed the price of $0.00 a month by using Bing rewards. Oh well, back to $9.99 a month, which still seems like a great deal for streaming music.

Would be useful to know which ones work properly on a Surface (and other modern standby pc's). Last time I checked Spotify still stops playing after a few minutes when the Surface screen shuts off. Groove continues to play. The screen being the biggest draw on the battery by far you really don't want to change the settings for that,

So, along with Tidal - which really does sound better - you need to add Plex so that, once you have your CD collection uploaded (in lossless format) to OneDrive, you can stream in that hiqh quality, to your phone...on the off chance that Tidal doesn't have what you want to hear at that moment or for songs which have been redacted from albums because of some movie rights deal.

I Liked Groove Music's ability to stream from my own collection OneDrive from my Windows Phone Lumia 1520, New LGv20 Android Phone, and Windows 10 PC's. Not sure if the App will continue or just the streaming service is going away. Granted if MS would have listened to its customers they would not have had to shut down the service. Another example like Apple (where's the inexpensive expandable Mac mini 2017 or 2018) not listening to what customers want. At least Amazon gets it right for customers who already have Prime memberships they get a loyalty discounted rate hence why I did not sign up for Apple or Microsoft or any of the other streaming services. people with Xbox Subscriptions or Office 365 subscription should have been offered a discount rate but Noooo... had to be greedy. Plus, they most likely made a poor deal with the contracts which did not give them enough wiggle room for profit and yet they could have broken even to push more sales and bundles from their other applications and services to keep it going. Put that in their suggestion box years ago... nothing but silence. Their marketing department needs some serious common sense and more thinking outside the box soon or they will become the next almost extinct dinosaur like IBM did with Apple next on the chopping block with the too big to fail mentality.

From what I understand, users can still keep their own personal music collection on Groove and listen to it there. There just won't be a subscription service, which is fine with me. I tend to buy music from iTunes and elsewhere, add it to my pc and phone and I'm good to go. I like a lot of remixes and Spotify and others don't have what I seek. If I'm wrong about Groove, I will just use another app and keep buying my songs one mp3 at a time like I've been doing.

Apple Music also has an Individual 1-year plan for $99.

Go to Plex premium and you can stream from your own server. Best UWP app :)

I think I'll definitely be downloading new and improved version of iTunes when it comes to the XBOX ONE/WINDOWS STORE. I've been an iTunes fan all my life.

Has anyone tried Soundcloud? I see there are several 3rd party apps and my 14 year old son asked if we could switch to that so it must be gaining some tractions with the young-uns.

Spotify, and SiriusXM radio app for me

What about iHeart? I use the Android app and the Windows 10 app. I use the free version, but their ads sound to me like it has the same features as Spotify.

none of these offers music video support like Groove does. So it's disappointing. Best option..... You tube for music videos. Had 400+ video playlist mix on groove. No other app provides this feat....

I was disappointed at first but after using zune oh excuse me Spotify. I was really impressed and happy.
it has user playlist, it has ability to easily delete a track while playing, feature rich, and the fidelity is amazing. comparing
zune oh right Spotify to groove one was a tin can and one is albert hall. Spotify has a lot of the features that zune did. this is what zune could have been in my opinion. now I can buy decent bluetooh headphones and not fee bad about It....Spotify is ZUNE? right? it has all the features of then and then some. oh its not..... I'm glad I went to Spotify..

don't seem to be able to listen offline with Spotify on W10m after my son gave me family membership. Anyone been able to do this?

We need a spread sheet of services vs features.

WARNING! Groove Music Pass (the subscription) has been killed. NOT the app (Groove Music) !!! Groove Music (the app), is the best music player one can find in the Microsoft Store for Windows 10. It's really a great app to play local stored music ! And Microsoft is make it better with regular new updates (like EQ a few days ago).

Hands down Apple Music is the best option for Groove Music users. I've gone through most of them and I can't deny Apple Music. I put aside my bias because it was that compelling. It's also the closest thing to Groove Music in terms of features and it goes beyond that with stations, mixes, videos, playlist, and high quality sound. Apple also offers $99/year subscription and is also available on Android. Spotify is good but lacks Edited music and Videos. Google Play Music is good but forces you to download entire albums just to have a song offline. Soundcloud is good but lacks content. I also have Amazon because of prime but let's be honest it's completely garbage and the worst option of them all. I never tried Tidal or Deezer. Also everyone needs to have Mixcloud which is free and amazing. Many big DJs upload their mixes on Mixcloud.

There's no alternate universe where I use Apple anything.

I would love to agree but Apple music is just that good I can't let my bias deny me the best music service.

I'm not a fan of a single company, but I am a fan of technology. I have only used Groove, Pandora, and Apple Music so I can't speak for the rest of the services. Apple music is hands down the best from those 3 especially if you are in the Apple ecosystem. It matches your own library to their more high quality version so you can stream and download them. No need to upload anything. And it's unlimited.

Groove lets us stream our OneDrive music just fine.

I am a fan of google music, which include YouTube red, and YouTube music. Imho the capabilities of these services make google play music the best bang for your buck

I currently use Spotify and Amazon music unlimited. Since Microsoft gave up on Groove music pass, my usage of Groove music went down dramatically. I used Groove music like for 2 years and it was a great service. Now i'm still trying to get used to Spotify and been an Amazon Music unlimited subscriber for a good while now, and I prefer that over Spotify, but they lack an app on the Xbox One and Spotify's app on the X1 is absolutely terrible, but atleast they have one. Spotify allows you to play music on any device from any device except the Xbox One, and that feature is my favorite.

Anghami for the Middle East residents

Groove cancelling streaming (still a great player for my collection) made me rethink how much I used the premium streaming experience. I've just downgraded to ad supported Pandora and Spotify with some Amazon thrown in (at the Prime member level only).

Not every one of these services is available for every country, nor they have a Windows 10 Mobile app.

It seems none of the services provide all the features that the original ZUNE service provided, not even all those that Xbox Music/Groove music service provided. People seem to nit pick the one or two features they used and then ignore the rest, then claim their pick is the best.
Windows Central Newsletter
Get the best of Windows Central in in your inbox, every day!
Thank you for signing up to Windows Central. You will receive a verification email shortly.
There was a problem. Please refresh the page and try again.