Best Black Friday gaming monitor deals
Black Friday is a perfect time to get a big new display for your gaming.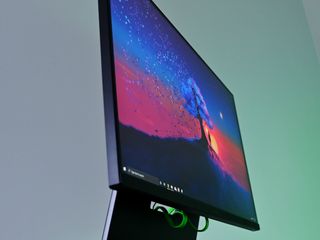 (Image credit: Daniel Rubino / Windows Central)
The Black Friday gaming monitor deals are live right now and we're seeing some fantastic offers. There are big price reductions on a range of brands and monitor types. So if you've been holding out until today to pounce on something to upgrade your setup, you're bound to find something you like.
Many of the best PC gaming monitors cater to various screen sizes, specifications, and features. The most capable PC monitors now deliver up to 4K resolutions with high refresh rates, delivering crystal-clear gameplay that's consistently smooth and snappy. You can also find affordable options that cater to all these categories, obtaining a great PC gaming experience with minimal compromise.
With an early wave of Black Friday savings now live, we're rounding up the best gaming monitors to watch and the deals currently live that you can't miss.
Black Friday gaming monitor deals: 4K
4K gaming remains increasingly popular for gaming monitors, with many high-end PC hardware delivering high-resolution gameplay at smooth framerates. While this category includes some of the best monitors on the market, including many nearing $1,000, you also have affordable alternatives for tighter budgets. Your options at 4K resolution are also more varied than ever, including some among the best monitors for Xbox Series X and PS5 consoles.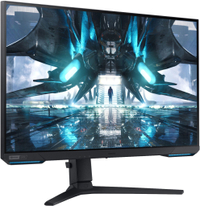 (opens in new tab)
Samsung Odyssey G7 28-inch 4K | Save $150 (opens in new tab)

This 4K monitor has both FreeSync and G-Sync support as well as HDR400 and a low 1ms response time. Better still for gamers is a 144Hz refresh rate, so you don't have to sacrifice frames for resolution, and with HDMI 2.1 it's a perfect match for the Xbox Series X and PS5 as well.
Black Friday gaming monitor deals: 1440p
1440p delivers an ideal middle ground for gaming, delivering a higher resolution than standard high-definition displays, without the added performance tax imposed by 4K. High refresh rates are also more affordable within this price bracket, making it easy to prioritize smooth, responsive gameplay in first-person shooters and other action-heavy titles.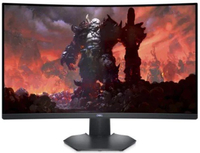 (opens in new tab)
Dell 32 Curved gaming monitor (S3222DGM) | $200 off (opens in new tab)

Dell's 31.5-inch curved gaming monitor has a 1440p resolution, 1ms MPRT response time. 165Hz refresh rate, and 350 nits brightness to work with. Deep color and contrast makes your games look great. If you have the PC power to handle the step up to QHD, this monitor is going to kill it.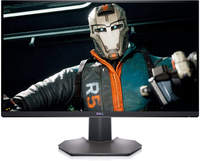 (opens in new tab)
Dell 27 gaming monitor (S2721DGF) | $260 off (opens in new tab)

This popular 27-inch gaming monitor has a crisp 2560x1440 (QHD) resolution with up to 165Hz refresh rate when connected with DisplayPort. The response time is 1ms, ideal for gaming, and brightness reaches up to 400 nits. It's fully adjustable, and it's packing tons of ports.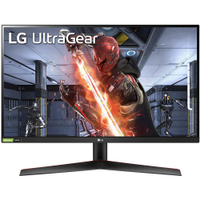 (opens in new tab)
LG 27GN800-B 27-inch 1440p gaming monitor | $73 off (opens in new tab)

A great monitor that includes a 2560 x 1440 pixel resolution, a 144Hz refresh rate, and a 1ms response time. It has an IPS panel for great viewing angles. It's also G-Sync compatible with FreeSync native support.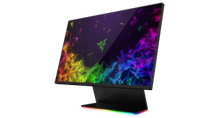 (opens in new tab)
Razer Raptor 27 | Save $200 (opens in new tab)

A gorgeous 27-inch gaming monitor that can walk the talk. The Raptor 27 is amazing for daily work for photo and video editing, watching a movie, and going at it hard for gaming. A discount this large is not to be ignored.
Samsung Odyssey G7 gaming monitor | $200 off
With a 1000R curve, 240Hz refresh rate, HDR, and a 1440p native resolution, the Samsung Odyssey G7 is one of the best gaming monitors you can get your hands on for Black Friday. Add in that it doubles as an excellent companion for Xbox Series X and PS5 gamers, and you've got a heck of a deal.
We have our favorites in the current 1440p gaming monitor space, including popular 27-inch devices like the LG UltraGear 27GL850-B, ASUS ROG Strix XG27AQ, and Razer Raptor 27, each delivering 1440p visuals up to 144Hz resolution.
Black Friday gaming monitor deals: 1080p
Black Friday should bring deals for those in the 1080p market, including many budget options hitting their lowest prices to date. Lower 1080p resolution monitors are ideal for competitive titles where latency and responsiveness are critical, with some stellar options offering higher frame rates at reasonable prices. You can also find incredible value among these panels, delivering high contrast and colors at much more accessible prices.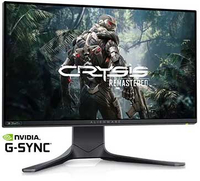 (opens in new tab)
Alienware 25 gaming monitor (AW2521HF) | $530 off (opens in new tab)

This 24.5-inch monitor from Alienware sports a blistering 240Hz refresh rate, 1ms GtG response time, and 400 nits brightness. The 1920x1080 (FHD) resolution looks great at this size, and NVIDIA G-Sync will help reduce screen tearing. Plenty of ports and a stylized stand with ergonomic adjustments round out the features. An $85 Dell eGift card is included for further savings.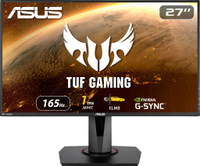 (opens in new tab)
ASUS TUF 27-inch | Save $120 (opens in new tab)

This 27-inch monitor boasts an IPS panel for better color reproduction, NVIDIA G-Sync for tear-free gaming and a 165Hz refresh rate to push those fast, high frame rate games. A solid buy for PC or console gamers.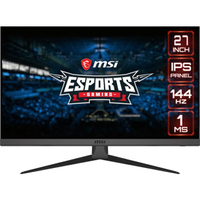 (opens in new tab)
MSI Optix G272 (opens in new tab)

With a 144Hz IPS panel, 1080p resolution, thin bezels, and a 1ms response time, the MSI Optix G272 is a great buy for anyone looking for a gaming monitor this holiday.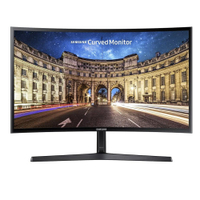 (opens in new tab)
Samsung CF396 24-inch curved monitor | $50 off (opens in new tab)

Samsung's Black Friday includes a lot of great deals, but a lot of those discounted items still carry a hefty price. If you're looking for an upgrade on a budget, this monitor already had pretty good value before the huge Black Friday discount.
Black Friday gaming monitor deals: Ultrawide
If you currently run multiple monitors then have you considered an ultrawide instead? Today's top PC games all support ultrawide screen ratios and in some, like shooters or sim racers, the benefits of a much wider field of view speak for themselves.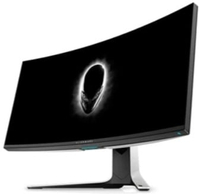 (opens in new tab)
Alienware 38 curved gaming monitor (AW3821DW) | $850 off (opens in new tab)

For gamers out there, this 38-inch curved gaming monitor with ultrawide 21:9 aspect ratio and 3840x1600 resolution is a winner. It has a 144Hz refresh rate, 450 nits brightness, dual HDMI and DisplayPort inputs, and excellent color. It's expensive, but you're saving a huge amount here.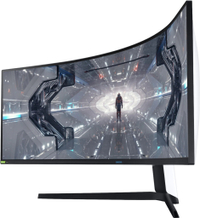 (opens in new tab)
Samsung Odyssey G97T 49-inch | Save $500 (opens in new tab)

Go big or go home, right? Samsung's colossal 49-inch gaming monitor has a wicked 1000R curve for immersion like you've never seen before. Toss in dual-QHD resolution, a 240Hz refresh rate and HDR 1000 with FreeSync, G-Sync and a 1ms response time, you have one of the absolute best monitors money can buy.
When do Black Friday gaming monitor deals begin?
Black Friday might be a special day for online deals, but more retailers are stretching savings across multiple weeks. We've found Amazon, Walmart, Best Buy, and more among the many retailers promoting discounts ahead of Black Friday. That also applies to gaming monitors, including some available at all-time lows ahead of the holidays. Black Friday officially falls on Nov. 26, and while we're expecting more sales to come, we're not expecting further drastic reductions across many big-ticket product categories.