Best Coloring Book Apps for Windows 10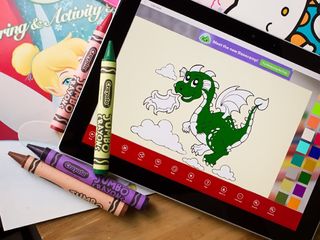 Coloring book apps for Windows 10 offer an excellent opportunity to relax, exercise your creative spirits, and they can be fun time-wasters. The Windows Store has a modest selection of coloring book apps designed to appeal to both kids and adults.
Note: This collection does not include Windows 10 apps such as Fresh Paint (opens in new tab) or Sketchable (opens in new tab). These are quality apps in their own right but are more drawing oriented. Here we look at apps that rely more on your skills at coloring than sketching.
Updated February 6, 2017 We made a few changes to this article based on new releases, reader input and staff discussion. There may be some new titles in the mix, as well as those that we continue to view as the best from the Windows Store.
Coloring Expert Coloring Book
Coloring Expert Coloring Book delivers both a coloring book experience and free-hand drawing experience to your Windows 10 PC and Mobile device. The app delivers a small collection of coloring pages that include butterflies, cartoon drawing, animals, flowers and more. This Windows 10 coloring app also delivers a free-hand, sketch feature where you can doodle, paint and create your own coloring page.
While many of the coloring pages are more adult oriented, there are several pages that are kid friendly with broader coloring sections. Controls are simple with your coloring choices running down the side of the screen. To color a section of the page, tap the color choice and then the portion of the coloring page you want to be filled. Pages can be pinched to zoom when more precise coloring is needed.
Completed coloring pages and drawings can be saved locally and shared from within the Windows 10 app to social networks such as Facebook, Twitter and Instagram. While the entire collection includes overs 100 pages, the free app provides you access to a small sampling from each theme. An in-app purchase of $7.99 unlocks the full catalog of coloring pages.
Coloring Expert Coloring Book is a free app, available for Windows 10 PC and Mobile. The app plays out a little better from the PC version, with the Mobile version having a few formatting issues that give it a slightly cramped feel. Regardless, it is a quality Windows 10 app that provides you the opportunity to spend a little time coloring or test your creativity with a sketchpad feature.
Download Coloring Expert Coloring Book from the Windows Store (opens in new tab)
Toonia Colorbook
Toonia Colorbook is a wonderful color book option for kids that can help them develop concentration, motor skills and eye-hand coordination. This free coloring book app is available for Windows 10 PC and Mobile and contains over 30 coloring pages that are sorted into four themes. An additional four themes are available, with 24 coloring pages each, and they cost $1.99 each.
Toonia Colorbook includes a nice selection of crayon colors to choose from with the option to unlock additional color patterns for $2.99. You can bundle both the extra color patterns and pages for $8.99.
Coloring is accomplished by touching an area of the coloring page and sliding your finger around the area you want painted. There is a safeguard in place to prevent colors from crossing the lines, which can be helpful for younger users. The Windows 10 app supports multi-touch so you paint with a friend or cover more ground by using all your fingers.
Coloring progress is saved and reflected on the thumbnail images of each page. When finished coloring a page, you can save, share or print the works of art. Toonia Colorbook offers an entertaining range of coloring pages that includes space creatures, fantasy creatures, farm animals and more.
The free app is available for Windows 10 PC and Mobile and includes various in-app purchase opportunities. Toonia Colorbook is a good option when your kids need a little help passing the time.
Download Toonia Colorbook from the Windows Store (opens in new tab)
Colory
Colory offers an eye-catching collection of coloring pages in a very clean and simple app. Coloring pages are full of detail and while aimed at adults, kids can also enjoy this Windows 10 app. Coloring-page themes include florals, animals, mandalas and patterns. If you lack the time needed to complete a coloring page, your progress is saved and can be easily accessed through the My Work tab on Colory's main menu.
The coloring page centers your drawing with tool bars above and below. The color pallet is at the bottom of the screen with several color styles available (just swipe to the side). At the top of the display are tools to reset the drawing, undo the last action, share the page and view the full page. This last tool comes in handy if you have zoomed into a drawing to provide an easy way to view the big picture.
Coloring actions fall in line with most of the coloring apps. Tap the color you want to use, then tap the area on the color page you want to color. While many may prefer a more creative means to coloring, Colory does have a collection of patterns that might spark your interest. The pattern pages are presented as a blank slate and reminded me of the classic Lite-Brite toys from Hasbro.
Colory is a free app, available for Windows 10 PC and Mobile. It offers you a simple way to tap into your creative juices, and it is a fun way to spend a little down time.
Download Colory from the Windows Store (opens in new tab)
Zen Coloring Book for Adults
Zen Coloring Book for Adults offers you a variety of coloring designed to help you relax, focus and forget about the troubles of the day. The coloring pages offer more detail than other coloring apps that make Zen more suited for adults than smaller children.
The free app, available for Windows 10 PC, includes two free coloring page themes totaling forty designs. Should you find Zen Coloring Book to be the Windows 10 coloring app for you, an additional 175 coloring pages are available through a $2.99 in-app purchase that includes animal, floral, butterflies, zodiac and other themes.
Zen's color controls offer you a lot more control with color shading and intensity settings to give your artwork a little more depth. Colors can be added in brush style or fill style. You also have a color picker that allows you to choose the right color shade needed for your page. Drawings can be zoomed in to give you better access to the smallest of details, and completing a drawing can be somewhat time-consuming. Fortunately, Zen saves your progress to allow you to leave and return to the drawing without losing any of your work.
Completed pages can be saved or shared using an assortment of paper textures that further adds to the artistic nature of this Windows 10 app. Overall, Zen Coloring Book for Adults may be a little too tedious for children, but it's a great option for adults who looking to relax during a little downtime. It is a fun, free way to express your creativity.
Download Zen Coloring Book for Adults from the Windows Store (opens in new tab)
Adult Coloring Book
The Adult Coloring Book app delivers a wide range of pages to color and a free-form sketch pad to your Windows 10 PC or Mobile device. While marketed as an adult coloring book, the style of pages can easily appeal to both young and adult coloring aficionados.
The free version of Adult Coloring Book includes a dozen pages to color with additional pages available through a $3.99 in-app purchase.
The coloring page offers an extensive color palette that runs down the right side of the display (or along the bottom of the screen for Windows 10 Mobile), and coloring is accomplished in the standard tap/fill style. The sketch pad offers an assortment of brush and pencil sizes and the same large color palette. Coloring or sketch pages can be zoomed, and completed pages can be saved or shared.
Overall, Adult Coloring Book is a decent Windows 10 coloring book app, but the free pages didn't feel very adult oriented. I would have preferred to have seen a more diversified collection of free pages to give you a better feel for things. Available for Windows 10 PC and Mobile, it is an option worth trying but may be better suited for kids than adults.
Download Adult Coloring Book from the Windows Store (opens in new tab)
If you have tried any of these Windows 10 coloring apps, let us know what you think in the comments. We have only scratched the surface on the coloring apps available inn the Windows Store, and if we overlooked your favorite, please share a recommendation.
George is the Reviews Editor at Windows Central, concentrating on Windows 10 PC and Mobile apps. He's been a supporter of the platform since the days of Windows CE and uses his current Windows 10 Mobile phone daily to keep up with life and enjoy a game during down time.
George, do any of them let you import your own images?

I had no idea such a thing existed.

So so soothing. One of those trendy things that actually works. Coloring relaxes me and helps me decompress Posted via the Windows Central App for Android

Agreed. I spend a lot of time in Fresh Paint recently. Oddly satisfying.

I tried a couple of them a few weeks ago but it's not really start im looking for. I don't like the tap to fill modem. I want to uae my surface pen to color... But I guess they are catering for the people without pens on their devices.
.
Im not a fan of the border protection either. I want to be free and color where I want.

This. Tap to fill isn't anywhere near as satisfying as actually coloring with pencils/crayons/markers. It's just not the same. Given the pressure sensitivity capability of the pen, it would be nice to be able to actually color with it using gradients based on that input. Line thickness based on this pressure input works in certain apps like One Note, it would be nice if app creators tapped into that capability for something like this.

My 86 year old Mom loves using Zen on her Surface 3.

Nothing can beat sketchbook PC App (skip the one that's in the store. It has gone down hill...) for me right now. I can easily import anything online and color outside the lines with my pen

Colory, Good Morning and Good Night 'Massages'? Hmmm.....

So I downloaded Zen because I was curious how the color intensity and shading worked. It's actually pretty good. When I maximize or even resize the window in portrait mode on my SP4 though, I lose some stuff off the screen. That could use some tweaking, but the app is still useable. However, the real problem I have with the free version of the app is the ads. Not that there are ads, I understand why this is, it was just the ad that it showed me was a little inappropriate. I started working on a picture and when I tried going back to the main screen, an ad popped up for Zombie Anarchy. Really? You're using an app to do an activity that has been shown to relax and relieve stress and you show an ad for a game like that? Terrible.

in new version
Colory simulates pencil and brush strokes for a realistic coloring experience.
Colory also offers the common "tap-to-fill" option of coloring
Colory is the only coloring book app that lets you create coloring pages with ink drawing.
Colory is the only coloring book app that you can Add beautiful filters to your art work.
Windows Central Newsletter
Get the best of Windows Central in in your inbox, every day!
Thank you for signing up to Windows Central. You will receive a verification email shortly.
There was a problem. Please refresh the page and try again.