9 laptop bags we legitimately love
Everybody needs a good laptop bag. These are Team Windows Central's current favorites.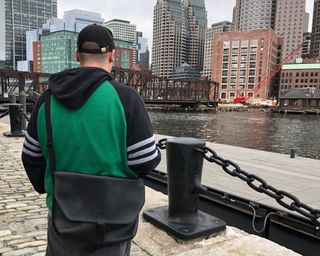 A laptop without a good bag to tote it around is like toast without butter or jam; an ice cream sundae with no cherry; a margarita minus the tequila; a … you get the point. Laptops are purposefully portable, but if you want to really get the most of your notebook PC, you need a quality bag to pair it with.
Laptop bags aren't simply about function, however. They're expressions of individual style and personality. The bag you sling over your shoulder becomes an extension of you, and it says something about you. Choosing the right laptop bag can be a challenge. But when you find that special bag, you know it. And a well-made laptop satchel can last a long time.
At Window Central, we not only use and review a lot of PCs, we test quite a few laptop bags. As such, we like to think we not only have a lot of experience with the best bags available, but we also have great laptop-bag fashion sense — at least for a bunch of Windows nerds.
These are the nine tech gear bags Team Windows Central uses every day.
Zac Bowden, Senior Editor
Why you can trust Windows Central Our expert reviewers spend hours testing and comparing products and services so you can choose the best for you. Find out more about how we test.
What Zac loves about this bag: Recommended to me by our Executive Editor Daniel Rubino, this bag is stylish, sleek, and great for carrying around your Microsoft Surface Pro, Laptop, or Book. It even has a little slot for a Surface Arc Mouse, and the Surface Pen. It's a shoulder bag, which I personally prefer over a backpack-style bag. And it's super good looking. It goes with any outfit and is the perfect laptop bag.
What Zac doesn't love about this bag: The only major problem I have with this bag is that there isn't a 15-inch version for laptops that are bigger than 13.5 inches. The Surface Book and Surface Laptop are the largest laptops you're going to be able to fit in this bag, meaning those of you rocking a 15-inch laptop like the Surface Book 2 or Dell XPS 15 won't be able to use this bag to carry your laptop around. Also, I find that depending on the laptop, your charger won't fit in the pouch.
Ideal users for this bag: If you value style, slimness and portability in a bag, and you use a Microsoft Surface Laptop, Surface Book or Surface Pro, the Brenthaven Collins Vertical Messenger Bag is for you.
Price: About $50
Matt Brown, Xbox Editor
What Matt loves about this bag: OK, so this isn't a laptop bag. But I love it so I'm including it here. Samuel Ross's "A-Cold-Wall" is a growing London-based fashion brand, known for merging a utilitarian industrial aesthetic with contemporary trends. Its line of unique holster bags has housed some of my personal favorites, including a black canvas design I use on a regular basis. While you won't fit large electronics inside this bag, it's a great accessory when carrying smaller devices, phones, battery packs and other items for an on-the-go lifestyle.
What Matt doesn't love about this bag: With roots of a conceptual fashion brand, this bag is clearly about style and not practicality. Without a zipping or fastening mechanism, there are limitations of what can be confidently carried inside. And for many, the high retail price will be hard to justify.
Ideal users for this bag: If you like its unique contemporary styling and need an accompaniment for short journeys, A-Cold-Wall's holster bag range could be for you. But if you're looking for raw functionality, you'll want to look elsewhere.
Price: While originally £185 (around $250), this bag often resells closer to $300.
Richard Devine, Reviews Editor
What Richard loves about this bag: I have many bags and zero fashion sense, so when I'm choosing I purely want something comfortable, durable and big enough to hold all my stuff. That's exactly what the Dell Tek backpack is, and it's available for 15- and 17-inch laptops. It easily accommodates my 15-inch gaming laptop, a camera and assorted peripherals and cables. It even fits clothes as well; I've taken this thing as my only bag for a two-day stint to Gamescom. It has loads of pockets, fits over the handle of a suitcase, has a nice soft lining, and it offers space for a couple of water bottles on the sides. I also love that it's only $40.
What Richard doesn't love about this bag: I carry some heavy gear a lot of the time and there's no chest strap to help support heavily loads across the front. Instead, it's all on the back and shoulders, so at the end of a long day, I can feel pretty tired.
Ideal users for this bag: Anyone with a 15- or 17-inch laptop that needs a solid backpack to carry it around in. It looks smart enough that you can take it into the office (it is made by Dell, after all).
Price: About $40 (Richard's exact version is currently sold out, but a new Dell bag that's very similar, the 371KC Professional, also costs around $40.)
Rich Edmonds, Staff Reviewer
What Rich loves about this bag: This Wenger backpack was an affordable purchase, setting me back around $40. I was rather skeptical about it, even with the reputable Wenger branding since it would not only house my Nintendo Switch, but also the trusty HP Omen 15. What surprised me most about the backpack is the amount of space you can cram full of cables, overnight clothes, and more devices. It truly is a bag fit for travel.
What Rich doesn't love about this bag: The only drawback of the backpack for me is the vertical zipper on the front. It's a strange compartment that allows for whatever you store inside to fall out if you unzip it all the way.
Ideal users for this bag: Not only is the Wenger backpack ideal for travel and moving through airport security, it's also superb for lighter outings with just a tablet or other portable device and doesn't feel overwhelming when not full of tech.
Price: About $50
Mark Guim, Video Editor
What Mark loves about this bag: The Everyday Backpack is large enough to fit my Surface Book 2 15-inch, camera gear and clothes for an overnight trip. I was even able to fit my gym shoes during a business trip when I wanted to get a workout done after hours. The adjustable top cover and dividers make this bag highly configurable, giving me plenty of room on extended trips, and it compresses down on shorter commutes.
What Mark doesn't love about this bag: The Everyday Backpack is a very popular bag, so I see a lot of people carrying them at meetings, product launches, and conferences. If you're not careful, you might grab somebody else's bag by mistake. (It happened to me once.)
Ideal users for this bag: This backpack is great for YouTubers and photographers on the go. It can fit a lot of camera gear but is also versatile enough to fit other things you need on a short commute or a weekend trip. If you need a smaller bag, this also comes in a 20L version.
Price: $259 to $289
Mauro Huculak, Contributing Writer
What Mauro loves about this bag: This backpack from Case Logic is roomy enough to fit my 15-inch laptop and Surface tablet with some left over space to carry other items, including Ethernet cables and IT tools. I also like that it has a lot of pockets inside as well as on the outside. For example, this backpack includes an easily-accessible top pocket ideal that's for your sunglasses or phone. On the lumbar padding, it includes a hidden pocket for more sensitive items, such as your wallet. When I was looking for a new backpack, I was looking for an easy to handle bag and comfortable fit with a lot of space to carry my stuff, and the Evolution Pro didn't disappoint.
What Mauro doesn't love about this bag: The only drawback I can find about this backpack is that it's only available in black with red stripes.
Ideal users for this bag: This is an ideal bag for anyone who has to commute to work carrying multiple items. If you're a computer technician or someone who works in tech, this is a bag that should be on your shortlist.
Price: About $37
Cale Hunt, staff writer
What Cale loves about this bag: Booq's Cobra Squeeze is a bit of a sleeper. When it's sitting unused ― especially when empty ― it doesn't look like it can handle much more than a laptop and phone. However, once you open it up, there are far more pockets inside than you'd imagine. The trick comes in part thanks to slimming lines on the front of the bag that curve inward, which is no doubt where the bag gets the "squeeze" moniker. The outer fabric is weatherproof, and it's so far held up to six months of near-everyday use.
What Cale doesn't love about this bag: As long as you don't plan on using only this bag to backpack through Europe, you should be alright. It fits a 15-inch laptop and a number of accessories quite well, but it still has its limits. Aside from that, the price might be a bit of a deterrent, but so far it has proven to be worth every penny.
Ideal users for this bag: This is a decent all-around bag that could no doubt be used in casual and professional settings. If you travel heavy you can likely find something with more room, but those who often fly can no doubt take advantage of its slim size. On a personal level, I use it most when biking and traveling.
Price: About $185
Daniel Rubino, Executive Editor
What Daniel loves about this bag: Backpacks are the most useful bags for carrying stuff, but there are two problems: One, if you're an adult there is something oddly kid-like about using one; and, two, it may be overkill if all you want to do is carry a laptop, tablet, and some paperwork. The Bolt Crossbody solves all these problems by being a lightweight, nearly universal bag that still lets you look hip when wearing it.
What Daniel doesn't love about this bag: While the version I have fits a Surface Book 2 15-inch just fine, or even the Dell XPS 15, if I just use it for a Surface Pro the bag feels like overkill and too large. It's also a bit trickier to get into because it has a top zipper instead of a flap.
Ideal users for this bag: WaterField's stuff is high-end, made in the U.S. and will last decades. The Bolt Crossbody (see full review) is for the user willing to commit to a well-crafted bag that will age well with time. It's also for those who travel light and prefer something across the body versus a handbag, briefcase or backpack.
Price: $199 to $219
Al Sacco, Managing Editor
What Al loves about this bag: The one word that comes to mind when I think about WaterField's Maverick bag: versatile. This slick leather bag (see full review) looks just as good while you're wearing a suit as it does when you sport a tank top; it's formal enough to bring to a business meeting, but it also stands out and looks cool in more casual settings. It's also durable and functional, and it has compartments for a larger laptop and a tablet.
What Al doesn't love about this bag: I have the larger version of the Maverick messenger, which fits my 15-inch Surface Book 2 laptop and my Surface Pro simultaneously. But it doesn't fit much else. When packed with a laptop and a tablet, the main center compartment is quite snug, so you really can't carry all that much more. The bag also lacks any pen slots, so your Surface Pen or stylus flaps around while in the one zippered compartment. And it's not cheap, at $289 for the smaller size and $319 for the bigger one.
Ideal users for this bag: If you care about style, craftsmanship, and durability, and you value goods that are handmade in the U.S., you'll find a friend in the Maverick messenger bag. But if you need to carry more than a laptop and tablet, and a notebook or two, you'll want to look elsewhere.
Price: $289 to $319
Get the Windows Central Newsletter
All the latest news, reviews, and guides for Windows and Xbox diehards.