WaterField Bolt Crossbody bag for Surface Pro, Surface Laptop or Surface Book is worth the price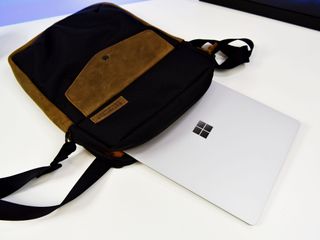 When it comes to protecting your new Surface Laptop, Surface Pro, or Surface Book you can go a few ways – cheap, with questionable longevity or expensive and quality. WaterField falls into the latter category as they are handmade in San Francisco, often being made to order.
I've reviewed WaterField's Dash Sleeve, Outback Solo and I own the Field Muzetto bag. Now, the company has a brand-new one that is very exciting: Bolt Crossbody. Here is my review.
Bolt Crossbody – Fit and style
The WaterField Bolt Crossbody comes in three sizes including small, medium, and large. I grabbed the large version, which takes the Surface Laptop, Surface Book with Performance Base, Razer Blade, and it can even fit the Dell XPS 15. For Surface Pro owners, the medium size will do if you want a snugger fit.
Bolt Crossbody is what I would consider a day bag plus some. Whereas the excellent Brenthaven Collins Vertical Messenger Bag is ideal for a few hours the Bolt Crossbody lets you pack significantly more without turning into a full duffle bag. You can pack this for a few days with an Xbox controller, AC power plug, your laptop, tablet, phone, magazines, travel info, pens and more. Or, you can just put a Surface in it and use it for the day. The point is you get more flexibility with the Bolt Crossbody.
Image 1 of 2
The Bolt Crossbody is similar to the Field Muzetto bag, but I like it better for a few reasons. The top pocket is zipper versus the Field Muzetto's flap. The Muzetto's flap is convenient, but your PC could slide out when the bag is laying down, which makes me nervous. There are also more pockets – both large and small – with the Bolt Crossbody.
For pockets, there is one large compartment that opens from the top. Within there you have a slot for your laptop or 2-in-1 – that area is padded on both sides too to protect the upper and lower areas of the device. There is the central area, where you could technically fit a second laptop but would most likely hold your AC charger or even an Xbox controller - if you're like me - and still, have room to spare. Along the inner-outside pocket, you have a deep, universal pocket and two pen holders.
The outside of the bag has another pocket that looks like it buttons but is held by a strong magnet. That pocket could hold an 8-inch tablet or a magazine, with a smaller pocket for your smartphone. That smartphone pocket is larger too holding my massive HP Elite x3 with protective cover.
The back of the Bolt Crossbody has a sixth compartment that zip closes. It is big enough to fit multiple large-sized magazines, travel documents or anything else that can lay flat.
For carrying, there is a shoulder strap with adjustable D-rings allowing for maneuverability. There is also an excellent "grab handle" on the back, which I adore. The Field Muzetto is missing this making it cumbersome to grab when laying on the seat next to me. Now, I can grab the Bolt Crossbody and since everything is zipped not have to worry about my items spilling out.
Materials and quality
WaterField is a well-known premium brand for bag making. You buy it once and keep it for a decade or more, and they can even fix your bag if something did tear. I have never had an issue with their bags, and you can go read customer testimony or their reviews. In fact, the Bolt Crossbody currently has a five out of five-star rating from 17 reviews.
For the Bolt Crossbody there are multiple options for materials:
Waxed canvas – Basically, this is the traditional leather bag in three trims including Chocolate, Grizzly, or Black leather.
Black Ballistic – This is a very thick and sturdy nylon with the same three Chocolate, Grizzly, or Black leather trims as options.
Both styles are water resistant and very durable. The one I tested here is Black Ballistic with Grizzly Leather trim as I think it gives an excellent contrast.
The inside is a gold cloth, which is an interesting choice. WaterField chose this so that it was "bright" on the inside versus a traditional brown or black. That decision means items at the bottom of the bag contrast and is easier to see. I like it a lot.
The zippers are sturdy, worked well and never jammed. They all have a leather grab on them too for easy finding.
While wearing the bag, I could access all the compartment and slots without having to remove it. I appreciate that at airports or trade events when I don't feel comfortable taking the cross body bag off for security reasons.
Image 1 of 2
The Bolt Crossbody can be worn – as its name implies – across your body, or just over the shoulder. I prefer the former style as it can sit against my hip and not bounce a lot.
Expensive, but worth it
I won't beat around the bush the Bolt Crossbody is very expensive. It starts at $199 for the small and goes up to $219 for the large. That is quite a price jump from the typical $20 to $60 range people spend for a laptop bag.
Nonetheless, WaterField makes these in small batches right here in the US with premium materials and well-thought-out designs. These are the kind of bags you buy once and keep for a very long time. Since the large style fits even up to a Dell XPS 15 if you move on from a Surface to something else the bag retains its value.
Personally, I've been trying to move to buying American-made, higher-quality items as I get older instead of lower-cost things I can throw away. Of course, not everyone can afford a WaterField bag, which is understandable too.
Out of all the bags I own so far, the Bolt Crossbody is now my favorite. While the Brenthaven Collins is a lovely day bag, that latch has worn a bit over time, and the quality of the Bolt Crossbody blows it away. I also feel I can pack more into the Bolt Crossbody like an AC charger, Xbox controller, a few smartphones, and even another PC without feeling like it is overpacked. Alternatively, I can just use it for the Surface Laptop, my phone, and a mouse without feeling like I'm carrying too much bag for the job.
Windows Central Newsletter
Get the best of Windows Central in your inbox, every day!
Daniel Rubino is the Editor-in-chief of Windows Central, head reviewer, podcast co-host, and analyst. He has been covering Microsoft since 2007 when this site was called WMExperts (and later Windows Phone Central). His interests include Windows, laptops, next-gen computing, and for some reason, watches. Before all this tech stuff, he worked on a Ph.D. in linguistics, watched people sleep (for medical purposes!), and ran the projectors at movie theaters because it was fun.
Looks great, but too pricey for me. Which is a bummer because I want it 😔

I bought the Brenthaven bag because of this site. Great recommendation and I absolutely love me. But this is worth considering for the next time I upgrade my laptop if I have some extra money to spend.

Nintendo Switch or Bag... Choices...

lol, I'd choose the bag, actually

Plus it's not actually that closely priced to a Nintendo Switch....Isn't the Switch $300 in the states before taxes?

That's very great. After 5 years of using Surface devices, I believe that this bag has the best physics for Surface devices ever. But it's super expensive as you can see. I prefer to pay $199 to a smart band and a cheaper bag for my Surface instead.

Looks great. Love the premium hand-made and made in San Fran thing. So sick of things always made in China. Just shows what we should be doing.

I got a WaterField bag WAY back when for my Sony Vaio PCG-SRX99 (yeah, go look it up) in the ancient days of 2003. I still use the bag regularly (now for my Surface 3 or XPS 13, the Vaio hasn't aged nearly as well)! There has been a little bit of fraying where the strap rubs on the case, but other than that the whole thing is in great shape. If you're going to buy the bag for a single computer and then never use it again, I can see how the price could be hard to swallow (I'm still not sure how I justified the cost to myself at the time). But if you tend to like computers of a similar size and can use the bag for more than one computer the cost becomes a lot easier to justify.

I own a couple of these bags. Yes, 2. I will say that the bag is very compact and nicely built. It's a good daytripper type bag where you just want to do a jaunt around with the Surface Pro (I use it with my Surface Pro 8, Surface Pro 7, Surface Pro 2017, and Surface Pro 4). Like if I want to run around town or run around the area on a vacation. The strap is nice and the bag fits well against the body. The only negative is it looks like a man purse but if you can get over that, it wears well. And I feel that the protection is pretty good. I've dropped my bag with my Surface Pro and no damage occurred to the machine or the screen. However, it's not good as a true all-in-one laptop bag. And the reason is because of how it's designed. Every pocket is a slip-in type pocket and there's zero visibility. Sure, you can cram things into the slip pockets but unless you have a way to memorize what's in the pocket, you'll quickly forget what you put in the bag and where. Also, because the pockets are meant to slip things into, you can't fit bulky items like a trackball. For my Logitech MX Ergo, I have to put it in the main compartment area because no pocket can accommodate it. Which means I really can't fit much into the main compartment. You end up wasting space because you have to dedicate pockets to individual items or else it becomes a confusing mess. Like if I slide a few cables into a pocket, there's no way for me to grab a specific cable from that pocket because you have no visibility. Because there's no visibility, you can easily lose things until you commit to memory out of habit. You end up only putting things in the bag that you can slip in like magazines, notebooks, portable batteries, pens, etc. The Surface Pro power supply will probably end up in the main compartment because it causes the bag to bulge if in an external pocket. The Surface Dock 1/2 will definitely have to go in the main compartment because of how bulky those are. The pocket to hold the Surface Pro is surprisingly tight considering how slim the Surface Pro is. It works and it does prevent it from possibly falling out, but I would prefer more room. Also, the slot they provide is meant for the longer Apple Pencil. If you put the older Surface Pro pens into it and you push it too far in, good luck pulling it back out. Get out the tweezers. I remember the old Surface Pens for the SP3 had a pocket clip but all newer pens don't. I ended up slipping pens into a pocket. I mostly use the new Slim Pen 2 so it's not an issue anymore as it stores in the keyboard type cover. I know this review sounds negative but it's good as a daytripper. I find that when I go on a business trip or a vacation, I still need a real bag with visible pockets. And then I can fit this bag within that other bag. When I get to the hotel, I leave the big bag there and I move the essentials to the small bag for the day trip. A more practical all-in-one Waterfield bag for the Surface Pro would be the Tech Folio Plus which can be used like the Bolt bag but splits open in half so every pocket is visible. There's no possibility of things falling out of the Bolt bag if you're wearing it while trying to remove items. But because of how the Tech Folio Plus is designed, opening it while wearing it, it's possible to spill everything out of it (unless all the pockets are zippered up). You also always have to be aware that the zipper for the Tech Folio Plus is zipped shut or else when you pick up the bag, everything will spill out. I've dumped camera bags with similar designs where you can unzip the top half of the bag off, but then forget to zip it back up and pick up the bag and all the expensive lenses fall out. So keep in mind your use cases. An all-in-one big laptop bag is bang for your buck and fits a lot. But it's not a bag you want to carry around a lot when hiking or daytripping.