Best Logitech Keyboards in 2022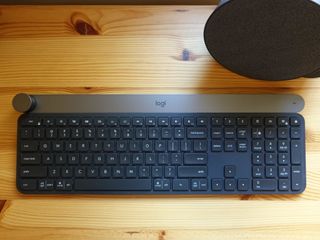 A good, reliable keyboard is an essential accessory to have if you're planning on doing a lot of typing on your computer, and there are even keyboards available that work with tablets and smartphones, too. Logitech, one of the most popular tech accessory developers in the world, offers a fantastic selection of great keyboards that will serve you excellently. Out of all of them, we think that the Logitech Craft is the best one since it combines premium build quality with an excellent typing experience and incredible multi-device flexibility.
Best Overall: Logitech Craft
Why you can trust Windows Central Our expert reviewers spend hours testing and comparing products and services so you can choose the best for you. Find out more about how we test.
Logitech Craft
This keyboard can do it all
Reasons to buy
+
Very flexible connectivity
+
Fantastic performance
+
Sturdy, durable build
+
Backlighting
When it comes to the overall quality of Logitech keyboards, it doesn't get any better than the Logitech Craft. This wireless keyboard can be used in both a Bluetooth and USB receiver-style configuration, which gives it a ton of flexibility and allows it to be used with nearly every type of device out there, including both Apple and Android devices (even tablets and phones) and machines running Windows. Also, the keyboard itself is constructed out of a sturdy metal frame that's very durable, and the low-profile keys make for a fantastic typing experience that's both comfortable and efficient. The keyboard also has a backlighting functionality that can be toggled for use in dark rooms, and there's a special knob on the top left of the device that allows you to adjust settings in apps quickly (the specifics on this are included in the Logitech Options software). Lastly, the keyboard's battery life is about a week on a full charge with backlighting and heavy use, and three months without backlighting and average amounts of use. These aren't the best results, but they're far from bad.
Overall, the Logitech Craft is a pricey, yet handy wireless keyboard that's durable, efficient, and effective. While you'll have to dish out some serious money to get your hands on it, its excellent performance and great flexibility make this keyboard worth it.
Best Wireless for Windows: Logitech K800
Logitech K800
Wireless Windows warrior
Reasons to buy
+
Fantastic performance
+
Very affordable
+
Backlighting
Reasons to avoid
-
Only for Windows
-
Less durable
The Logitech K800 is a compact Windows-focused keyboard that trades some of the Logitech Craft's build quality and versatility for a lower price tag. It has a black hard plastic build instead of a metallic one, which means that the keyboard, while still built well, won't be able to take as much punishment. Also, there's no knob for extra functions, and it can't be used with Bluetooth devices because it only works via USB receiver. However, it does have backlit keys, and its keyboard performs excellently too. It's comfortable and efficient to use, and people who prefer classic-style low-profile keys over the Logitech Craft's rounded ones may even prefer it. The device's battery life ranges between a week to three months based on the use of backlighting and the time spent using it each day.
Ultimately, this is the best keyboard to get if you only need a keyboard for Windows devices and don't mind the reduction in build quality.
Best Wireless for TV: Logitech K600 TV
Logitech K600 TV
Smart TV wranglin'
Reasons to buy
+
Perfect for media browsing
+
Plastic design is comfortable to hold
+
Long battery life
+
Very affordable
Reasons to avoid
-
Only good for Smart TVs
-
Less durable
The Logitech K600 TV is Logitech's dedicated Smart TV keyboard, outfitted with multimedia keys, a touch pad, and a d-pad. All of this makes browsing your media collection on your Smart TV a breeze, and the hard plastic build, while not as durable as a metal design, is very comfortable to hold in your hands on the couch, which is primarily how you would use this keyboard. It does require two AA batteries instead of being rechargeable, but they last a full year, so they won't be too much of a hassle to replace down-the-line.
Best Wireless for Mobile: Logitech K480
Logitech K480
Typing on the go
Reasons to buy
+
Portable design
+
Great performance
+
Exceptional battery life
+
Extremely affordable
Reasons to avoid
-
Only works with Bluetooth
-
Less durable
-
Keys are less comfortable
If you're looking for something that's specifically for mobile devices like an Android smartphone or an iOS tablet, the Logitech K480 is perfect for you. It's nice and compact, which is ideal for traveling, and its Bluetooth connection will allow you to connect it to any Bluetooth smartphone or tablet with ease. Also, it comes with a little slot at the top for angling your device upwards, which essentially lets you use the keyboard to convert your device into a laptop. The keyboard itself is hard plastic instead of metal, and the keys don't have backlighting, and they also aren't as comfortable as the previous options on this list, though they still perform great. In the end, though, you get an incredible bang for your buck with this keyboard, mainly since the battery life ranges between a year to two years, which is an impressive amount of time between charges. It's also worth noting you can use it with Mac computers as well.
Best Wired: Logitech K840
Logitech K840
(Don't) cut the cord
Reasons to buy
+
Fantastic performance
+
Sturdy, durable builds
+
Keys are reprogrammable
+
Affordable
Reasons to avoid
-
Requires a wire
-
No backlighting
-
Only works with Windows
The Logitech K840 is Logitech's best wired keyboard offering, as it perfectly balances performance with comfort and price. The keyboard has quality mechanical switches that feel great to type on, and they're very accurate, and the frame is all-metal, which means that the keyboard is durable. There aren't any bells or whistles on the keyboard to speak of, though you can reprogram the keys with Logitech's Options software, which is a nice feature. At the end of the day, if you're looking for a tremendous wired solution for Windows, then the Logitech K840 is for you.
Best Solar-Powered: Logitech K750
Logitech K750
Praise the sun
Reasons to buy
+
Effectively infinite battery life
+
Very affordable
+
No charging cable required
Reasons to avoid
-
Okay performance
-
Less durable
-
Only for Windows
The Logitech K750 is an affordable wireless keyboard for Windows machines that has a neat quirk: it's powered by sunlight. This means that it essentially has infinite battery life, so long as you keep it in a sunny spot in your house when not in use. The keyboard itself is pretty basic, sporting average-quality low-profile keys and a hard plastic frame, but it gets the job done. If you want something that will never run out of juice so long as the sun is shining, this keyboard is for you.
Best Budget: Logitech K120
Logitech K120
Just okay is good enough
Reasons to buy
+
Extremely affordable
+
Comes with a free mouse
Reasons to avoid
-
Less durable
-
No features
-
Keys aren't as comfortable
-
Only for Windows
If you want the cheapest Logitech keyboard there is, then look no further than the Logitech K120, which is essentially a hunk of plastic with a wire connected to it. It offers no features at all, and its low-profile keys aren't as comfortable as the other keyboards on this list, but it's extremely affordable, making it perfect for Windows users on a budget. Also, it comes with a free mouse.
Bottom line
Getting yourself a good keyboard can be the difference between making or breaking your computer experience. Regardless of what you're doing on the computer, you're going to need a keyboard that you can rely on for both work and recreation. Durability, comfort, performance, and versatility are all qualities you should look for in a keyboard.
Logitech offers an extensive range of different keyboards, and each one of them will be an excellent pick for someone based on what their needs and desires are. However, when it comes to the best overall keyboard, we think that the title goes to the Logitech Craft as it offers a superb user experience, fantastic performance, exceptional build quality, and it can be connected to a myriad of different devices.
Get the Windows Central Newsletter
All the latest news, reviews, and guides for Windows and Xbox diehards.
Brendan Lowry is a Windows Central writer and Oakland University graduate with a burning passion for video games, of which he's been an avid fan since childhood. You'll find him doing reviews, editorials, and general coverage on everything Xbox and PC. Follow him on Twitter.