Best Portable Laptop Chargers in 2022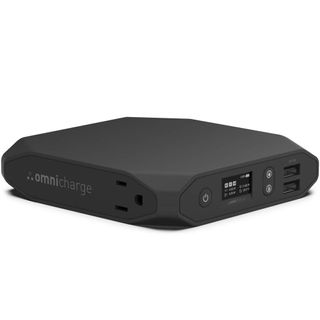 Whether you have work to do, games to play, or want to stay connected on the go, it's essential to have an excellent portable laptop charger in your bag. With options for business trips, camping trips, or long train rides, we've identified the best batteries for every situation. The POWERADD USB-C PD Power Bank has proven to be the best all-around charger that balances price, portability, and support for multiple devices.
Best Overall: POWERADD USB-C PD Power Bank
If you're looking for a good charger at a reasonable price, then look no further than the POWERADD USB-C PD Power Bank. With a 26,800mAh battery, you'll get at least one full charge for your laptop, assuming the laptop isn't in use while charging. Alternatively, you can charge smaller devices like your smartphone up to eight times, or charge multiple smaller devices at once.
While you can charge the Poweradd USB-C PD Power Bank and your device at the same time (passthrough charging), this may be harmful to the charger's battery and is not advised. The last thing you want when charging your laptop or mobile device is a malfunction, or worse, a fire. Luckily, the Poweradd USB-C PD Power Bank comes with built-in safety measures. It has overcharge protection, overload output protection, over-current, and over-voltage protection, and short-circuit protection to help keep you and your devices secure. If you do have an issue with your Poweradd USB-C PD Power Bank, the company is known to have responsive customer service.
POWERADD USB-C PD Power Bank
Stayin' alive!
Reasons to buy
+
Good customer service
+
Compatible with many types of devices
+
Built-in safety measures
Reasons to avoid
-
May not work with some gaming laptops
-
Passthrough charging not advised
Best Elite Pick: Omni 20+
If you don't mind spending a bit more money on your battery pack, consider the Omni 20+. Offering USB-A, USB-C, and AC/DC ports, a 230V outlet, and up to 100W output, you'll be able to charge just about any of your portable devices. This charger supports laptops, handheld devices, and even drones! You can charge your phone five to nine times, and charge an ultrabook up to 100% at least once. And once you've run out of battery, you can recharge it almost anywhere, even via solar power!
One of the coolest features this charger has to offer is wireless phone charging. Simply place your phone, AirPods, or other wireless charging devices onto it and start sipping that sweet juice! With the pass-through charging feature, you'll be able to charge your Omni 20+ and your devices at the same time.
Omni 20+
Powerful multifunction
Reasons to buy
+
Wireless phone charging
+
Charging passthrough
+
Can charge via solar power
Reasons to avoid
-
Expensive
-
Heavy
-
Most adapters for charging pack not included
Best on a Budget: Type-C RAVPower 20100mAh Portable Charger
This charger from RAVPower can fully-charge most laptops at least once for a fraction of the price of similar devices. It features a USB-C port, a quick-charge USB-A port, and a regular USB-A port, allowing you to charge multiple devices at once. It also features an LED battery level indicator, and as a safety measure, it will automatically shut down to prevent overloading or short-circuiting.
Choose from powering up your phone, laptop, or even your Nintendo Switch as you play. Your RAVPower can be fully recharged within five hours, so topping off overnight will definitely keep your devices functioning as you need them the next day.
Type-C RAVPower 20100mAH Portable Charger
A cheap charge
Reasons to buy
+
Great price
+
Quick-charging options
+
Multiple types of USB ports
Reasons to avoid
-
A little on the long side
-
Might not fully charge larger laptops
-
Short wall charger cord
Best Solar Powered: X-DRAGON Solar Charger
Perfect for extended camping trips, this charger will keep your laptop, phone, tablet, and more charged even during overcast days. A little bit of rain won't destroy this water-resistant charger, though it isn't recommended to submerge it underwater. The foldable design makes traveling easier than some of the other solar chargers on the market.
This device runs at a 22-25% conversion rate, which is high, considering the average 15% rate of most other solar power competitors. You're provided with a USB-A port and an 18V DC output, although it's recommended for the 18V DC that you turn off your laptop while charging it for it to work properly. It also features short-circuit and surge protection to keep your devices safe. Solar technology might not yet be perfect, but this is the best version of it on the market and what you should take with you if you enjoy camping.
X-Dragon Solar Charger
Perfect for camping
Reasons to buy
+
High energy conversion rate
+
Water resistance
+
Foldable design
Reasons to avoid
-
Laptop must be powered down while charging
-
Long charge and recharge times
Best Portable Capacity: Krisdonia Laptop Power Bank 25000mAh
Sometimes you want to grab as much power as you can because you don't know how long you'll be gone. The Krisdonia Laptop Power Bank offers a high capacity battery in a portable package. With 25,000mAh, this device can charge an ultrabook laptop at least once, or a smartphone several times over. It's size and capacity also allow you to charge multiple types of devices simultaneously.
This device allows for pass-through charging, which means you can charge your laptop and use it simultaneously. To do so, you simply have to press the power button for 2 seconds while the power bank is charging. The power bank also has overcurrent protection, so your laptop or other devices will be safe from a surge.
Krisdonia Laptop Power Bank 25000mAh
More power on the go
Reasons to buy
+
Includes 28 laptop connectors/adapters
+
Has a digital battery level indicator
+
Supports charging passthrough
Reasons to avoid
-
Have to recharge device between laptop chargings
-
Doesn't include a USB-A to USB-A, or a USB-C to USB-A adapter
Best Battery BEAST: ALLPOWERS Portable Solar Generator Power Station
This beast of a charger can not only keep your laptop going, but it can power just about any portable device you have on hand. This includes mobile devices, emergency equipment, and even small appliances! With 78,0000mAh, you'll practically never have to worry about running out of power. You can charge a standard laptop five times over, and a typical smartphone over 25 times.
The charger's design makes it easy to bring along on camping trips, but we wouldn't recommend it often due to its bulky size and weight. The built-in handle makes carrying the device relatively easy, though, as long as you don't need to have both hands free. The ALLPOWERS Portable Solar Generator Power Station can be recharged via an AC adapter or from compatible ALLPOWERS solar panels.
This charger is a fantastic choice if you plan to live off the grid for a little bit. However, if you just want a simple laptop charger, you might want to look elsewhere.
ALLPOWERS Portable Solar Generator Power Station
Off-grid power
Reasons to buy
+
Incredible versatility
+
Super capacity
+
Passthrough charging
Reasons to avoid
-
Solar charging accessories not included
-
Long recharge times
Bottom line
Whether you're looking for a charger with massive amounts of power, a lot of bells and whistles, or something more budget-friendly, this list has a little something for everyone. These devices can do much more than just charge your laptop, so be sure to consider all the different features available before you make your choice.
Each charger on this list the best of its class. Your purchase comes down to what you want to charge, what you are willing to carry around, and how much you're looking to spend. If you want to keep your laptop charged, and maybe a few of your other small devices, the POWERADD USB-C PD Power Bank (opens in new tab) is the best charger overall. It's easily portable, provides a great charge, and works with a wide array of devices.
Jeramy is proud to help *Keep Austin Weird* and loves hiking in the hill country of central Texas with a breakfast taco in each hand. When he's not writing about smart home gadgets and wearables, he's defending his relationship with his smart voice assistants to his family. You can follow him on Twitter at @jeramyutgw.
Windows Central Newsletter
Get the best of Windows Central in in your inbox, every day!
Thank you for signing up to Windows Central. You will receive a verification email shortly.
There was a problem. Please refresh the page and try again.