Best Racing Games for Windows 10 PC and Mobile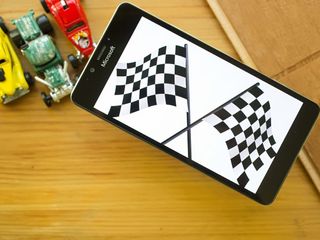 Racing games for Windows 10 are a great way to kill some time, but they also can be time investments. These games can offer stunning graphics, responsive controls, plenty of customizations and challenging gameplay.
The Windows 10 Store is packed with quality racing games that range from drag-racing games to full featured racing-career games. Concentrating on Windows 10 PC and Mobile titles, this collection does not include Xbox One titles such as Forza Horizon 3 (a fantastic game in its own right). We think this group of racing games will satisfy your need for speed, from the comfort of a Windows 10 PC or phone.
Updated February 1, 2017: We have made a few changes to this article based on new releases, reader input and staff debate. There are some new titles in the mix, as well as those that we continue to view as the best from the Windows Store.
Asphalt Xtreme
Why you can trust Windows Central Our expert reviewers spend hours testing and comparing products and services so you can choose the best for you. Find out more about how we test.
Asphalt Xtreme is one of the latest Windows 10 games from Gameloft, and it offers a fantastic off-road racing experience. It shares the outstanding graphic quality of Asphalt 8: Airborne but puts more dirt under your car's wheels.
Available for Windows 10 PC and Mobile, Asphalt Xtreme delivers over 30 off-road machines ranging from a traditional dune buggy to an off-road Semi-Truck. Each car in the garage can be personalized through a collection of customizations and fine-tuned with various performance upgrades.
Asphalt Xtreme has five game modes, over 400 career events, more than 500 mastery challenges and limited time events. There's even a real-time multiplayer mode where you can compete online in an eight-player race.
Asphalt Xtreme also offers the option of using on-screen buttons or tilt sensors to control your race car. Both are responsive, but the tilt controls seem to make the racing experience more enjoyable. Graphics are top notch with plenty of detail, and the slow motion sequences add a coolness factor to the game.
You can synchronize game progress between devices using your Microsoft or Facebook account. This makes it easy to transition from the Windows 10 Mobile version, while on the go, to your Windows 10 tablet, while loafing on the couch.
Asphalt Xtreme is a free game with a few in-app purchase opportunities. It is a great way to spend a little time on the dirt track without tracking mud through the house when you are done.
Download Asphalt Xtreme from the Windows Store
Angry Birds Go!
Angry Birds is a tremendously successful gaming series from Rovio. While the physics-based games such as Angry Birds Star Wars and Angry Birds Seasons come to mind for many, there is also a Windows 10 racing game available that features these cranky birds.
Available for Windows 10 Mobile, Angry Birds Go is a soapbox-derby-style, downhill-racing game with plenty of twists and turns. You begin racing the Red Bird, with additional birds and pigs becoming available to race as you advance through the game. Racing modes with Angry Birds Go include a traditional race against multiple opponents, a time trial where you race the clock, a fruit-smash race where you bash fruit laying around the track, a Champions Chase where you race to unlock new characters, and a versus mode where you race against key Angry Birds characters.
Additional features for Angry Birds Go include:
-Five challenging racetracks. -Team multiplayer modes where you can race up to five friends and compete against other teams in three-on-three races. -Dozens of race carts to unlock and upgrade. -Daily events and weekly tournaments that offer a mini-game experience.
Angry Birds Go supports tilt and touch controls during gameplay, with both options being equally responsive. Graphics are colorful and the racing animations lively, representing the personality of each Angry Bird character nicely.
Angry Birds Go takes on the racing genre from a casual approach with cartoon animations, but it does not skimp on delivering a challenging racing game. Angry Birds Go is a free game, available for Windows 10 Mobile. It is a fun, addictive member of the Angry Bird gaming lineup.
Download Angry Birds Go from the Windows Store
Nitro Nation
Nitro Nation is a Windows 10 racing game that offers a high-octane experience on the drag strip. It is a feature-rich game where you can race, modify and update a fleet of cars ranging from classic muscle cars to sleek European sports cars. Available for Windows 10 PC and Mobile, the free game is a great option for those who prefer to fill their need for speed on the straight track.
Nitro Nation offers multiple game modes that include career modes, practice modes, online multiplayer races and several tournaments to compete in. There are over 100 stock cars available for purchase, and over 30 components (hoods, grills, spoilers and more), paint jobs and decals are available to customize the stock appearance. On top of the customizations, there are plenty of under-the-hood upgrades available that include new tires and engine improvements. Upgrades, customizations and new cars are all purchased with your race earnings, with in-app purchases available as well to improve your ride quicker.
Race controls are simple. Tap the accelerator to rev your engine prior to the green light and then tap a shift button to work your way through the gears as you speed down the drag strip. The more efficient you are in handling the controls, the faster your car speeds down the track. Racing is done from a side view and if you tilt your device, the point of view shifts ever so slightly to view more or less of the race. Races are held on both quarter mile tracks and half mile tracks, with an assortment of backdrops.
The graphics are simply stunning, with tons of detail, not only with the race cars but also the racing environments. Sound effects add to the racing experience with engine roars and tires squealing.
While careers and tournament participation can be somewhat involving, the actual races only last a few seconds making Nitro Nation a entertaining option when you have just a little time to spare for gaming. The game can also easily fill longer gaming sessions without growing stale. If you have grown tired of racing around tracks but still have that need for speed, Nitro Nation is a must for your Windows 10 game library.
Download Nitro Nation from the Windows Store
Beach Buggy Racing
Like Angry Birds Go, Beach Buggy Racing approaches the racing genre in a more relaxed fashion without sacrificing the challenge of gameplay. Available for Windows 10 PC and Mobile, the game places you in the world of off-road cart racing. You race against a field of rival drivers with special abilities and unique personalities.
While the game does involve straight-up racing, there are also a collection of powerups that you and your opponents can use to put a dent in the competition. These powerups, 25 in total, include rockets, fireballs and oil slicks.
Other features for Beach Buggy Racing include:
Plenty of cars to upgrade and personalize, including traditional dune buggies and moon rovers.
Upgrades cover acceleration, top speed, handling and strength (to better withstand rocket hits).
10 drivers are available to unlock if you need a change in racing personality.
15 race tracks to explore, including lava-spewing volcanoes, sandy beaches and dinosaur infested jungles.
Support for split-screen multiplayer games where you can race up to four friends.
Controlling your buggy can be done by using your device's tilt controls or on-screen racing controls. Graphics are colorful and the animations lively. While you have the customary racing difficulties of handling the twists and curves the tracks have to offer, you also need to avoid hitting local merchants, light posts and other curbside obstacles. All of that is on top of dealing with attacks from your racing opponents.
Beach Buggy Racing is a free game, available for Windows 10 PC and Mobile. Overall, Beach Buggy Racing is a fun, lighthearted racing game.
Download Beach Buggy Racing from the Windows Store
Asphalt 8: Airborne
Gameloft's Asphalt 8: Airborne remains a must-have title for any racing fan. The Windows 10 game offers more of a paved road racing experience than its counterpart Asphalt Xtreme and shares the same breathtaking graphics. This Windows 10 game has been updated numerous times since its original release, adding new racetracks and a ton of new cars to unlock. Each update refreshes the Windows 10 game and maintains the free price tag.
Key features of Asphalt 8: Airborne include:
Over 140 cars to race, such as Ferraris, Lamborghinis and Bugattis.
Over 400 career events, 1,500 car mastery challenges and five unique game modes.
Customizations include paint jobs and over 2,300 decals.
Arcade gameplay that includes over 40 global race courses.
Multiplayer mode to compete against up to 12 opponents.
While the vehicle collection includes plenty of exotic brands, there are plenty of more everyday-oriented rides available such as a Mini Cooper, Ford pickup truck and Chevy Camaro. There's even a Volkswagen Bug to race.
Control options include on-screen steering or you can opt to use tilt sensors to guide your car. Tilt steering is my favorite option, and it helps pull you into the game. Just be careful that you don't lean too far into a turn and fall out of your chair.
Gameloft offers the option to log into the game with a Facebook or Microsoft account, which allows you to synchronize game progress between PC and Mobile devices. All in all, Asphalt 8: Airborne is a wonderful and immersive racing game to have tucked away in your game library for those times you to satisfy that racing itch.
Download Asphalt 8: Airborne from the Windows Store
If you have given any of these Windows 10 racing games a try, let us know what you think in the comments. There are more quality racing games available in the Windows Store, and if we overlooked your favorite, feel free to share your recommendation.
Get the Windows Central Newsletter
All the latest news, reviews, and guides for Windows and Xbox diehards.
George is the Reviews Editor at Windows Central, concentrating on Windows 10 PC and Mobile apps. He's been a supporter of the platform since the days of Windows CE and uses his current Windows 10 Mobile phone daily to keep up with life and enjoy a game during down time.