Best Minecraft shaders on Windows PC 2022
Sick of Minecraft's vanilla look? Try out some of these superb shaders.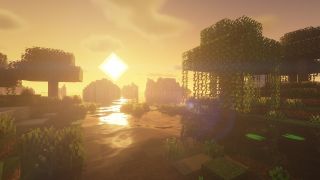 (Image credit: BITSLABLAB)
While the Minecraft Bedrock Edition has received ray tracing with NVIDIA RTX, Minecraft's PC-exclusive Java Edition has benefitted from community-made shader mods for years. These shaders add new types of lighting, reflections, visual effects, and more to the game to give it a gorgeous visual overhaul — and while shaders aren't quite as impressive as actual ray tracing, they're also a lot less taxing on your hardware.
Related: Everything you need to know about Minecraft ray tracing
Here's a list of our favorite shaders that are available to download right now, as well as a quick tutorial on what you'll need to use shaders and how to install them.
Create to your heart's content
Probably the best game ever

Minecraft is the best-selling game ever, and for good reason. It gives you the keys to an infinite blocky world in which you can build essentially anything that pops into your mind. Play it alone or play it with friends; you're going to have a great time.
How to install Minecraft shaders
Before we jump into the list of the best shaders available, it's important that you actually know how to install them first. Thankfully, the process is very simple and barely takes any time at all. Here's a quick guide on everything you need to do to use shaders:
First, you need to download the OptiFine mod. This mod makes it possible to use shaders, and also comes with some various optimization fixes that make Minecraft Java Edition run better.
Note: Make sure you download the version of OptiFine that matches the version of Minecraft you're going to play.
Once the mod file is done downloading, click on it to open its installer. Your Minecraft Java Edition install location should automatically pop up (typically C:\Users(YourNameHere)\AppData\Roaming.minecraft). If it doesn't, click the "..." button and select your Minecraft install location. Then click "Install" and wait until the installer is finished.
Now that you have OptiFine installed, you can now install shaders to Minecraft Java Edition. To do so, download a shader you want to use. Then, in a separate tab, open up your Minecraft install location and then open up the "shaderpacks" folder that OptiFine created when it was installed. Finally, drag and drop the compressed shader folder you downloaded into the open shaderpacks folder.
Your shader is now installed, and you can activate it within Minecraft by going to Video Settings > Shaders in the menu. You can also switch among all of your installed shaders at any time.
Best Minecraft shaders
There are tons of excellent shaders out there, so for this roundup, we've chosen a wide variety of different kinds of shaders that have varying balances of visual quality, performance-friendliness, and unique styles.
BSL Shaders
Why you can trust Windows Central Our expert reviewers spend hours testing and comparing products and services so you can choose the best for you. Find out more about how we test.
While it's impossible to call any Minecraft shader the best due to player preferences, it's hard to argue against the incredible quality you get with BSL Shaders for only a relatively small performance hit. These shaders feature soft, natural lighting with a touch of warmth, snazzy godrays, gorgeous water effects, and simple animations that cause grass and leaves to wave in the wind. The colors in these shaders are also fairly neutral and aren't saturated like many other options, making the BSL Shaders one of the best choices if you want a truly natural look.
Sonic Ether's Unbelievable Shaders (SEUS)
If you're a fan of BSL Shaders but you want colors to pop a little more, look no further than Sonic Ether's Unbelievable Shaders (SEUS for short). SEUS has the same great lighting and effects included in BSL, but the colors are a bit brighter and more saturated (rain makes blocks look glossy, too). SEUS is also relatively performance-friendly like BSL is, so it will run well on most rigs. Notably, Sonic Ether is working on a version of SEUS that mimics ray tracing, so keep an eye on their development progress on their website.
Chocapic13's Shaders
If something performance-friendly is what you're after, Chocapic13's Shaders are a great option. They're very similar to the look and feel of SEUS, but they're a little darker and also don't have as many visual effects. Because of that, they impact performance less, which makes the Chocapic13 Shaders an excellent choice for players on weaker hardware. There are also multiple presets you can choose from based on the strength of your rig.
CYBOX Shaders
CYBOX is similar to BSL, SEUS, and Chocapic13 in terms of overall aesthetic, but what makes this shader unique is how deep and defined its shadows are. If you're a fan of inky shadows, definitely give the CYBOX Shaders a try. Just be aware that the lighting effects aren't quite has advanced as what you'll get with BSL or SEUS, although they still look really good.
Sildur's Vibrant Shaders
What if you want some saturated, vibrant, and very bright lighting instead of something natural? We recommend Sildur's Vibrant Shaders, which illuminates your Minecraft worlds with stunning saturated sunlight, complete with several impressive visual effects like godrays, waving vegetation, volumetric lighting, bloom, and more. It's far from realistic, but if you're looking to embrace a fantasy-style aesthetic, Sildur's Vibrant Shaders are tough to beat. Just be aware that they hit performance rather heavily, so make sure you've got a good rig.
Oceano Shaders
The Oceano Shaders basically crank up saturation, brightness, and vibrance up to 11, and the results are ... interesting. Many players find this shaderpack to be too much, but others swear by its unique look. In any case, it's an excellent option you should consider if you're looking for something wildly different. It's also a great shader to use if you like exploring oceans (it's in the name!), as it features some superb water effects.
Continuum Shaders
If you're looking for the ultimate ultra-realism shaderpack that will bring your PC to its knees, Continuum Shaders is for you. With a BSL-style natural look supported by countless graphical effects and color options, Continuum Shaders is without a doubt the best shader to use if you want pure natural beauty with no cut corners. Pair it with a high-quality texture mod for even better results — but be aware that even with vanilla textures, you're going to need a beast of a PC to run Continuum smoothly.
Nostalgia Shaders
Finally, players who want something simple and relatively close to the look and feel of vanilla Minecraft should install the Nostalgia Shaders. These shaders aim to emulate the simple shaders that came out back when OptiFine was first released, and while they're not nearly as advanced as the other options on this list, there's an undeniable nostalgic charm to them. They're also very performance-friendly, which is great if you're using an older or entry-level setup.
Your thoughts
What's your favorite Minecraft shaderpack? Let me know. Also, for more on Minecraft mods, don't miss our guide on how to install and play with mods in Minecraft: Java Edition on PC. Minecraft is already one of the best PC games, but pairing some snazzy shaders with awesome mods makes it even better.
Create to your heart's content
Probably the best game ever

Minecraft is the best-selling game ever, and for good reason. It gives you the keys to an infinite blocky world in which you can build essentially anything that pops into your mind. Play it alone or play it with friends; you're going to have a great time.
Get the Windows Central Newsletter
All the latest news, reviews, and guides for Windows and Xbox diehards.
Brendan Lowry is a Windows Central writer and Oakland University graduate with a burning passion for video games, of which he's been an avid fan since childhood. You'll find him doing reviews, editorials, and general coverage on everything Xbox and PC. Follow him on Twitter.