Best platforming games on the Windows 10 Store (plus some with compatibility issues)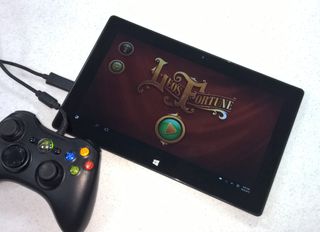 Windows 10 is designed as both a tablet and PC operating system. As such, the Windows Store offers a fairly robust assortment of mobile-style games: endless runners, city builders, and many more. Those games are fun to play on the go, but for many gamers, nothing beats a real platformer.
Surprisingly, you just won't find many platforming games (that aren't endless runners) on the Windows Store. Windows Phone has the tablet and PC OS beat in that area. To make matters worse, several quality Windows 8 platformers don't work properly on Windows 10! Thus, we've rounded up the best Windows Store platformers that play nicely with Windows 10 as well as the best ones that don't.
Castle of Illusion
Why you can trust Windows Central Our expert reviewers spend hours testing and comparing products and services so you can choose the best for you. Find out more about how we test.
Disney offers two modern-day remakes of classic platformers on Windows, but my favorite of the two – DuckTales Remastered – unfortunately doesn't run on Windows 10 right now. Castle of Illusion: Starring Mickey Mouse does, although at a reduced screen resolution on Windows 10 that results in black bars on the sides of the image. Hopefully, the issue gets fixed soon. If you can put up with the smaller display (or you're running Windows 8, RT, or Windows Phone), you're in for a treat.
Castle of Illusion originated on the Sega Genesis back in 1990. Sega would later port the game to Master System and Game Gear, as well as releasing several 8-bit and 16-bit sequels. In 2013, Sega's Australia studio remade the original title before shutting down (a shame).
Castle of Illusion begins as the evil witch Mizrabel kidnaps Minnie Mouse. Mickey must venture into the witch's Castle of Illusion and then locate the 7 Rainbow Gems that combine to create the Rainbow Bridge to save her. The (mostly new) story is told via a rather boring and grandfatherly sounding narrator, along with some minor voice acting from Mickey himself.
Whereas DuckTales Remastered sticks very closely to its original game's design, Castle of Illusion uses levels and ideas from the 16-bit game as basic inspiration while largely redesigning the levels and expanding the gameplay. It recalls the original game (especially the basic gameplay and looks) but plays more like a sequel.
Most of Castle of Illusion takes place from a 2D perspective with 3D graphics (a style often referred to as "2.5D"). Mickey runs, jumps, and swings from ropes to navigate the expansive levels. He can dispatch enemies either by jumping on them or throwing apples. These apples are one of many collectibles found throughout the game.
Castle of Illusion's levels are tied together by a 3D hub world – the castle itself. As Mickey completes levels and collects stars and other items, new areas of the castle become accessible. Exploration of the castle is not restricted to a 2D plane, as Mickey can walk towards and away from the camera.
Each level has a few non-2D segments as well. These help make the gameplay more dynamic (and different from the original), but they also over-complicate the level design. Finding all of the collectibles would be a real headache as it's too tough to differentiate pathways and make sure you're not advancing past points of no return.
Castle of Illusion supports Xbox controllers, keyboard, and touch controls. Controllers are of course the best way to play, but the touch controls work fine as well. Players can choose whether the virtual stick remains in a stationary position and whether jumping is tied to a virtual button or simply tapping the right side of the screen.
Although it sadly doesn't support cloud saves, Castle of Illusion is a universal purchase on Windows platformers. If you want Achievements, go with the Steam or Xbox 360 versions. But for on-the-go fun, Windows 10 and Windows Phone measure up nicely.
Chronology
Denmark-based developer Osao Games' Chronology is a clever and beautiful puzzle platformer. The 2D pixel art recalls the works of Studio Ghibli, with expressive characters, colorful present-day locations, and a dark and foreboding future world.
Chronology begins with the Old Inventor waking up in a future filled with strange and overgrown flora and fauna. Initially the protagonist suffers from explosive amnesia though he regains his memory fairly early in the game.
As he searches for clues as to what destroyed the Metropolis and disrupted the balance of nature, he soon finds a watch. This is one of his inventions, and it allows him to jump back and forth through time. Soon he meets up with Snail, a giant talking snail with the voice of a child. Snail can freeze time. Together, the two must travel back in time and stop the Old Inventor's Mentor from destroying the Metropolis.
Chronology's puzzles involve traveling back and forth between the present and future using Old Inventor's watch. Players will progress through levels in one time period until something blocks the hero's path. Then you activate the watch to see whether the obstacle exists in the alternate time period. Sometimes a wall from the past will have crumbled into dust in the future, or an open path in the past will be blocked by overgrown vegetation in the future.
After meeting up with Snail, players can switch between the creature and Old Inventor at any time. The snail can climb walls and ceilings, and his shell often makes a convenient platform for reaching new heights. Snail's time-stopping ability will keep moving blades from killing the Inventor, stop a platform in place, and much more. The Inventor can also whistle for the Snail at almost any time, causing the shelled helper to warp over to his location.
Frustratingly, the Windows 10 version of Chronology does not support controllers. You'll have to get the Steam version if you want to play with a controller. The Windows versions' keyboard and touch-based controls get the job done, though.
The first portion of Chronology is free, with the remaining levels available as a download. With a light but interesting story and clever gameplay, platformer fans will want to experience everything Chronology has to offer. Chronology is also coming to Xbox One in the future...
Leo's Fortune
Swedish developer 1337 & Senri has created an exceptional platformer with mild puzzle elements in Leo's Fortune. Players control Leo, a Russian aristocrat whose fortune has been stolen by thieves unknown. After relating his predicament with a delightful voiceover, Leo sets out to collect every one of his lost gold coins.
Leo happens to be a puffball with a mustache – everybody is in this world. His narration during story scenes and exclamations during gameplay combine with that mustache to make a surprisingly loveable character. The actual levels have a Donkey Kong Country-esque appearance, composed largely of 3D rendered objects turned into flat 2D environments and hazards. It looks quite fetching in motion.
Leo has two basic abilities: jump and pound. The pound ability can help bounce Leo higher on certain objects and causes him to fall quickly if initiated during a jump. Leo can also puff himself up in the air, slowing his descent. And Leo runs fast for a puffball. He can even run along walls and ceilings when he works up enough speed, much like Sonic the Hedgehog.
As Leo works to reach the end of each level, he'll collect numerous gold pieces dropped by the mysterious thief. He only needs to reach the end to move on to the next level, but perfecting a level takes a lot more work. Leo earns a star for collecting every gold piece, for not dying, and beating a target time. Those optional goals require a lot of practice! Earning enough stars will unlock fun bonus levels in each of the game's five acts.
Leo's Fortune supports Xbox controllers, keyboard, and touch controls on Windows 10. Note that when playing with a controller, only the d-pad will move the menu cursor – not the analog stick. The developers should fix that. Otherwise, it plays quite intuitively. Touch controls are simple enough, with only two virtual buttons and an analog stick to worry about.
Take the fast-paced platforming of Donkey Kong Country and Sonic, throw in an occasional puzzle and a well-told story, and you've got Leo's Fortune. Five bucks for a game this good isn't a fortune; it's a bargain. Console gamers might want to opt for the Xbox One version, though, since it has higher-resolution assets and shiny Achievements.
Platformers that would be on this list if they worked
This roundup took some time to put together because the games I wanted to include on the list kept proving to be unplayable on Windows 10, despite working just fine on Windows 8. Windows Phone gamers who switched from Windows Phone 7 to Windows Phone 8 will remember similar compatibility issues – a great many Xbox Windows Phone 7 titles sadly don't run on modern Windows Phones.
The following games deserve to be on this list, but they just don't work right:
Bloo Kid 2
A retro platformer from German developer Winterworks, Bloo Kid 2 looks and plays like a classic 16-bit title. I'd love to play it, but the image is unintentionally zoomed in on Windows 10. As a result, some of the touch controls are hidden off-screen, making the game unplayable.
Good news, though! Winterworks tells us the game will be updated with Windows 10 compatibility soon. We'll be sure to post detailed impressions at that time.
DuckTales Remastered
DuckTales Remastered from Disney and WayForward would be the best game in the roundup if only it worked! Unfortunately, DuckTales crashes on startup.
Rayman Jungle Run and Rayman Fiesta Run
These Ubisoft titles are technically endless runners and thus don't fit perfectly into the roundup. However, they have so much of the console Rayman DNA in them (and real levels) that I'd include them anyway. But on Windows 10, the controls simply don't work right 90 percent of the time. Even starting the game can be impossible due to the broken touch and mouse controls.
Ty the Tasmanian Tiger
Ty the Tasmanian Tiger comes from beleaguered Australian developer Krome. If you ask me, Ty should've launched on Xbox 360 instead of Windows. Microsoft, the game's publisher, sent the game out to die with no marketing support or hype. And in scope, Ty is a large and fairly good traditional platformer that console gamers would've loved.
Windows 10 gamers won't have the chance to fall in love with poor Ty because his game crashes on start-up. Microsoft is extremely unlikely to request an update from the developer. Luckily Krome has publishing rights to the Steam version, so Windows 10 gamers don't have to miss out.
Ty the Tasmanian Tiger
Looking for platformers in all the right and wrong places
Ty's Steam availability raises a good point. Windows 10 PCs and tablets have access to Steam, the world's most popular digital distribution service for PC games. And Steam users can choose from scores of great platforming games – maybe even hundreds. Sometimes the Steam version of a game is better than its Windows Store counterpart, too – see Chronology.
The upside to buying games from the Windows Store is they have usually been optimized for touch, so they tend to be tablet-friendly. Plus the Windows Store is convenient to access, being built right into Windows 10 and all. Some die-hard Microsoft fans even self-defeatingly refuse to play Steam games on their Windows 10 devices, but we'd never recommend that. True gamers go where the games are, buying the games that interest them regardless of platform or distribution service.
Windows 10 is Microsoft's big push to make their PC and tablet OS a success, not only in market share but also mindshare. It's still early days for Windows 10. More games will surely come to the Windows Store, including platformers. There's no doubt that Windows Store titles are perfect for tablet gamers. Time will tell how PC gamers embrace the Windows Store this time out.
If you're looking for more old-school experiences for your Windows 10 device, be sure to read our Best Arcade games for Windows 10 roundup!
Did we miss any good platformers for Windows 10? Or does your favorite Windows 8 platformer not work on the new OS? Leave a comment and let us know!
Get the Windows Central Newsletter
All the latest news, reviews, and guides for Windows and Xbox diehards.
Paul Acevedo is the Games Editor at Windows Central. A lifelong gamer, he has written about videogames for over 15 years and reviewed over 350 games for our site. Follow him on Twitter @PaulRAcevedo. Don't hate. Appreciate!