Bethesda Softworks games are being pulled from NVIDIA GeForce Now, except for Wolfenstein: Youngblood
Another major publisher removes support for NVIDIA's streaming service.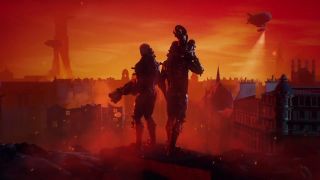 (Image credit: Bethesda Softworks | MachineGames)
What you need to know
Bethesda Softworks publishes multiple game franchises including Fallout, The Elder Scrolls and Wolfenstein.
Bethesda Softworks is pulling most of its games from NVIDIA GeForce Now streaming, with the exception of Wolfenstein: Youngblood.
Recently, Activision Blizzard also pulled its games from the service.
While the NVIDIA GeForce Now streaming service is seeing quite a bit of attention shortly after coming out of beta testing, more and more publishers are pulling their games. Today, NVIDIA confirmed (opens in new tab) on its forums that Bethesda Softworks is pulling most of its games from GeForce Now. The lone exception is Wolfenstein: Youngblood, which will remain for the time being.
Bethesda Softworks is the games publishing arm of ZeniMax, publishing several franchises from the companies' studios, including the Fallout, Elder Scrolls, Wolfenstein and Doom games. Bethesda Softworks isn't the first publisher to pull out however, as Activision Blizzard recently pulled all of its games, including Call of Duty: Modern Warfare, the best-selling game of 2019 in the U.S.
It hasn't all been bad news recently, as CD Projekt Red confirmed that the highly-anticipated Cyberpunk 2077 would support GeForce Now on day one. We'll continue to provide updates as publishers either support or pull out of the service. NVIDIA GeForce Now differs from many streaming services in that it allows users to stream their own PC games that they buy, either in limited sessions for free or with extended sessions at $5 a month.
(opens in new tab)
NVIDIA's cloud game streaming service is one of the best available today, delivering lag-free gaming at 1080p/60fps. The fact that you can access NVIDIA's servers for free makes it an easy sell, and the $4.99 plan makes it an immediately enticing option for seasoned gamers.
Windows Central Newsletter
Get the best of Windows Central in your inbox, every day!
Samuel Tolbert is a freelance writer covering gaming news, previews, reviews, interviews and different aspects of the gaming industry, specifically focusing on Xbox and PC gaming on Windows Central. You can find him on Twitter @SamuelTolbert.
How embarrassing after the official launch of GeForce Now. Somebody at Nvidia screwed up.

This isn't great. I suppose this is where MS have an advantage. In terms of contracts. Because the Xcloud version of a game is the exact Console version. So in theory going into next Gen, MS can have it in the Xbox console version agreement that it also is playable on Xcloud.

The fact that a game is on the console is irrelevant.

I think you misunderstand. Xcloud is running the Console version of the gane on an actual Xbox server blade. The servers are just an Xbox One. You aren't playing a streaming version of the game. Your playing an Xbox game streamed to your device. Every game that appears on Xbox One the devloper and Publisher have to sign its rights to it. To be able to be on the platform. All MS have to do is make it so any game made for Xbox One and is on that platform is also stream able. Right there as mandatory. Have you wondered why Xcloud already has more than 4x thr amount the ganes that Stadia has and it's only in beta? Becasue Developers don't have to do anything at all to make their gane work on Xcloud. They just make the console version, and instantly it can be streamed. With 0% extra work needed.

I'm aware of how xCloud works. But there is a reason why almost all (or is it all) of the games available on xCloud are also games that are available on Game Pass. It's because the developers have already agreed to a service to have their games played, and have received income from Microsoft to do so. Not having to do anything to make a game work on xCloud is irrelevant, it's about whether a publisher wants their game to be accessible for a single price on multiple devices. You'll notice that xCloud has zero (or at least none of their big titles) Bethesda games, I imagine that isn't going to change unless Microsoft throws a huge chunk of money at the Publisher. I suspect there will be a few Publishers that are going to do this, in fact, between Activision Blizzard and Bethesda I wouldn't be surprised if they were trialling the waters with the GeForce Now Beta to see if the player numbers were viable for them to release their own streaming services. It sucks for us as consumers, but from a business perspective it makes the most amount of sense.

I was referencing all MS have to do moving forward is for a company to make and Xbox game, the rights include Xcloud. MS have a completely unique position when it comes to their Cloud streaming solution. Especially if Xcloud is Xbox. It's all one thing going forward. I'm sure we will learn more for Xcloud official release. But to me it looks as though MS are in a totally unique position on Cloud gaming. Smart if you ask me. To use the exisiting console game. After all, if you only have Xcloud and not an Xbox console you still have to purchase the same digital version of the game to play on Xcloud as you would if you owned the console. It's the same copy.