Bing Apps for Windows Phone receive account sync, sharing in latest round of updates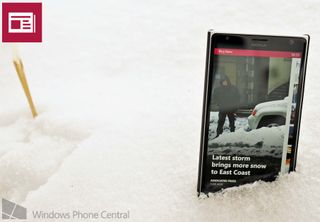 Microsoft has updated its Bing suite of apps for Windows Phone 8 with further integration with its Account platform. Smartphone owners who utilise any of the Bing apps on their Windows Phone will be able to connect to their Microsoft Account and have data and personalisations synchronised across the board.
Users can finally share news articles in Bing News
What this means is users of said apps (Bing Finance, Bing Food & Drink, Bing News, Bing Sports, Bing Travel, Bing Health & Fitness, and Bing Weather) will be able to synchronise their data and any customised settings across devices, like to their Windows 8 PC, Surface or other Windows Phones. This is similar to the setup in the Windows 8 counterparts where users can select to have data shared across devices (though there isn't the requirement to sign-in yet again).
In the settings area of each Bing app, you'll be able to connect and configure your Microsoft Account, as shown below.
As well as the above Microsoft Account options, the Bing team have added sharing options. That's a big deal, especially for News as many people want to share a article with friends or family. Now, they can hit Share and post to Social Networks, Email or Message.
You can download the Microsoft suite of Windows Phone apps using the store links below:
Update: We should also mention that Bing Health & Fitness and Bing Food & Drink were also updated, having their 'beta' status removed. In addition, the Windows 8.1 app counterparts have updates today too, for account syncing. Head to the Windows Store > Settings > App Updates > Check for Updates to force it.
We've also bundled the QR codes, should you be on a PC:
Windows Central Newsletter
Get the best of Windows Central in in your inbox, every day!
Rich Edmonds was formerly a Senior Editor of PC hardware at Windows Central, covering everything related to PC components and NAS. He's been involved in technology for more than a decade and knows a thing or two about the magic inside a PC chassis. You can follow him on Twitter at @RichEdmonds.
Bing's Every app is a no nonsense app

Sharing finally comes to Bing news!! Was expecting lock screen background support too..

Its useless pretty much, i tried sending it via email and it provides a little bit of the article followed by the requirement of a windows 8/WP 8 device to view the articles in full on the Bing News app only

Most ppl don't share by email, dude. Disclaimer: I don't test other sharing methods.

Just realized that, it should provide a complete link....

Exactly. Who the hell designed this sharing functionality? Seems like something apple would pull. The only way to share is via email and then if you do get the email, you have to have windows 8 or win phone to open it. I don't know about you all, but I have lots of friends that don't use windows. This is really annoying.

It's weird. Some stories share with an http link, while others share with the app-specific link (bingnews://). I haven't figured out the logic behind which gets which but I think it's by news source (LA times, etc). Also, only some stories allow Messaging sharing

All that I have tried share with an http://www.bing.com/...... link in the email. But any links from Press Association don't work on my phone, even with Bing News installed! Checking on my laptop, the Press Association links open up Bing News on Win 8.1, even though it's an http link. I guess some sources must still redirect to a bingnews:// link

Bing and health and fitness is also updated , its out from beta

Bing weather has just replaced Amazing Weather HD for me. The tile has no options but defaults to Current Conditions with forecast daily high and low temps on one side and three day forecast on the other. AND the radar is higher res and animated. Well done M$! Well done!

But it needs a better source! WEATHER UNDERGROUND is better! D:

I agree. They need a new source. For me in Denver I find Bing Weather to be incredibly inaccurate.

To be fair, predicting the weather in Denver is almost impossible. Don't like the weather wait 5 minutes ;-) I do agree it could use another source though.

Not for me. WeatherFlow is still supreme. The BingWeather Live Tile is too 'plain'.
I do notice it is more accurate with the city I'm in compared to WeatherFlow.
Times like this makes me want a Lumia 1520 (more screen space).

It would for me too, but I just want a lock screen background for Bing Weather! So I currently have a Bing live tile and lock screen is Amazing Weather

Ditto. AWHD+ has a better lock screen implementation (That can use the Bing daily image) so I keep it for that purpose alone.

Awesome. You missed the Health & Fitness app that was recently launched. :)

Nice, I'm looking for a MyFitnessPal replacement. I can't take their bugs anymore.

They updated the Windows versions yesterday as well.

Bing food and drinks still doesn't sync recipes I created in my collection from w8.

It does not sync anything for me.... Or, in order to sync, it is mandatory to link botht he phone and the computer version to the Health Vault?

No, you only link it to Healthvault if you want to use that feature. All you should need to do is connect both of them to your Microsoft Account.

@rich edmonds there is no mention of update of Bing Health & Fitness. http://www.windowsphone.com/en-in/st...c-95ec6a3641c2

The Bing apps on my Surface have all just been updated too and now prompt to connect to my MS account when I first open them all. Calories have synced in the Fitness one and my news sources in News and Travel favourites... All great work. :)

So, what is the version number of Bing News on your Surface? I am running....3.0.2.229

Yep, same. Update arrived yesterday and when I opened it this morning it prompted me to connect (or not).

as an iPhone user I am surprised that you couldnt already do this... Seems like sending an article to a friend would be the first thing someone would want to do when they read news articles. Anyways, glad to see Micrsooft came out with that featrue now. It's like on Windows 8.1.

Health & fitness app also updated. Health&fitness, food & drink, Travel apps are out of beta.

Ugh, my recipes in the bing food and drink app are still not synching. I thought they would have fixed that by now :(

Yeah, collections don't seem to come down yet. Shopping list did though!

Shopping lists have been working for the last couple of weeks for me. Its been my new favorite since I can easily make a list on my computer from the recipes I pick on the PC. It even creates a handy checklist too.

Just signed in to say the same thing. Really need / would like the collection to sync.

I thought it was just me whose collections didn't sync...

Was just wanting this; after I download Bing finance and started to update my watch list to be the same as my W8 devices. Glad my news topics are synced now as well.

Yeah, I just swapped to WP8 from 7.8 and I was hoping this was already in place. Now all I'm waiting for is sync across Internet Explorer, I can come from my surface to my desktop and pick up my open tabs this should be true for my phone too. Also single signon for all Microsoft logins would be awesome!

All the Bing apps in Windows 8.1 were also updated.

Finally ... just boring that to activate and login you have to enter for every app your account credentials, hope you'll not need anymore in WP 8.1, login automatically with your MS account connected to your device

Yeah I believe in WP8.1 it's integrated. I think one of the many bullet lists shows MS account sync across apps that use it.

Bing weather also updated

Great, Love those Bing Apps

Looks like bing news may have a bug, every time it loads it closes on the topics screen

Can I add custom news sources to Bing News yet? If so, this news and that feature in place means I owe the Bing team a hug... I promised them on Twitter, lol.

Finally an option to choose your country/region! I have been waiting for this for so long. I have currently set my region to the USA, because things like scout and barcode scanner from search button don't work in India for some reason. At the same time, it was a pain in the behind when Bing news changed it to the US automatically and started showing me what's going on there.

There you go Bing. Love it !

They should give users Bing Rewards points when the use these apps.

Awesomw Posted via the WPC App for Android!

Whoa..what about Bing Translator? Should also be added to the suite....so I think.

Bing News now crashes on my phone when I'm trying to view the Sources (loads) or the Topics (doesn't load) sections. I even tried reinstalling. Is anyone else having this problem?

Doesn't crash but load times are much longer...

That too, but the app is basically broken for me. And there's no (obvious) way to clear the cloud data.

a few posts above, I outlined a workaround. You can also use another account that doesn't have topics defined yet..

I'm having the same problem. It must be having trouble syncing the topics. Naming conflicts maybe?

I managed to fix it by manually deleting EVERY source and topic through the Windows 8.1 app. Then I reinstalled the app on the phone and reconnected the Microsoft account and everything is fine.

Exactly what happens on my Nokia Lumia 521.

I bet still no News and Finance support for Romania...

It's on the list for both apps. Don't know how much of the app will be stripped down though.

Bing Finance has info relevant to Romania but Bing News does not have any news source. Malta, a country with a population of 400,000 people has 3 (three) newspapers while Romania (~ 19,000,000 people) doesn't. I guess the newspapers didn't submit subscription to this service.. What you saw on the app's page is the presence of Romanian localization (i.e. User Interface in Romanian language), not the core information relevant to the country.

One thing I don't get about the Bing apps is that you need to sign in to a ms account while the phone is already signed in to an ms account, you should not need to sign in at all, it should ask you what account you would like to use from the phone ms accounts.

The OS is at fault. This is supposed to be changing in 8.1.

"Topics" section in Bing News has a new look... I don't like that much.

I was just complaining about the lack of sharing in the Bing News app and a few days later, voila. Thanks MSFT.

I did the same thing 3 days ago... *poof*. lol

Not only the WP 8 apps where updatet but also de Windows 8 apps. I think the functionality to sync with MS account is new there also!

After updating and logging into my Microsoft account, Bing News crashes everytime I swipe over to the topics page.

Same here for me. They had better update it. I love this app and use it all the time.

Busyman96 said he solved it by deleting the topics and sources and re-adding them. That makes sense, but the app should be smart enough to deal with existing topics. I wouldn't be surprised to see another update tomorrow to fix this issue.

When I try to delete teh topics on my Surface 2, teh NEws app crashes.... Argh...... Does anyone test these things???


I deleted them on my desktop 8.1 PC and it worked, although I must say figuring out how to delete them was not as intuitive as it should've been. I'm all for minimalist interfaces but if it sacrifices ease of use they've gone too far.

Kind of ridiculous. On Windows Phone, we have Bing Finance, Bing Food & Drink, Bing Health & Fitness, Bing News, Bing Sports, Bing Travel, Bing Weather, and then Translator. On Windows 8, it's Bing Translator, Bing Travel, Finance, Food & Drink, Health & Fitness, News, Sports, and Weather. They're the same apps, developed by the same group, and yet there's this horrible mess of branding. For that matter, on the Xbox, it's just Music, and just Video. On Windows 8, it's just Music, and just Video. But on Windows Phone, now it's Xbox Music and Xbox Video? Seriously, you couldn't make this stuff up. Is it too much to ask for consistency?

I don't understand why they don't have a clean little weather app for Xbox and Xbox One. Just something simple.....

sharing only to email, not to social newtorks via Peoples hub

I had to reboot my phone after the update. Social sharing is woprking now.

It depends on the news source. Los Angeles Times doesn't have social or messaging sharing and has app-specific links in the sharing options it does have. Other news providers allow messaging, email, and social with http links

I have updated all but Bing News is too buggy right now. Its crashing everytime I open it. MS please update as this was my favorite app and I'm regretting why I updated it. Others seem to be working well.

Go to the windows 8 app and ensure you are not seeing duplicate topics favorite.d

Wish I could change the red tile's colour, looks really out of place with the blue green purple colour scheme I go going on

I find Bing News and Bing Weather crash a lot now on my Nokia Lumia 521. They were rock solid before.

I love all the Bing apps, especially now with synicing between WP and my Surface 2 but I have one honest question. How much revenue does Microsoft really make by placing adds within the Bing apps. I really have a hard spot with that fact. And while I'm here on the topic, I HATE seeing an ad on my Xbox One. I realy question how much revenue they make from this?

Since they're free apps you really can't complain about ads in them. And while ads in console dashboards aren't ideal they help subsidize maintenance, unless you'd like XboxLive to get another price hike

I love Bing apps!! And now finally we have the sharing option!! But not being able to share to a social network is weird though!

Windows Store > Settings > App Updates > I cant see it

Bing News consistently crashes every time I try to go to Topics, post-update. Tried uninstalling/reinstalling, same result.

There are a few workarounds posted now, basically remove your topics by using the windows non-phone version and the phone will work. You can add the topics back afterwards.

Same and no social sharing either...

Hi everybody, Im Having issues with Bing Sports on my Lumia 920, the app is like never connect thru internet, and says something like check your connection but the rest of the apps are working. i tried to uninstall and install againt but is the same.

Finally, a great way to read Wall Street Journal subscriber content on WP8....VERY NICE!!!!

You can now finally pin individual stocks to the start screen in the "small tile" format and they change to red if the stock is down or green if up from the opening quote.

I cant see the social sharing. Only the email. 1520 in Australia.
Windows Central Newsletter
Thank you for signing up to Windows Central. You will receive a verification email shortly.
There was a problem. Please refresh the page and try again.