Bing Rewards members can snag a Dell 15 i3 for $300 from the Microsoft Store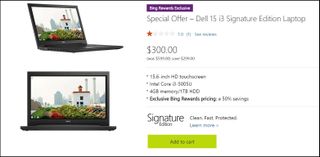 If you're a Bing Rewards member in the market for a laptop on the cheap, Microsoft has a deal you may be interested in. On the Microsoft Store, Bing Rewards members can score a Dell 15 i3 for just $300, or 50 percent off.
Here's a rundown on what the Dell 15 i3 is packing:
15.6-inch 1366 x 720 touchscreen
2GHz Intel Core i3 processor
4GB RAM
1TB HDD
DVD drive
SD Card reader
1 USB 3.0 port and 2 USB 2.0 ports
All of this runs on Windows 8.1, and it's a Signature Edition – meaning it's free of any added manufacturer software. This one is decidedly middle-of-the-road in terms of specs, but it's not a bad deal at $300. If you're a Bing Rewards member and you want to jump on this, you can head to the Microsoft Store and check it out from the store link below.
Thanks to Mike T. for the tip!
Buy Dell 15 i3 from the Microsoft Store ($300, Bing Rewards Exclusive) (opens in new tab)
Windows Central Newsletter
Get the best of Windows Central in in your inbox, every day!
Dan Thorp-Lancaster is the former Editor-in-Chief of Windows Central. He began working with Windows Central, Android Central, and iMore as a news writer in 2014 and is obsessed with tech of all sorts. You can follow Dan on Twitter @DthorpL and Instagram @heyitsdtl.
1 star rating that's the reason why its for $300.

From one person. If we judged things on comments and internet reviews, Windows Central would be filled with those who hate Windows Phone judging by comments here ;)

If you read as many reviews online as I have you learn to spot the cranks. Dell has always been top-shelf in my estimation. Good QC and great spec balance. I had so many Dells come through my hands when I refurbed PCs for a hobby. They take a lickin' and just keep tickin'. I saw this article just now (late afternoon, my time), but I saw the offer in my Bing Rewards first thing. Bing is my home page. I always check my Bing with my first coffee... Time for upgrades at my house anyway. The wife and I each are getting one. Already ordered before I even saw this heads up. My Gateway NV53 is 6 or 7 years old and still works, but I want a fresh machine for Win 10. Her HP laptop is 4 years old, the fan on it always sounded like a Harrier Jump Jet taking off and now it has issues waking from sleep or off. Beleieve it or don't looks like a bad Atheros WiFi card - reseating that allows boot. Anyhow she got the HP against my better judgement. I think we will be happy with the Dells and I'll be adding my own review to counter the crank report...

If you can't hear the fans it's not on, HPs last forever.

The fact that her newer HP is dying and my older Gateway (both in the same class mind you) is still pulling strong is my experience. I agree HP used to be something nice, then they engaged in back room character assassination parties at the board level, boondoggled away billions on stupidity and had to cut every corner to keep from going under. HP's days of being a top tier OEM are frittered away for nonsensical reasons. That part's my opinion and why I was against her getting an HP. My experience has now seen that bourne out.

I like the jump jet comparison...lol

Come on people, you can at least enjoy the irony

With a one star rating... :)

Only one review... How well are MS stores doing?

One review of one star. Not sure if it means the laptop is bad or that no one buys it...

Seeing as that review was left today, my guess is that this has not been available for very long. I've long not been a fan of the Inspiron line, but packing a 5th-gen Core i3, 1 TB hard drive, DVD-RW, AND numeric keypad, this is kind of tempting for $300. EDIT: They must've made a new product listing for the Bing Rewards exclusive because the same product is available to all for $327 (was $599). Its rating with 27 reviews is 3.8.

Quick, somebody leave a 5 star review to get the average up ;-)

i3? Good enough for Photoshop or Sony Vegas Pro (video) editing?

It's i3... So there's your answer

Not necessarily, but thanks for the in-depth answer. I'm guessing that it might be as fast as my 4 year old i7.
I'm certain that it could run Photoshop. I just don't know about Vegas. I'm hoping that it could handle some quick edits. I wouldn't ask it to do too much, but this little laptop would be more portable to get some things done on the go.

You can use http://cpuboss.com/ to get comparisons of cpu/gpu. Also, based on which video card your old machine has vs the new HD graphics may make a difference. Faster RAM, faster HDD as well.

For anyone actually interested, here are the Vegas system requirements for the latest version. It has the 2 GHz. I'd be worried about the RAM (it has the minimum), but there's room to add more. Obviously, this lil lappy won't be doing 4K, but one should be able to throw together some simple projects and do titling.
Windows® 7, 8, or 8.1 operating system (64-bit) 2 GHz processor (multicore or multiprocessor CPU recommended for HD or stereoscopic 3D; 8 cores recommended for 4K) 1 GB drive space for program installation SSD or high-speed multi-disk RAID for 4K media 4 GB RAM (8 GB recommended; 16 GB recommended for 4K) OHCI-compatible IEEE-1394DV card (for DV and HDV capture and print-to-tape) USB 2.0 connection (for importing from AVCHD, XDCAM EX, NXCAM, or DVD camcorders) Windows-compatible sound card DVD-ROM drive (for installation from a DVD only) Supported CD-recordable drive (for CD burning only) Supported DVD-recordable drive (for DVD burning only) Supported BD-R/-RE drive (for Blu-ray Disc™ burning only) GPU-accelerated video processing and rendering requires an OpenCL™-supported NVIDIA®, AMD/ATI™, or Intel® GPU with 512MB memory; 1GB for 4K. Microsoft .NET Framework 4.0 Apple® QuickTime® 7.1.6 or later for reading and writing QuickTime files Internet Connection (for Gracenote MusicID Service)

Fancy with the trademarks, good job.

Editing, yes. Video games , not well. Posted via Windows Phone Central App

$300! Crazy deal for those who need a big laptop

This would probably be a great first laptop for a young teen.

Looks to be a solid device for all-around for users of any age. Not a hardcore gaming rig, no. I expect students would benefit, yes. Not sure what the age reference has to do with it. It will meet all my needs and I'm 51.

I get that its not a high end laptop, but man does that sound like a sub-optimal resolution for a 15" screen.

Don't do it! Please! I just bought one one of these and returned it, and even the "hassle free" return policy was not what it seemed. First, it's not really a $600 laptop. Go to Bestbuy or Walmart any day and you can see this model (15" 5th gen i3 1366x768) for $350ish every day since released. Second, the screen on this is so bad it will have you tearing your eyeballs out. Seriously, I have not seen a screen on a laptop this bad in years (don't normally look at $300 laptops though). Light leakage around the edges, color inversions at even slightly off center veiwing angles, and constantly having to adjust the tilt of the display everytime you mearly shift in your seat. And for videos... well, spare yourself... it ain't pretty. Finally, look at the reviews... a high number of "Do not recommend(s)". And the MS storehad me rewrite the review a few times before they would post it. Makes me wonder how many more "Do not recommend(s)" gave up without posting.

Looks like the Rewards dealio is gone. It's showing $327 now.

Yeah, I can't find the deal either.

I could have bought this instead of my pos Surface 2. Paid the same price!

argh - i just bought one of these online yesterday for $350

I just don't understand people it's a laptop with a 15" screen for $300.00 that is less than what people pay for a 6" phone.....it's a hell of a deal.

Just was looking this last night , and decided not to buy any PC until the release of Windows 10 mobile flagship Lumia device. And my PC must come Windows 10 out the box, not even considering the Lumia 640 , I'll just wait, And work with my OG Lumia 635 and my XBOX ONE, and upgrade my Windows 7 PC
Windows Central Newsletter
Thank you for signing up to Windows Central. You will receive a verification email shortly.
There was a problem. Please refresh the page and try again.