BLU Win HD LTE is now available from the Microsoft Store in Canada
After going up for sale in the U.S. last week, the BLU Win HD LTE is now available for purchase from the Microsoft Store in Canada for CAD229 ($187).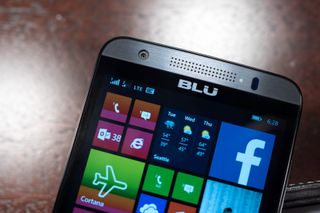 In terms of hardware, the Win HD LTE offers a 5-inch 720p display, 1.2 GHz quad-core Snapdragon 410 CPU, Adreno 306 GPU, 1GB RAM, 8GB internal memory, microSD card slot, dual-SIM connectivity, 8MP camera at the back, 2MP front shooter, LTE and a 2,500mAh battery. Software-wise, the device runs Windows Phone 8.1 out of the box, and will be able to make the switch to Windows 10 for phones once it is available.
Although the specs may not seem a radical change from what we've seen on the Win HD, Dan found out in his hands-on post that the beefier Snapdragon 410 contributes to a smoother overall experience.
Buy BLU Win HD LTE from Microsoft Store Canada (opens in new tab)
BLU Win HD LTE first impressions
Why do it look so much like the M8

The original Blu Win HD also looked like the HTC 8X line. They seem to be taking "inspiration" from HTC (which I don't mind since these phones are so affordable compared to their HTC counterparts).

Snapdragon 200 is a joke.

It has a snapdragon 410, which is better than the lumia 640 and 640 xl

I mean seriously dude...is it so stinking hard for you to actually read an article, like maybe WC's first look, from last week that has the actual specs? How hard is that? How about doing some actual research first?

Wtf is with Cortanas tile?

That's the emotion she shows before she reminds you about a flight you're tracking

It searches your email for flight reservations. When your flight is close it changes to that icon and keeps you up to date on your flight status. Really cool function I found out about this past month when I had to make 2 business trips.

Nice feature...didnt know about that (probably because i still didnt take a flight in my life lol)

Blu Win JR has been awesome for my parents and seems to be getting various updates pushed through (like additional lang support stuff) This will probably be a nice option for those who want a bit higher end phone on the cheap.

I would have gone with the Blu Win Jr LTE but only 512mb ram! :( left me heart broken

Does 3g 1700 = UMTS 1700?

Yes, that's AWS HSPA for Wind, Mobilicity, Videotron, Eastlink, etc. :-)
I'm on Fido and just ordered one. Until the Lumia 640 XL LTE dual-SIM, this is the best dual-SIM Windows Phone on the market right now. The fact that it's cheaper in Canada than elsewhere (after exchange) doesn't hurt my feelings!

I'm really stuck between a one of these new Win HDs and the new Lumia 640. Based on early previews, it seems like Blu really got their shit together here. Any advice?

BLU is something different than Lumia phones so if u re looking for a little change to something different than Lumia phone then take BLU...also 410 SD comes with it so keep that in mind ;)

Except with only 1gb of ram & I assume 10 will still be only compiled in x86 arm it's a waste

With Lumia you know your going to be taken care of Microsoft itself with bug-fixing updates. BLU is pretty good too but they are going to be taking care of their Android phones before their Windows phone. Though spec wise I'm giving it to the Blu Win HD LTE.

Depends on if you need a tri-band lte(unfortunately lacks A support)/quad-band hspa device

I am in a same boat. This o er 640. We lose camera features and glance screen. Nor sure a out double tap to wake.

BLU I don't think has Gorilla Glass like the 640 does. Also, Microsoft must have changed the supported bands for the 640 recently, since it no longer appears to carry the 1700/2100 MHz needed to run on WIND mobile in Canada...

Wow, we learned about this device last week, and its already in canada. Meanwhile we have known about the 640 and 640 XL for over a month now and you still cant get it in the US. Microsoft take some notes.

Ikr!? My husband asked the manager at our local MS store about the 640 XL on my behalf and his response was, "Well, it's coming out in Australia soon." -_-

I guess Australia is almost Canada... I am just glad the Blu Win HD LTE is compatible with Wind. If the 640xl isn't released soon this will be replacing my 920.

I actually don't mind cause Microsoft needs their partners to be successful... there's no advantage to beat their partners.

Why is this phone cheaper in Canada? Shouldn't it be less than $199 for US since our currency is stronger than Canada's

Cause with the dollar exchange some items your going to price down some your going to price up. Low cost good=higher prices sensitivity. So you price down, that's why the surface 3 was priced up to $640 cad, instead of $600 as it should be based on 1cad=.80usd

Maybe because they are (correctly) using an average USD to CAD conversion rate as opposed to relying on everyday currency fluctuations. Like Microsoft has (stupidly) done recently with the Surface 3. The current exchange rate is more of an anomaly than the norm.

"Success is nothing more than a few simple disciplines, practiced every day, while failure is simply a few errors in judgement, repeated every day. It is the cumulative weight of our disciplines and our judgements that leads us to either fortune or failure." SEE MORE ON LINK DON'T MISS ... 2.gp/F8mT

Happy with BLU HD gen 1, no issue here. If the gen 2 camera improved over gen 1 I will pick it over when on sales for sure. The regular price is too close to 830 here in Canada.

How is the BLU Win HD LTE price of $229 unlocked in the Microsoft even remotely close to the $499 (on sale) price of the 830 unlocked price in Canada?

You can find new 830 for under $300 on local classified web site, I picked up two BNIB for $500 last Dec that is right after release.

But at retail which is how you determine its price competiveness its -the 830- is overpriced

my gf has the win hd. she may think about this one.

I don't need one, but at $230 I guess I will get one lol!

I've been using the BLU Win HD in Indonesia and works well, but lots of delay when talking via Viber, ooVoo, Skype, etc. Would it be beneficial to upgrade to this LTE version?

Yes, speed is much faster on LTE

Should I buy this to replace an old Nokia 920?

Expandable with sd card for one...

I wish this company good fortune,i really like their devices for the price

Rad! Finally, the Canadian store is getting some decent unlocked phones for when it's time to replace my HTC 8X. This is definitely an appealing option, but I do hope we get the Lumia 640 as well, to cover the midrange.
Windows Central Newsletter
Thank you for signing up to Windows Central. You will receive a verification email shortly.
There was a problem. Please refresh the page and try again.