'Bollywood Ki Kasam' is a fun entertainment trivia game for Windows Phone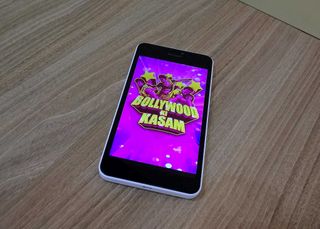 Bollywood Ki Kasam (BKK) is a Windows Phone trivia game based on Hindi films and celebrities that will test your cinematic knowledge. BKK is based on the theory of Six Degrees of Separation which states that everyone and everything is six or fewer steps away.
The objective of the game is to connect two lead actors through least number of connections – movies – which are common to both. For example, if you were to connect Shahrukh Khan with Kangana Ranaut, your relationships would look something like this. Shahrukh Khan (actor) was in Don (movie) which also had Priyanka Chopra, who was in Fashion (movie) which also had Kangana Ranaut (actor). Get the drift?
The game features intuitive controls that are easy to learn and play, and packs in an enormous database of over 5000 lead actors and 3000 movies that will keep you engaged for hours. There are 450 unique levels from easy to brain-teasing combinations. When you are stuck, you can opt for Who Wants to be a Millionaire/Kaun Banega Crorepati-style lifelines like 50-50, Opinion Poll, and Show.
If you are a die-hard fan of Hindi movies and can recall actors from any film, then this game is for you. It's engaging, and for a movies fan like me, it's a treat with hours of fun. Give it a whirl, and let us know how you like it.
Mere Instagram-Snapchat ayenge.... :D

I don't watch Indian movies, would be nice if someone could recommend me a really good hollywood movies and/or TV shows (GoT, TWD, AHS, True Detective etc) trivia game similar to this one :)

Here you go http://www.windowsphone.com/s?appid=0a57805a-4fe1-4f42-83d1-afd6f5edf779

Hehe, I'm already stuck on a puzzle in that ;) Thanks though, appreciate it :)

Usama Jawad , come to Quizup man

Well you've surely heard of Quiz Up

Lucky Indian folks. Anyway, the new Office app on Android phone looks great.

The second sentence wasn't required.

Third Party YouTube apps in Windowsphone looks lot better the Android's Youtube app O_O

And that's the truth. Its painful to open YouTube app on android

Yes very true. That's a fact and no one even misses YouTube on WP

Until google finds a way to block third party youtube apps on WP.

LOL. More lead actors than movies.

Hey Abhishek. Are you coming to the Lenovo launch event tomorrow at Le Meridian. Warn to meet you :D

How do I recognize you? Since even in the Micromax event I was unable to find someone who looked like your photo i.e you :/

Most probably I'll have to ask someone who knows you. :D

I think there should be more singing and more dancing in Indian movies of any genre.

Yeah true... Almost in every movie. That's our tradition

Sign up with my referral code XR43KZ and earn Rs 100. Download the app from www.ola.bz/b
Pkka milegaaa guaranteed

Slowest loading game in store

Ok guys. I am an indian myself but please refrain from typing/posting in Hindi. Its really rude even for me and I am sure all of the other counterparts in the US and the world. I can't understand why majority of you don't get it and behave like illiterates when it comes to this. Very annoying.

Typing in HINDI is illiterate? Tells alot about your education

You are an illiterate who doesn't respects his own language. Fuck the others. Don't change or forget yourself for others, ever.
Chatt bc angrezo ki.

shitty Indian people........don't think what they trying to say......they are proud to talk in Hindi...on eng website

And supposedly English is your language. But still am surprised by your great punctuation. STFU.
Windows Central Newsletter
Thank you for signing up to Windows Central. You will receive a verification email shortly.
There was a problem. Please refresh the page and try again.